[NOTE: To enlarge any image, right click it and choose "Open image in New Tab" or similar.
Prior post: http://blog.bucksvsbytes.com/2020/03/08/south-america-by-subaru-20-02-12-i-see-rare-golden-lion-tamarins/
After a moderate breakfast, I enjoy my beachfront balcony room until checkout time.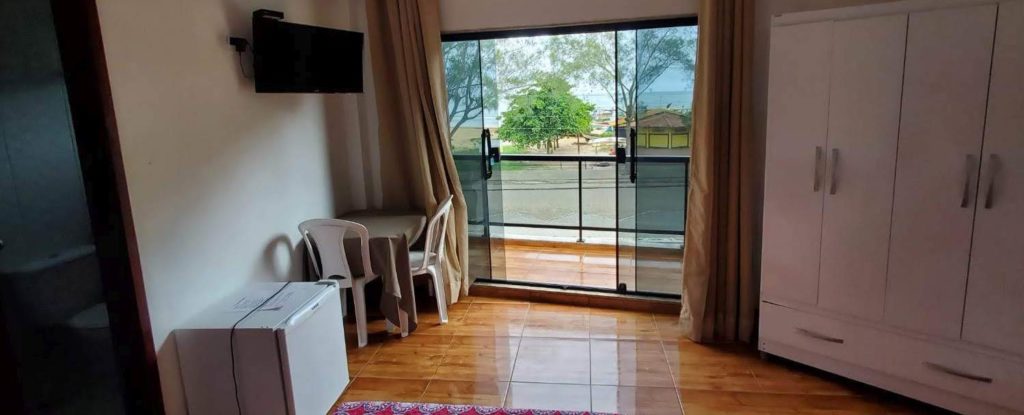 Then I head inland on what I quickly see is the main road, im much better condition than the way I entered yesterday. Just out of town, I pass the airport and have yesterday's conjecture regarding offshore oil confirmed. The airport is primarily a large helicopter base owned by Petrobras, the national oil company. The gate is crowded with workers lined up to enter and on the other side of the chain link fence, several large passenger helicopters are loading and then taking off oceanward headed for drilling platforms.

On my first visit to Brasil in 1984, the nation had microscopic oil reserves. The military government had messed up the economy, inflation was rampant, and Brasil had no foreign exchange for imports. As a result, everything was home grown. Volkswagen was building Beetles domestically and in lieu of gasoline, everything was fueled with ethanol, which was produced from Brasil's plentiful sugar cane crop. This forced self reliance seemed to have some positive effect, preventing the excesses of consumerism being encouraged elsewhere by rising imports from Asia. Of course, the populace wasn't happy with enforced economic constraints. After decades of military dictatorship, the generals were now so tired of being blamed for the economy they were taking the drastic step of handing the government back to civilians. Imagine how bad things were if the dictators said, "I want out."
I think it's fair to say plentiful oil almost ruined Brasil. Petrobras was formed back in 1953 as the sovereign oil company but they had little to work with until offshore oil was discovered in 1974. Even then, financing and technology limitations, and the extraordinary ocean depths where the oil was found kept offshore development at a slow pace. It took over 30 years, but finally in 2006, Brasil reached oil self-sufficiency and Petrobras started being flush with cash. That's when corruption started going wild. Politicians and Petrobras officials received ever increasing bribes from contractors for accepting overpriced bids and embezzled even more from the company. By the time serious investigations got underway in 2013, the total looting was estimated as high as US$13 billion. Three presidents and countless other politicians have been ensnared. Complicating things are plausible accusations that the crusading investigative judge who dug into the case was politically biased and used the prosecution to fulfill his aims. He is now the Brasilian Minister of Justice. The pervasive corruption that came to light eventually put Jair Bolsonaro, known derisively by his many non-supporters as "Trump of the Tropics", into the presidency.
I'm heading for the next Brasilian state north up the coast, Espiritu Santu. I have invitations from two Couchsurfing hosts, one in the capital, Vitoria, and one in a beach town on the way there, Guaraparí. I've told the latter one, Micaela, that I'll be there today. My plan is to continue trundling slowly up the coast on small, possibly impassable, roads and arrive by evening.
That plan is about to change. Shortly after the airport, as I accelerate to pass a large truck, I notice the tachometer needle acting strangely. A few tests yield a disturbing result: when I press hard on the gas pedal, the engine races even though the speed of the car is unchanged. This is proof positive that the clutch is slipping and will shortly fail. When it does, I'll be stranded on the road, unable to move.
I don't know how the Subaru was treated for its first 100,000 miles, but I do know the 50,000 I've put on it so far have been hard ones. At least half of those have been on mud, gravel, sand, snow, and mountain roads, not to mention the tens of thousands of speed bumps, nicknamed "donkey backs" or similar, used throughout South America in lieu of police speed enforcement. While I appreciate not having to keep my eyes constantly peeled for speed traps, every single hump requires a downshift, braking to near zero speed, two big bounces, and then an acceleration through the gears again on the other side. In addition to the other road stresses, this amounts to a lot of brake, suspension, and transmission wear.
My point is that it's entirely reasonable that the clutch needs replacement. This doesn't make it any less of a problem. In Chile, where I bought the car. Subarus are quite common, mechanics are used to them, and parts are usually available. Argentina and Uruguay have no Subaru presence at all. To allay this problem, I've carried brake shoes and oil filters with me. When I did something stupid in Argentina a few months ago it required 3-days and a 16 hour round trip to Chile to fetch the needed part. So I've been thankful that the Subaru has been so reliable and there haven't been any further parts crises.
Brasil, by contrast, has Subaru dealers, so I thought getting parts would be easier. To my dismay, though, I haven't noticed one other Subaru on the roads here in almost 3 months. I don't know who's buying them in Brasil but they're keeping them pretty well hidden. When I stopped at a dealer in Rio de Janeiro to buy one non-critical part, it took an hour of searching to find out they didn't have it — but they said if I hung around for two weeks, they could get it from Japan.
Now I'm concerned. Finding a replacement clutch disk could be a big problem. My tests show the clutch only slips noticeably if I step fairly hard on the gas, so with conservative driving, it could last for weeks before complete failure. Since this approach means no back roads, no steep mountains… no fun, I want to handle the repair quickly. The ride to Guaraparí is now constrained to the main toll highway.
I arrive in the evening to be welcomed by Micaela, husband Fabricio, little son Henrique, and Micaela's mother. There's also another Couchsurfer from remote western Brasil staying in their big house. Everyone's very friendly, but the dinner table conversation is in rapid fire Portuguese, leaving me behind a lot of the time. In this case, that's not as frustrating as usual because I'm pondering how to proceed on the repair. Tomorrow is Friday, and after that everything grinds to a halt for the weekend, so I need to work fast.
I retire early to my room and text my next host in the capital to ask if he knows any competent mechanics. He suggests a shop where he has his repairs done. Given the potential parts difficulties, I decide to forego custom and leave in the morning after just one night. This carries the danger of looking like a freeloader rather than a sincere guest, but I feel compelled to risk it.