Prior post: http://blog.bucksvsbytes.com/2019/11/14/south-america-by-subaru-19-10-28-rise-from-the-abyss/
[NOTE: To enlarge any image, right click it and choose "View image" or similar. Use the Back button to return to the post.
It's with great relief that we pack up this morning and prepare to leave Mendoza after an unanticipated week here. We have the last of Ines' breakfasts, take some departure photos, and head northeast out of town.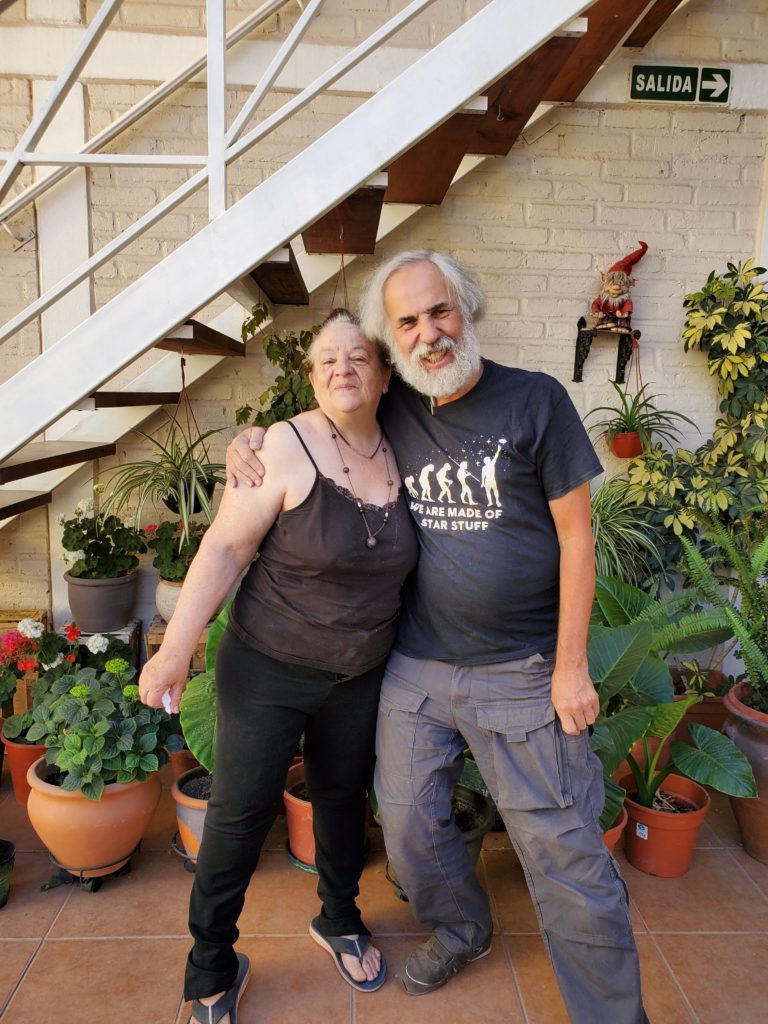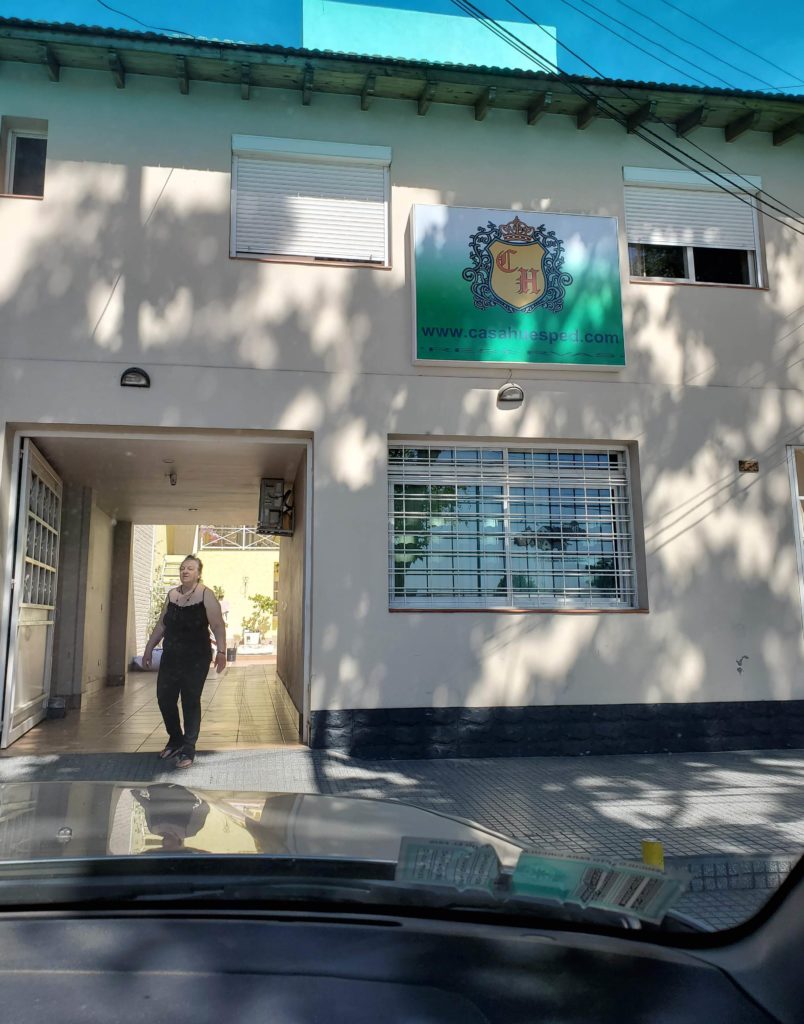 Our destination is a national park of which I just became aware a few days ago. We're traversing typically flat Argentine terrain, along a paved highway with herds of goats grazing on the shoulders. The roads are quite empty and we make good time, covering the 160 miles to the park entrance by 4 PM. Susan has agreed to camp tonight in the park, which is quite isolated and with no nearby services or even, for that matter, public drinking water. I'm excited because this will be Susan's and my first night in the tent that we purchased almost 2 years ago.
Sierra de las Quijadas is, indeed, remote. A friendly ranger at the entry station explains the layout. Two unrestricted trails, a small campground, and the chance (no guarantees) to see condors, pumas. guanacos, and maras (rodents with rabbit-like features). Unlike most Argentina national parks, there are no hefty entrance charges, although I see evidence of past fee collection. Even the camping is free. We check out the campground and find it surprisingly pleasant and shady for this hot, arid area. Since the sun is getting low, it's a good time for hiking so we go out to the end of the park road and set out on one of the two short trails. Geologically, the area is an ancient sedimentary basin uplifted into mountains of relatively soft rock that have eroded into badlands — which we have all to ourselves this afternoon. The views out over the valley are gratifying and signs identify many of the plants along the trail.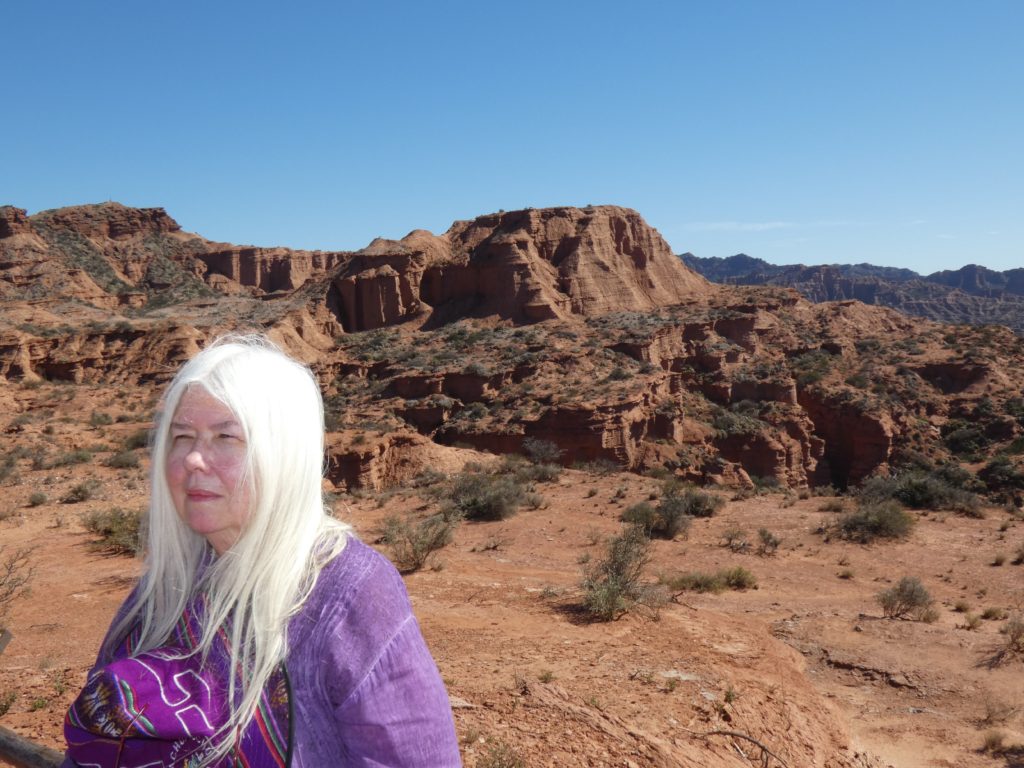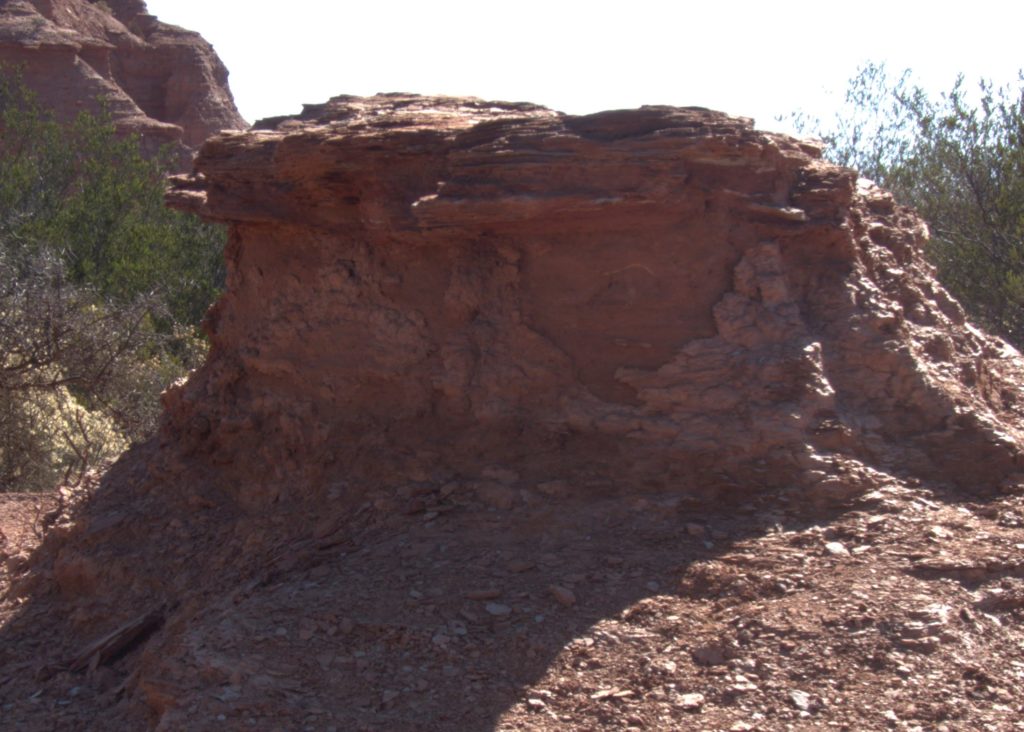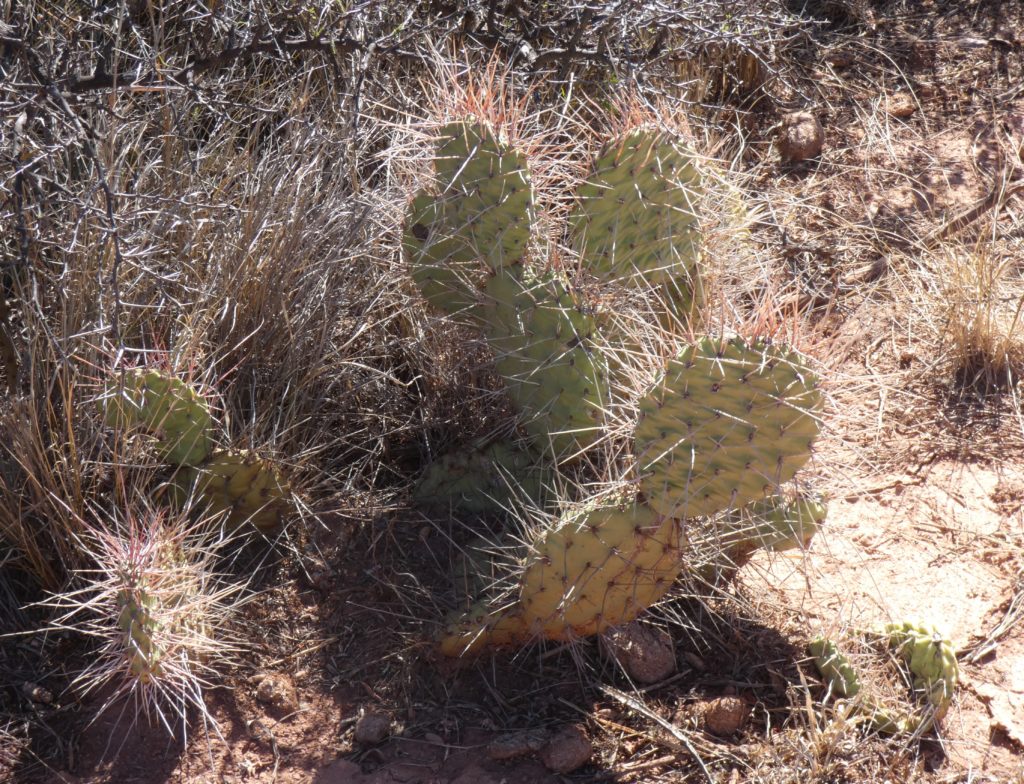 We see vultures soaring high above, swallows diving frenetically in the ravine below us as they feed on the wing, and a few songbirds but nothing else in the way of wildlife.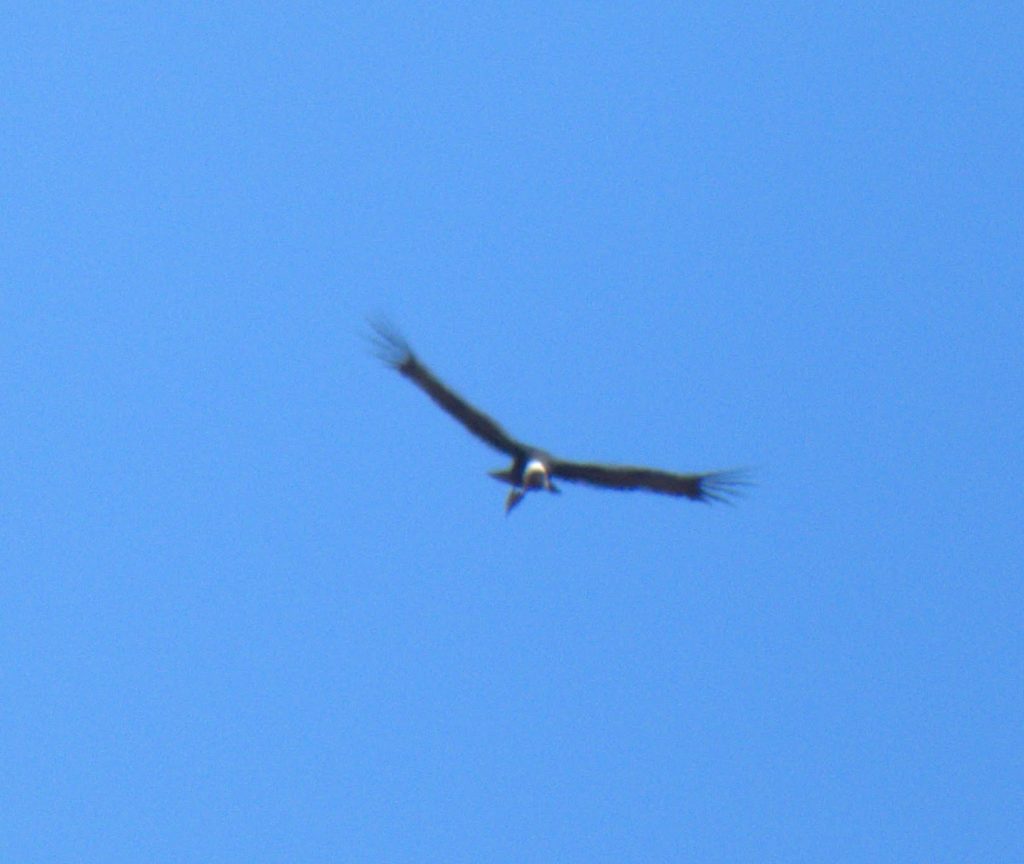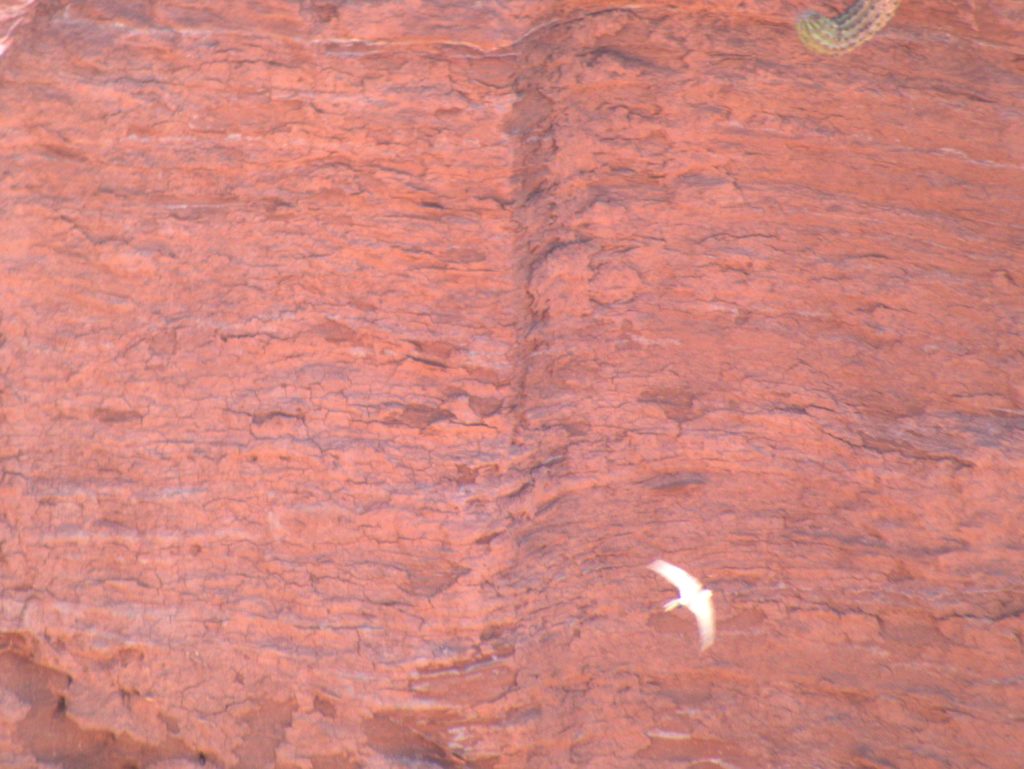 Returning to the car we set out on the other unrestricted trail that leads through the sculpted formations to several valley overlooks. It's not a difficult trail but heat, fatigue, and uneven footing cause us to turn back a little early. I have an extra backtrack detour to retrieve some litter I accidentally left on a bench.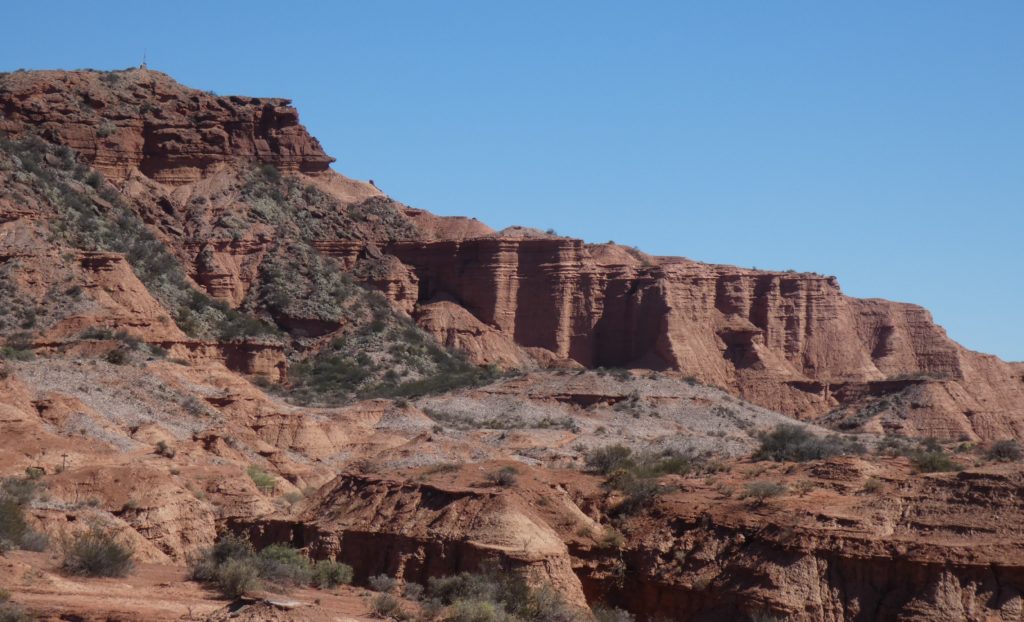 There are two other trails but they require hiring guides, and those guides are based many miles away. One of the walks leads to dinosaur footprints — well, one footprint since the ranger explained that the rest were excavated and transported to a distant museum. Needless to say, the expense and time required to procure a guide don't seem worth it to us. Now if they could assure we would spot a puma in the wild.. That would be a different story.
On the drive back to the campground, we see several maras in the brush alongside the road. They exhibit little fear of the car or us, continuing to browse as we approach to within 20 feet. They're odd looking animals, with rabbit like ears and hind feet and an almost tailless two-tone rump.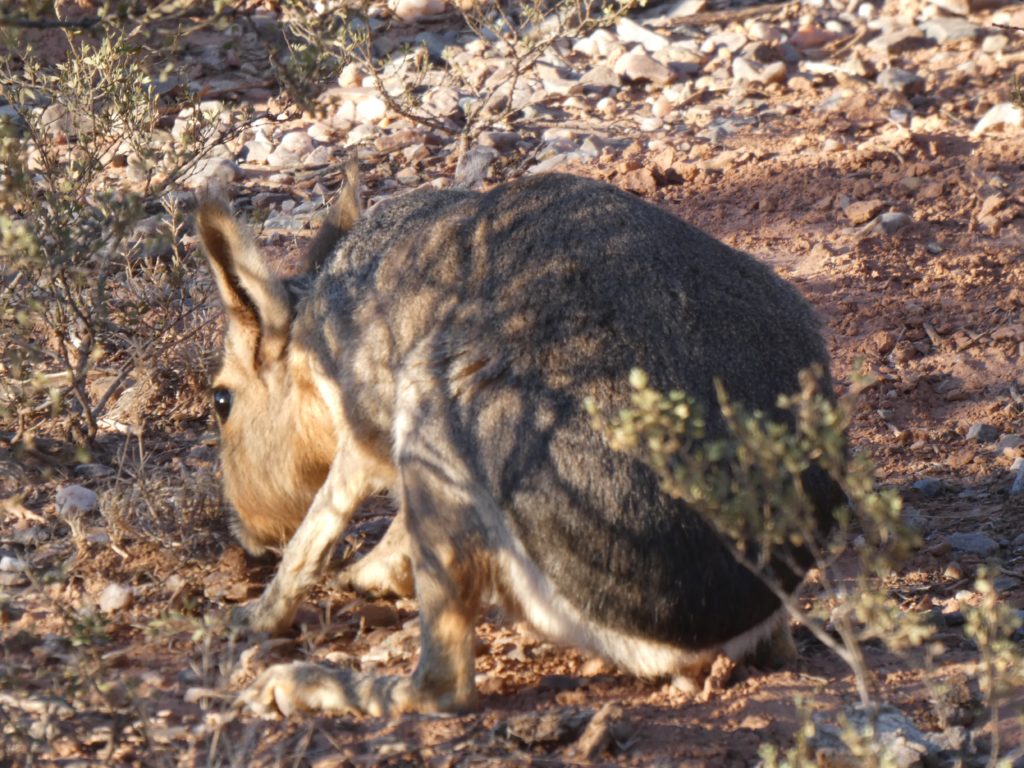 Although not particularly bulky, they're the fourth largest living rodent, exceeded only by the freakishly large capybara, the beaver, and the porcupine. Although the relaxed ones in front of us don't show us, they are said to be capable of sprinting 18 or 30 miles per hour. You can choose which number to believe.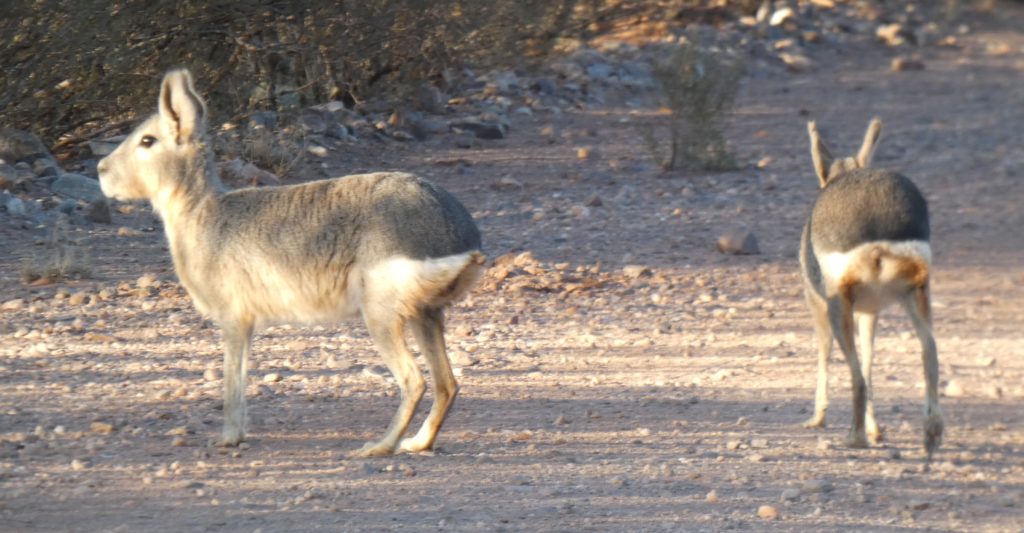 We've traveled thousands of miles in Argentina over 3 trips and can state quite authoritatively that most of the country has been so civilized that it's virtually devoid of wildlife. Only in designated reserves and some areas of abandoned estancias (ranches) have we spotted anything other than cows, sheep, goats, horses, and the birds and rodents that coexist with them.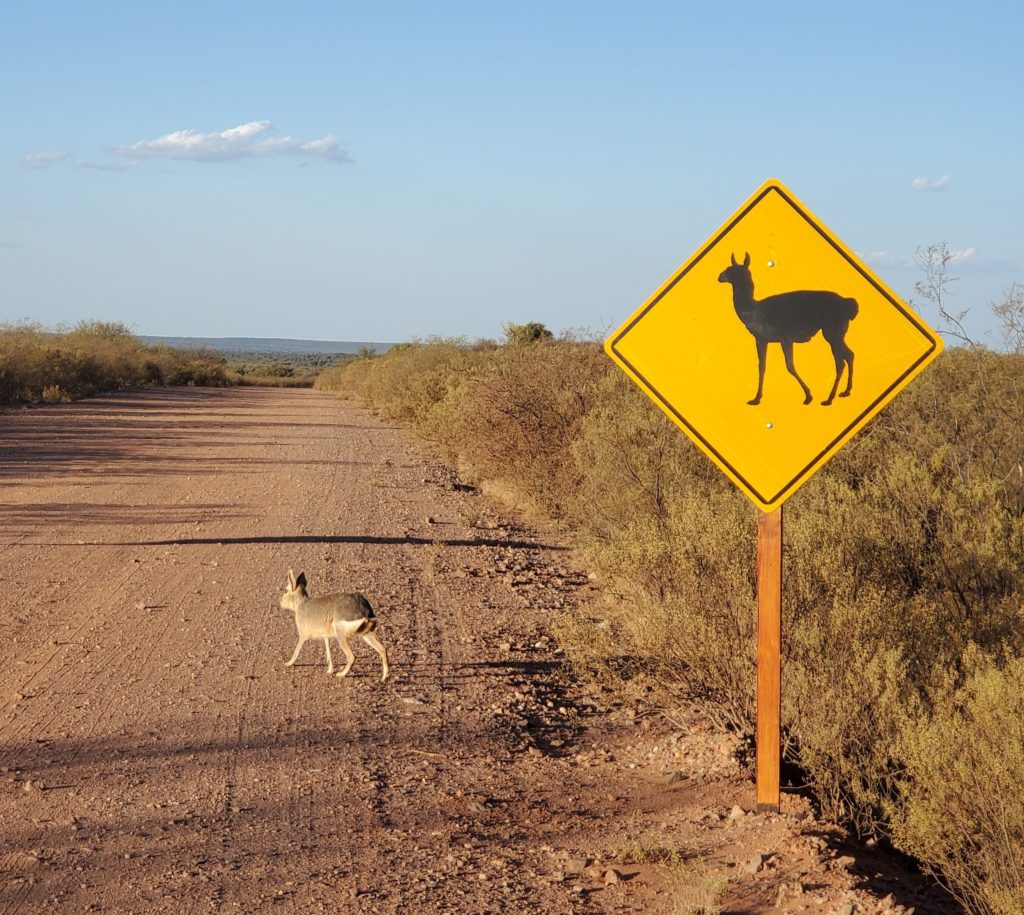 We choose the best of the 6 walk-in campsites and start carrying our gear from the car. To my dismay, I discover that the air mattress cap is not with the mattress and pump. I know I packed it but 20 minutes of intense searching fails to locate it. Even though it means sleeping directly on the ground, Susan gamely agrees to camp anyway.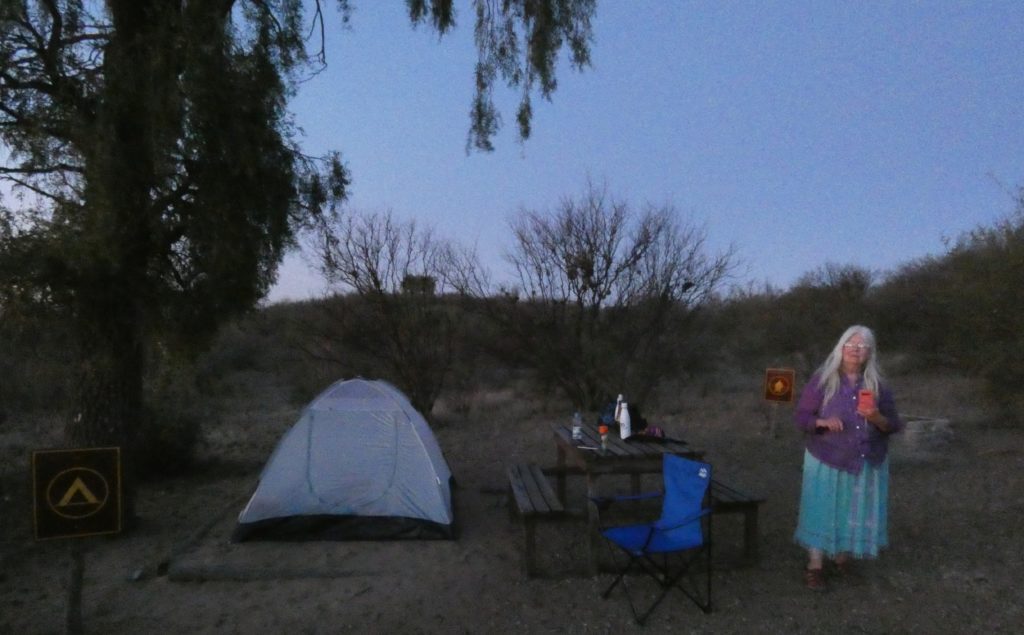 As we eat a cold snack/supper, we're treated to a magnificent desert sunset.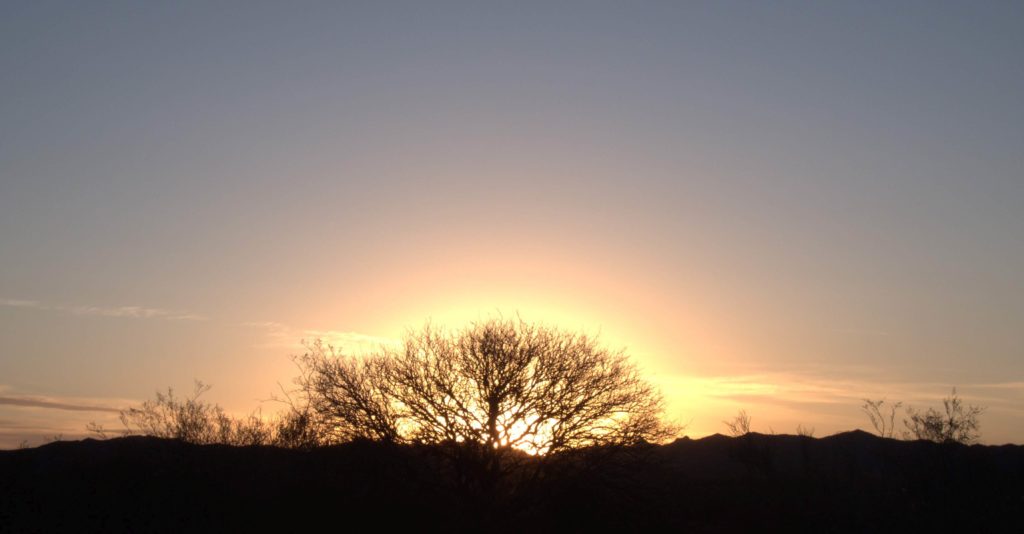 As darkness falls, an increasing array of stars become visible due to the clear air and absence of light pollution. In the hours after sunset, we see a crescent moon and 4 planets spaced in a narrow arc of the ecliptic: Venus, Jupiter, Saturn, and Mercury.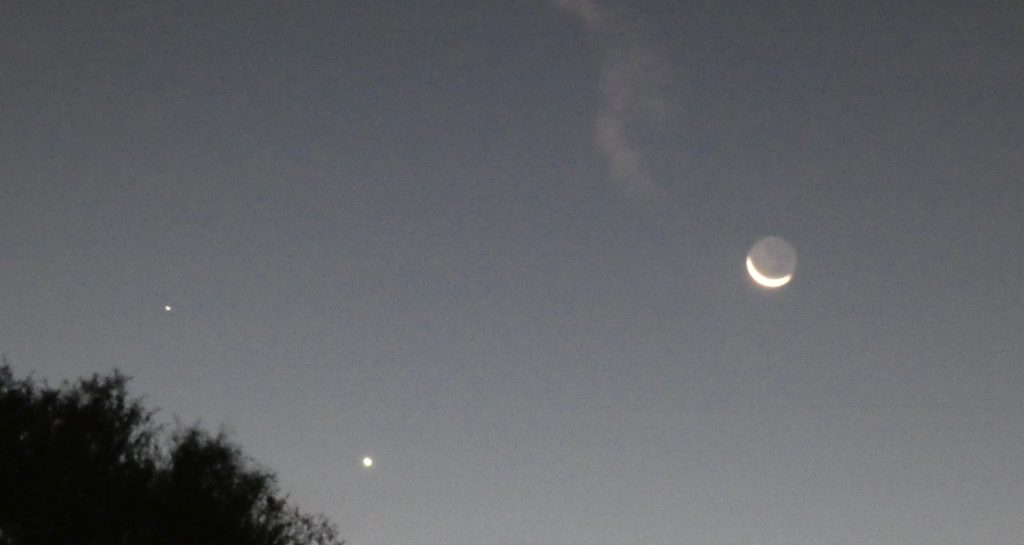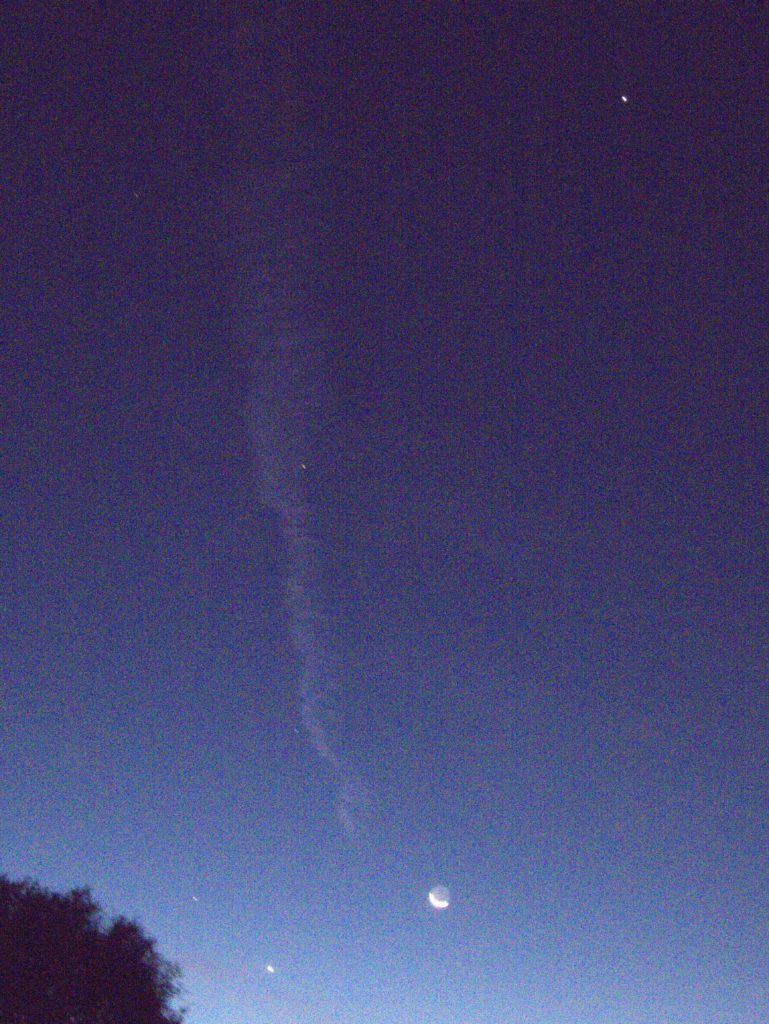 As the moon sets and the darkness intensifies, the sky fills with stars and the Milky Way is very evident. Even lying in bed later, we see a celestial display though the gauze roof.
Most of the world's population rarely sees such an unobscured night sky. Already in big cities, the glow of lights makes most stars invisible and it looks like it's going to get much worse. SpaceX has started launching "constellations" of low orbit satellites to provide global internet service. It plans to have 42,000 of them. Other big companies like Amazon will compete and it's possible that the look of the night sky, regardless of ground conditions, may be dramatically altered by hundreds of thousands of satellites speeding across it. Our grandchildren might never see what humankind has always known as the starry night.
Despite the hard ground, we drop off to a somewhat fitful sleep in the silent and remote Argentine landscape.
Next post: http://blog.bucksvsbytes.com/2019/11/19/south-america-by-subaru-19-10-30-santa-rosa-to-see-friends/