Prior post: http://blog.bucksvsbytes.com/2023/11/20/road-trip-europe-ii-23-10-10-23-10-12-i-become-a-servas-guinea-pig/
I had so much fun with Rita I decided to go back up north to the inland grape and fruit town of Lamego to spend some time with her Aunt Manuela Gama, who also invited me. So, this Sunday morning I'm driving 150 miles northeast. It's not quite a backtrack, but definitely a reversal of my predominant southward direction.
Putting the address she gave me into Google Maps, I'm led, after dark, to a hilltop neighborhood of narrow, steep streets and unlit houses. On the target street I cannot find #5 and there's no one to ask. Finally, I tuck the car into a vacant corner and text Manuela for last mile assistance. Her response is, "I'll wait for you in front of the police station." I can't see anything in this quiet, dark neighborhood that could possibly be a police station.
After a while I look up "Lamego Police" and see that it's miles away near the center of town. I realize Maps has led me astray and drive there to find Manuela waiting for me. The driveway to her family's property is just 200 feet from the station. Once inside the gates and in her comfortable house we figure out what went wrong. She lives on an unnamed street but there is a postal designation for her house. Maps, unaware of that, added "street" to that designation, which points to the distant area where I was directed. Together, we fix Manuela's Servas information to use the exact latitude and longitude of her entry gate so future travelers can find her.
Manuela, like Rita, is lively and talkative. She understands a lot of English but doesn't speak it easily so we converse in Portuguese and when I (frequently) need to throw in an English word or phrase, she understands it. However, a couple of times, she launches into a topic in very good English.
She's a retired teacher, still volunteering at a nearby school. In common with many teachers in the US, she found teaching challenging near the end of her career. Students' family problems, electronic distractions, and administrative constraints have frustrated teachers' goals across the Western world. She also hits the nearby physical fitness center daily to stay in shape.
The Gama family has been in Lamego for generations. Manuela and sister, Lena, both live on the same fruit tree studded property in separate houses. It's the kind of stability most Americans don't experience. I often describe the difference as, in the US, if you have a 25 year old child who still lives nearby, people start to ask, "What's wrong with him?" In Europe, it's not at all uncommon for offspring to live in the same town or region as their parents for most of their lives. Of course, the modern economy also causes many to move far away, and let's not forget the millions of emigrants across history who went to the western hemisphere in search of a more prosperous life. My kids live 2,500 miles west of me and 3,800 miles east. Seems normal to me.
Manuela has two young medical doctors who board with her. I have a chance to speak with one, Ana. She works for the public health system and is very dedicated to it. She recently married and lives in another city. Her time off is spent driving home to her husband, then returning to work. It's expensive (two homes and gasoline) and stressful. She said the system is very good in principle but is deteriorating due to staffing shortages and inadequate funding. The former is a problem with any society that offers free education and pays salaries uncompetitive on the world market. I believe it's a factor in why some communist countries used to prevent their people from leaving. If the state trains, say, doctors for free and expects them to work in the country for a low salary (Cuba comes to mind), there's a strong temptation to take those trained skills to another market where salaries are much higher. This creates a brain drain and a perpetual domestic shortage despite the free education. Portuguese public doctors earn much less than they can command elsewhere in the world so many skilled medicals emigrate or go into boutique practices that serve only those rich enough to bypass the universal public option. It's a never ending problem, follow the money and abandon the non-affluent system even though it trained you.
Monday morning, Manuela gives me a brief walking tour on her way to the school and I spend the rest of the day exploring the town. Lamego isn't a tourist destination but it has typical European attributes: museum, ornate church, castle on a hilltop, and lots of old stuff. The origins go back to pre-Roman times, perhaps the 5th century BC.
[NOTE: To enlarge any image, right click it and choose "Open image in New Tab" or similar.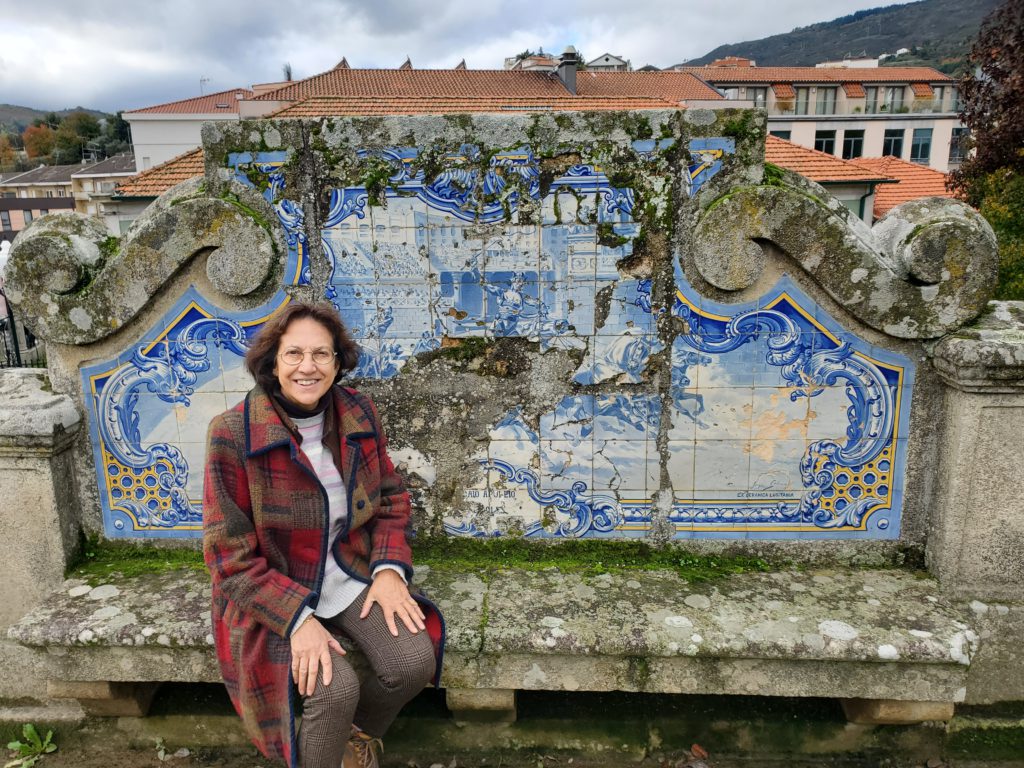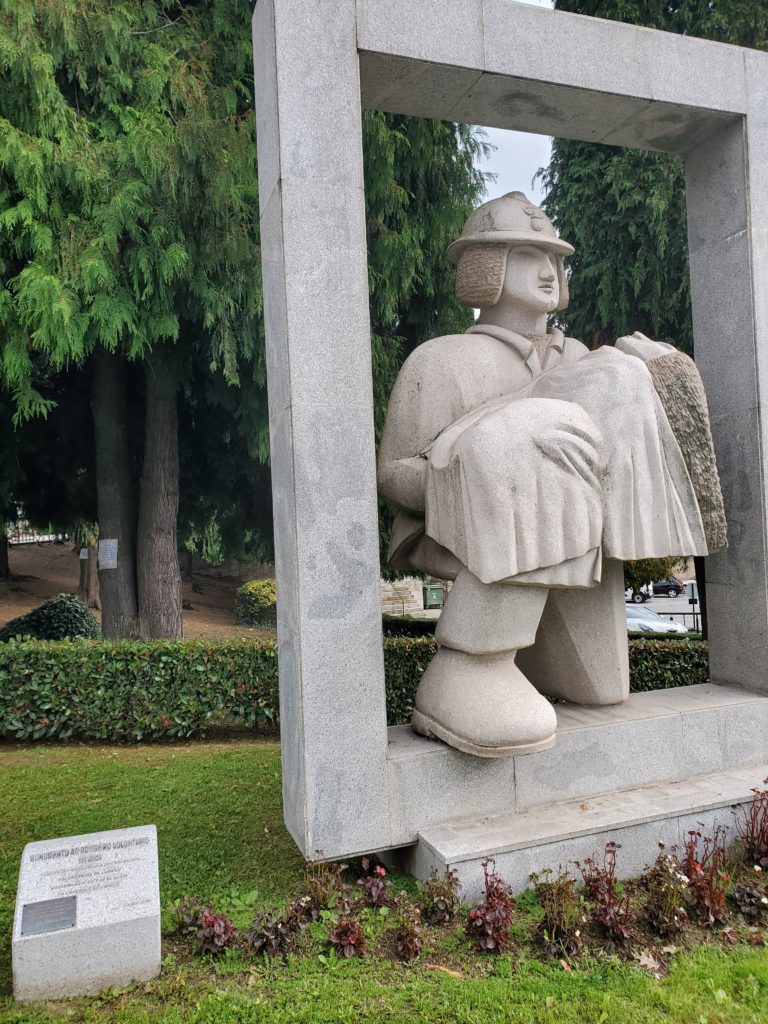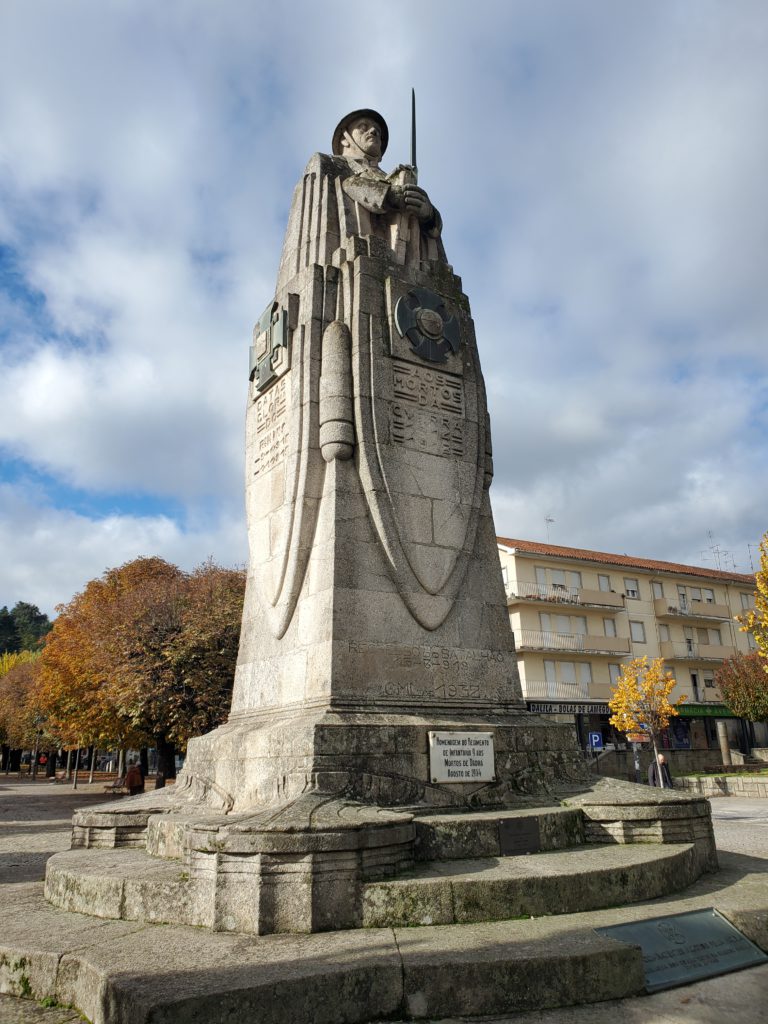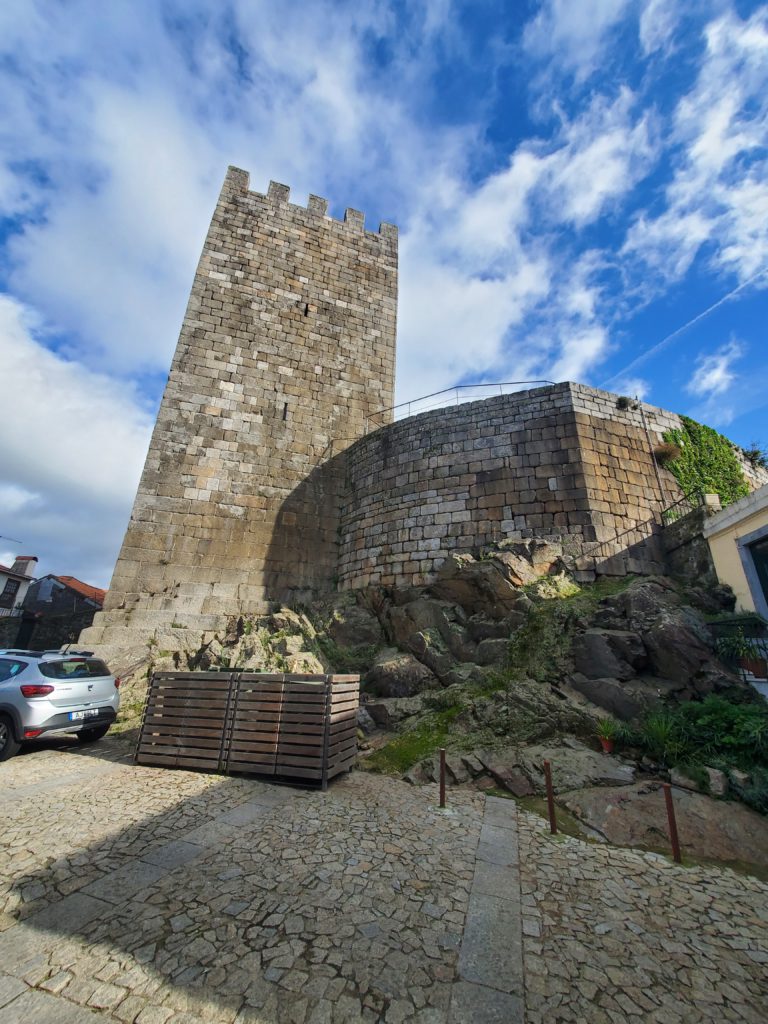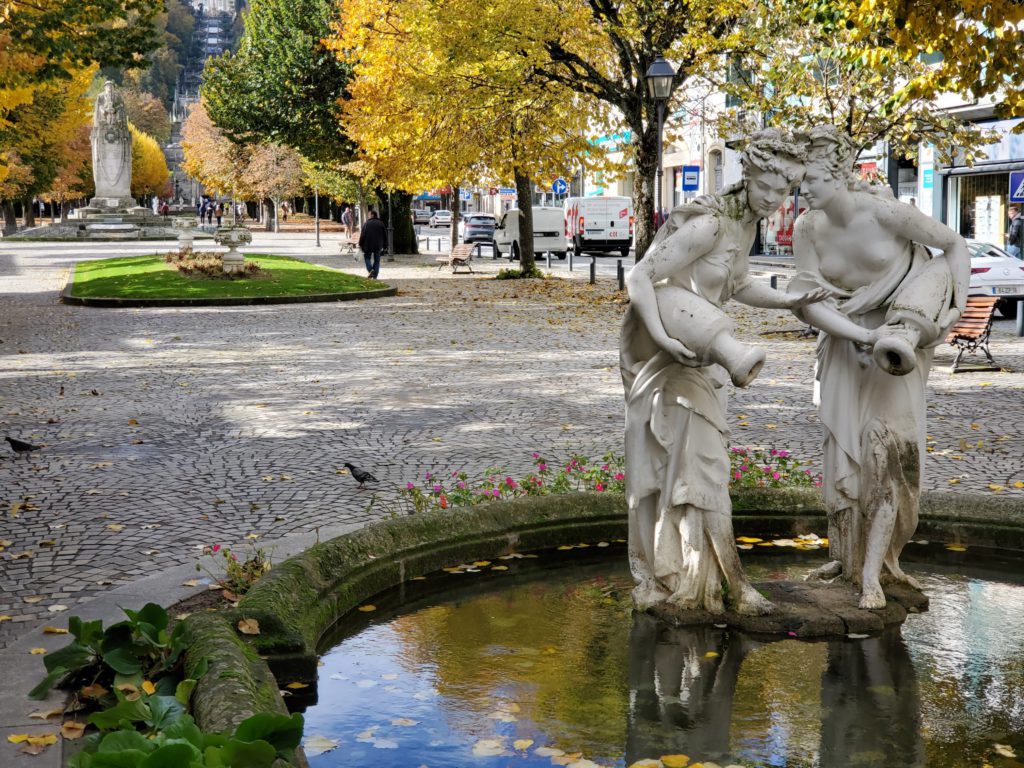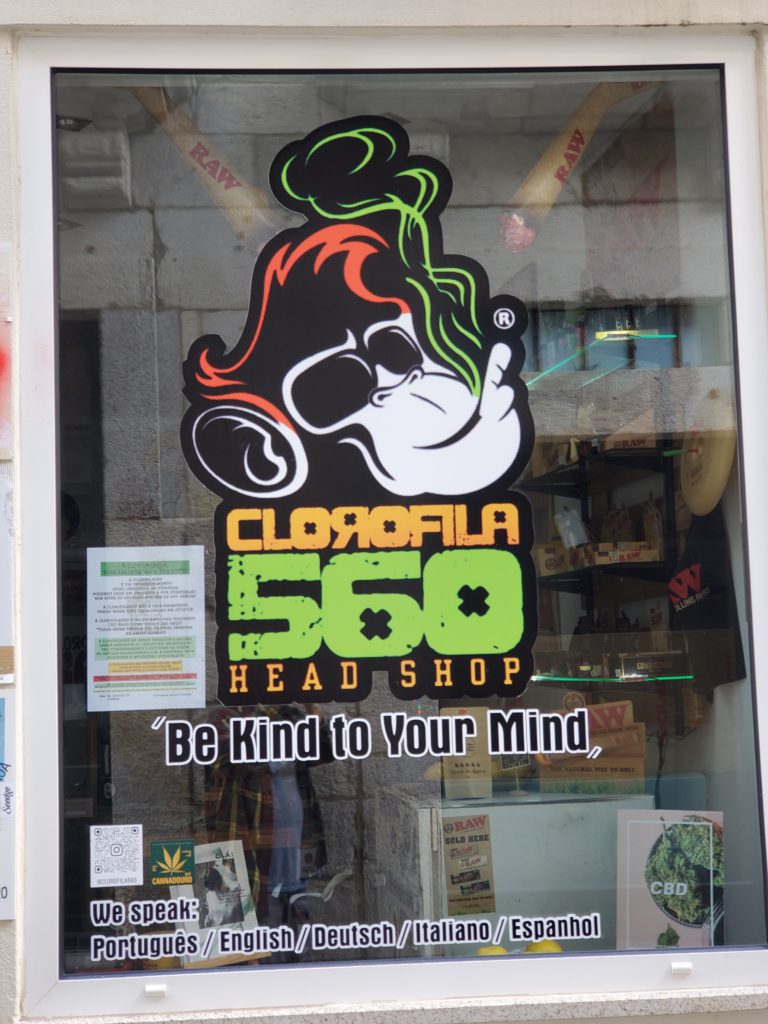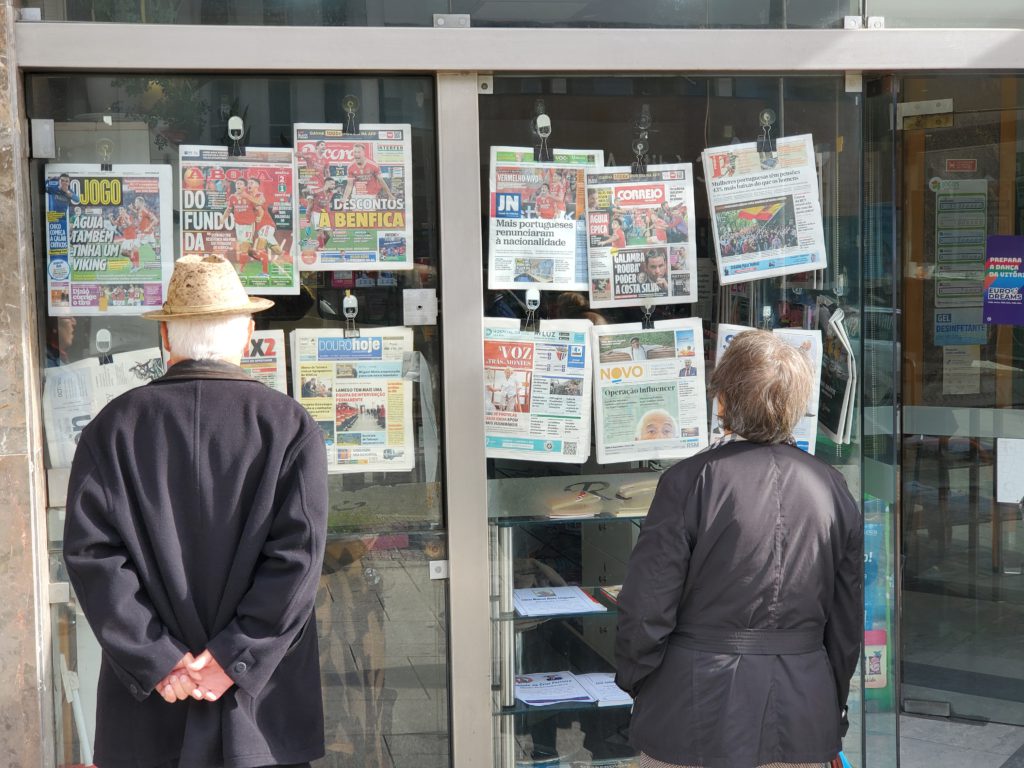 In the afternoon, we walk to the supermarket to replenish my supply of flour for making sourdough and Manuela makes a tasty dinner. I'm planning to leave tomorrow but Manuela proposes I stay a third night and we take a hike. This takes me by surprise. Many people tolerate me and seem to enjoy my company but it's not often they actually urge me not to leave [grin]. After all, I'm the guy who was once told at someone's house, "I'm having a good time, John, but I'm going to bed. Shut the lights off when you leave." Manuela is such a great audience, though. Many of the jokes that friends at home just complain about having heard before are new to her. She is particularly enamored of "cheerful pessimist" and my adoption of the Grateful Dead lyric, "Too much of everything is just enough". I'm guessing her amusement stems mostly from the contrast between my New York-isms and the quiet life she chooses to lead in Lamego.
Tuesday morning, we fill up on sourdough pancakes and head out for an 8 mile walk to the neighboring town of Régua on the Douro River. We set out along various small lanes in tiny communities.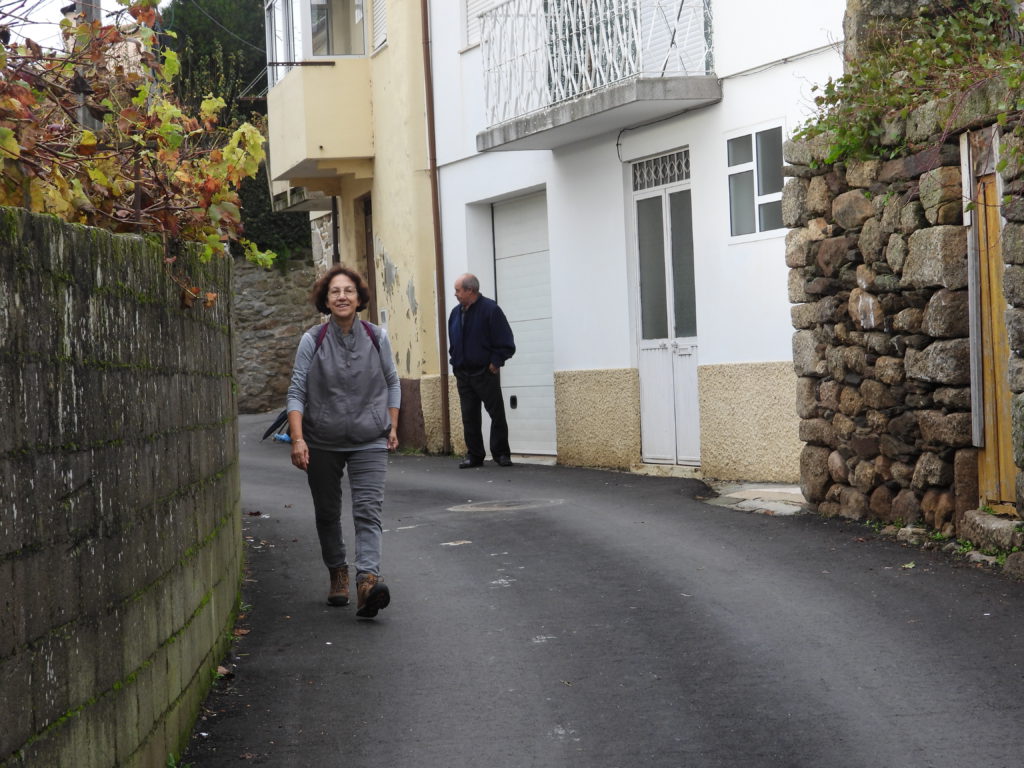 At one point we encounter two older women dressed in black. I'm suddenly inspired to ask if I can take their picture (I usually feel too awkward for that) and they demur. Manuela walks back a few feet and intercedes for me, explaining that I'm a tourist just taking personal photos, after which they consent to pose for me.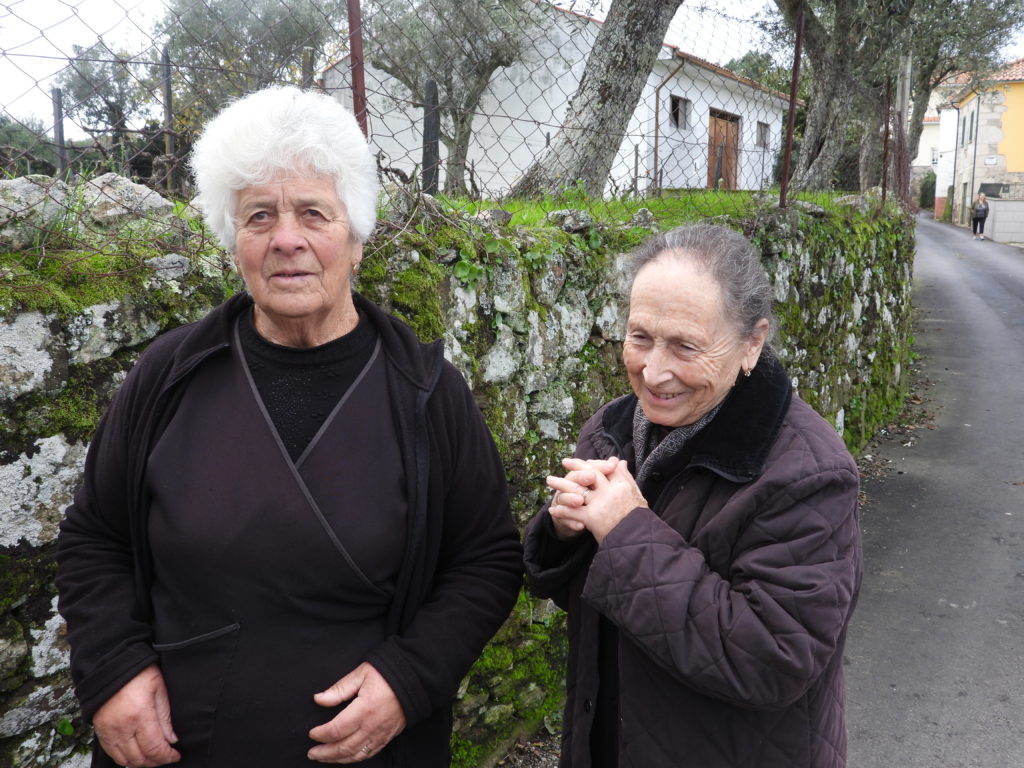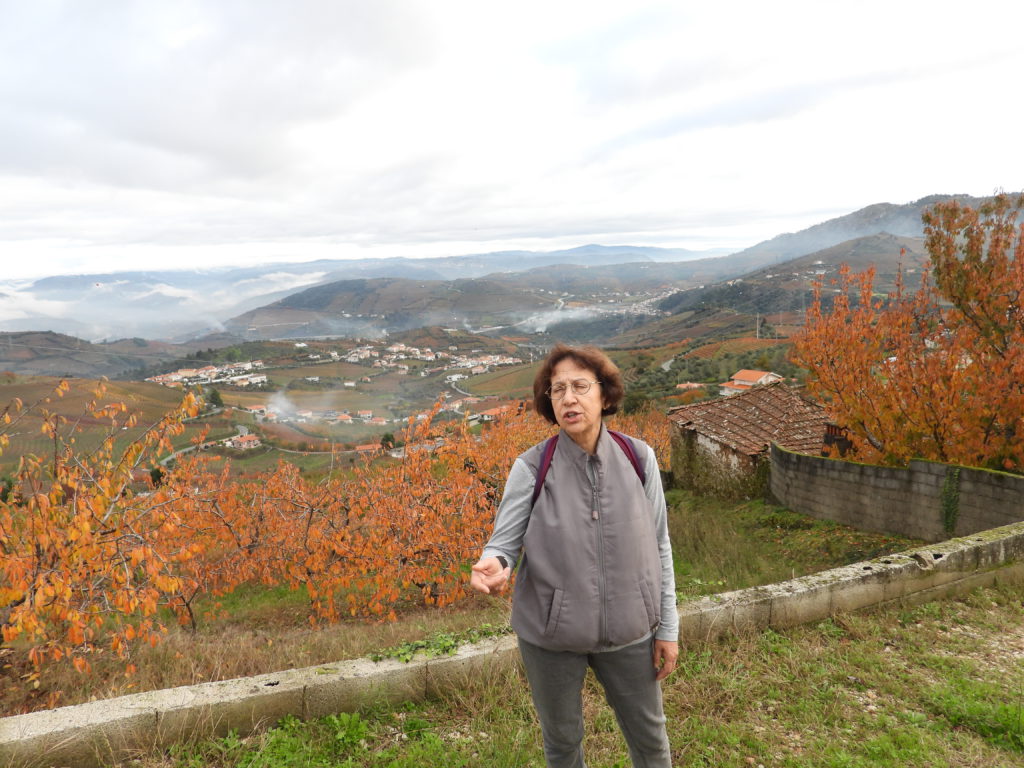 We continue through hillside scenery and suddenly turn onto private property, descending through a steep vineyard toward a reservoir.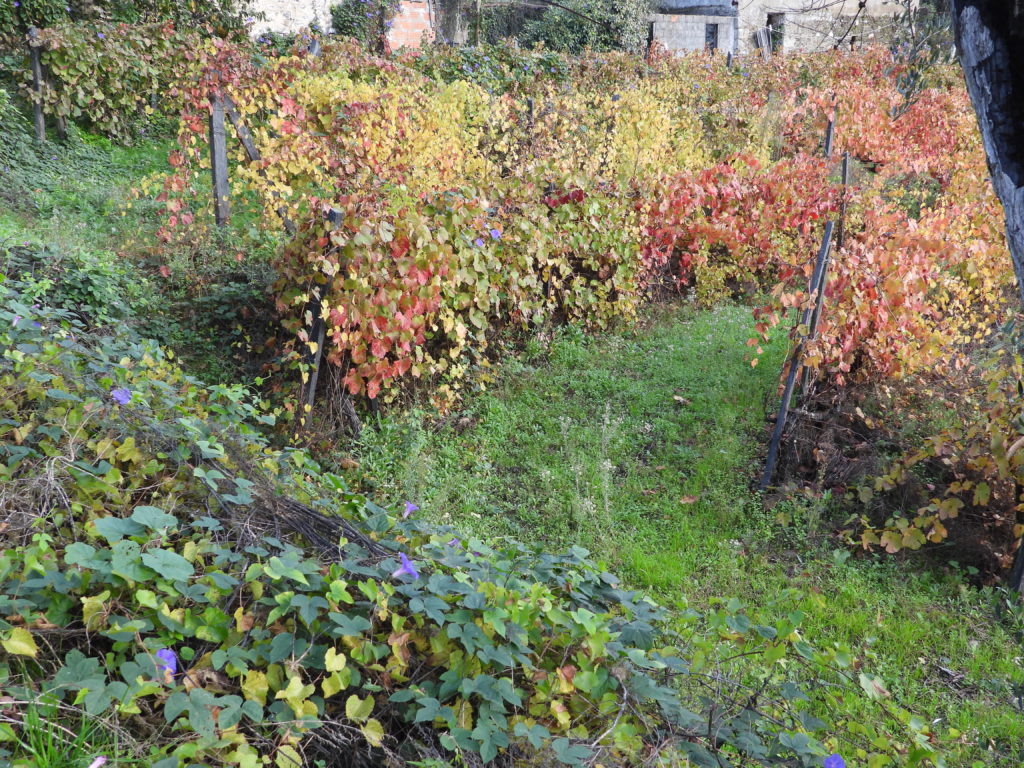 When we run into owners working the land, Manuela has no problem making small talk and ensuring that we can proceed. We pass a hydroelectric dam, but rain has been sparse and it's not releasing any water.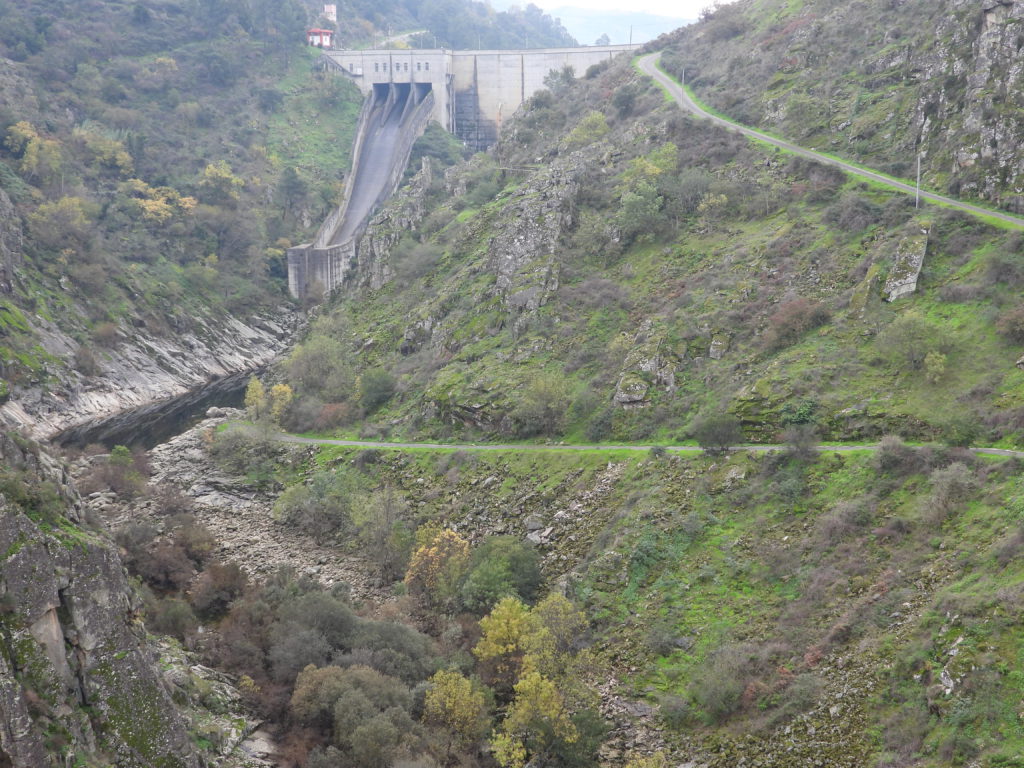 Then a steep climb up to a lookout terrace far above the canyon floor and another drop through private property.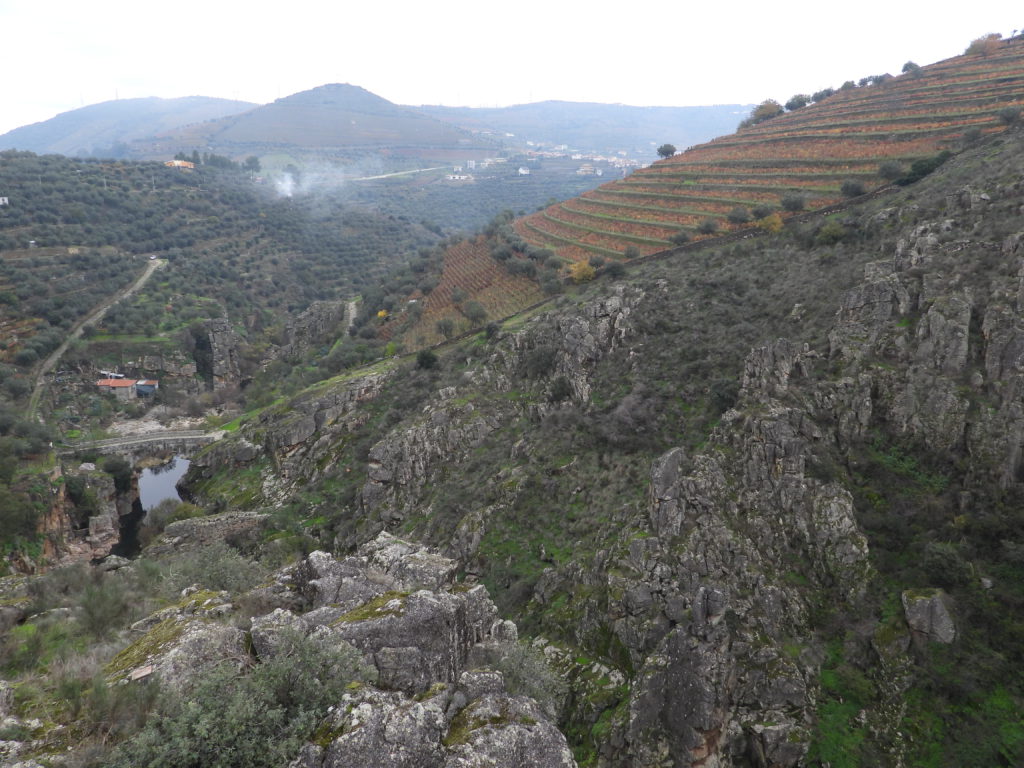 The final stretch crosses a curved bridge spanning the valley, built for a railroad line that never came to fruition, after which we slowly approach the town. It's late in November and we haven't seen any other walkers along the route.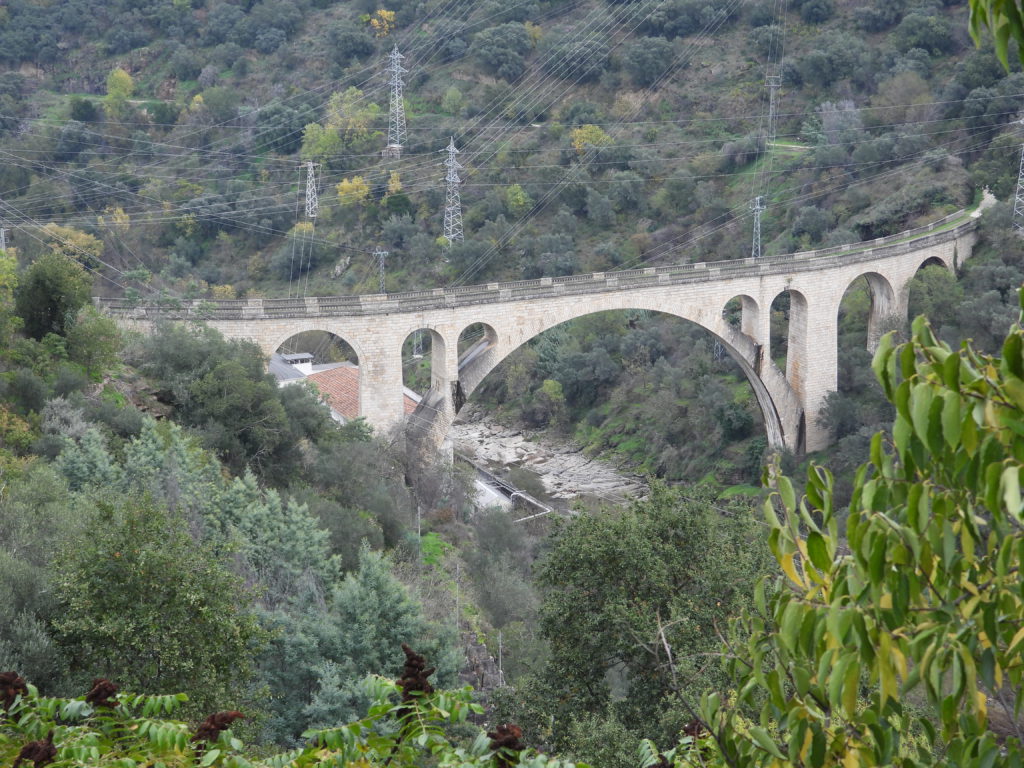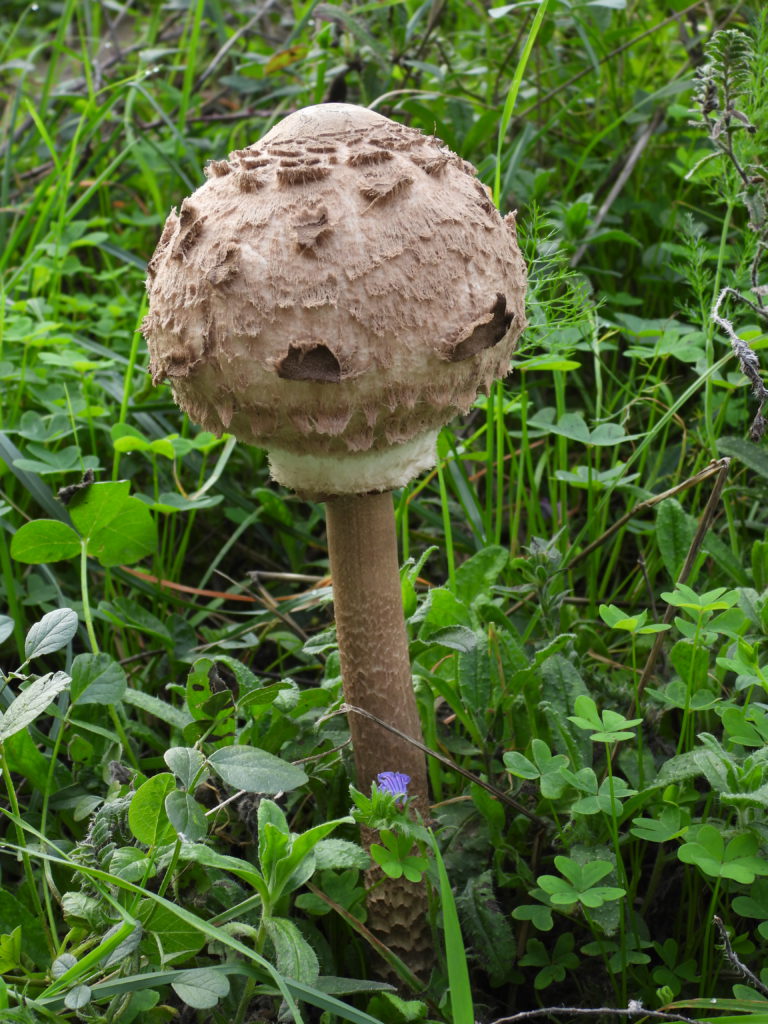 Régua is a river port, famous for shipping wine grapes downstream to Porto. Today, it's a tourist town offering day cruises. Manuela has chosen a nice restaurant overlooking the river for lunch and at least one of the employees is family, the father of Angelo whom I got to know a week ago in Maia.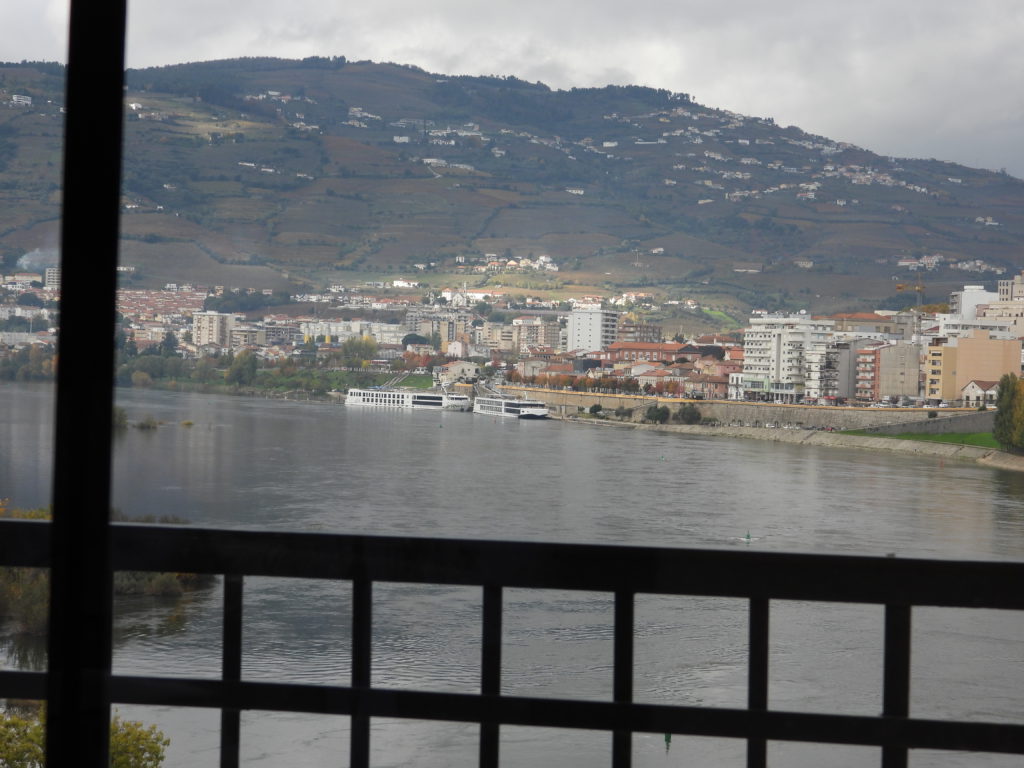 She asks what the lunch special is and when the answer is "tripe" (cow intestine), she tells the waiter, "That's not appropriate for Americans", but I'm in an adventurous mood and say "Bring it on". We're soon served a big pot of tripe, beans, and some chunks of a more normal meat.
The tripe tastes quite good, if a little gelatinous, except for a few pieces that are too gristly to get my teeth into. The beans and meat make for nice variety and together we finish off the large potful with two big helpings each. As we're leaving, she says, "So you've eaten tripe before" and marvels at my "daring" when I tell her it's my first time.
Manuela's sister has driven over to pick us up and we're quickly back home in Lamego. Manuela asks me what I eat at home and when I mention spanakopita, with which she's unfamiliar, I suggest we prepare it tonight. I make a quick walk to the supermarket for ingredients and we eat late after she finishes an online local Servas meeting that goes on far longer than she feels necessary. She likes the spinach cheese pie, even though what I thought was flaky phyllo (whose Portuguese name translates "leaf dough"), when unwrapped, turns out to be closer to a pie crust.
It's late, so we hit the sack and in the morning I reluctantly pack up and retrace my route to resume my southward journey. I'm heading for a host north of Lisbon, not too far from where I stayed several days ago. The detour was well worth it, though.