Prior post: http://blog.bucksvsbytes.com/2019/11/24/south-america-by-subaru-19-11-01-carless-for-the-day/
[NOTE: To enlarge any image, right click it and choose "Open image in New Tab" or similar.
Saturday starts out lazily with breakfast, a dip in the pool, and only minimal ambition. By about 1 PM, I realize I'd better get my ass in gear if I'm going to produce a taco dinner for tonight. I carry corn tortillas from the U.S. but everything else has to be located locally. Cheese and ground beef are universal. Produce — tomatoes, onions, garlic, avocados — are easy, except in some of the more meat-exclusive areas of Argentina. Finding edible lettuce can be a little dicey. Black olives are much less ripe than what we're accustomed to. It gets worse from there: Sour cream is unheard of in some countries and I learned to stock up on spices when I found them because the ones I want are far from ubiquitous.
The real challenge, though, is salsa. Some stores carry a local version. In others, it's a hopeless quest. For one meal in southern Chile, I jury rigged salsa from tomatoes, onions, chimichurri, and spices — there wasn't a chili pepper to be found. In Santa Rosa's Becerra Supermarket, I get lucky. Off in a corner they have one display unit of international foods and there, on a shelf marked "Germany", are jars of what we would call barely acceptable salsa. You know the kind: heavily cooked and thick enough to ooze rather than pour. I wouldn't use this at home, but here it's a real find and I buy 3 jars. I almost don't care that they cost several dollars each. Shopping accomplished, I head home for some hours of food preparation.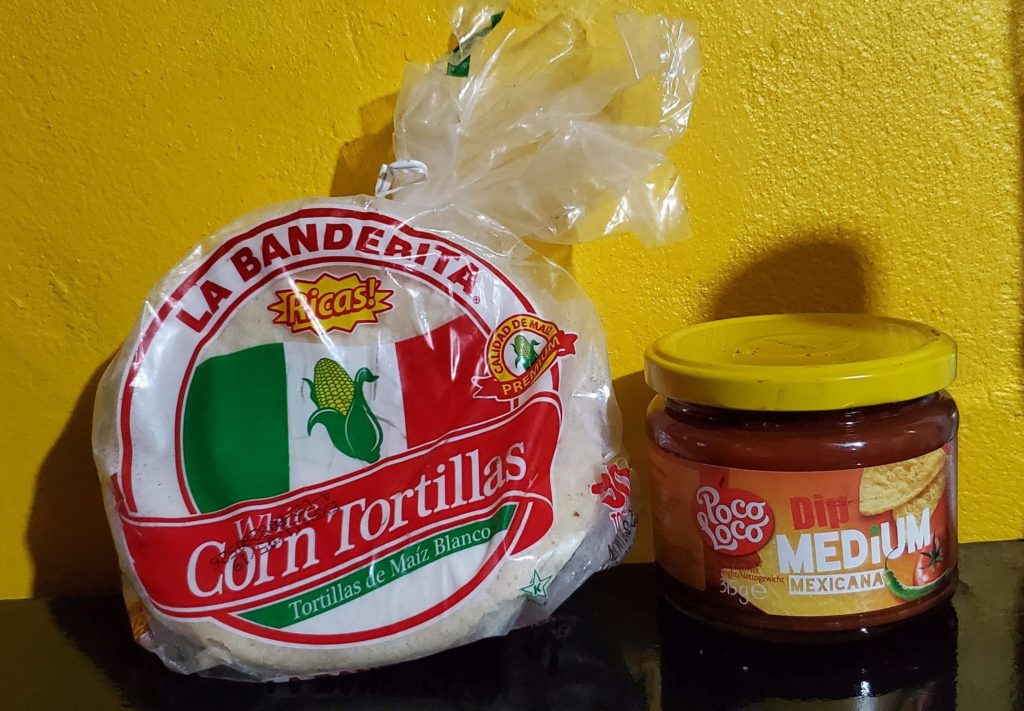 Another challenge in a typical tourist apartment kitchen is finding enough bowls or bowl-like objects just to hold 6 or 7 "make your own" taco ingredients at the table. Fortunately, we carry some basic picnicware that supplements what we find. A couple of hours of slicing and dicing means all that remains is cooking the meat and frying tortillas.
I cook a lot of different things, but Tex-Mex tacos are usually a real novelty and always well received, so that tends to be my first choice for guests while we're on the road. Everyone, everywhere eats plenty of pasta so I rarely do that. Slab o' meat is not my favorite eating style so that's eliminated, and other ethnic foods have ingredient procurement problems. I fry a load of tortillas and keep them warm in the oven so there's a continuous supply once the spiced meat is cooked and ready.
Susan is attending a book presentation with Josie in town at 8 PM, so dinner won't start until 9:30 which, fortunately, is normal in Argentina, even for young children. Our guests/hosts, Yanina, Chris, Dante, and Vera arrive on time bearing dessert and drinks and we dig in to the feast. They've brought Fernet Branca, an Italian herb liqueur. In Argentina, Fernet and Coca Cola are effectively the national cocktail. Unfortunately, I don't like cola, so Fernet and Coke is, let's say, an acquired taste. The sweet, bitter Fernet might be great straight or with other mixers but, for me, the cola destroys it. When it comes to national drinks, I'll stick with Perú's (and Chile's) pisco sour.
While traveling with Indian-American friend Anurag in Chile, though, we gave guests the choice of tacos or Indian food and they always chose Indian, to my chagrin. With Anurag nowhere in sight, though, tacos are back in the saddle. The six of us go through a lot of tacos and have a great conversation throughout. Young Dante gives us a thumbs up and assembles more tacos so we know he really enjoys them.
Chris and Yanina tell us their origin story, they met at a bar in the happening neighborhood of San Telmo in Buenos Aires. Discovering that Yanina was learning English, they decided to get together for language practice. "Language practice"… That's Chris' story and he's sticking to it. They eventually decided to move to Santa Rosa and build a living and a life there. It's a great cross-cultural story. Chris mentioned yesterday that Yanina resists seat belting their two children for short trips feeling, as many Argentinians do, that danger only exists on the highways. He has been trying to convince her how important it is but apparently without total success.
So when the topic of driving comes up during dinner, both Susan and I, without any prior plan, start relating gory stories of all the deaths and crippling injuries that happened to our friends and classmates in the long ago pre-seat belt days, hoping that the additional input will strengthen Yanina's resolve.
As we feel like friends rather than customers, we dare to offer some constructive criticism of the cabaña details. Things like providing an extension cord outside so we can sit in the shade with the computer, adding a soap dish in the shower stall — little amenities that make a difference to guests but are rarely commented on. As hoped, these are taken in the spirit in which they're offered.
Yanina has made dessert, an original, unnamed concoction somewhere between a cake and a pudding and it is delicious. By 11:30 or so, the family heads back across the yard to their house (after Chris generously and unsolicitedly washes dishes), we put away the leftovers and collapse into bed.
Next post: http://blog.bucksvsbytes.com/2019/12/10/south-america-by-subaru-19-11-03-more-meat/