Prior post: http://blog.bucksvsbytes.com/2019/11/23/south-america-by-subaru-19-10-31-santa-rosa-de-calamuchita/
[NOTE: To enlarge any image, right click it and choose "Open image in New Tab" or similar.
With the car in the shop until evening, being repaired after yesterday's unfortunate tap by Alberto's pickup truck, we take a rest day hanging out at Cabañas Kangarú, including taking a dip in the swimming pool.
One of the outstanding cabaña amenities is two very friendly dogs, Aussie and Kiwi, who keep us company during whatever precious hours they don't spend sleeping.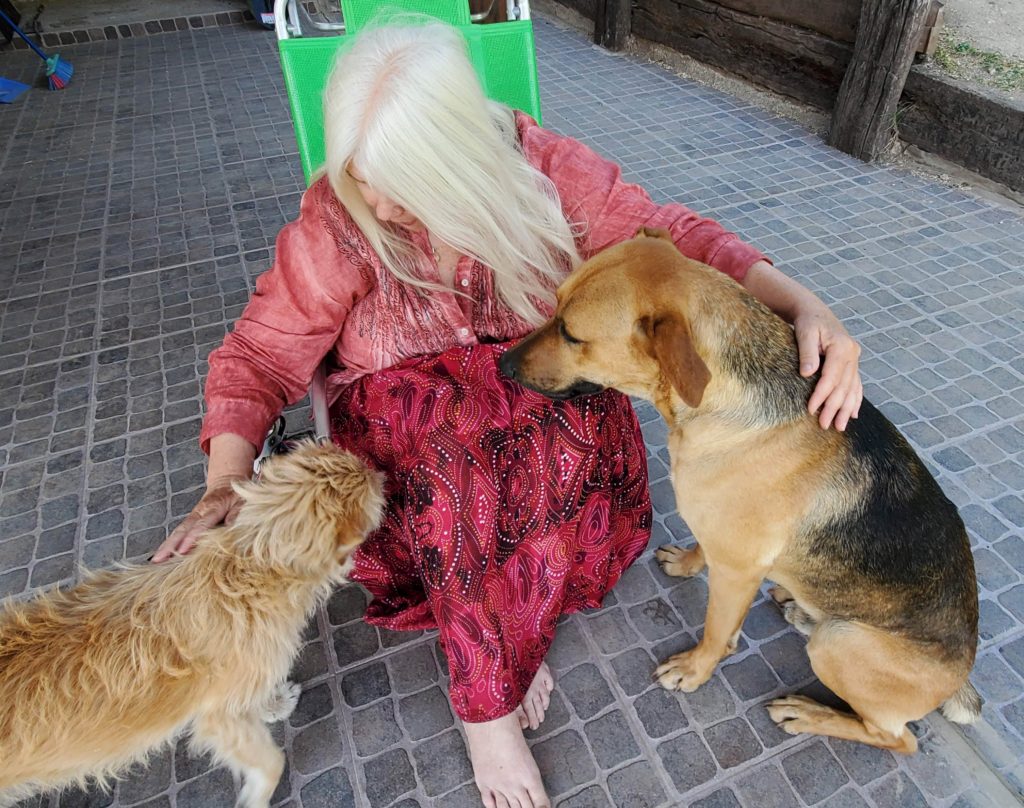 We also have several conversations throughout the day with Chris and Yanina. She has generously offered to do a load of laundry for us ("no undies!") and by afternoon we're feeling more like houseguests than paying customers. I invite the 4 of them to a taco dinner tomorrow night, which means I have some major shopping to do.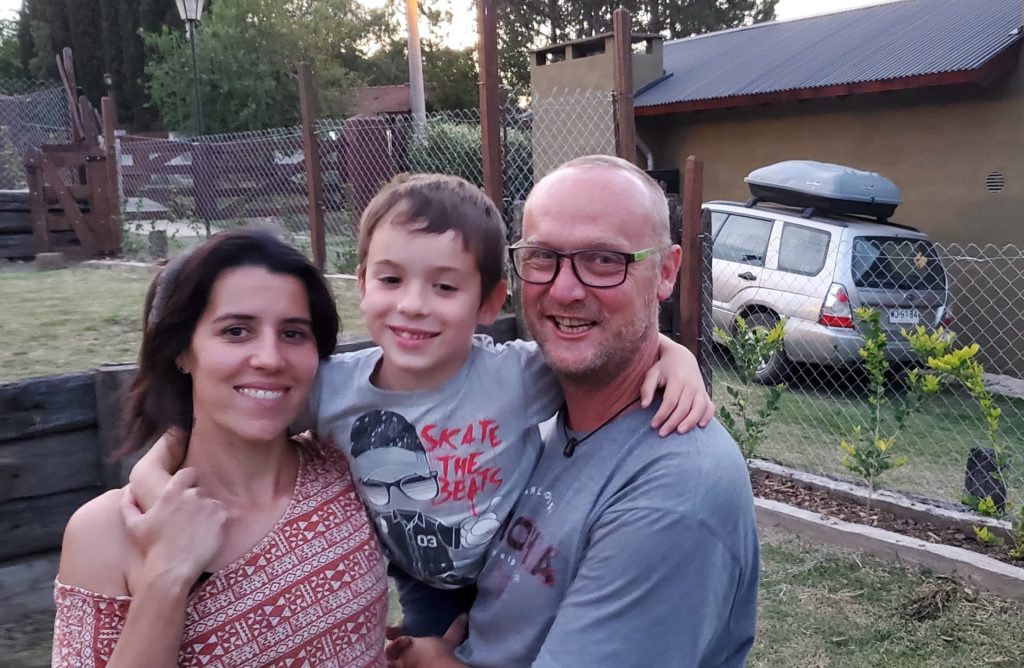 As evening approaches, I walk a few blocks across the Puente Hierro (Iron Bridge) to catch the bus for the neighboring town of Villa Belgrano where I have to pick up the Subaru. Despite only requesting a rough repair, the body shop has done more than the minimum and the damaged area, while clearly visible, looks pretty good.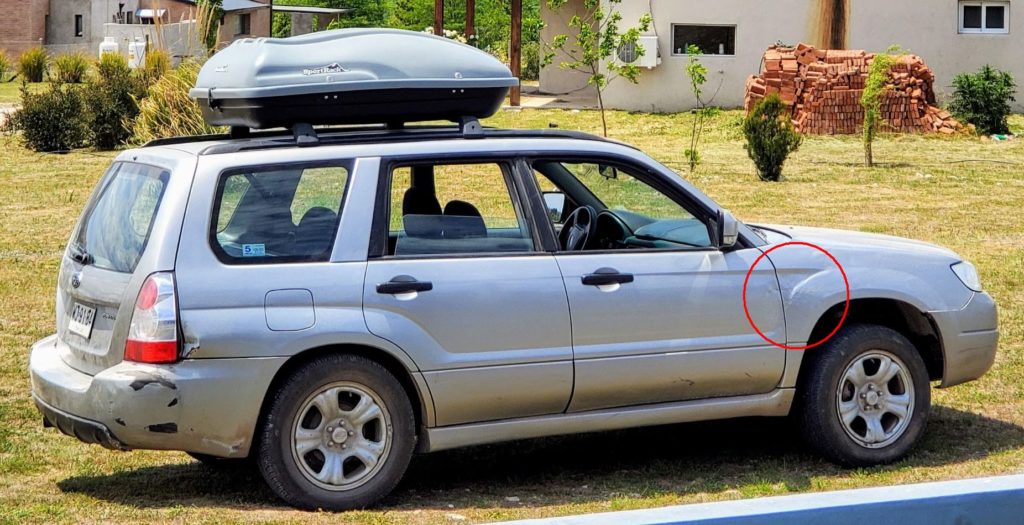 I drive back to Santa Rosa, pick up Susan, and then Josie. We're going out to eat at 9 PM, the typical Argentine dinner hour, to her favorite restaurant, a fancy, family run Italian place called Nonna Bertina. The owner knows Josie well and we're treated as honored guests. By the end of the meal, stuffed with pasta and dessert, we can barely move. The owner is a whiskey connoisseur and offers us a complimentary taste of a rare one. It takes some effort to convince him that the experience (and the expensive booze) would be wasted on us, especially me who thinks straight distilled liquor tastes vile and fine wine is just spoiled grape juice. I'm also cognizant that Córdoba province has 0.00% blood alcohol tolerance for drivers and frequent DWI checkpoints.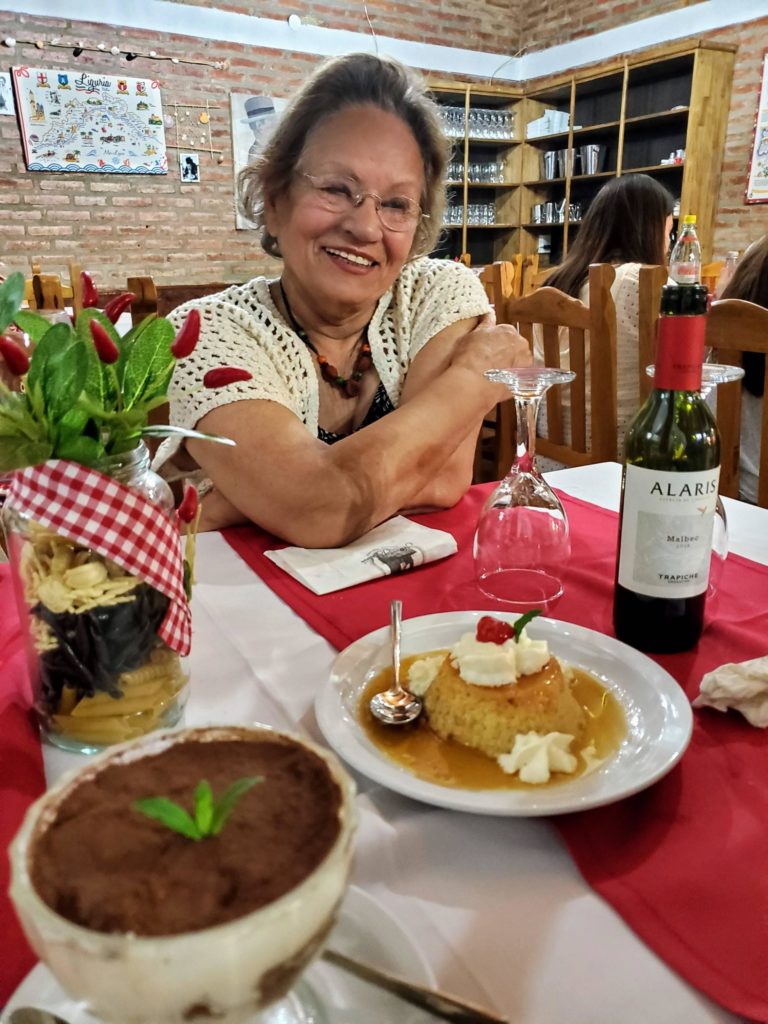 After dropping Josie around 11 PM, we return to Kangarú to sleep off the meal.
Next post: http://blog.bucksvsbytes.com/2019/11/25/south-america-by-subaru-19-11-02-tacos-for-6/