Prior post: https://blog.bucksvsbytes.com/2023/10/30/road-trip-europe-ii-23-10-16-23-10-20-first-time-in-basque-country/
Leaving Irún on a quiet Sunday morning, I trundle my way along the Atlantic coast, avoiding the big, direct roads. I'm only going about 100 miles and it doesn't take long to reach Gipuzkoa, a stereotypical beach town seen everywhere that wants to attract Western tourists – high rise vacation apartments shoulder to shoulder above the shoreline. The north coast of Spain is very rocky and there aren't that many sandy beaches, so each one attracts a lot of construction. The town is set in a curved cove and has a nice surf.
[NOTE: To enlarge any image, right click it and choose "Open image in New Tab" or similar.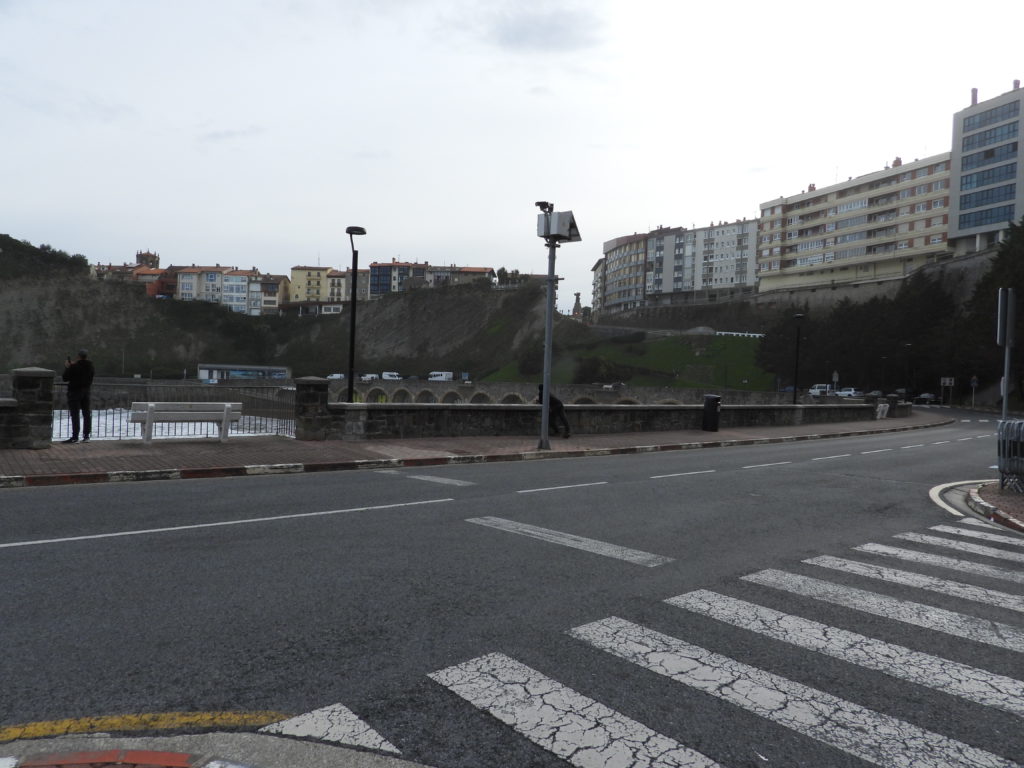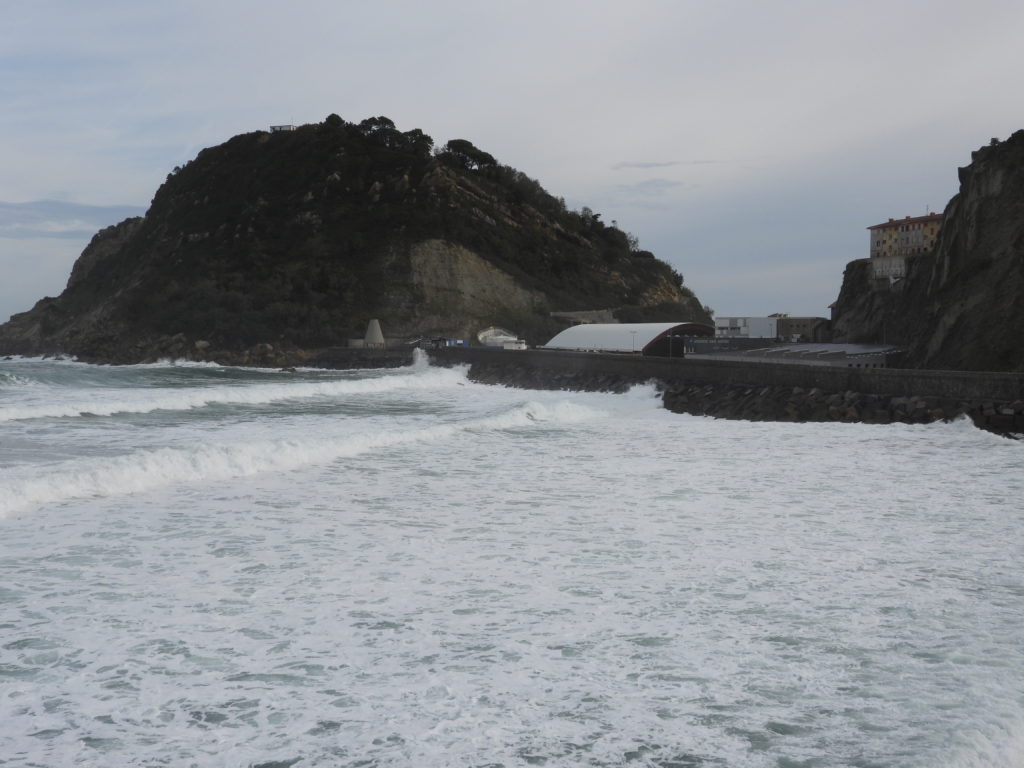 Many twisty roads, high above the ocean, lead me to Bakio, another typical beach town but this one is where my next hosts live. Cian (his parents named him for the color cyan) invited me earlier but when I told him just yesterday that I could arrive today, he informed me that he currently had Airbnb guests in his apartment but that his friend and neighbor Manu (for Manuel) would host me.
On arrival, I see that they live in an older, high rise building set high above the beach with a magnificent view of the ocean, Bakio, and the surrounding topography.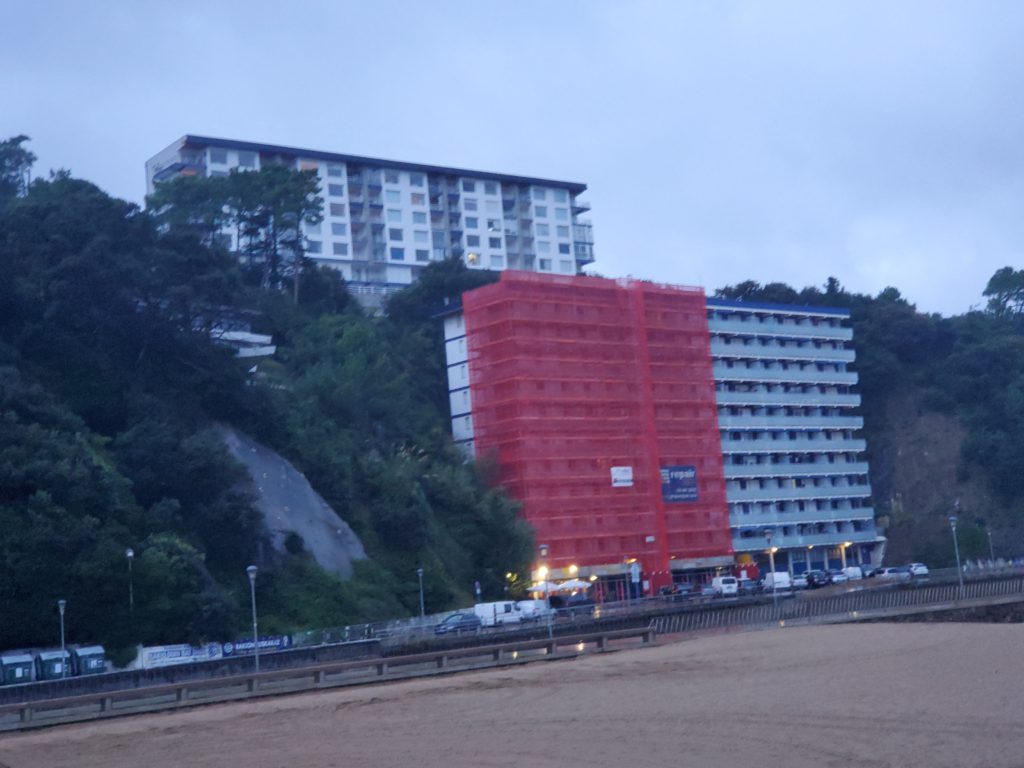 Cian doesn't answer my knock and when I text him, he informs me he and Manu are (is there any other option in Spain?) socializing in a beachfront bar. He invites me to join them, so I walk back down the mountain and we soon connect over a beer. Traveling in Europe, I probably drink 10 times as much alcohol as I do at home. For me that's still not very much, though. I deflect many more invitations than I accept.
After some introductory chat, the three of us walk over to the adjacent beach. At the far end, Manu and Cian intend to go swimming in the surf. I don't have shorts on me, so I decide to go in my underwear – a severe risk of coming out naked. Cian, perhaps wanting to avoid that unpleasant sight, gives me his shorts. The surf is strong – Bakio is popular with surfers – so I'm somewhat cautious, not going out more than neck deep. The water is warm by my standards so I romp in the rough waves for quite a while.
Later, we walk back across the wide beach and up the steep hill to the apartment building. I settle in to Manu's guest room and we spend some hours talking, eating, and drinking. Cian was born in Catalunya but has lived in Basque country for years. Manu is pure Basque but for many years has lived in Belgium with his Belgian wife. He teaches philosophy there in a Catholic school. On the beach earlier, he explained that he loves to teach his students about astrology. I'm floored, not just because he puts such faith in it but that he can get away with including it in a philosophy class. He spends his summers and his 50% time off during the school year (Europe, gotta love it) in his hometown. He bought the condo a year ago so he now has a permanent base. Although there is a 15-year age difference between Manu and Cian, they are close friends and live just doors apart on the same floor.
While gathering my things to leave the beach earlier, my phone fell out of my pocket onto the sand. It seemed as though it was a harmless drop, but now I discover I can't successfully plug in the charging cable. Careful examination with my magnifying glass reveals several grains of sand have gotten in the USB port, blocking the cable plug from seating properly. The grains are sticky and no amount of gentle banging will dislodge them with gravity. I try puffing air repeatedly into the port, to no avail. In desperation I try to squirt some water in there (the phone is waterproof) but the opening is to small to inject it in with any force. Finally, I spend about 30 minutes with a toothpick and safety pin painstakingly pulling out each grain from the minuscule opening while carefully avoiding damaging the delicate gold contacts. I finally get it but the cable grip in the port is no longer very secure and too much vibration now causes it to fall out.
As I'm showing off the features of my new camera, Cian spots a heron perched in a tree far below. Using my 3000 mm zoom setting and steadying the camera against the wall, I get very good photos of the distant bird. This camera is going to be a worthwhile accoutrement despite my having to lug around its 4 pounds on my shoulder. On my prior Europe trip earlier in the year, I had only my phone camera. Despite being technically very capable, the 2x zoom limitation meant many photos had to be post-cropped to enlarge and emphasize the area of interest. There's much less of that with 125x zoom.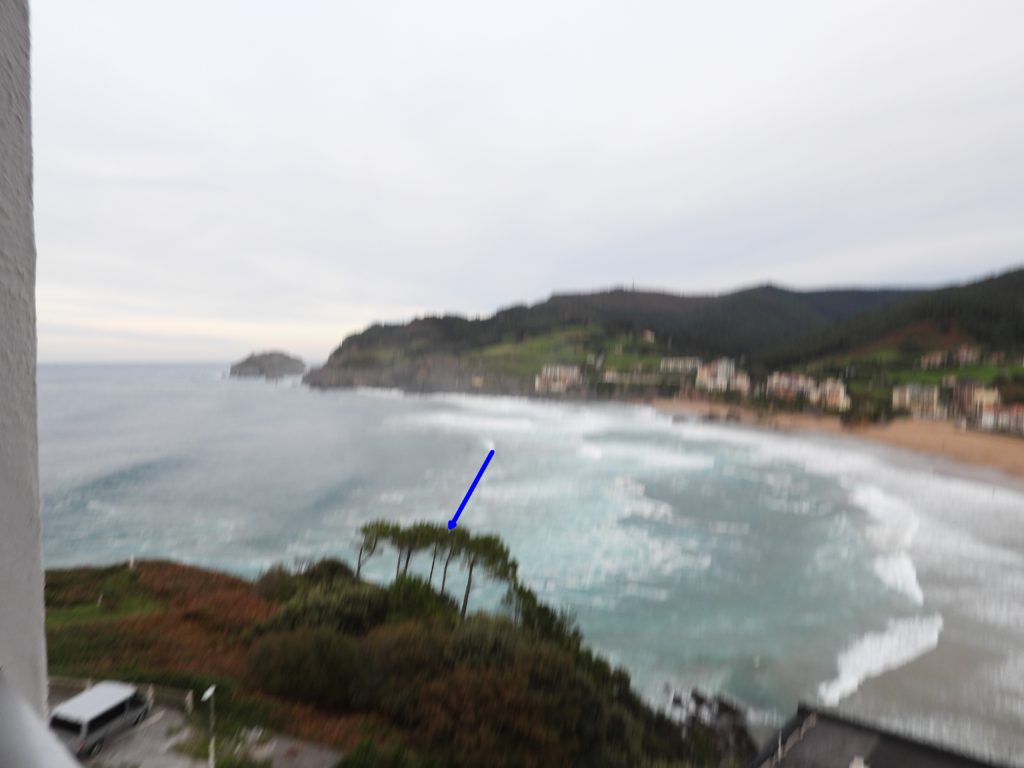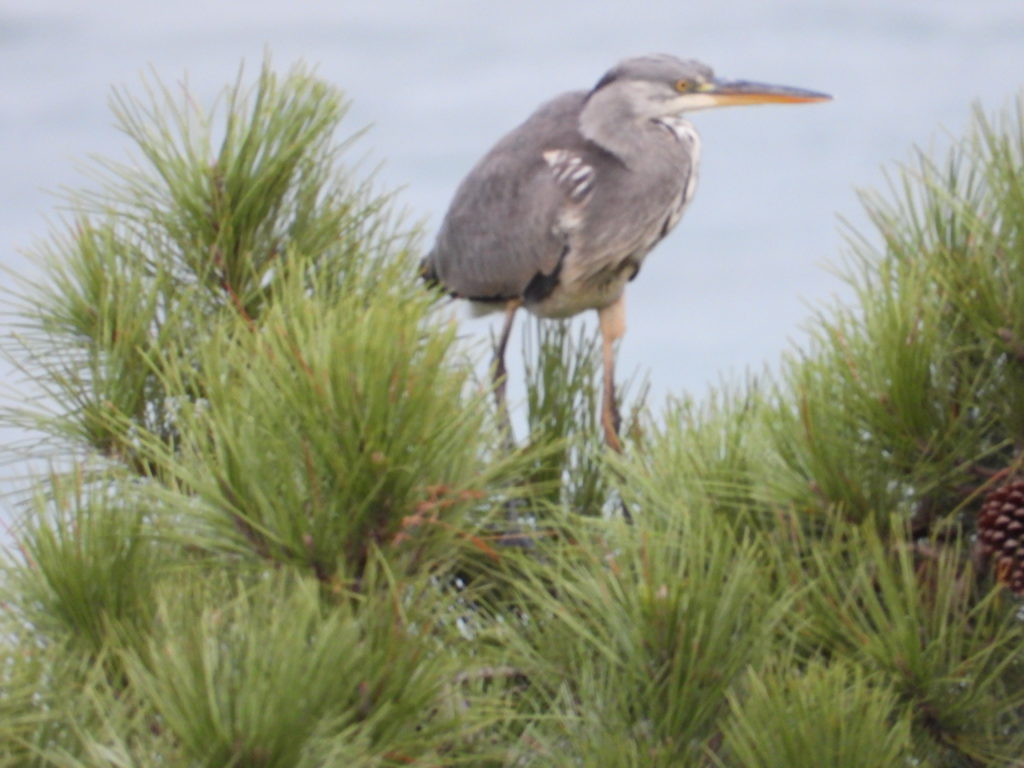 The view from the balcony is expansive and the light is ever changing as the sun gets lower.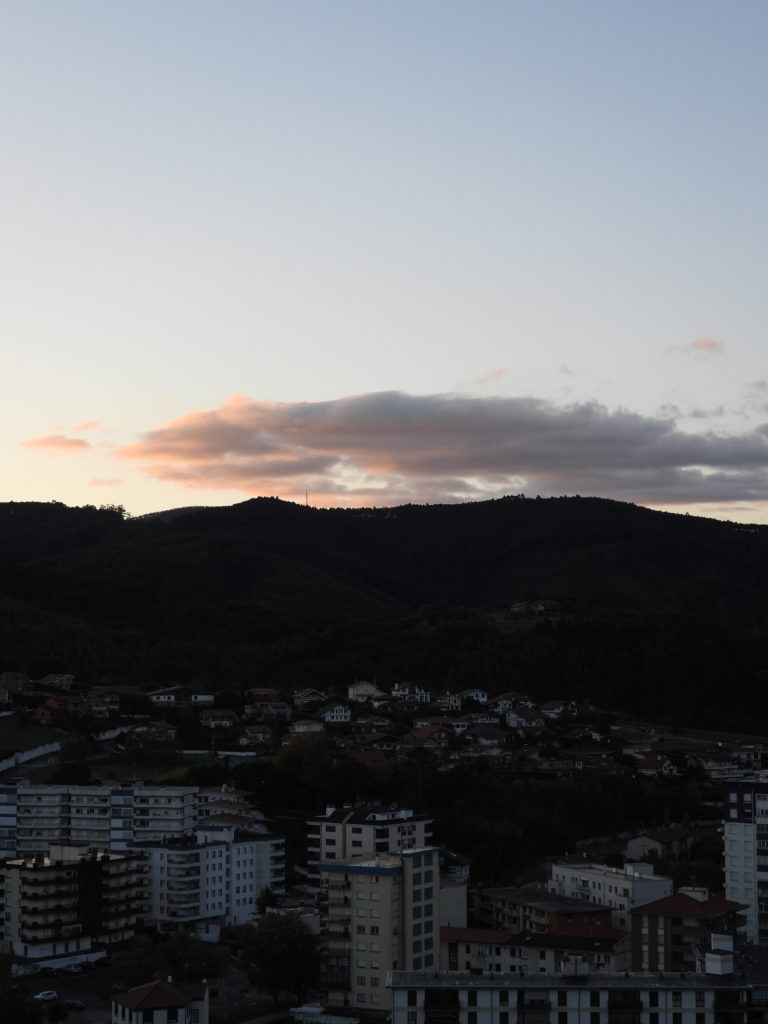 At this time of year, it isn't oppressive because it never gets very high in the sky. Bakio, with it's mild winter climate, is at about the same latitude as Lake Ontario. It's the off season and the town is very quiet, having shrunk to its permanent population of about 2,000. During the summer it swells to many times that. It's always been oriented toward the beach — tourism now, traditional Basque fishing in the old days. It has no town center as is customary in Europe. Because he's only there intermittently, Manu has no home internet so I have to rely on cell service throughout the evening. More and more people I meet these days have internet solely on their phones. This sometimes makes it difficult for me as I rely on my laptop for a lot of things, including remote work. Outside the US my plan doesn't let me tether the computer to my phone to get fast data.
As the afternoon shades into darkness, we continue to sit on the balcony talking about a variety of topics.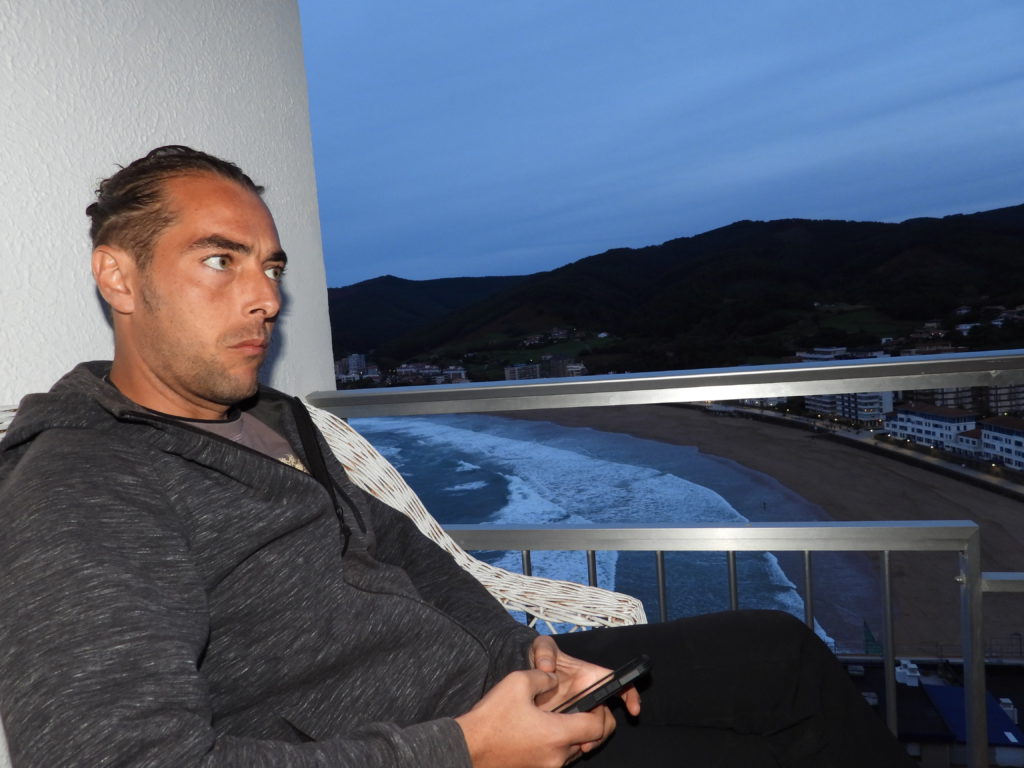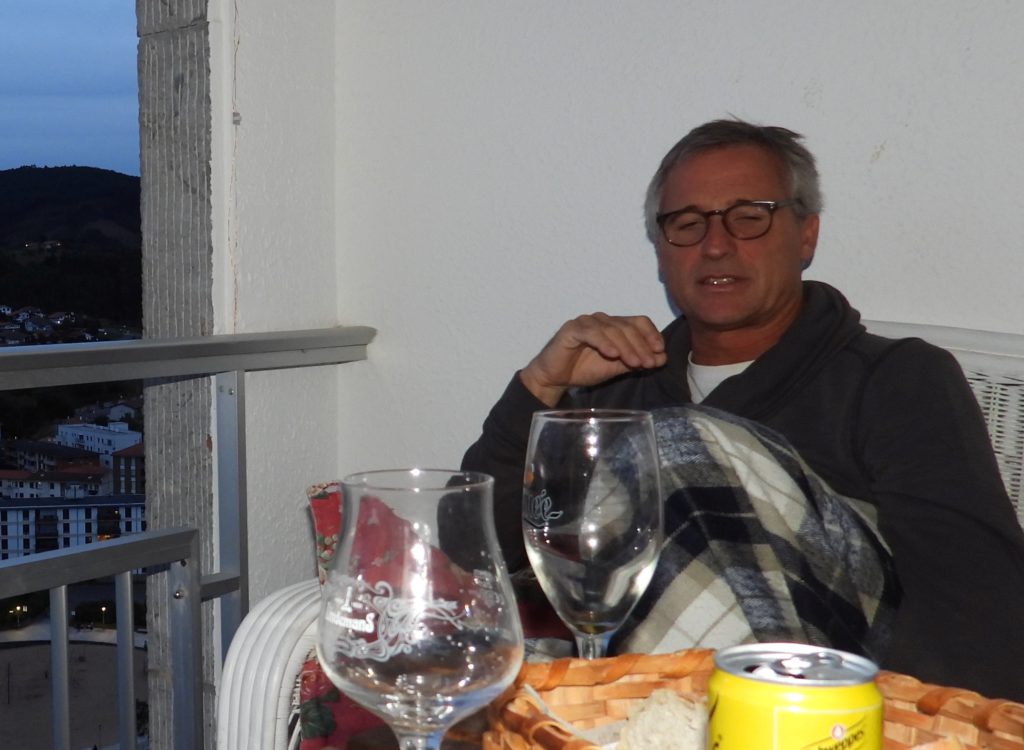 By morning, it's raining steadily so hanging around outdoors isn't very appealing. Manu goes surfing in the morning – he loves it and tries not to miss a day . — and is then off on some errand. Cian's French guests are out for the day, so he invites me to use his internet. He takes a long midday nap while I work on my computer. As evening comes on, it's still raining and Manu returns. The three of us go out searching for a restaurant or bar that is open. Cian is wearing bicycle shoes that have some sort of metal on the soles. On the steep, wet pavement down to the town, he keeps losing traction. Eventually Manu and I have to comically hold on to him until the surface levels out.
We make a long pedestrian circuit through Bakio. Between the rain, the off season, and it being Monday, everything is closed except for two adjacent bars. We go to the Bar Kai and socialize. Throughout my visit, Cian is constantly stepping away from us to respond to a call or text. I tell him I've seen drug dealers who spend less time on the phone. In fact, his mother is fighting cancer and he's trying to make a living from his Airbnb proceeds. His dream is to get a rural place and live self sufficiently and by barter. An ambitious goal for sure.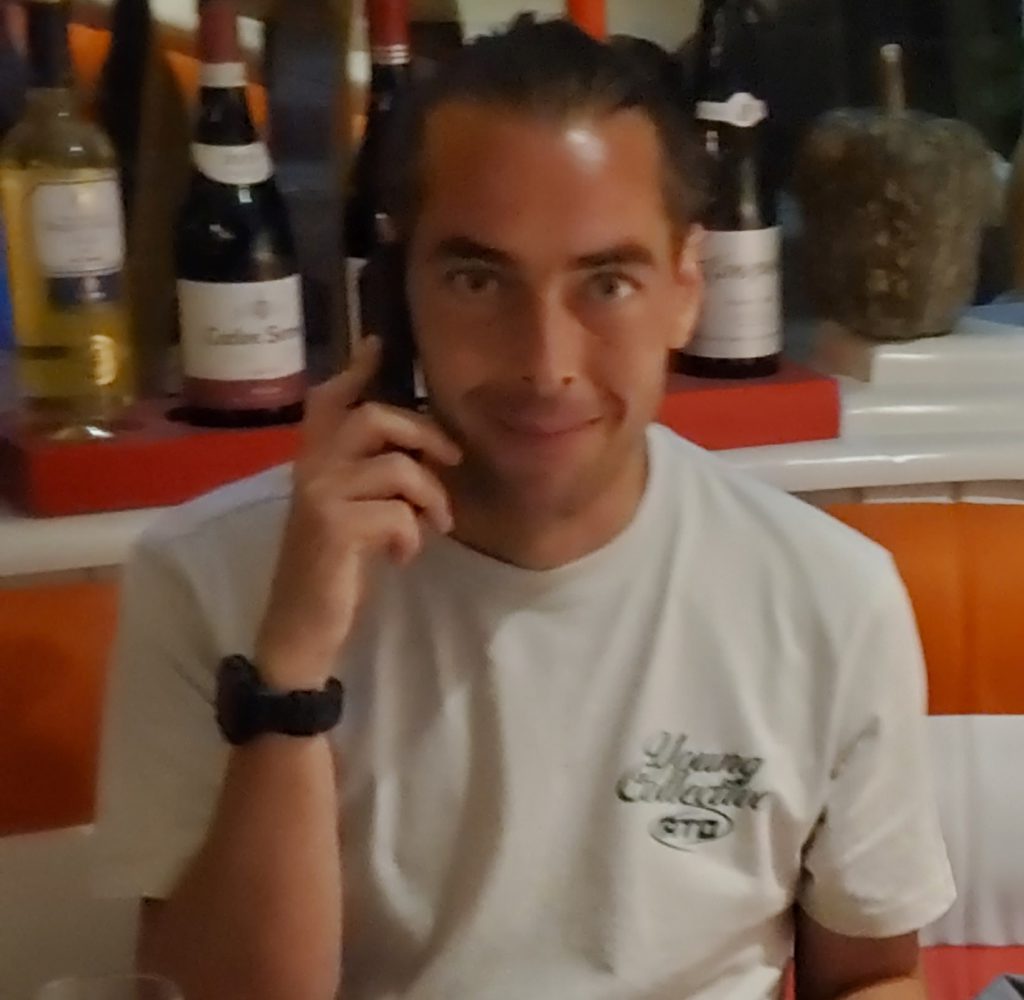 I try a Gilda, named after the 1946 movie, a skewered, repeating sequence of green olive, anchovy, and green pepper. This is a famous example of Basque pintxos (their word for toothpicks), house-made canapes served in every bar. I don't normally like green olives, but the Gilda combination is delicious – just the right combination of flavors. And, I manage not to eat the toothpick or poke my cheek with it.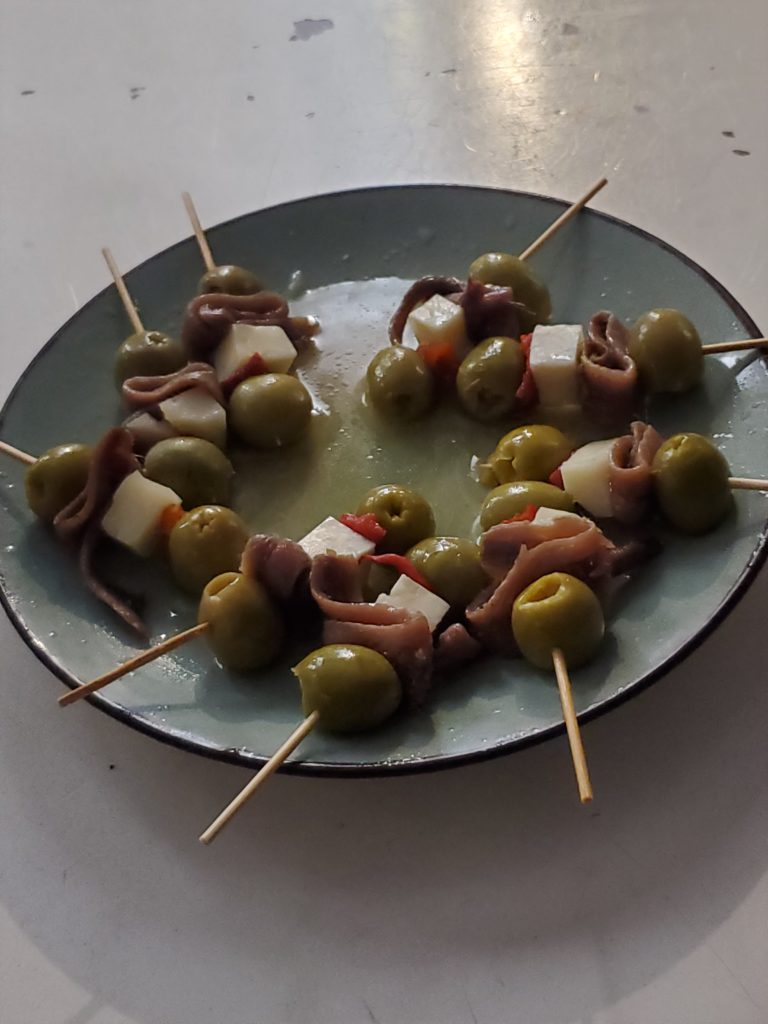 As we're talking, another man comes up to our table and then sits down with us. Turns out he's an acquaintance of Manu but they haven't seen each other for 15 years. His name is Aitor Maguregi and he's pure Basque all the way back. His last name means, strangely to me, "strawberry field". He, Manu, and Cian talk for an hour or two. I can't follow much of it due to the rapid fire Spanish and high ambient noise level except when Aitor turns to me and explains or emphasizes some point with his very limited English. Every so often, I chime in with something in Spanish that I desperately hope is relevant to the conversation at that point. What amazes me is Aitor's face. He is just what I imagine the rugged, Basque fishermen of the 1500s must have looked like. I never find out what he does for a living but I know it's not fishing. I feel like I've seen a bit of history, but it could all be imagination. Judge for yourself.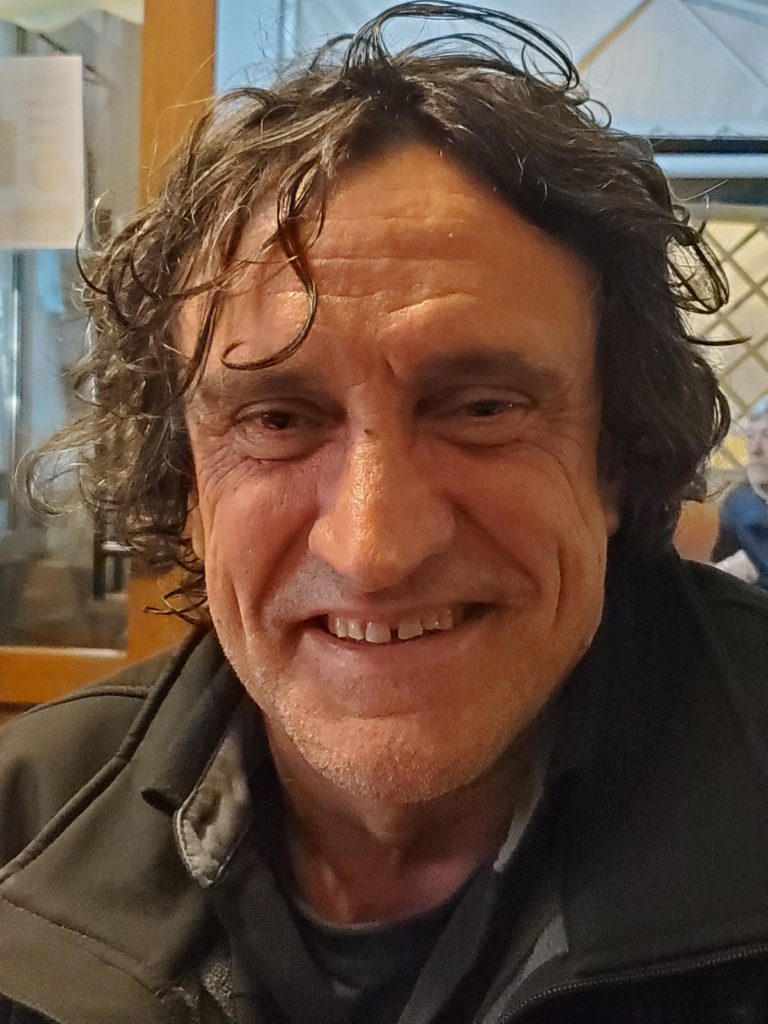 After Aitor ambles off into the rain, it's not long before the bar closes for the night. As we're leaving, as a simple courtesy I say "buenas noches" to an older lady sitting near the door. She responds and then tellss me, in Spanish, "In Euskera we say 'Gabon'." For the rest of the evening, I say Gabon to everyone and they obviously appreciate the small effort.
With the bar shuttered, I think we're going home but, no, we go next door to the other open bar, Birjilanda, where Cian speaks to an acquaintance, an African from Senegal. He and I speak English for a while and a drunker companion of his keeps telling me that Kemi is in Spain illegally. Cian conferences with the the owner and, although the grill is closed, orders a delicious hamburger which we split 3 ways over another round of red wine. I switched to lemon soda hours ago. Burger devoured, this bar is also closing, so we finally walk up the hill to home. I've never shut down one bar before, never mind two.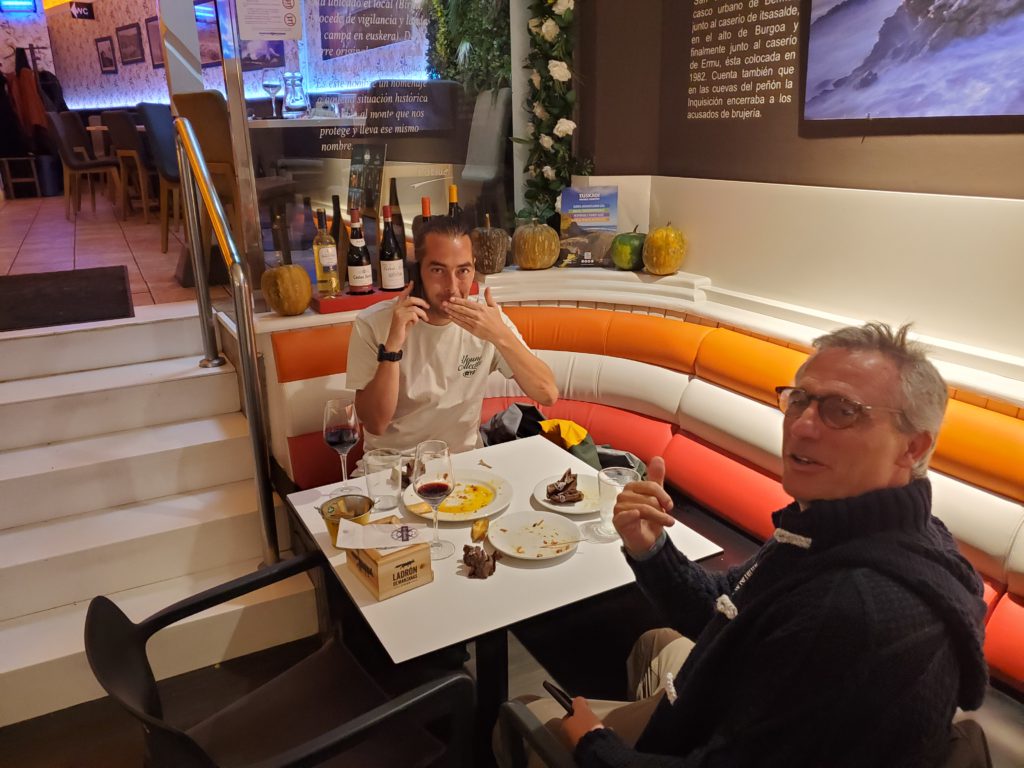 In the morning, Manu heads off to surf, Cian is still fast asleep in his apartment, and I head out before 11 AM for the short drive to Bilbao, Basque country's largest city but not its capital.
Next post: https://blog.bucksvsbytes.com/2023/11/05/road-trip-europe-ii-23-10-24-23-10-26-bilbao-the-ancient-basque-seaport/