I'm off to son, Eric's, house near Girona, Catalonia, Spain this Monday morning, a lengthy, grueling trip from my home in Livingston Manor. Susan's last minute decision not to come along throws me into a completely different travel mode. By the way, if you're interested in riding along for a while, contact me ASAP.
[NOTE: To enlarge any image, right click it and choose "Open image in New Tab" or similar.
Instead of someone driving us to JFK airport, I use public transportation, loaded like a burro with heavy backpack, duffel bag, and two shoulder bags. In case you haven't tried it, once you have a backpack on, a shoulder bag becomes a dead neck weight. Two of them are a choking hazard.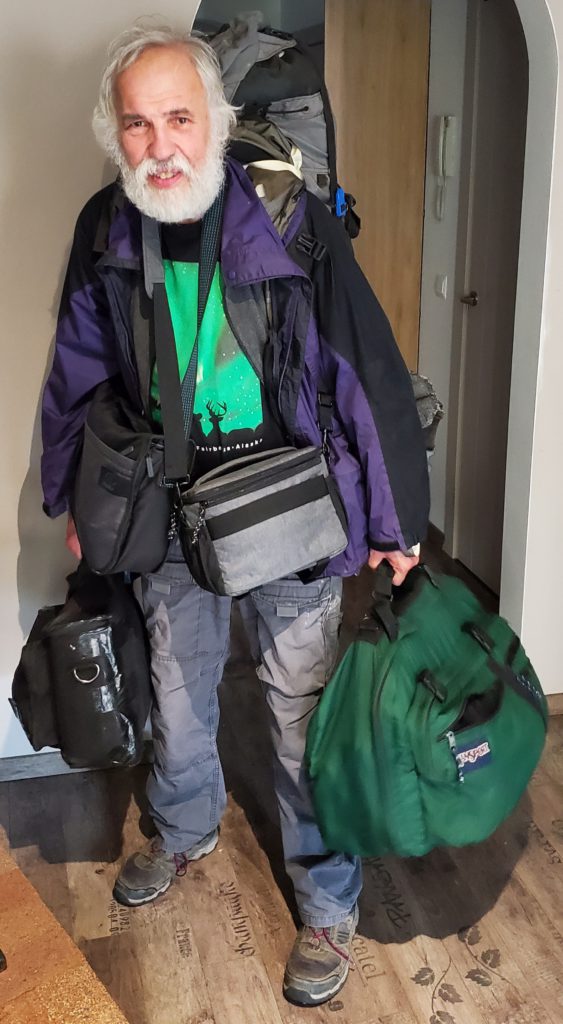 Susan drives me to the Coach USA bus terminal in Monticello. Due to their sparse schedule, I have to catch an 8 AM bus to make a 5 PM flight. It's been quite a while since I bused to New York City and I'm shocked to see the terminal and ticket counter no longer open in time for early buses – another example of the decades long trend of CSID, "Customer Service Is Dead". I have to figure out quickly how to buy my ticket on my phone.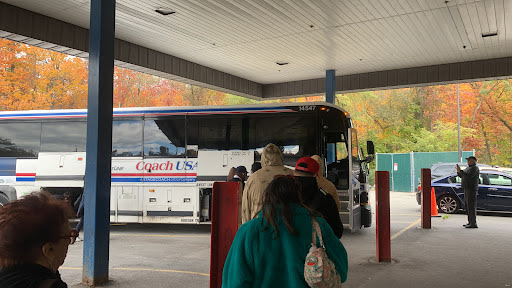 The Short Line, as it used to be known, was never a luxury service, but post-pandemic it's gotten sloppier. The driver pulls in late, without apology, and his destination sign carelessly says "Binghamton" instead of "New York". I imagine he rolled out of bed ten minutes ago. Once we're on board, he announces we're making an unscheduled detour to Middletown. He has to go where management tells him, of course, and when some passengers complain he's making them late for work he ignores their comments.
Most annoying, he plays religious preaching radio for the whole trip. I can hear it clearly from my seat in the second row. At one point, when the bus is stopped, I ask, "Can you turn down the sermon, please?" but he ignores that, too. Before departure, most drivers offer a stern warning that passengers playing music at a volume others can hear or engaging in extensive cell phone conversations are at risk of being put off the bus for discourtesy. This guy supplies the audio disturbance himself. The Conditions of Carriage do not include being evangelized throughout the ride. I complain to the company but don't identify the trip because I don't want to risk getting the driver fired. I suggest they remind all drivers not to subject passengers to personal religious beliefs.
Arriving at Manhattan's Port Authority Bus Terminal, I struggle into the depths to catch the subway to Queens, followed by a long bus ride to JFK. A couple of short Skytrain rides and another long, burdened walk gets me to the American Airlines ticket counter. Here I can finally shed my loaded backpack. I always use soft luggage because it's easier to pack in my car, but I lose the benefit of wheeling it around.
On my way to the gate, I encounter a new procedure: the ID checkers ahead of security won't let you proceed if you're carrying more than two items. I'm told I have one too many and required to repack things to get rid of one. I'm already wearing extra layers of outer clothing that wouldn't fit in my luggage but, fortunately, there's just enough slack in my flexible bags to consolidate four into three.
The security checkpoint is easy thanks to PreCheck but I will never stop resenting that passengers have to pay the federal government to qualify for a procedure that saves it labor and improves service for everyone – opportunistic bastards. Oops, is my problem with authority showing?
I had hoped to while away the idle hours in an airline lounge, with food and comfortable chairs, due to a benefit I have on one of my credit cards. After an hour of confusion on the phone trying to get usage details, I finally present myself at the American Airlines lounge where they immediately tell me my pass isn't valid in Terminal 8 and I can't transit to a different terminal lounge. There's a restaurant where I could, instead, get $28 off a meal. Given it's in the post-security hostage prison, that probably amounts to a 10% discount, but they're closed on Mondays anyway. So I spend over four boring hours at the gate before my flight boards, which gives me time to notice that either American Airlines or Port Authority are letting things slide here. The nearest water fountain is out of order and the next one's flow is so low you have to just about suck on the metal spout to get a drink. The phone charging station ports are mostly broken so users have to negotiate turns on the two functional ones. The seats have prominent electrical receptacles on them – but they're not plugged into power.
The 7-hour flight is uneventful. Supper and a breakfast snack are supplied and there are no disruptive passengers. I have two seats to myself, so I manage to curl my six foot frame into a three foot sphere and catch some fitful sleep en route. Despite thoroughly understanding the physics involved, it's still hard to believe that you can routinely hurl a 300 ton plane into the air and reliably expect it not to slam vertically into the ground at 200 miles per hour. All I really ask of an airplane flight is that it gets me and my luggage to my destination, alive. The days when flying was actually fun ended around 1980. I fly as little as possible and when I do, I like to amortize the discomfort and frustration over at least two months of destination time. For me, it's actually more fun to drive 3,000 miles than spend a day being treated like a package of meat suspected of terrorism.
Arrival in Barcelona early Tuesday is a relief.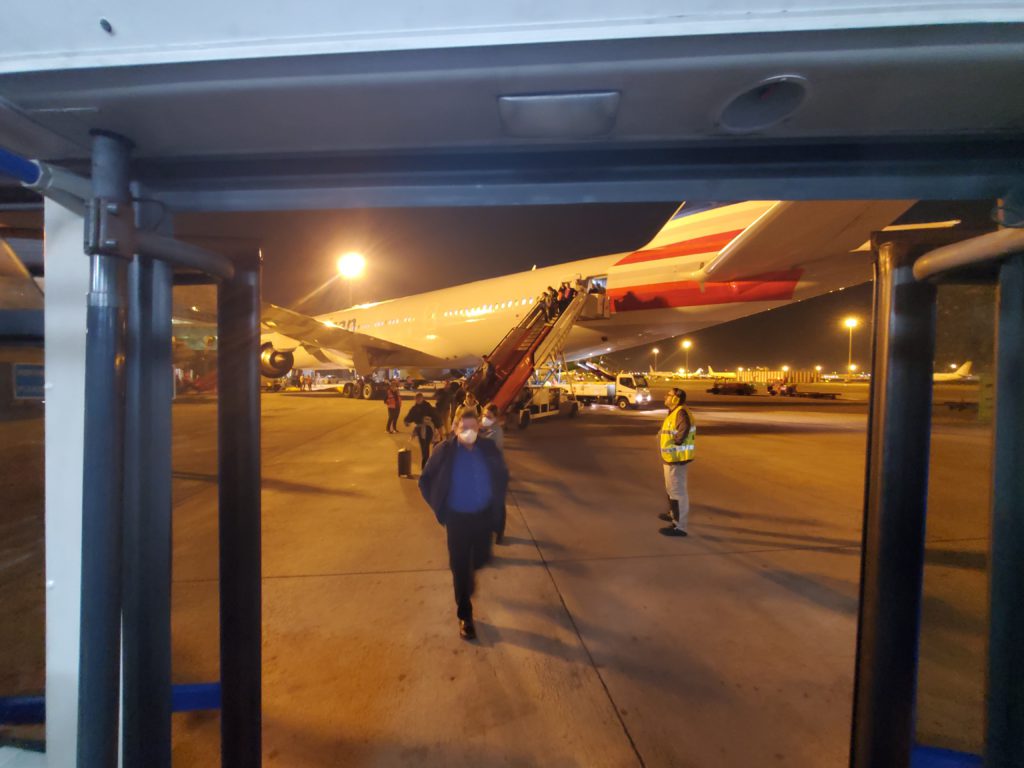 Thanks to my German passport, I breeze through immigration. Unlike US airports, European ones supply free luggage carts so once I claim my pack I'm unburdened for the long walk from terminal to the train station, broken up by a free shuttle bus ride. Barcelona's two terminals are on opposite sides of the airport, about 15 minutes apart by road. You can't walk between them.
Two train rides get me to Girona. The regional train has nearly airport level security, with bag xray, id checks, and queueing.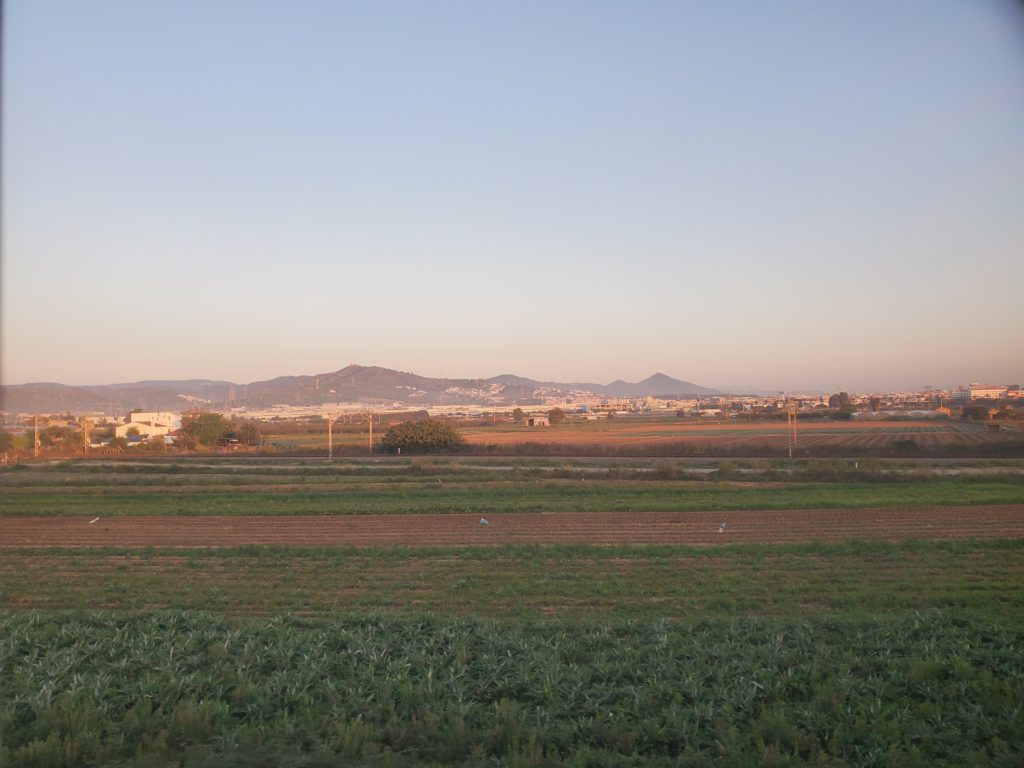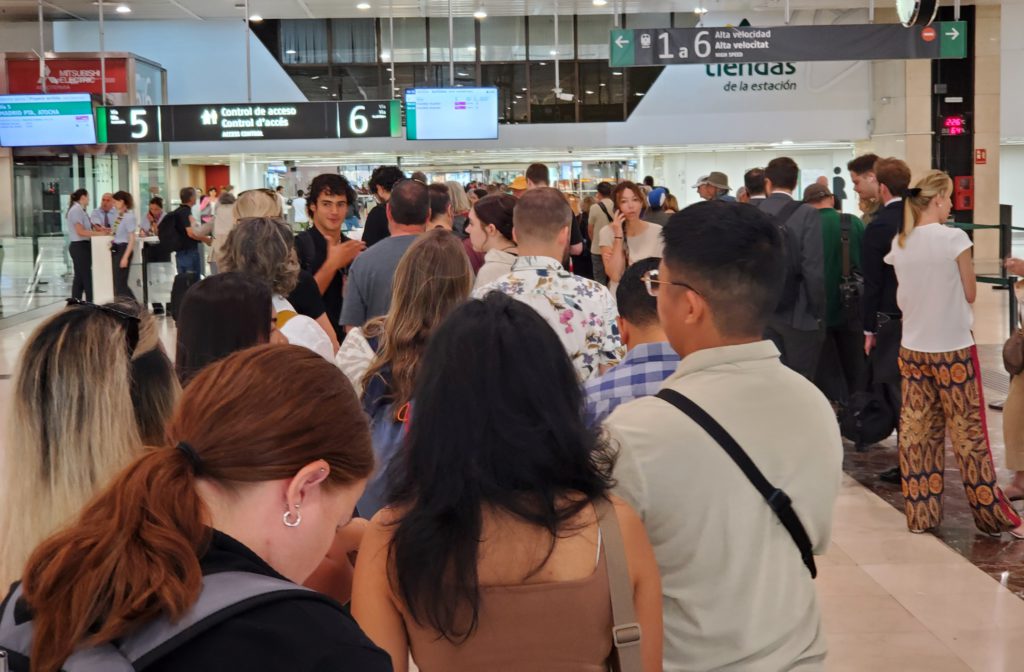 Arriving in familiar Girona, I had originally planned to take two local buses to Eric's house but, since I'm again loaded like a pack animal, I take the easy way and opt for a taxi. Eric is at work so I let myself in and am asleep 10 minutes later. My complete door-to-door trip took 21 hours and involved car, bus, train, bus, train, train, airplane, bus, bus, train, train, taxi. Whew. I'm lucky I can still manage this sort of travel.
When I awake in the evening, I greet Eric. I see more of him now that he lives in Spain than I did for years before. It's a happy reunion. He's such a fine person, despite the acrimony he and I went through when he was young.
Next post: https://blog.bucksvsbytes.com/2023/10/18/road-trip-europe-ii-23-10-11-23-10-15-girona-catalonia-dont-say-spain/