Prior post: https://blog.bucksvsbytes.com/2023/10/18/road-trip-europe-ii-23-10-11-23-10-15-girona-catalonia-dont-say-spain/
It's well before daylight this Monday morning when I load everything into the car. As I hoped, it all fits into the covered rear cargo area and I can keep the back seat empty – a major reduction in risk of theft. I've worked out the most complicated route possible – all small roads, most of them serpentine, passing a variety of "natural park" areas. Eric looked over my original idea and dismissed certain parts as "flat wine country" or "stinks of pig shit" so I revised portions based on his extensive bicycle touring experience. I think it will be a phenomenal drive.
I'm heading to a BeWelcome host in western Catalonia. The most direct route would take 3-4 hours. Google estimates my contorted version at over 9. After fueling up, it's about 45 minutes before sunrise as I head northwest in the direction of the Pyrenees, the high range separating Spain and France. It's quite cloudy, so full daylight doesn't appear until about 9 AM.
[NOTE: To enlarge any image, right click it and choose "Open image in New Tab" or similar.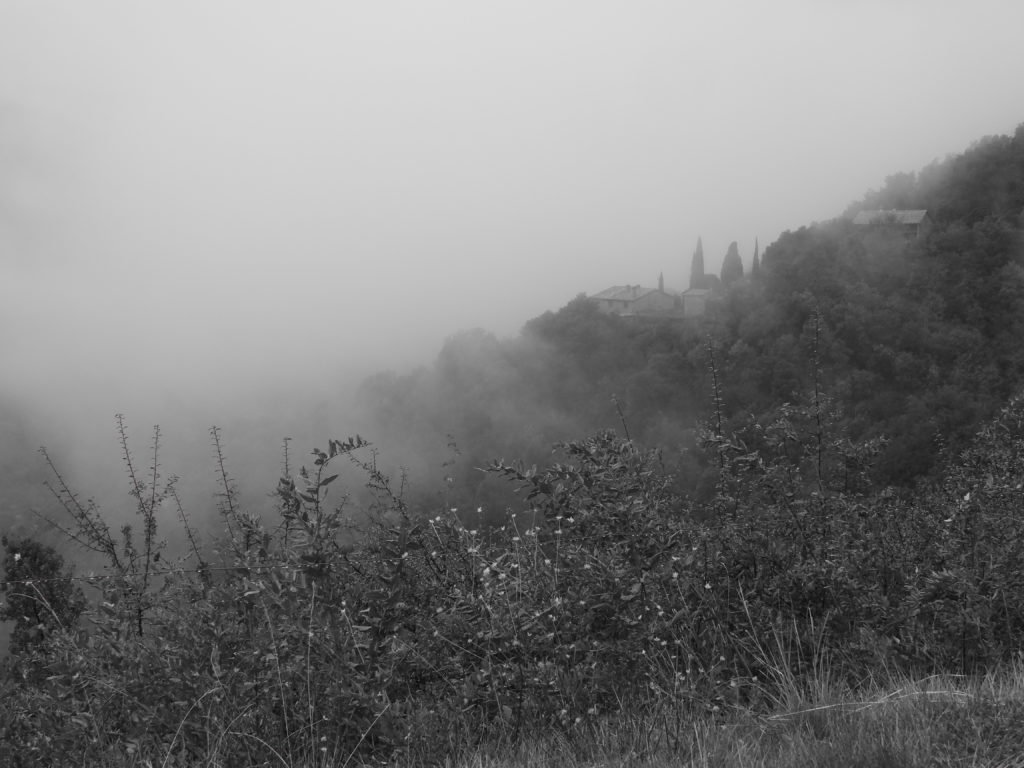 Shortly after that, I reach the village of Santa Pau in one of Catalonia's volcanic regions. The topography is filled with scattered, often overlapping craters, cones, and caldera but the vulcanism is so far in the past that everything is forested and thus not obvious unless you know what you're looking for. Santa Pau is an old town and I park the car to search on foot for a bakery.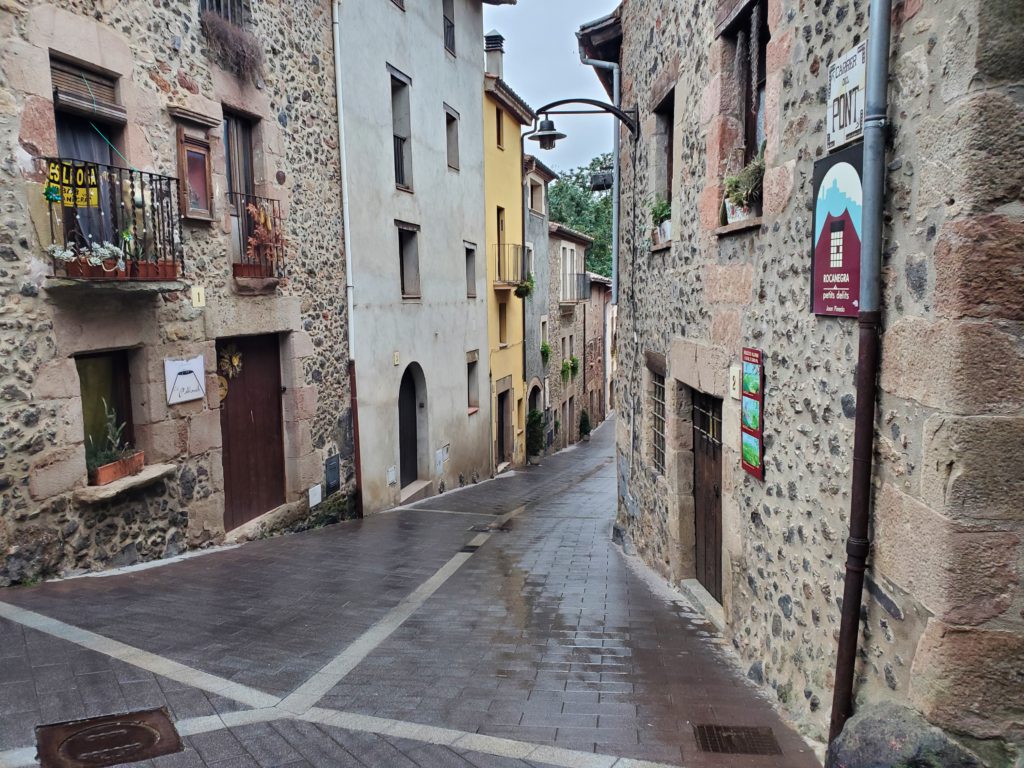 With 3 croissants in my belly, I return and drive a little further to the trailhead for Santa Margarita volcano. During the summer, there's a hefty parking charge, but now it's unstaffed and mostly empty — one of the many benefits of off season travel. Of course, avoiding the extreme heat is the main reason I no longer go to Europe in the summer. Santa Margarita is a small cone containing a crater with walking paths. I hoof it up the slope and, along the road, I encounter an incongruous sight — a pasture full of totem poles and other wooden figures. There's no one around so I can't ask about their story.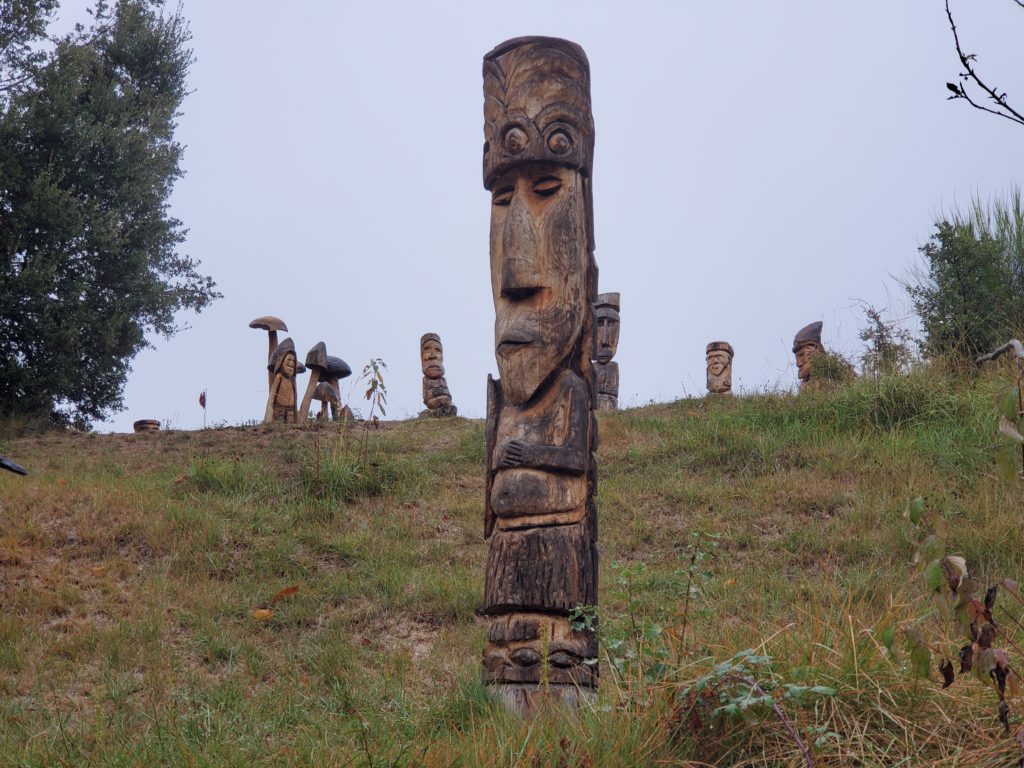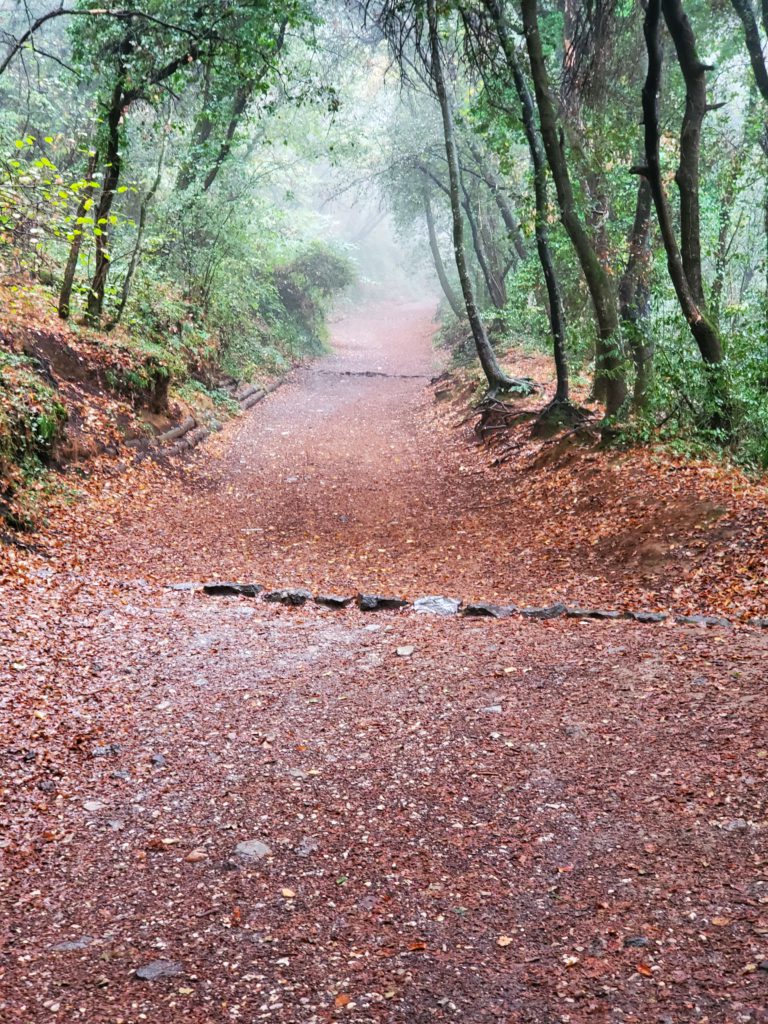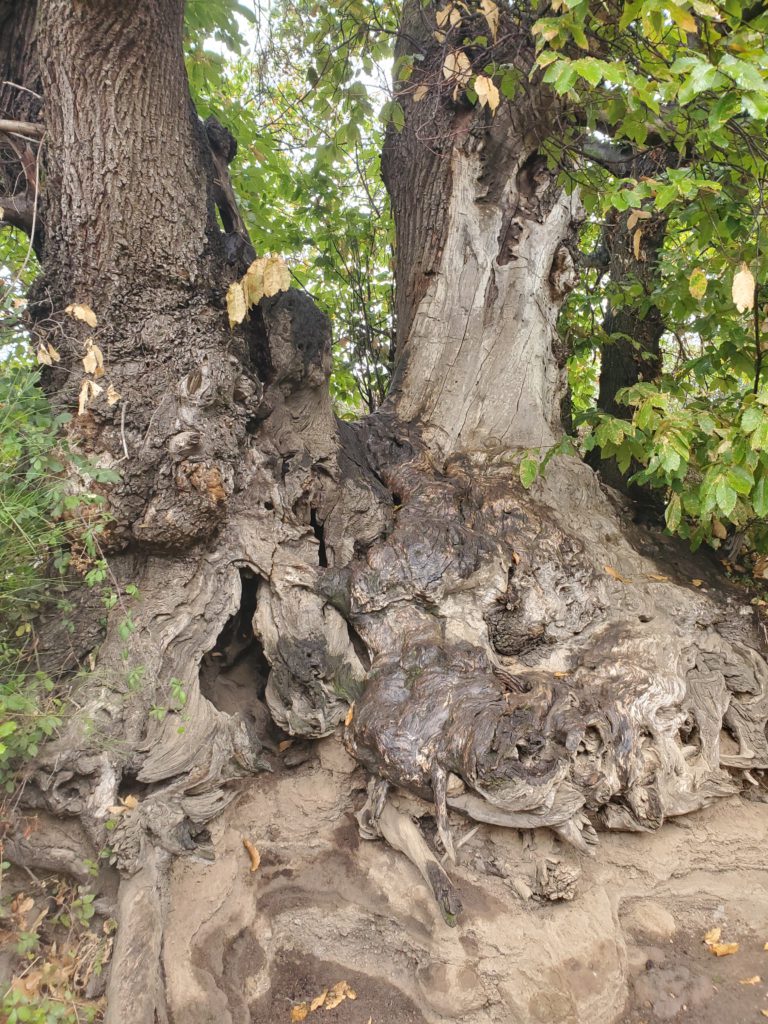 On reaching the rim, I see that the view of the crater is obscured by the forested slope.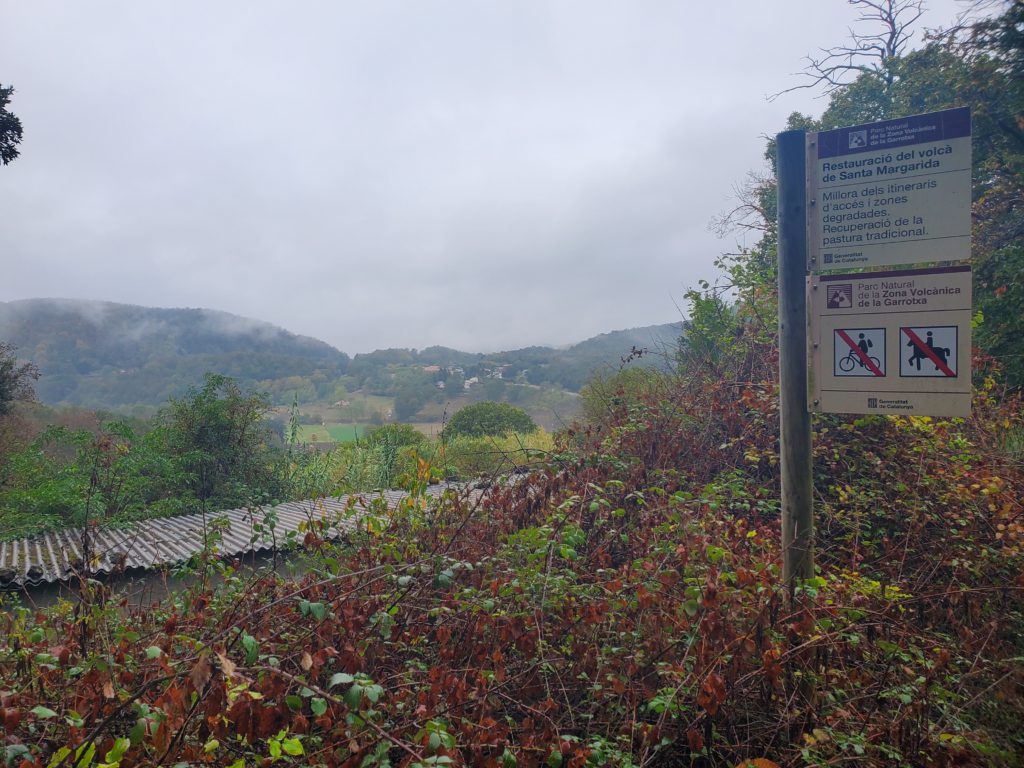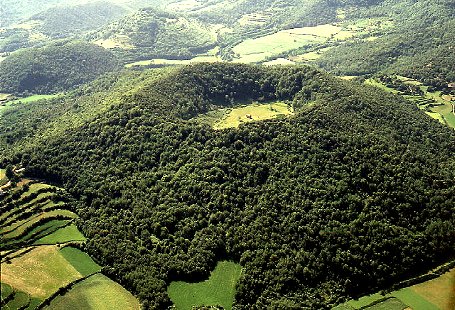 Rather than walk down into the crater and back up in the light rain, I retrace my steps to the car and head north.
On reaching the village of Oix, the road again becomes picturesque, ie severely serpentine, as it ascends to my next goal, the Pyrenees village of Beget. The route is what I now understand to be typical secondary highway philosophy here: nicely paved, with a white line on both sides, but only one and a half cars wide with NO shoulder in most places. In the US, this simply does not meet any conceivable minimum standard for two way traffic. The pavement extends from the steep, uphill slope on one side right to the edge of the dropoff on the other.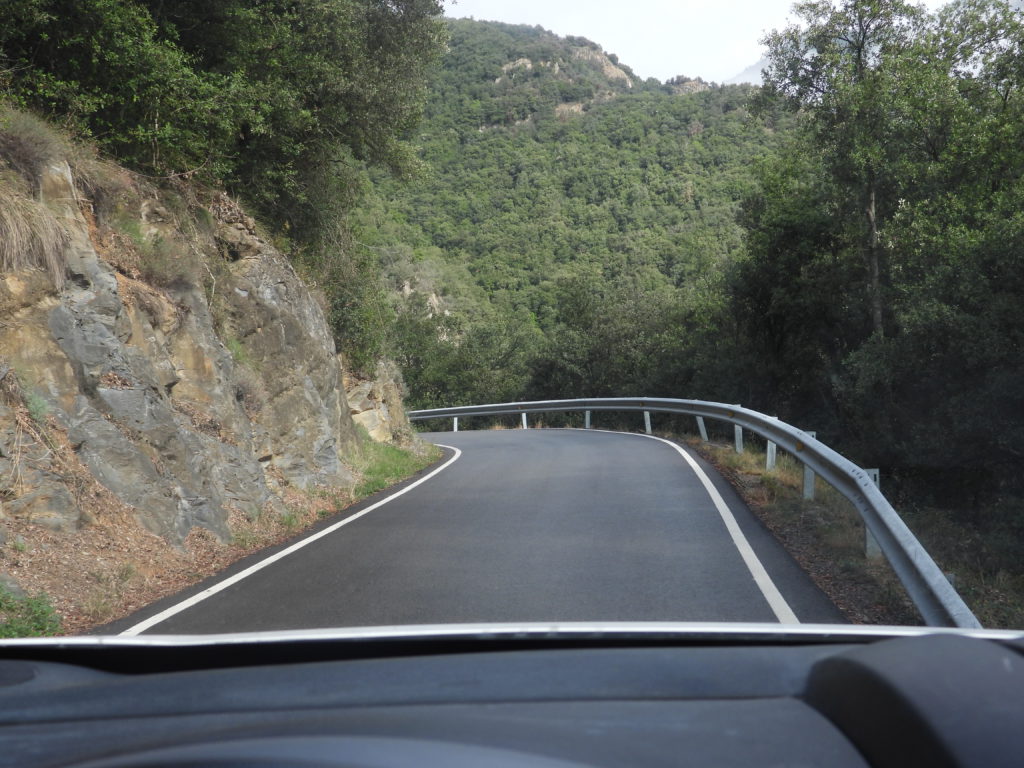 In many places, there are guardrails set below the road on the deep downhill slope but not even that nominal barrier between you and death in many others. Driving these roads requires full attention. A moment's lapse could send the car plunging downhill, yet on every sharp blind turn the car must be as far to the right (against either the upslope face or the dropoff) as possible because you may meet oncoming traffic. In many spots, the other vehicle doesn't come into view until you're about 20 feet from it. Opposing cars must squeeze as far to the extremes as possible and try to carefully get past each other. In many spots, that's physically impossible and one vehicle might have to back up to a slightly wider spot. Fortunately, in all my driving on these roads, traffic has been very light and my dance with oncoming cars (or trucks) has allowed skin-of-the-teeth passing every time.
Beget is a hamlet set, like so any others, in magnificent mountain scenery and perched steeply below one of the many switchbacks.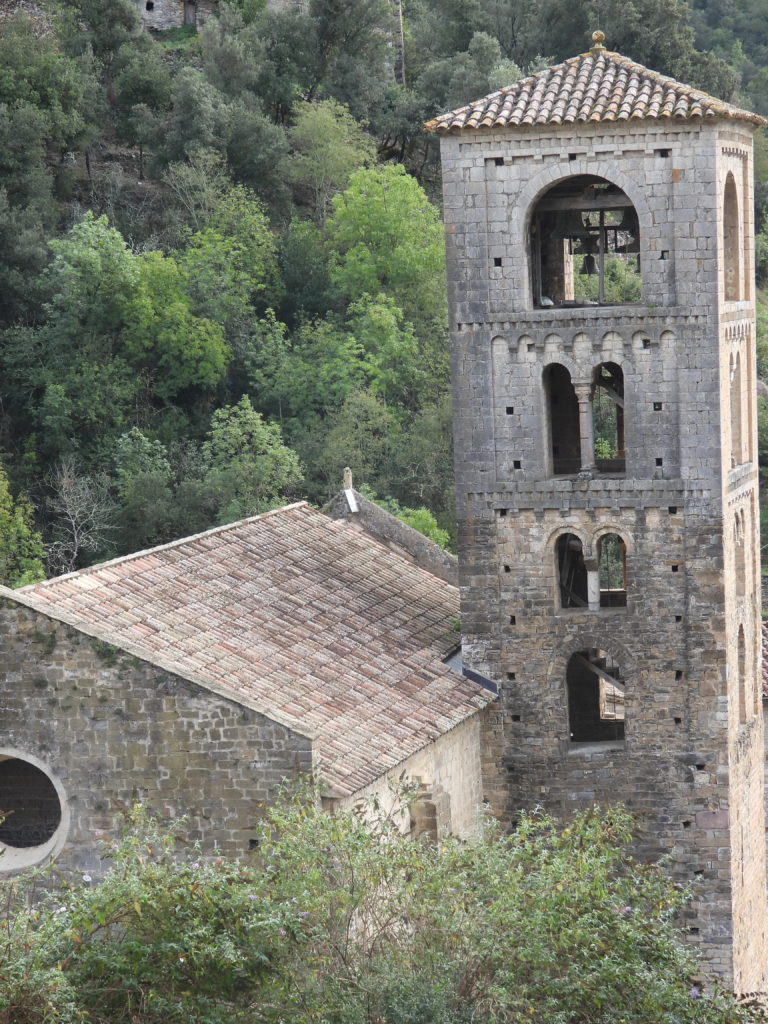 I stop briefly for a photo before continuing on another 16 miles to Vilallonga de Ter and my next turnoff. On the latter part of this route, I'm surprised that I'm paralleling the River Ter, which is the same one that runs past Eric's house over 30 miles behind me. My next goal is a road that, on the map, looks insignificant and goes up into the Pyrenees high country. As usual, I have no idea if it's actually driveable or goes through to the other side as depicted. Named the Camí de Fontlletera, the map also shows a route number but I've learned through ample experience that even some dead end, cow pasture, 4-wheel drive tracks are numbered.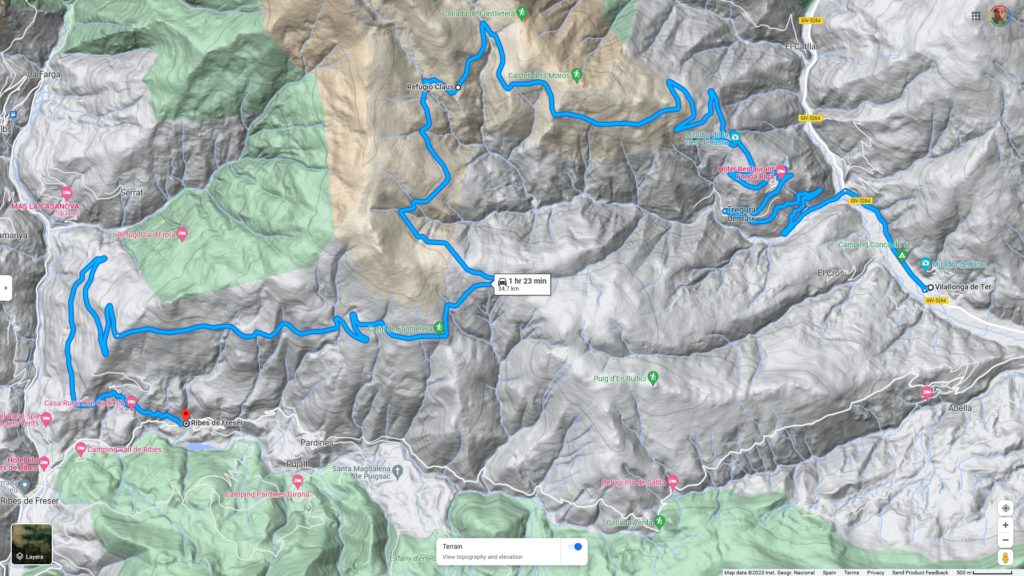 As I turn off the highway, the road looks good. It's another 1+ lane paved road as it switchbacks up out of the valley. This totally unnecessary 22 mile excursion looks like it might be a piece of cake. The weather is kind of sunny but many clouds hang in various parts of the valley. As I ascend, they obscure many of the mountain slopes.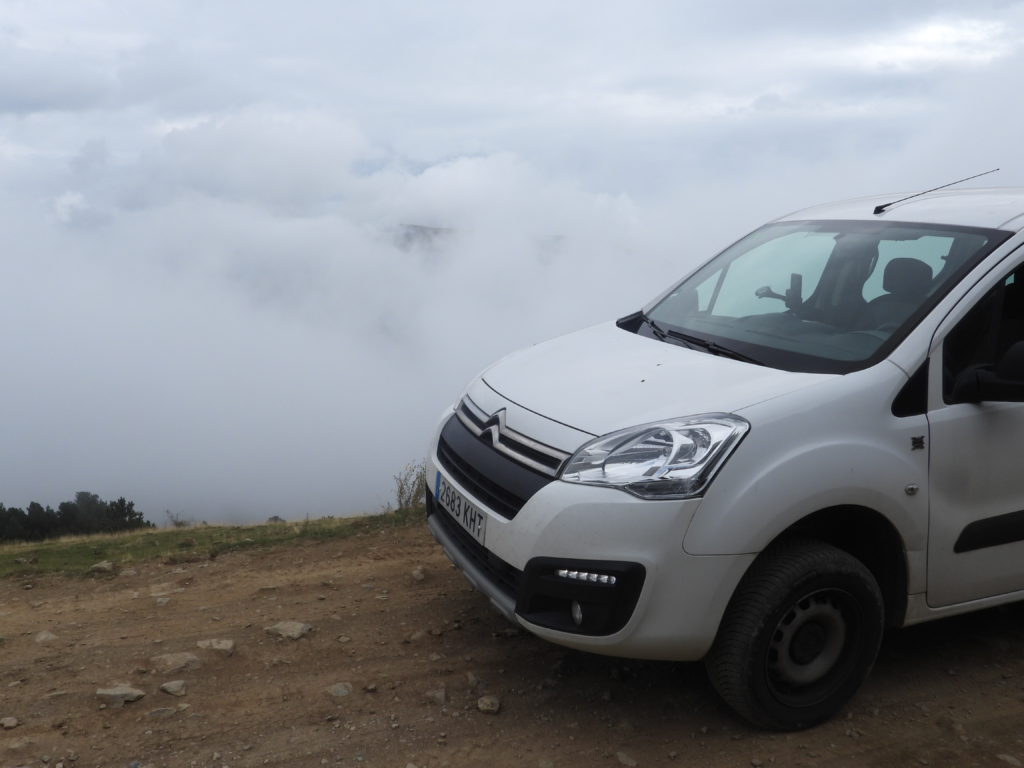 After about 5 miles of winding ascent, things change. The pavement ends, the houses peter out, and the road gets wide and very rocky. As my altitude increases, the trees get sparser until I've left them all behind and am surrounded by alpine (well, I guess Pyrennine) meadows. The shifting clouds change the views of other peaks and ridges by the moment but I have to stop the car to appreciate them since navigating the uphill road strewn with large rocks requires my full attention, frequently weaving the car from extreme right to extreme left. Loathe as I am to speak in sports metaphors, it's like broken field running in American football.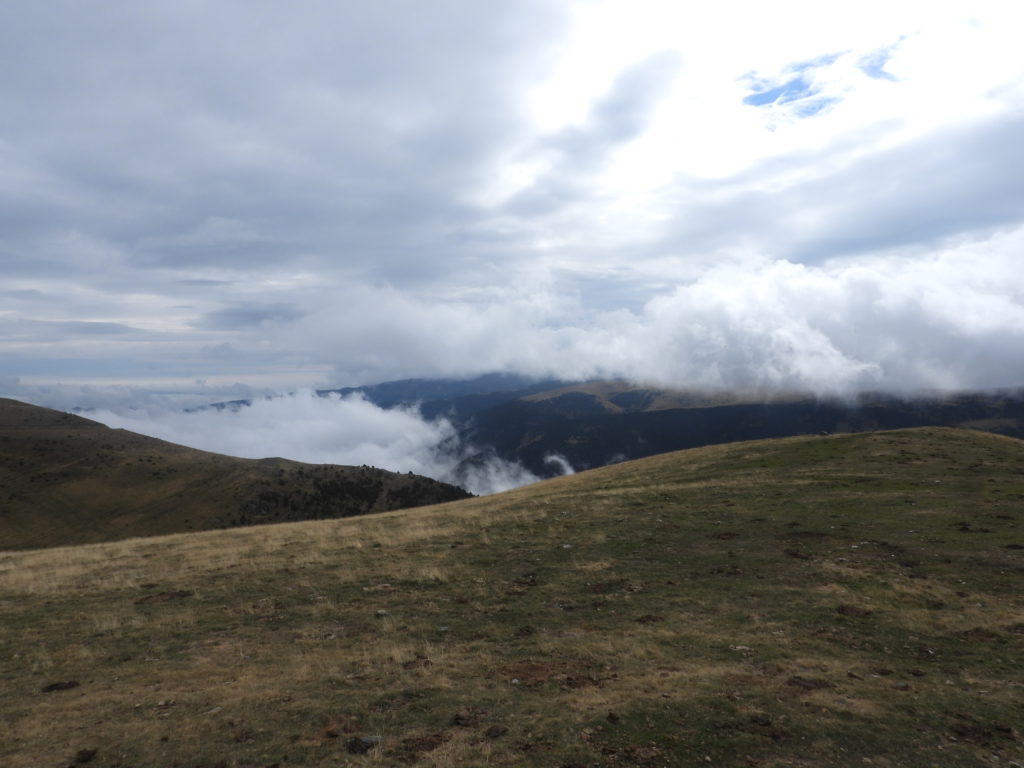 I have the road to myself except for occasional clumps of horned cows blocking my way or grazing the shoulders. Some of them are reluctant to move and I have to drive within 3 feet to finally get them to amble to the side.
The road tops out at a respectable 6,700 feet near Refugio Claus, a deserted stone building that seems to be available for use by travelers and cattle workers alike.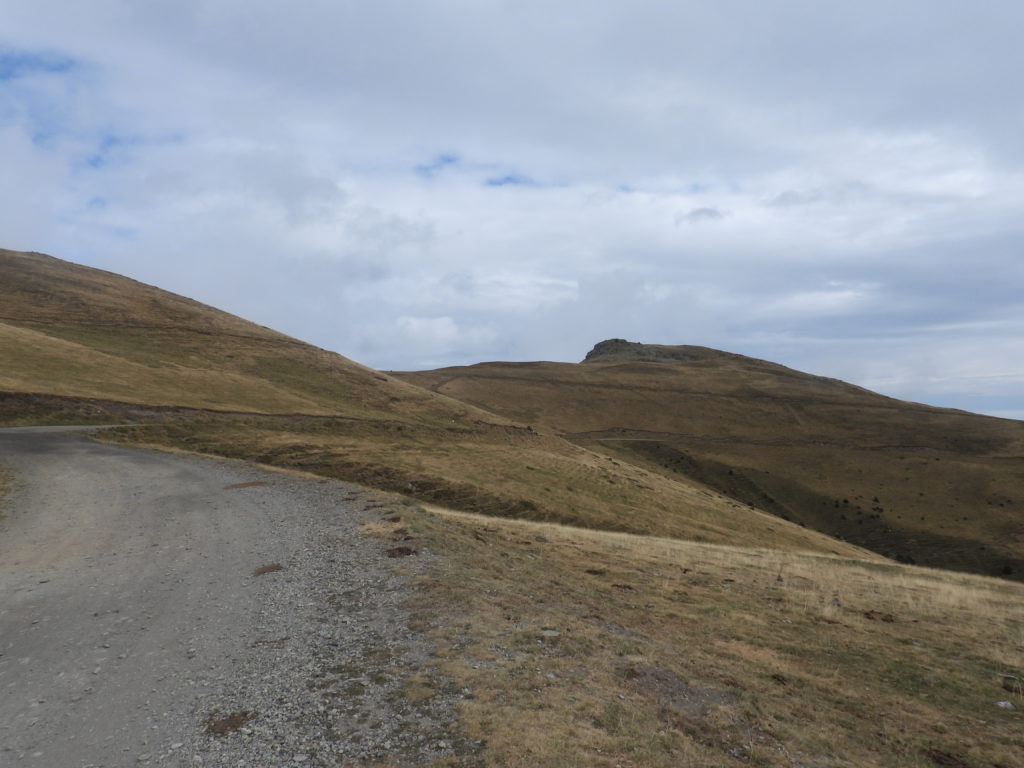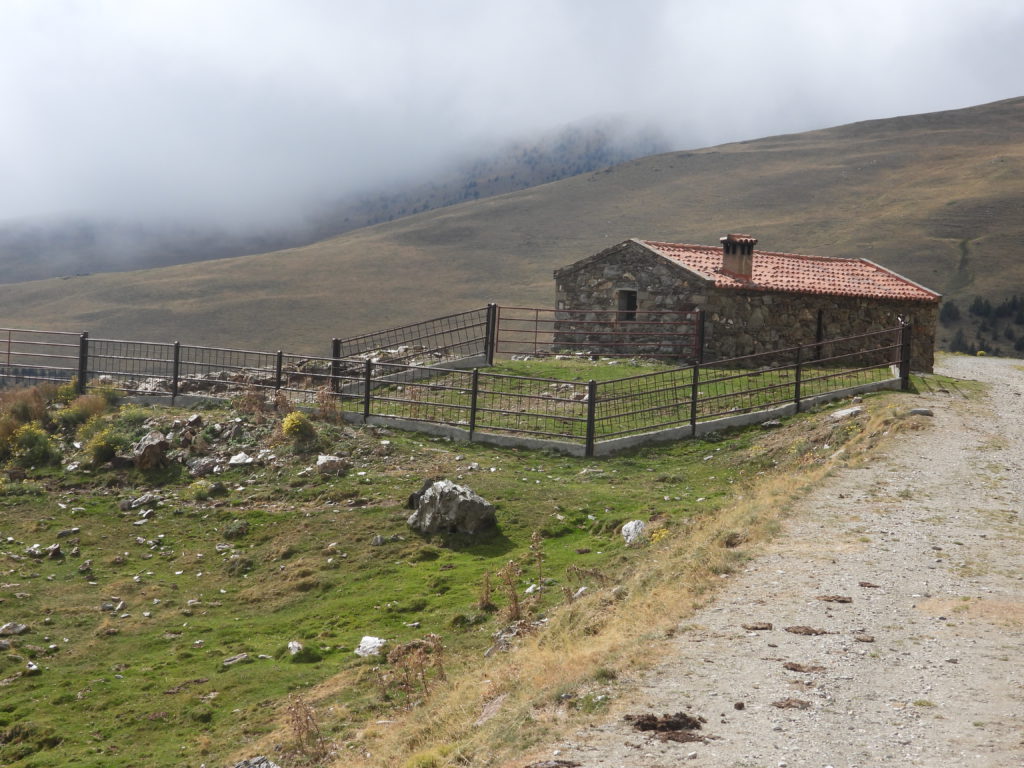 I haven't passed another moving vehicle since I started uphill, but now I see one tired looking bicyclist having lunch on a roadside boulder. As the road drops back down it gets easier. The surface is smoother gravel, and the route less serpentine as it goes steadily down. On one of my view-appreciating stops, the bicyclist passes me, moving at what seems like breakneck speed. I never catch up to him again. About 10 miles after I left trees behind, I'm back in the forest. The valley floor far below gets nearer as the road narrows again and I navigate more switchbacks. Abruptly, the one lane pavement returns after 15 miles of rock and gravel and the last couple of miles takes me past various homes until I return to a more traveled highway. I really enjoyed getting into the high country but its also nice to be back on a less intense road for a little while.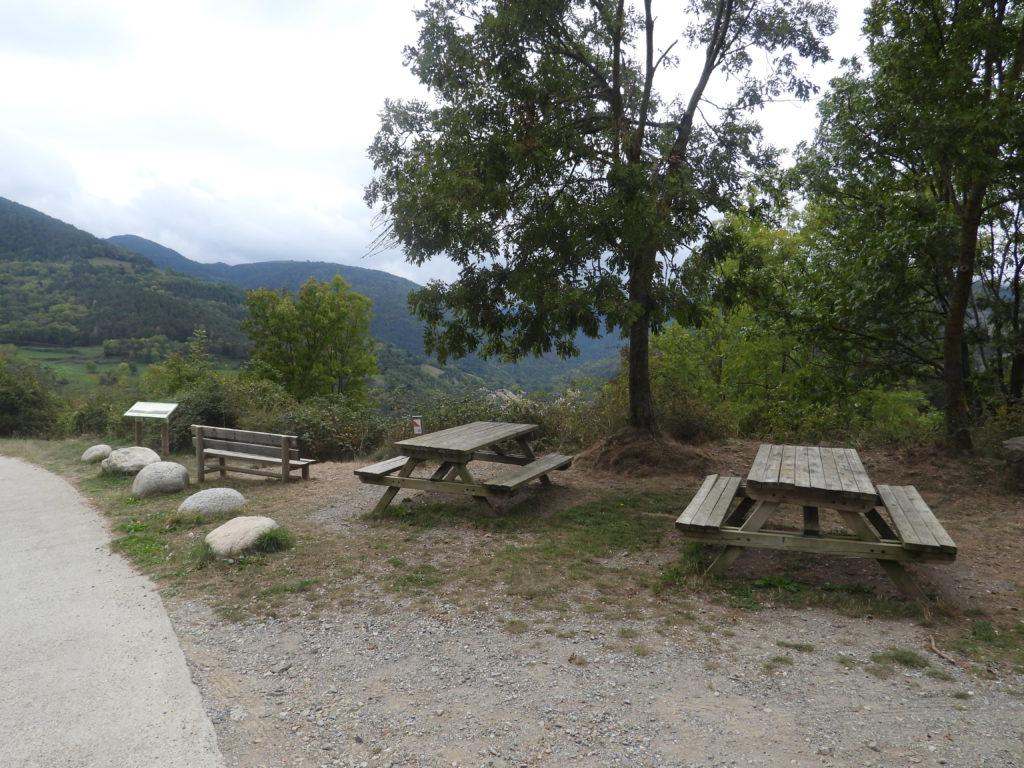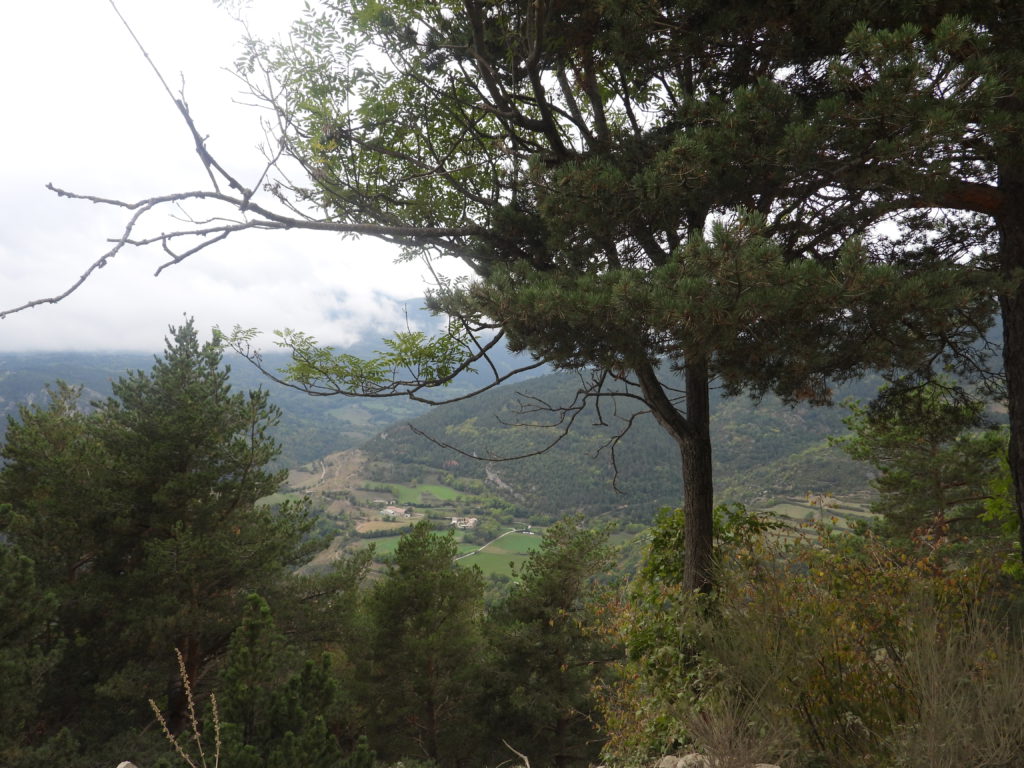 Continuing generally westward toward my day's destination, I traverse a long, steep stretch up a mountain and then along the rim of a deep canyon. There are intermittent habitations including a tiny village nestled around one of the switchbacks. At one point I see, far across the valley, what appears to be a very large but abandoned mineworks, so there used to be more activity here.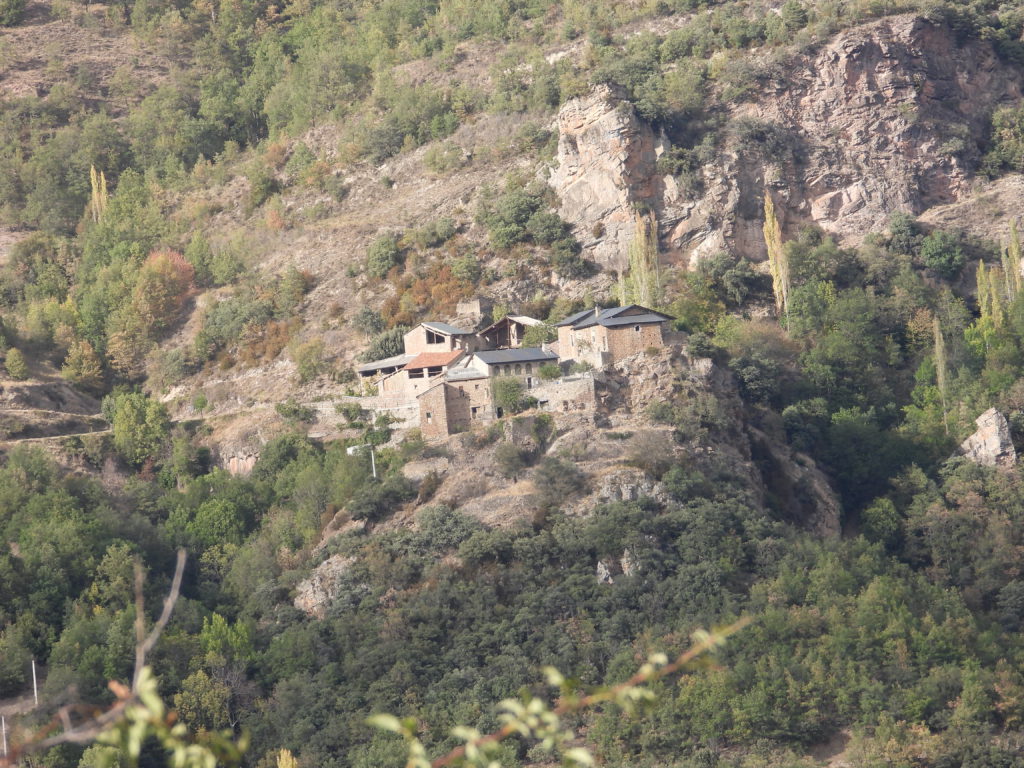 The mountains are huge expanses of bare rock with views toward distant lowlands. I believe the region is called La Cerdanya.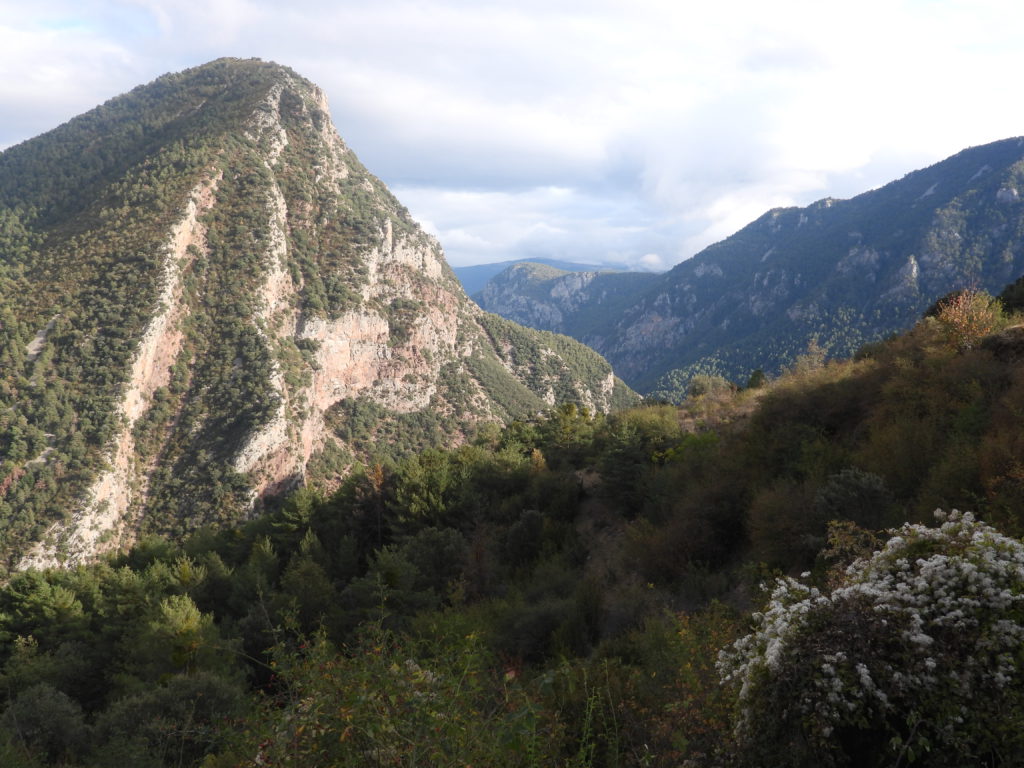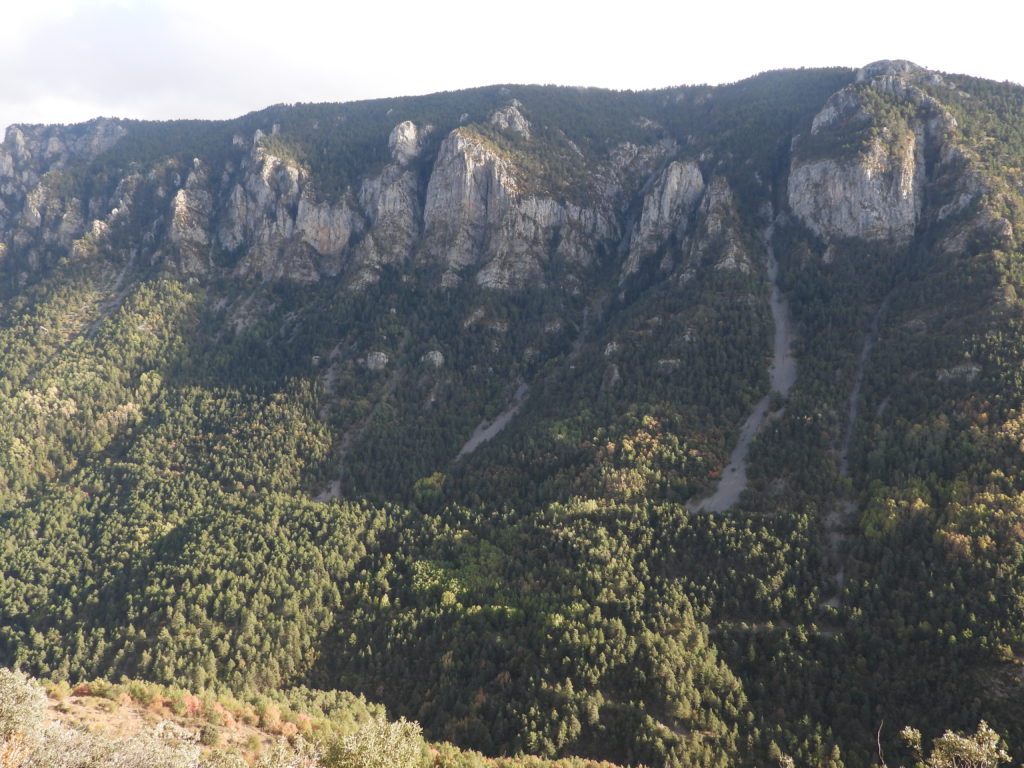 Soon enough, I'm back in less interesting valleys with faster roads and more traffic. Even here where the mountains are petering out and the road is straight, the two lanes are only a skimpy, 6 feet wide. That's just enough for a standard car, but with the side mirrors hanging over the white lines. I pull over to take a 15 minute nap before proceeding. I have another long, obscure road ahead but there's still a long stretch of conventional highway so later I stop at a bar for coffee to boost my energy a bit. The two servers are sharing a plate of lunch food I absolutely don't recognize but when I ask what it's called I get an unintelligible name.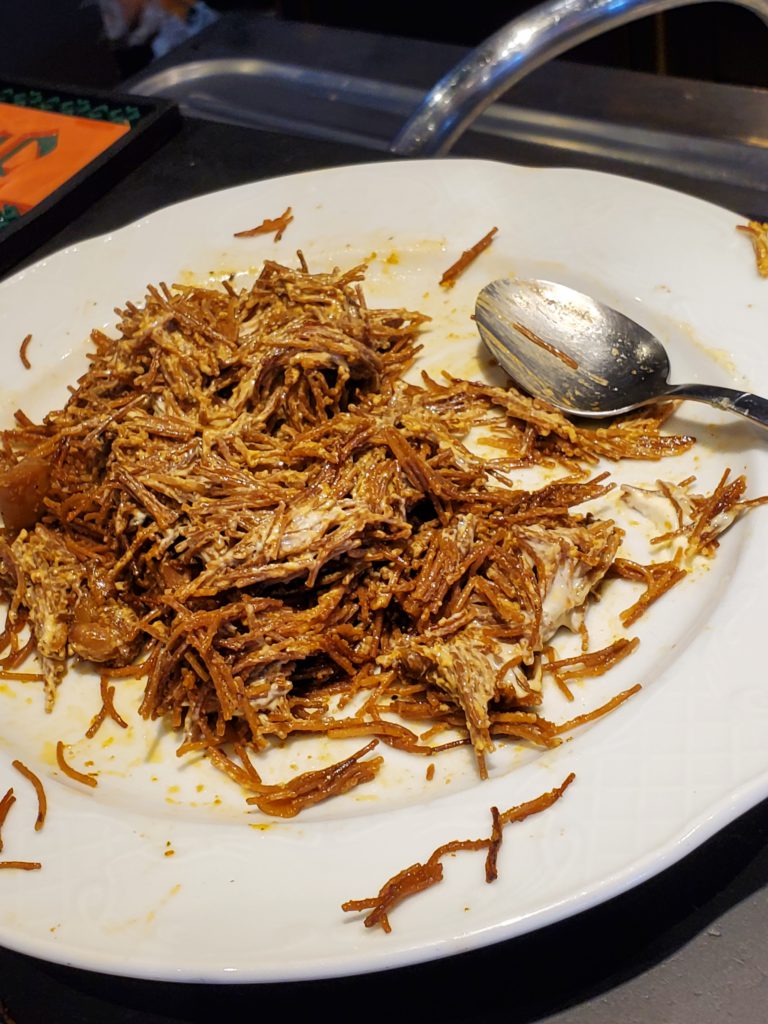 I have one more unnecessary diversion in mind, a small road through an area called Les Valls d'Aguilar. The name says "valleys" but the map indicates the 36 mile route does a lot of climbing and dropping between them.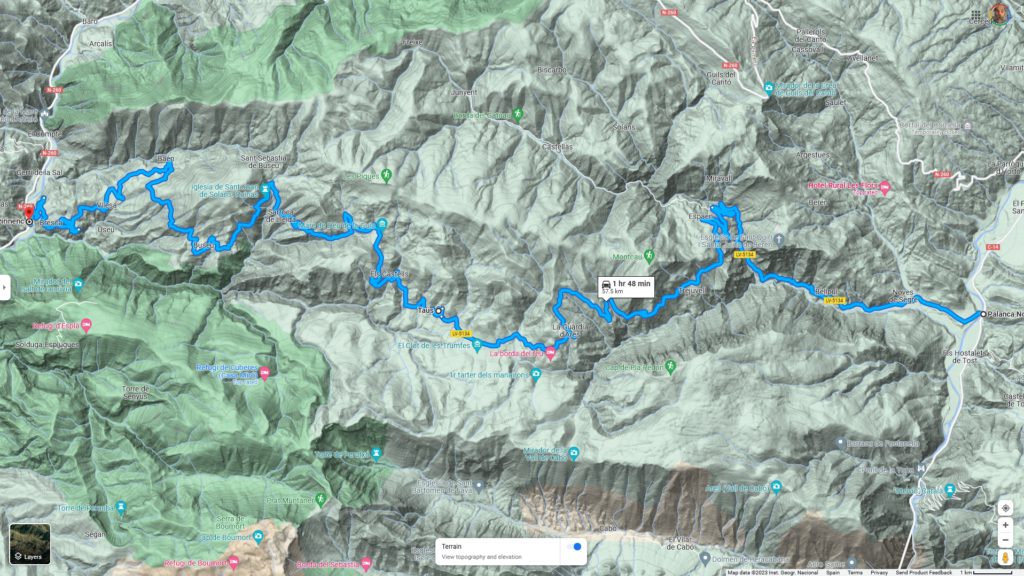 I have no further idea what I'll encounter, which is, after all, where the fun is. It's well into afternoon and Google estimates only 105 minutes for the ride but over that distance they calculate an average speed of only 30 miles per hour. Translation: rough, friggin' road.
Once again, I'm on a 1+ lane, paved, rural route but there's no traffic as I drive up the initial valley so there are no passing crises. The road climbs steadily past occasional houses and tiny communities and at about 7 miles ascends a series of severe switchbacks to reach the next valley which is really more of a high plateau. At one point the road reaches its high point, La Guàrdia dÁres, a modest 5,200 feet, at a nice, shady spot with a view.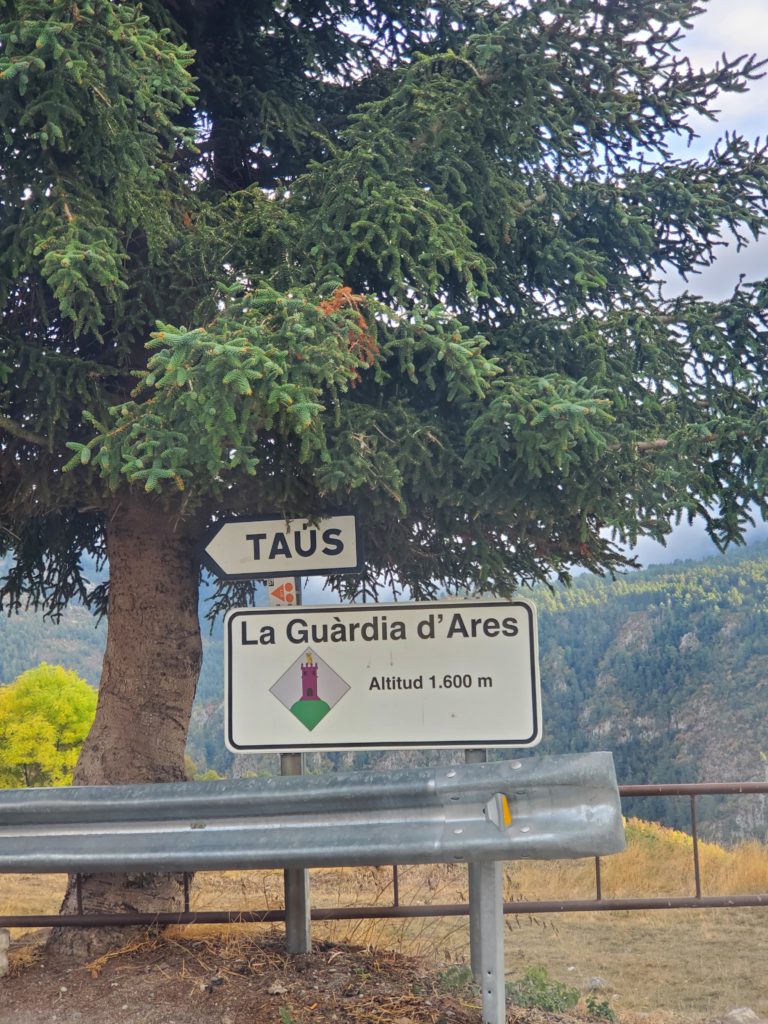 The road continues to meander hither and thither until I reach the small farming village of Taús. Here the paved road heads into town but the through route turns into a narrow dirt road with an ominous "Warning: Pavement Ends" sign. Now things may get interesting/challenging.
The road quality deteriorates dramatically and this portion is obviously much less traveled. This is often the case with long rural routes. Access is from either end and the middle sees much more limited usage due to the paucity of through traffic. About a mile further on I come to Els Castells, apparently an old fortification perched on a small hill surrounded by some farmhouses. Following what looks like the more heavily used dirt track, I quickly come to a cattle gate. Unlike in the American West where one often encounters pasture gates that must be opened, driven through, and closed behind you, in Europe a gate of any sort generally means "Private, No Entry", so that's what I assume here. I must have inadvertently gotten off the road. I turn around and go back to the last fork and take the road into the community. Google Maps shows a second route that avoids the gate and rejoins the first so that's what I'm looking for. After a few hundred feet the road I'm on gets very narrow and passes between two buildings. I ease the Berlingo into the gap and it clears the walls by, literally less than an inch on each side. Right after that, I encounter another gate and the road ends in cow pasture – the alternate road clearly doesn't exist in any useful form.
I can't possibly back up through that narrow squeeze and the track I'm on is only 6 feet wide, way to narrow for the required U-turn. As usual, there's a steep hill on one side and a substantial drop off on the other. I manage to reverse ram the car a few feet up the hill which gives me just enough room to turn it around in 3 progressive iterations without going over the edge. Since the only alternative is the first cattle gate, I drive back there for a closer look. Getting out of the car and inspecting the gate. I see that it's not a conventional design. Instead, it consists of two spring loaded rubber arms that meet in the middle. Vehicles pass by simply pushing the arms slowly aside as they move through. I'll find out later this is a common arrangement in the Pyrenees.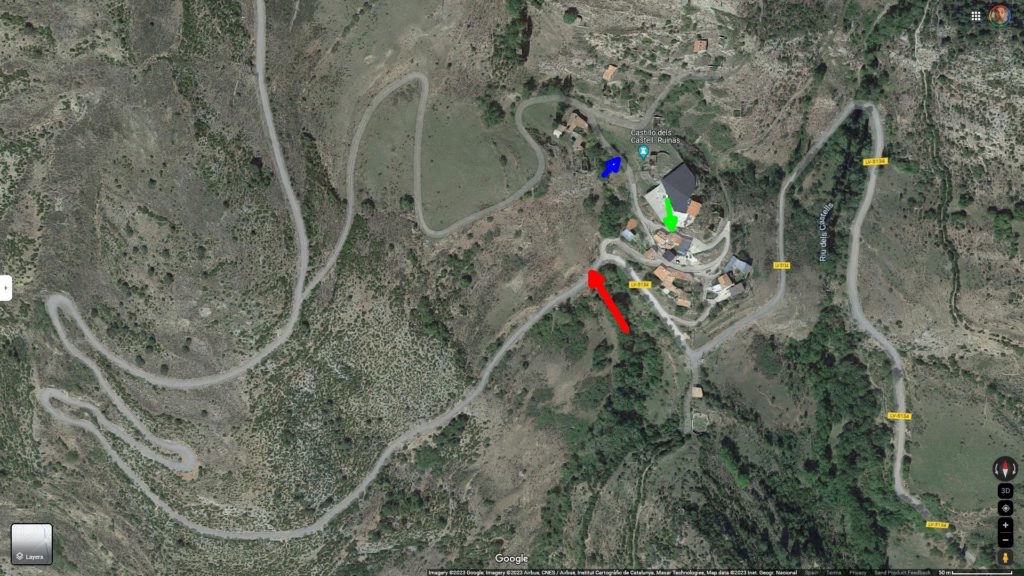 This solves the problem. It is a gate meant for public use, so I'm again on my way, moving quite slowly due to the primitive surface.
Past the gate the rough road descends a narrow ravine and is just wide enough for my Berlingo.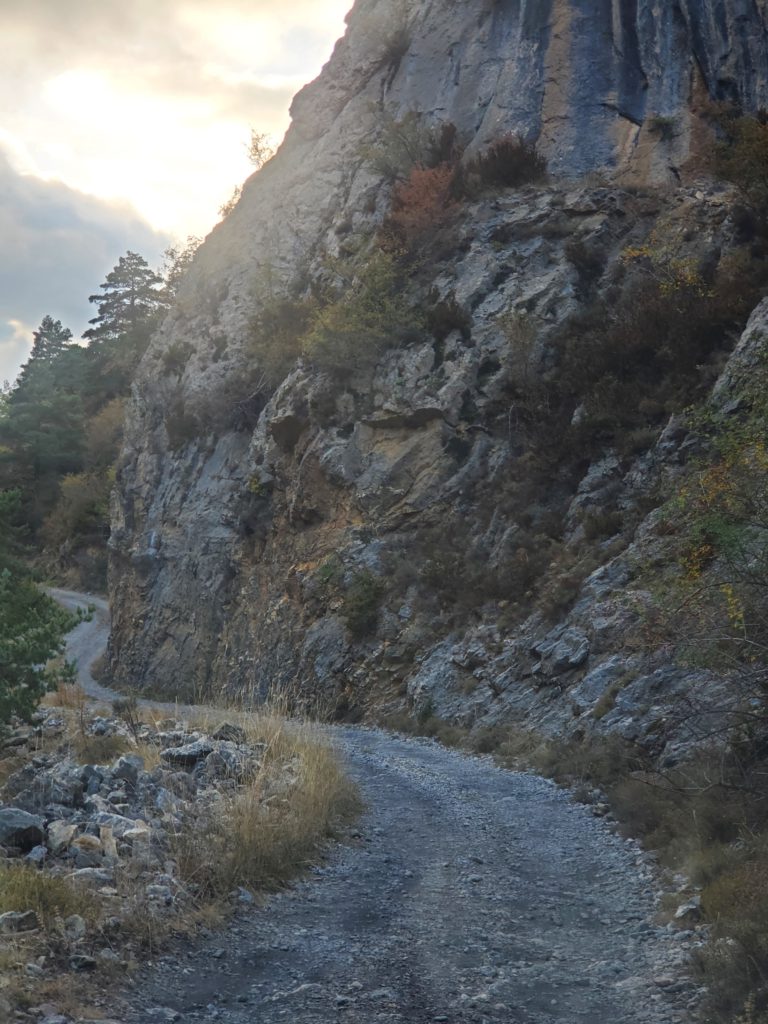 After about 6 miles of this, the pavement resumes, although very low, "it-might-as-well-be-dirt" quality at first. Soon it's back to the standard, super narrow format and I make a long, tortuous descent to the highway. I only meet two cars coming up and we manage to pass without problems.
On the main road, it's late in the day and it takes me only 20 minutes to reach my hosts, who live in a place called "The Dam House". I've been instructed to walk across the suspension bridge and I'll see their house in the distance. More on that next time.
Next post: https://blog.bucksvsbytes.com/2023/10/26/road-trip-europe-ii-23-10-16-23-10-20-that-dam-house-and-the-bone-collectors/