Prior post: https://blog.bucksvsbytes.com/2023/10/31/road-trip-europe-ii-23-10-22-23-10-24-basque-ing-at-the-beach/
Tuesday, I depart Bakio before noon for the short drive to Bilbao. While driving, I realize that at least three Basque place names have made into popular culture. Bilbao Moon is a song in two of Bertold Brecht's 1928 plays. Guernica is the title of a famous Picasso painting and Gattaca a 1997 science fiction film. Arriving in the port city, I park the car along the ship channel in the closest free space I can find and take a leisurely walk upstream.
[NOTE: To enlarge any image, right click it and choose "Open image in New Tab" or similar.
My first stop is the Itsasmuseum (Maritime Museum) perched, appropriately, along the city's main shipping channel. In addition to a yard full of various vessels of significance to Basques, the interior does an excellent job of explaining the history of Basque seafaring. For example, Magellan's 1519 circumnavigation of the earth departed Europe with 245 sailors. Three years later, only 18 survivors returned. Three of them were Basques.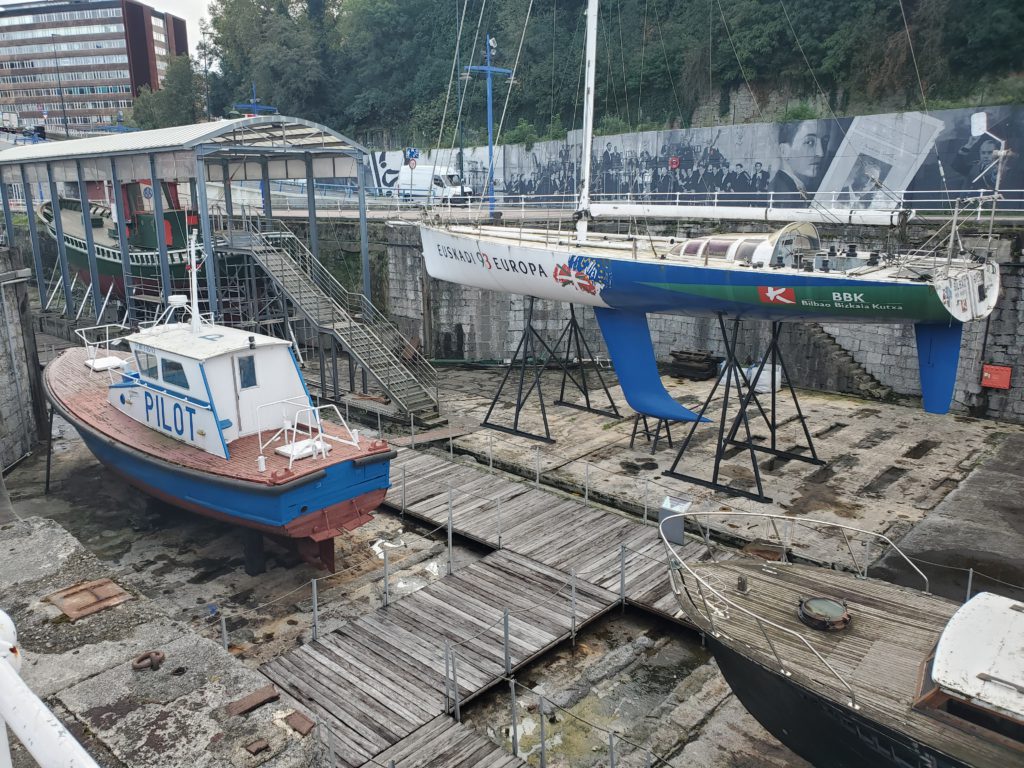 For almost 600 years ships had to navigate the shifting sands of the Portugalete bar in order to reach the protected harbor. This was so hazardous, the bar was called "the school for shipwrecks". In 1877, an iron pier was built which altered the river flow so as to keep a channel naturally clear. From that point Bilbao as a shipping center grew and modernized continuously. Some of the museum's exhibits of current facilities are corporate sponsored and feel like advertising but the older issues are well explained. I spend hours there.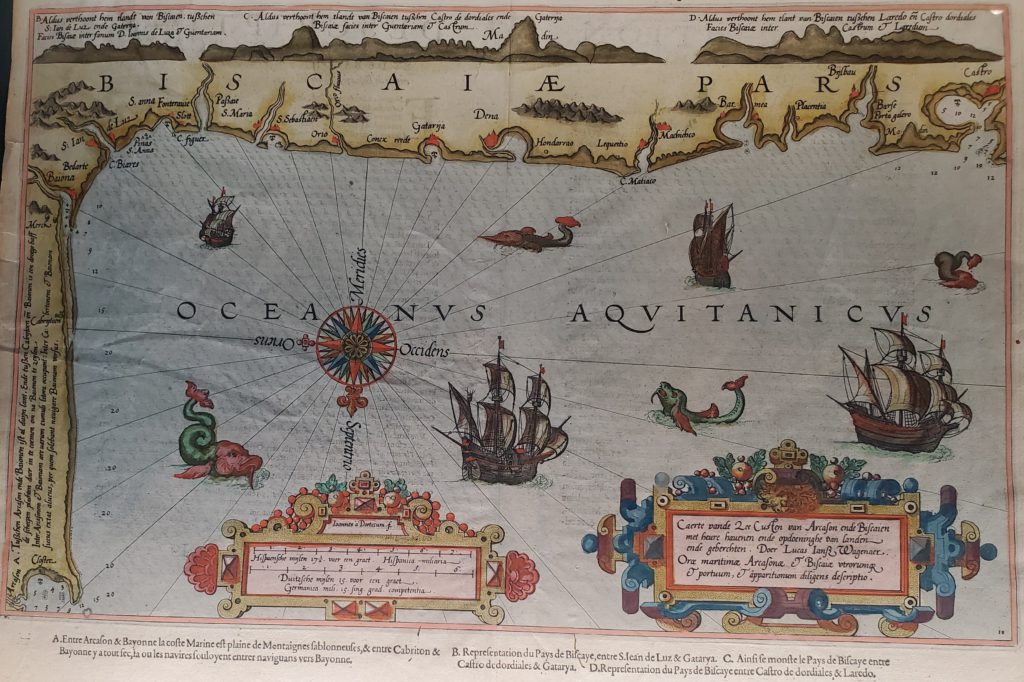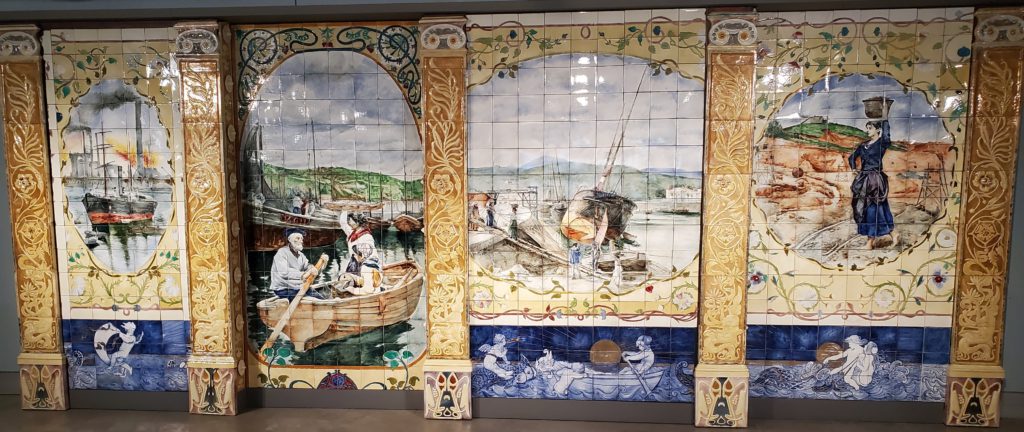 Next, I continue walking upstream toward the Frank Gehry designed Guggenheim Museum.

I love Gehry buildings — MIT commissioned one long after I graduated — but I settle for the exterior because I have no need to spend hours inside ogling modern art.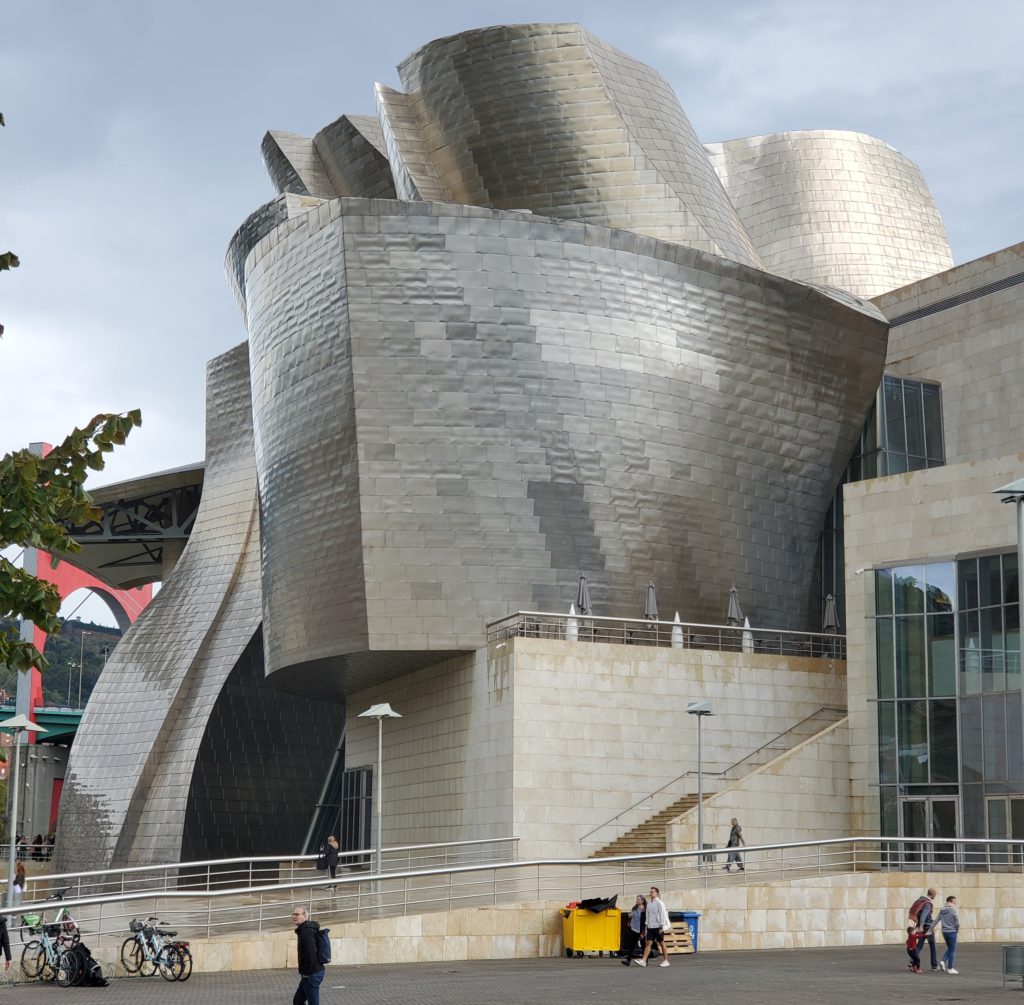 After that, a detour to Aldi supermarket for a tray of sushi and a liter of room temperature orange juice, both of which I consume on a park bench outside. Then, a long walk through the city, including an almost endless, steep climb up a large hill, to check out the All Iron Hostel that might be perfect. Along one busy street, I unexpectedly come across a statue of John Adams. The plaque explains that he referenced Bilbao and Basque country in his 1787 defense of constitutional government.

The hostel is perfect but I'm waiting for a host to respond so I hold off booking at the risk of there being no bed and/or parking spot later in the day. It's beautifully located on a height with nearby views across the city.
Next, at Eric's suggestion, I'm going to try a "free walking tour". You pay what you want to at the end of the tour, but fair compensation is going to be a significant amount of money. I've never done one of these so it'll be an interesting experiment. I know if I'm giving a tour to someone, any question I get asked will get an answer, true or not. It's entertainment that counts. Getting to the meeting point includes a walk down a seemingly endless series of city stairs which is how I lose the altitude I gained earlier.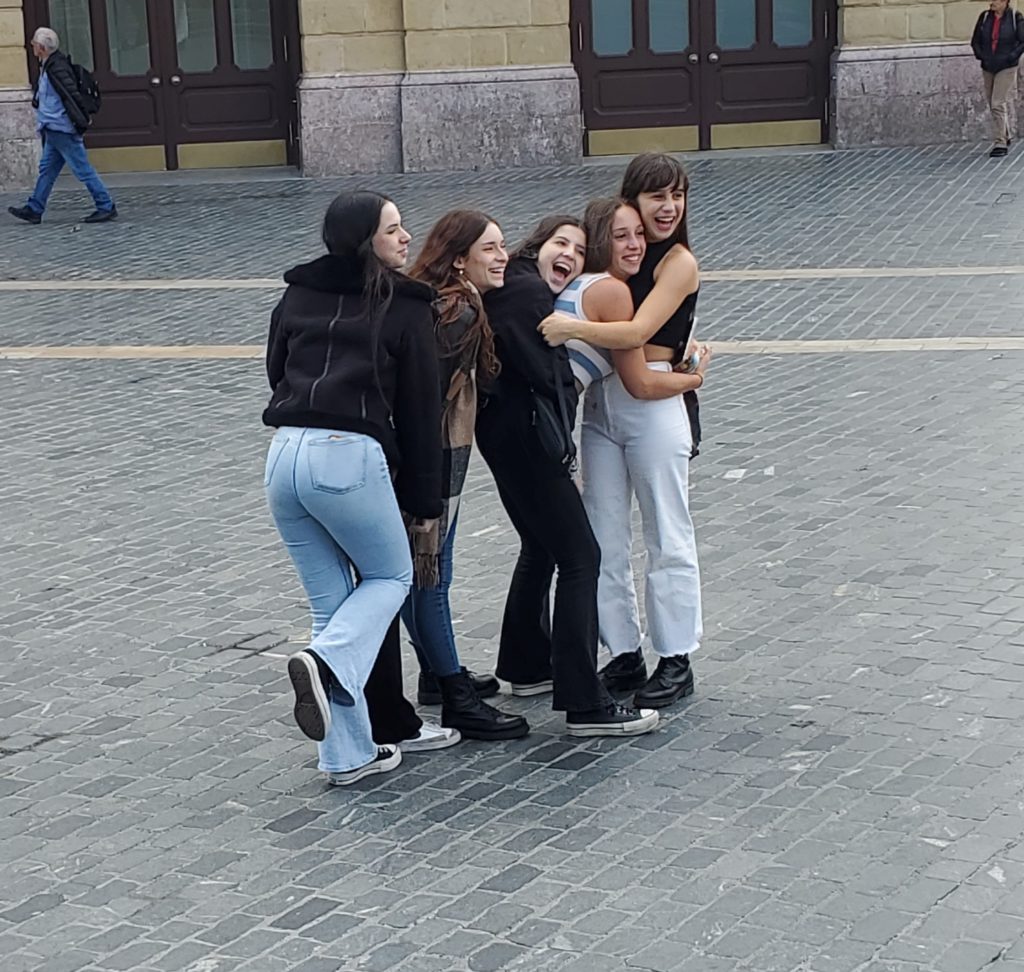 The tour lasts 2 hours and I'm pretty satisfied. There's a bit too much boosterism but its likely just the Bilbao-born/raised guide's enthusiasm for his city. One thing I don't like is that he's determined not to mention politics to avoid any risk of offending any clients. This means the description of certain events is misleading because they make no sense without the governmental context. For example, he mentioned the steady growth of the Basque language in Bilbao but couldn't tell the whole story. Prior to 1975, during Franco's repressive reign, speaking or teaching Euskera, or any other non-Castilian language used in Spain, was a criminal offense – and dictators don't adhere to due process. So the growth is all since Franco's death. If I hadn't already had some Basque history from my prior hosts, not to mention my own reading, I would have been dumb and happy. In any case, I paid the guide well.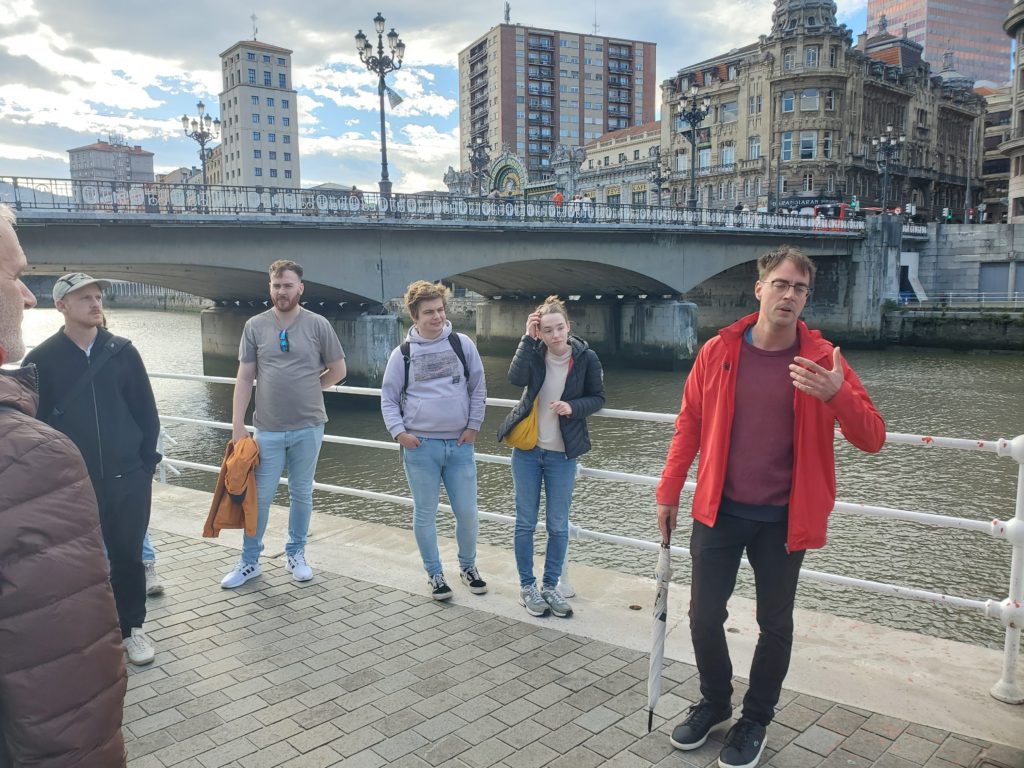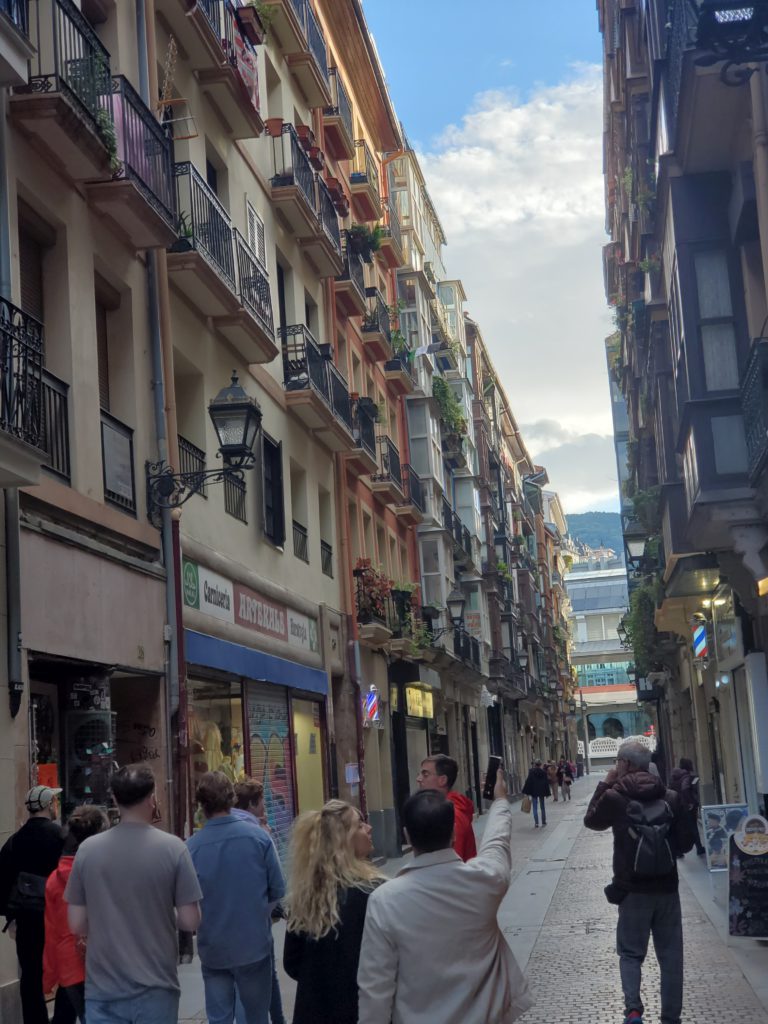 Finally, the long walk back to the car. On a busy street along the way, I encounter a bunch of Hare Krishnas doing a well-rehearsed dance.
I haven't heard from the prospective host, so I check my chosen hostel again – they are, in fact, now sold out. Not a problem since there are plenty of choices. I pick out one and stop at a Lidl supermarket (like Aldi, a German chain) to pick up some ingredients for dinner. I have to shop quickly because I'm forced to double park the Berlingo on a busy street.
The Bilbao Hostel isn't what I expect. It's a modern, high rise building on spacious grounds. It's plentiful parking includes spaces for motor homes. It also has 24-hour reception, a rarity that allows guests to arrive anytime of the day or night. Once I see it, I book for two nights so I have a full day to work and write. At $25/night it's a little above my usual hostel price, but well worth it. I'm in a 6-bed room on the sixth floor and downstairs are several comfortable common areas for relaxing. The only downside is that the property is perched on an embankment just 60 feet above a perpetually busy 8-lane highway. Inside, this is no problem – you hear almost nothing.
Step outside or open the window and the din is ceaseless. Some reviews complained that the lack of air conditioning made hot weather sleeping impossible, with or without opening the window. In late October, temperature is no problem.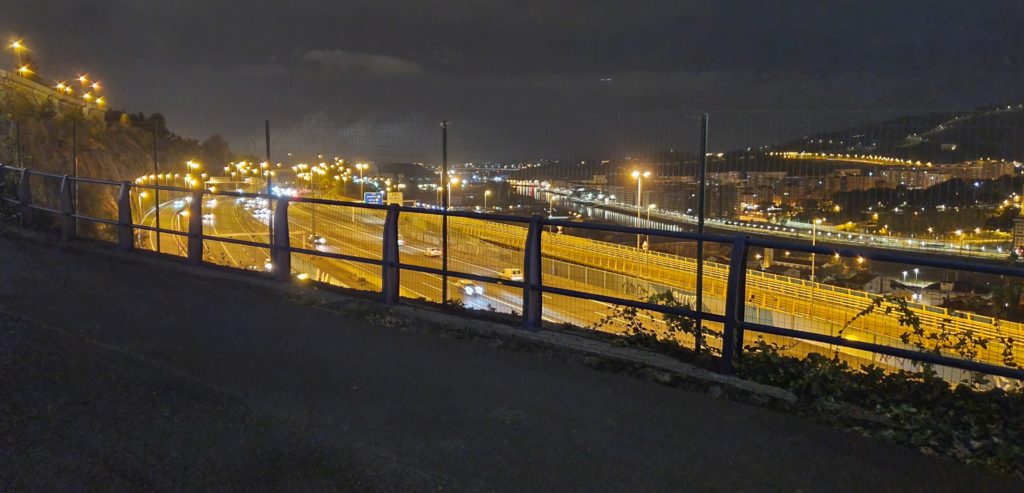 Late at night, I head to my room, which has two other occupants on this off-season night. Because of my horrendous snoring and sleep apnea, I'm meticulous about using my CPAP machine in a shared accommodation. If I didn't, not only would I keep everyone else awake but I might be smothered by them during the night. It would be very disturbing to wake up dead. The problem with going to bed late at night in a dorm room is that you have to get set without waking everyone else up. In this hostel, linen is supplied (that's often not true) but you have to make your own bed. Earlier, I saw this coming and made it up ahead of time.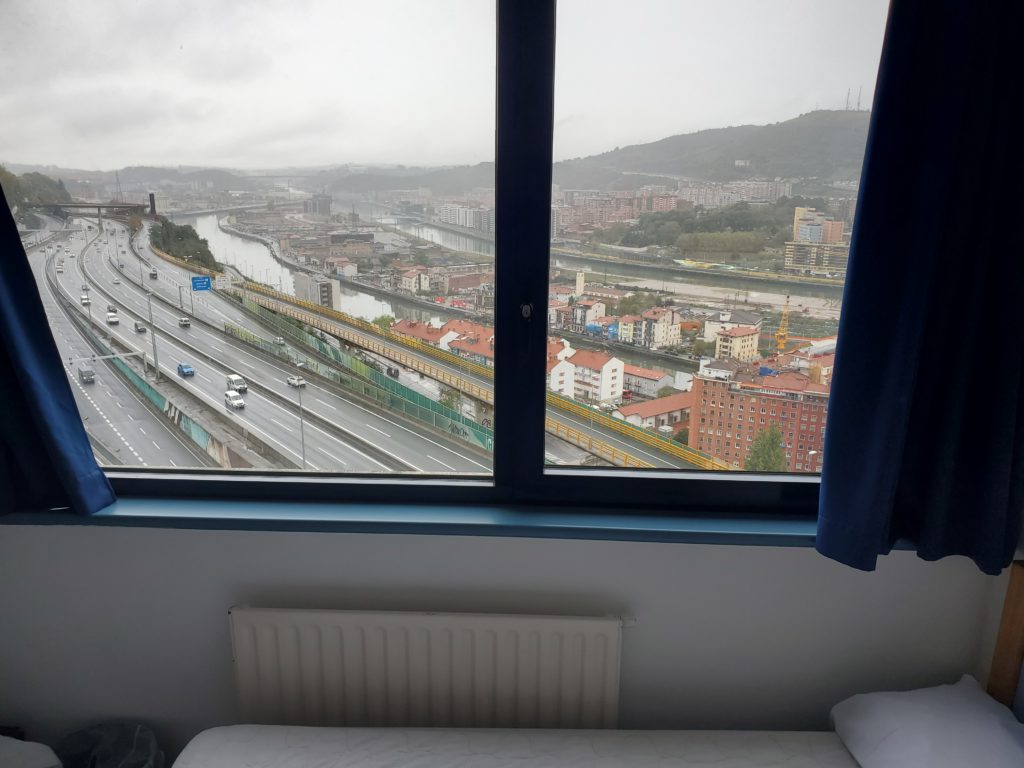 I go down to the kitchen to make dinner and become very unhappy. For 170 beds, the guest kitchen includes one (!) induction stove burner and no cooking utensils. I find out I can get a modest pot, small frying pan, and one place setting for a $32 deposit, but that's really not adequate gear for making a meal. It's a great way for management to ensure that no one steals anything, but it's a shit attitude in an otherwise very satisfactory operation. I settle for pasta, cooking the noodles in the pot on the single burner and pseudo-sauteing my vegetables in the microwave in an errant plastic bowl I find in an otherwise empty cupboard, before adding canned sauce and mixing the whole glop together. It's dinner, but not at all what I have in mind. It becomes obvious, fortunately, that out of the whole building only two of us are using the kitchen. Even 5 or 6 people would have been major congestion.
I'm up early for breakfast, which is served in the unusually narrow window of only 8-9 AM. Its all you can eat with a substantial variety of choices, lacking only fresh fruit.
I load up, knowing that repeats of my pasta meal are all I can prepare. I end up eating that two more times today. Sitting in an easy chair with computer in my lap and a panoramic view through the giant windows is a nice relaxing way to pass the time – and I usually don't make it a point to relax. The place is so large, it's hard to socialize. Almost everyone there is in a self-contained group. I do end up talking to a Spanish monk who's in town for some sort of 5-day spiritual retreat. He tells me he normally lives a solitary existence in a primitive mountain abode – standard monk stuff, I suppose. He also planned to use the kitchen to prepare his meals but I guess he's now going to survive on breakfast alone. He makes praying motions over his food before eating and I think to myself it's tasty enough not to need a religious miracle prior to consumption.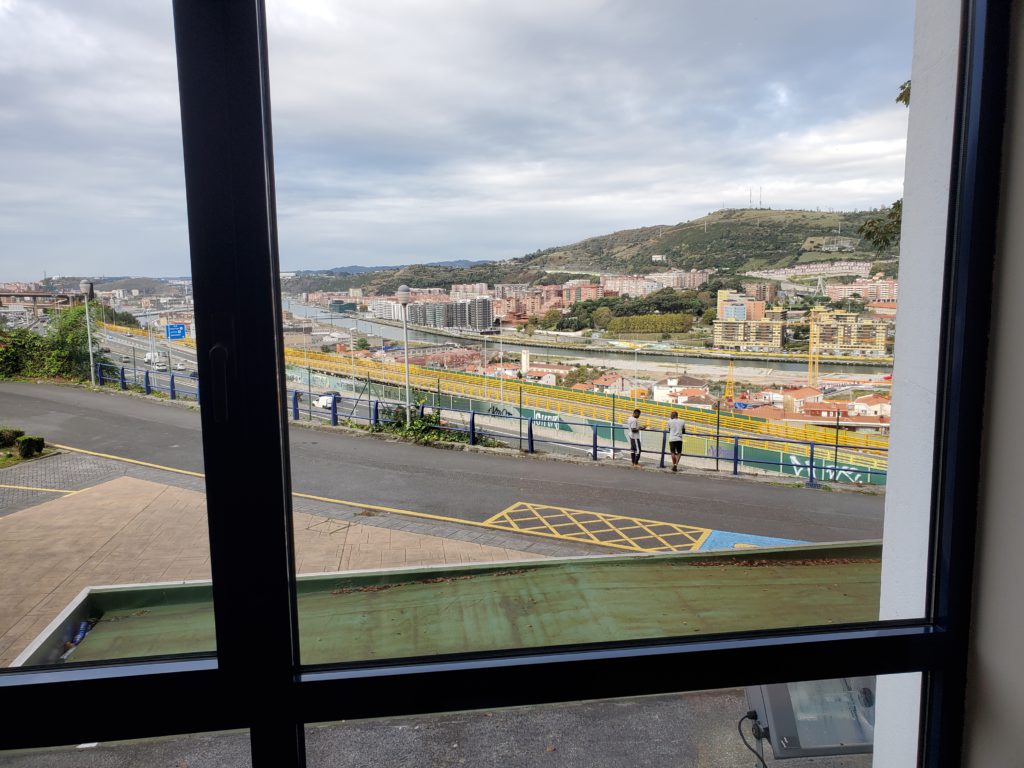 The second night and morning are much the same and Thursday morning, since it's still raining steadily, I vacate my room by noon and continue working until I hit the road after 2 PM. I'm only driving about 70 miles today and there's no need to get there much before dark. On the way out, I go to Portugalete, the harbor entrance mentioned earlier, to see what the modern version looks like. It's just a ship channel mow but as I look up-harbor, I see something I know nothing about. There's a tall, high structure spanning the channel that even large ships can easily clear. Below it, near water level, is a sort of ferry carrying loads across the river. Instead of being in the water, it glides a little above it suspended from a carrier by long cables.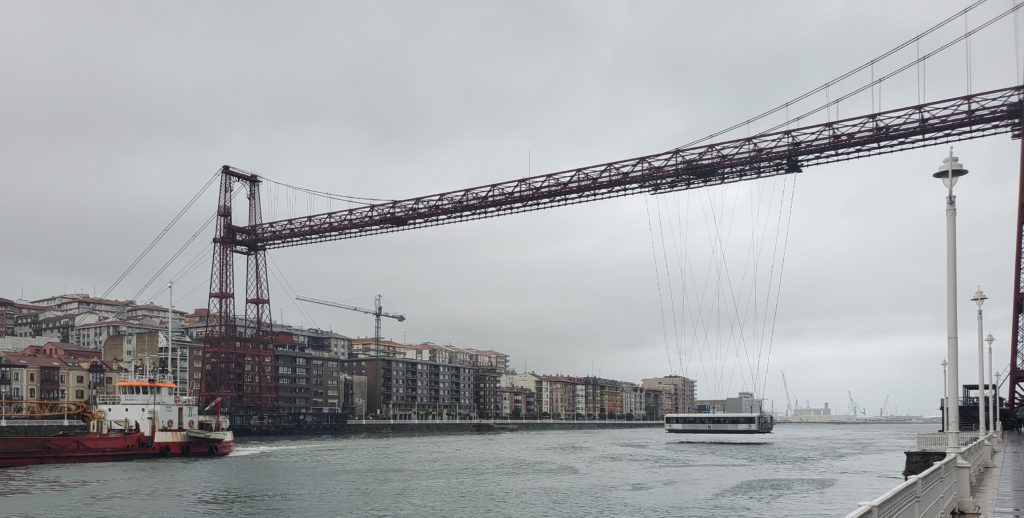 Some quick research reveals this is the Vizcaya Transporter Bridge. The hanging gondola that transports cars and people is the transporter. This was an innovative bridge using innovative technology, the first of its kind, built in 1893, to make transport feasible across a heavy shipping channel without needing extensive ramps to get traffic up high. With various modernizations, it has operated almost continuously, interrupted only during the 4 years of the Spanish Civil War when the transporter was dynamited to the bottom of the channel. Interestingly, the original designer, Alberto Placio, a protege of Gustav Eiffel, witnessed the 1937 partial destruction of his masterpiece from his home downstream. The bridge was built privately but is now owned by Spain. At least 19 other transporter bridges were built around the world due to the success of the Vizcaya Bridge but only 8 still survive.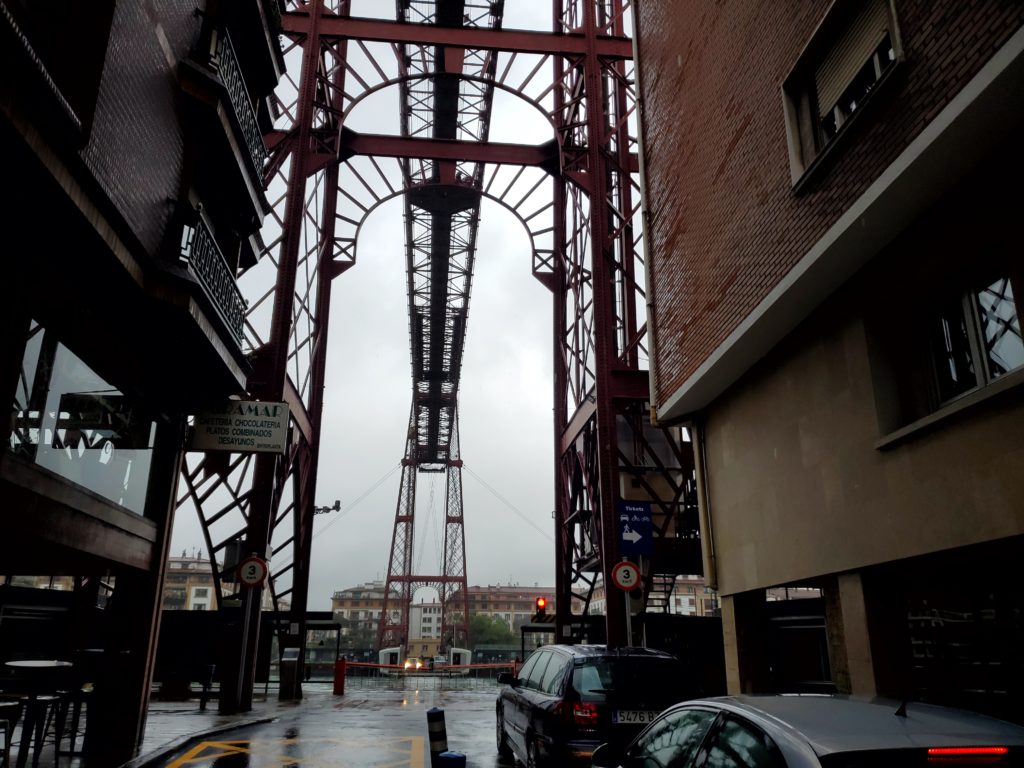 Of course, I'm determined to cross the channel on this bridge. I quickly determine that it transports vehicles rather than just pedestrians so I try to drive to the approach. The narrow streets around the bridge are so confusing that every time I try to approach with the Berlingo, people start honking at me furiously for cutting the line. After 30 minutes of driving around, I park behind the waiting cars to ask where to go. Within minutes, a deaf man catches up to me on foot, takes my arm, and points to the end of the line. He's the most recent person I'm jumping ahead of. With this info, I manage to insert myself at the proper end of the line and wait my turn. Finally, my car is loaded and we glide across the water just a few feet above it. It's only much later I find out that there are elevators in the towers that allow pedestrians to walk across the top structure as well. Missed out on that.
Having accomplished the crossing, I head out of town toward my very rural, very remote overnight stop.
Next post: https://blog.bucksvsbytes.com/2023/11/08/road-trip-europe-ii-23-10-26-23-10-27-a-rustic-night-in-soba-remote-cattle-country/