Prior post: https://blog.bucksvsbytes.com/2023/11/05/road-trip-europe-ii-23-10-24-23-10-26-bilbao-the-ancient-basque-seaport/
Thursday, I drive out of Bilbao, leaving the coast for several days in favor of the mountains. The drive is short, less than 60 miles, and I'm heading to an interesting looking hostel far off the beaten track in southeast Cantabria. The Cantabrian Mountains are a westward extension of the Pyrenees. Whereas, the former form the border of Spain and France, the latter run parallel to and inland of the Bay of Biscay.
This place caught my eye as I plan my route westward. It's remote, cheap, and highly rated – very promising. The drive from Bilboa is typical, lots of small agriculture amid patches of forest. The road follows river valleys and goes over low divides. The weather is still overcast with intermittent raining. At one point, I see a line of windmills disappearing into an advancing, low cloud.
[NOTE: To enlarge any image, right click it and choose "Open image in New Tab" or similar.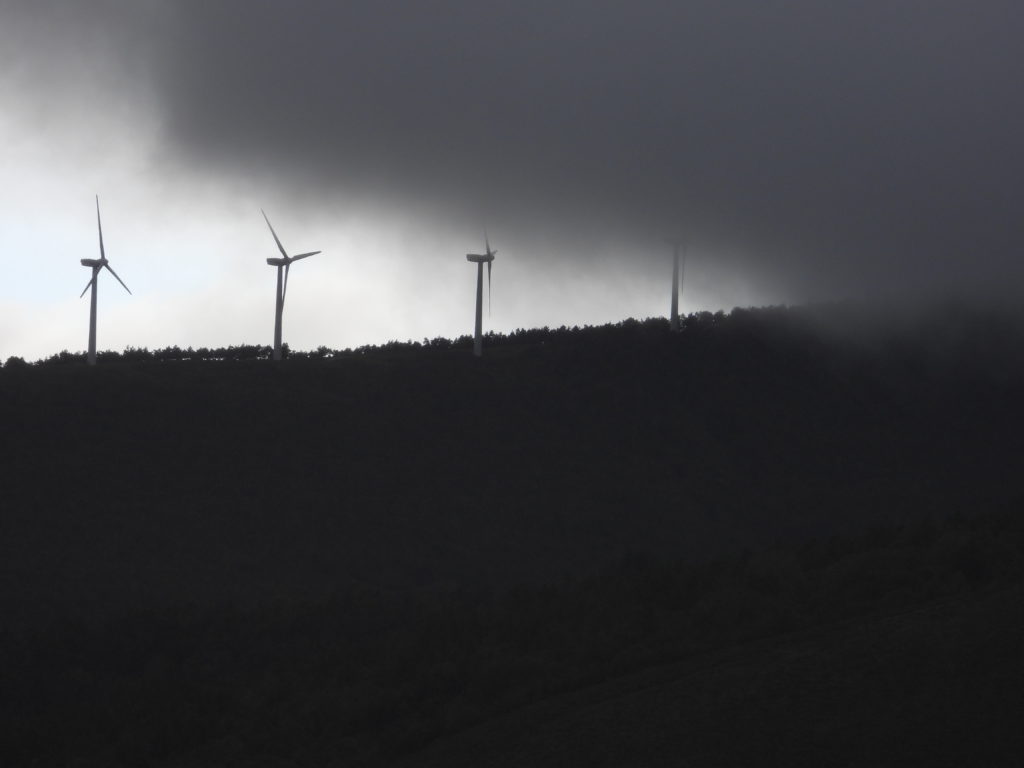 As I cross into Cantabria, an abandoned building with a collapsed roof and overgrown interior catches my eye.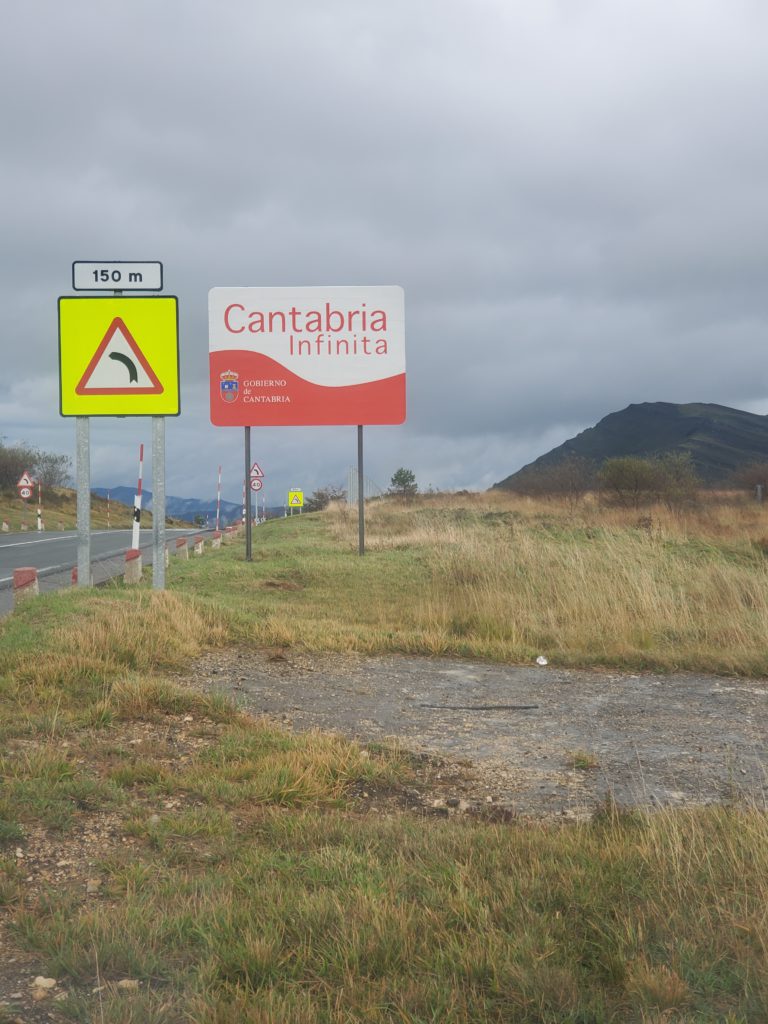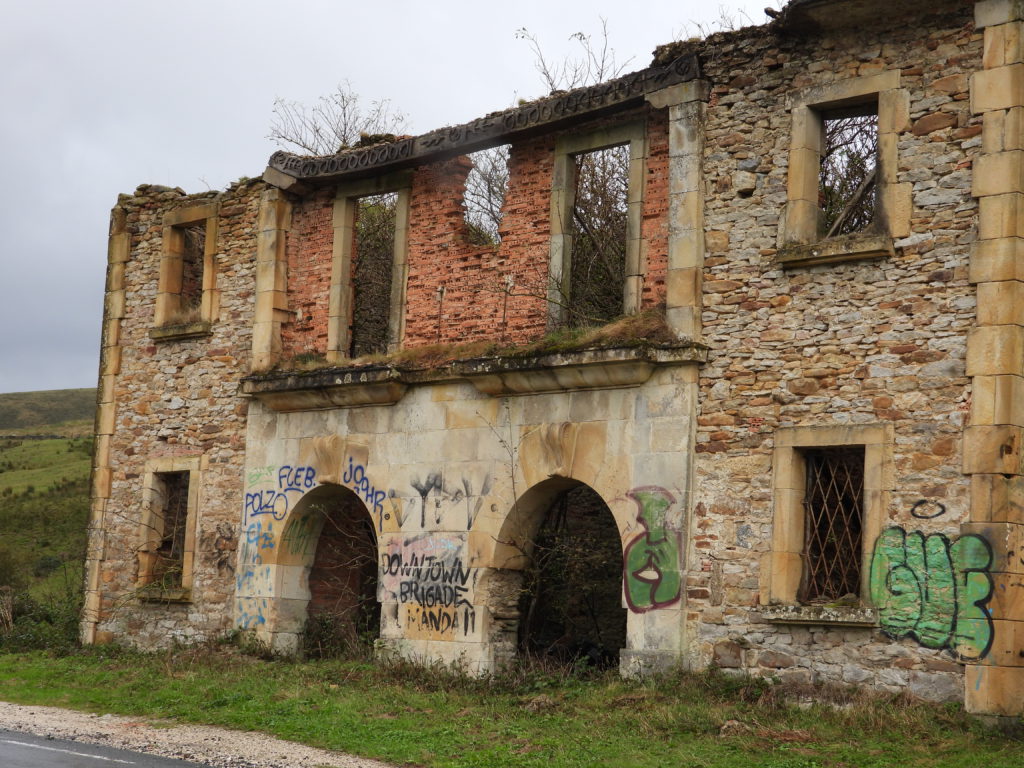 Shortly after, the view opens up into tall hills and broad valleys.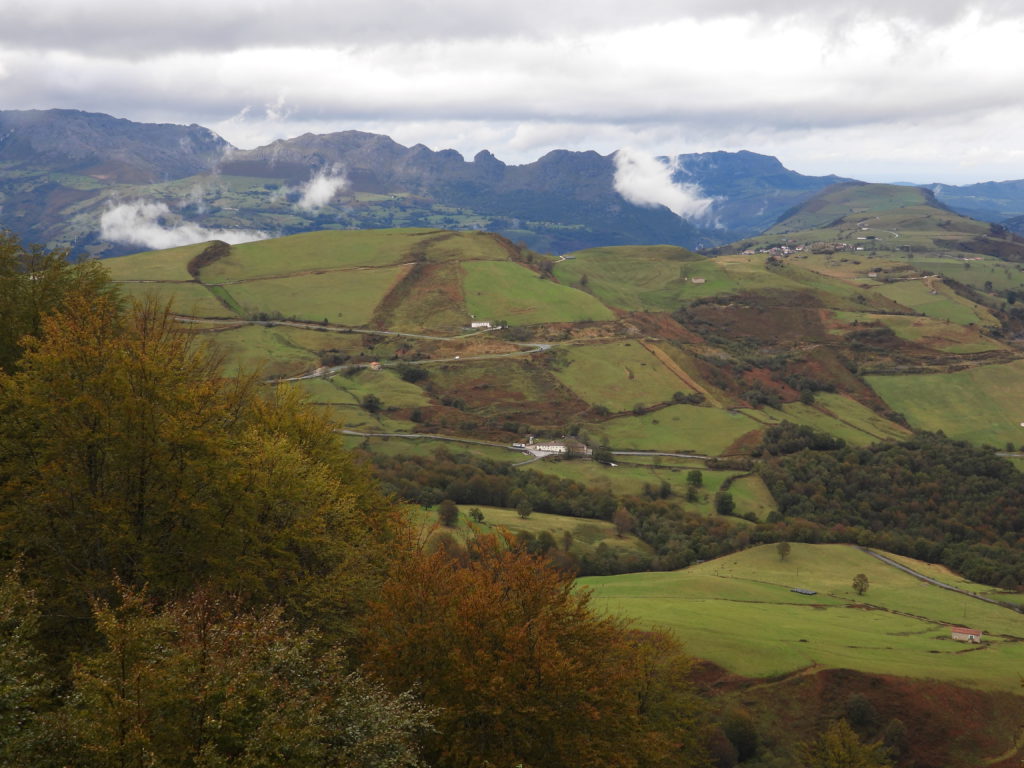 With 10 miles to go to my destination, I turn onto a much smaller, rural lane. This route winds through farming country, often switchbacking up or down a particularly steep hill.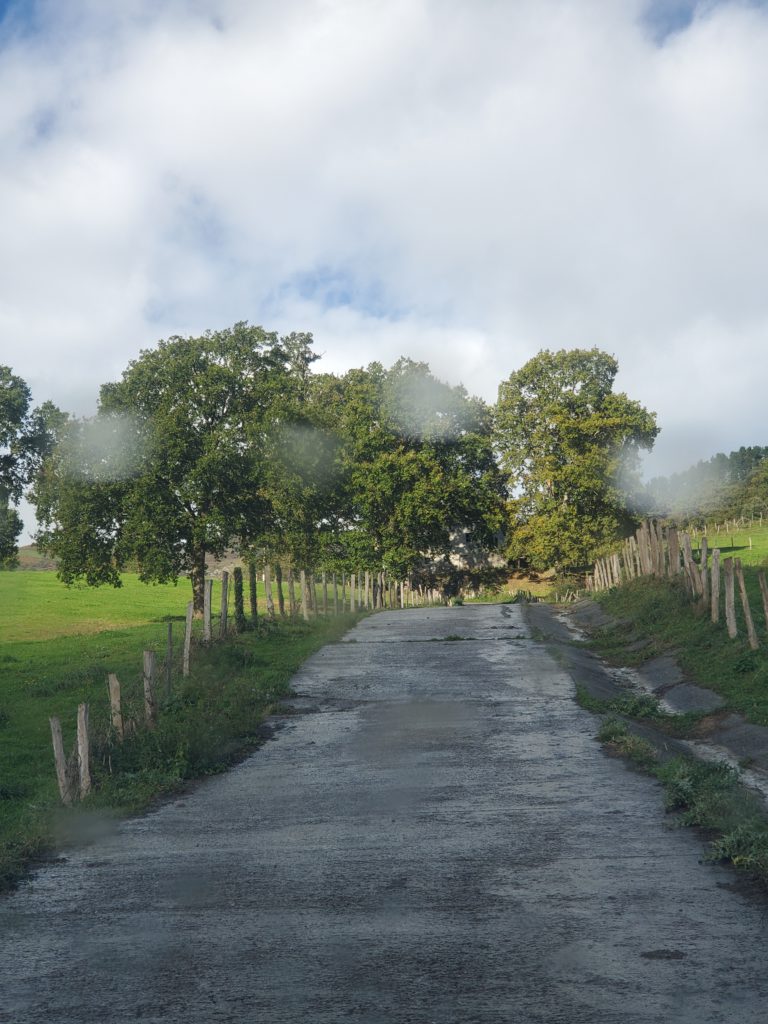 While the roads are paved, many spots are rough and poorly maintained and the narrowness makes it undesirable to meet oncoming traffic. Fortunately, there is very little of that but, in these situations, one never knows when a local bus or giant farm machine will appear around a blind corner.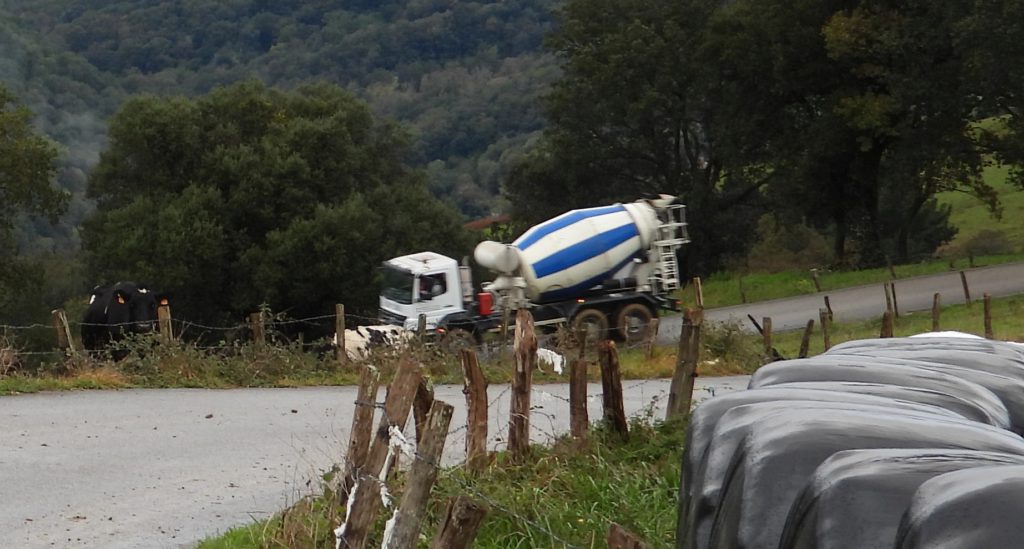 At one point, I'm behind a cement truck careening around the curves and I'm thankful I'm not encountering it as opposing traffic.
Eventually, after navigating an impossibly steep and narrow driveway, I get to the building. The door is locked, despite the sign announcing check-in hours and the area appears deserted. I text the posted number to announce my arrival with no immediate response. As I patiently pass the time investigating my surroundings, a response arrives after 10 minutes, "We're on the way. The side door is unlocked. Make yourself at home." I park the car on the very steep end of the driveway, so steep I chock the wheel as an extra precaution against a runaway.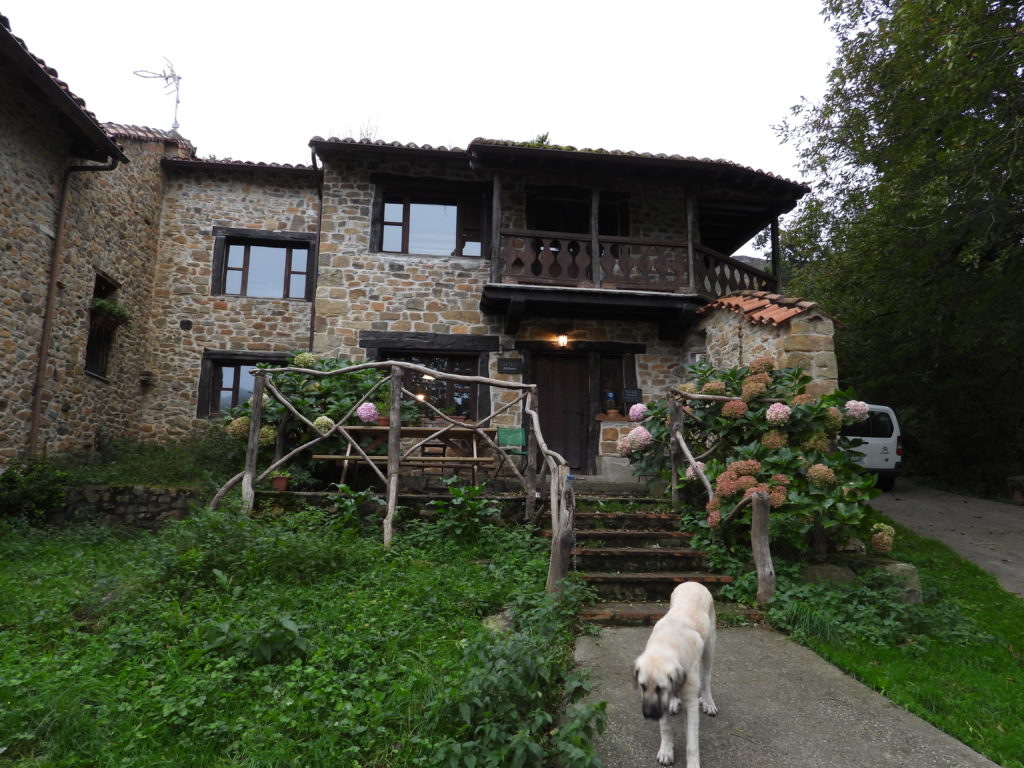 The inside is very nice, both the structure and the furniture all made of dark, heavy wood.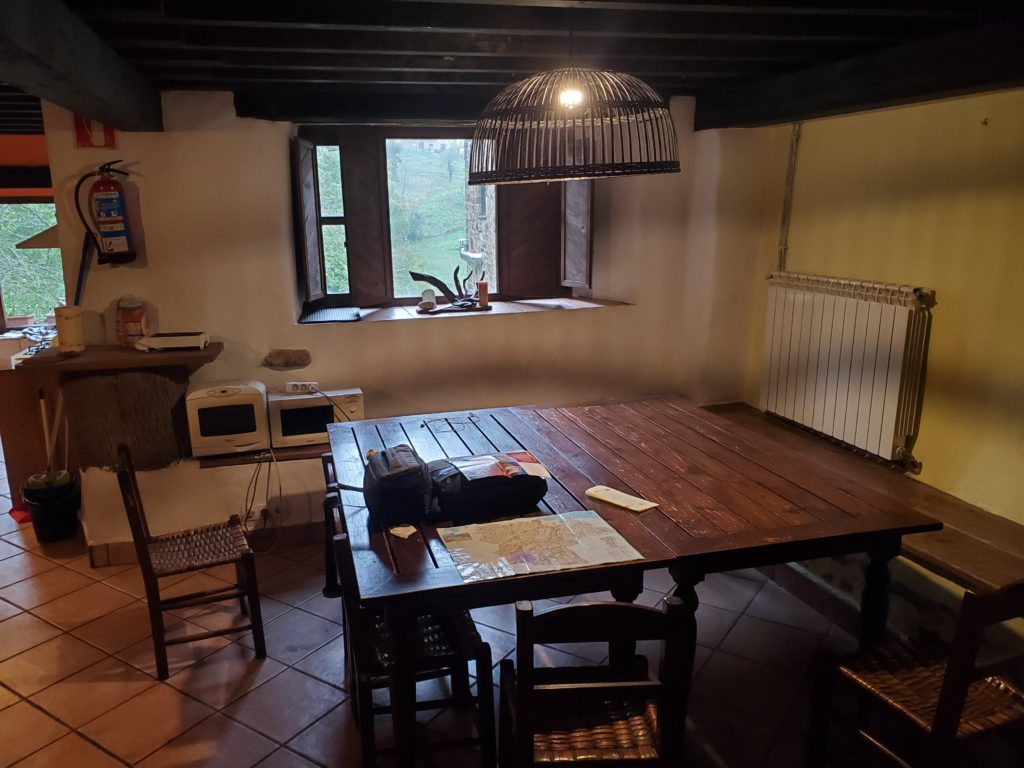 I put away my perishables in the refrigerator and soon after, the owner, Cris, arrives.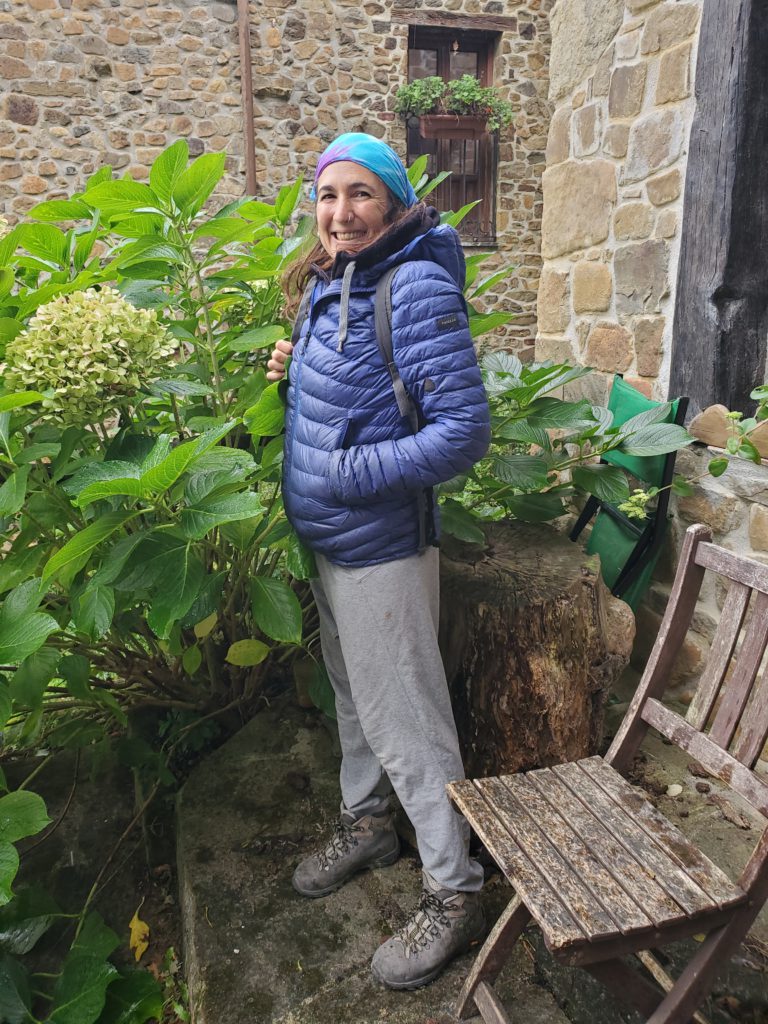 She gives me the tour, asks when I would like breakfast, and leaves me on my own. There's no internet here as this spot isn't served by the nearby village's fiber service. I find adequate cell service outside the building but it can't penetrate the heavy stone walls.
There's a wood stove and several large chunks of wood but no kindling or hatchet so I carefully build a fire with the logs I have and some rolled up paper. It burns well, so I get to enjoy it camping style.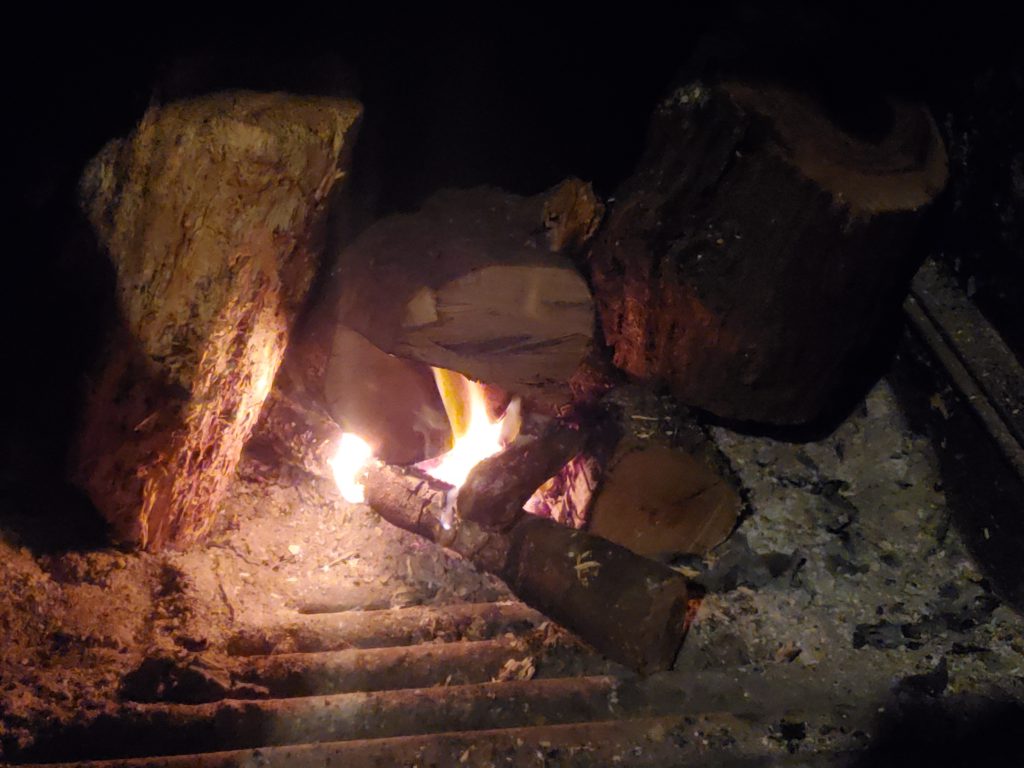 As I'm the only guest tonight, I have the dorm room to myself, so I choose the loft. The head clearance is too little to let me sit up without risking a concussion, so I have to roll in and out of bed from and to the top of the sturdy homemade ladder.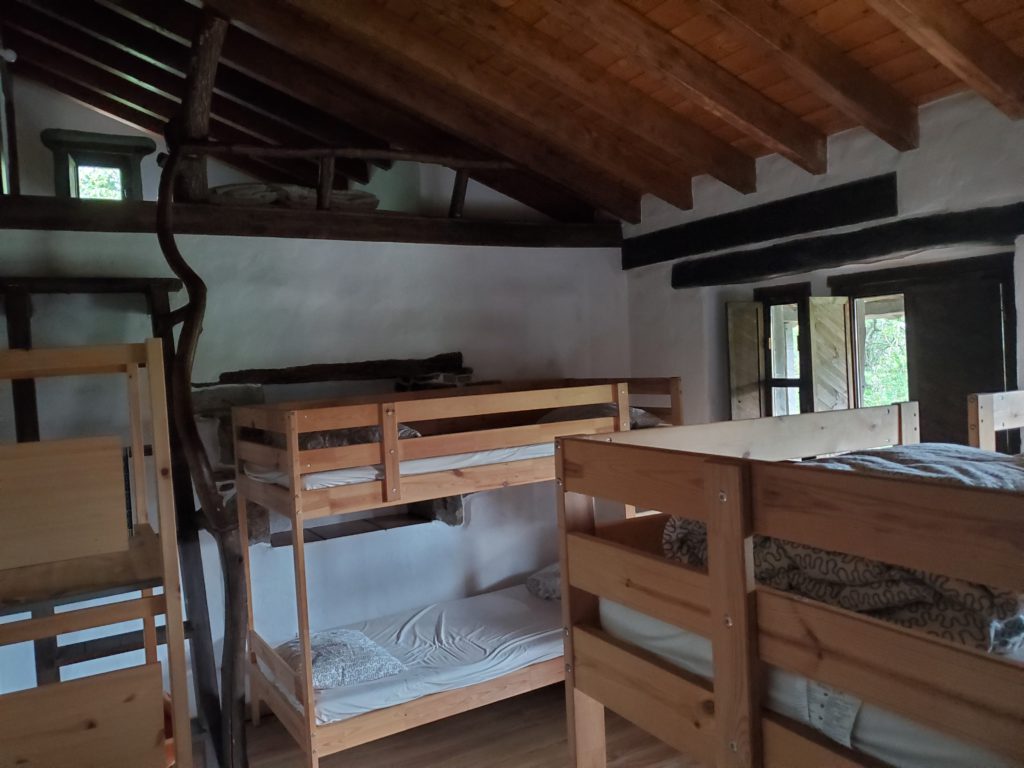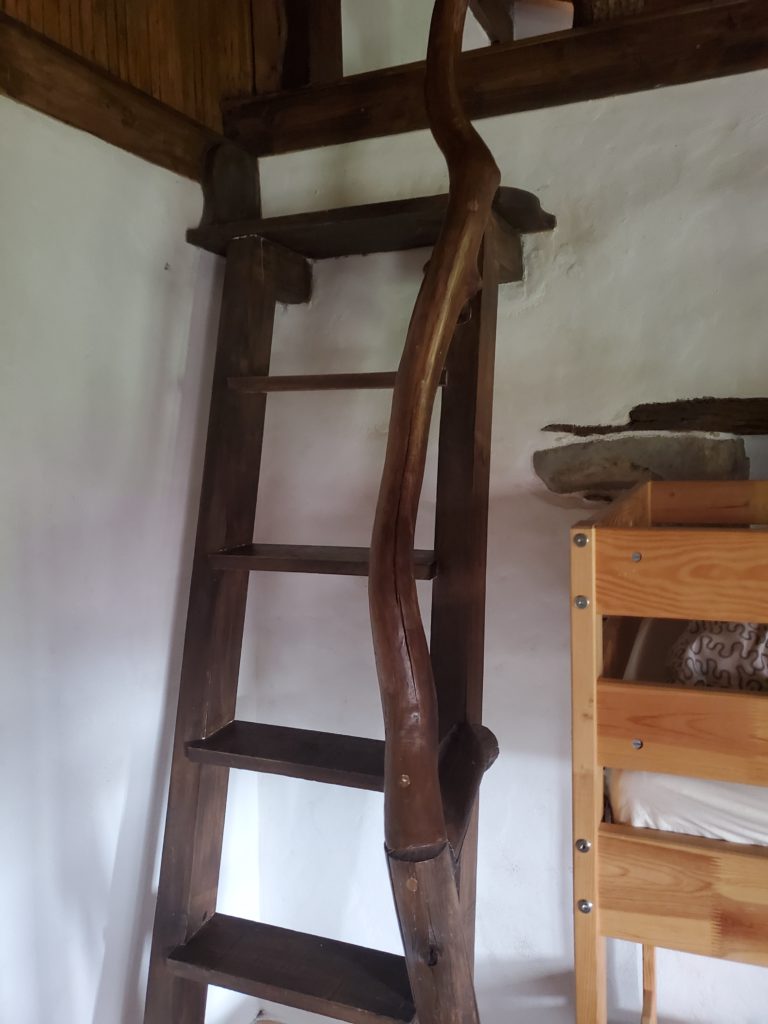 The morning dawns not raining for a change. Cris arrives from her home and prepares breakfast just for me, an extremely nice gesture for a solitary $18 guest. Her English is minimal but we get on fine in Spanish. She tells me she, her husband, and a friend built this large building themselves over 4 years. It's quite busy in the summer with hikers and bicyclists who appreciate the scenic remoteness but I'm one of few autumn visitors. In the winter, she gets skiers. After breakfast and conversation she heads back down to her home, telling me to leave whenever I feel like it. If it weren't for the lack of internet, I'd stay here 2 or 3 nights and test my tolerance for solitude.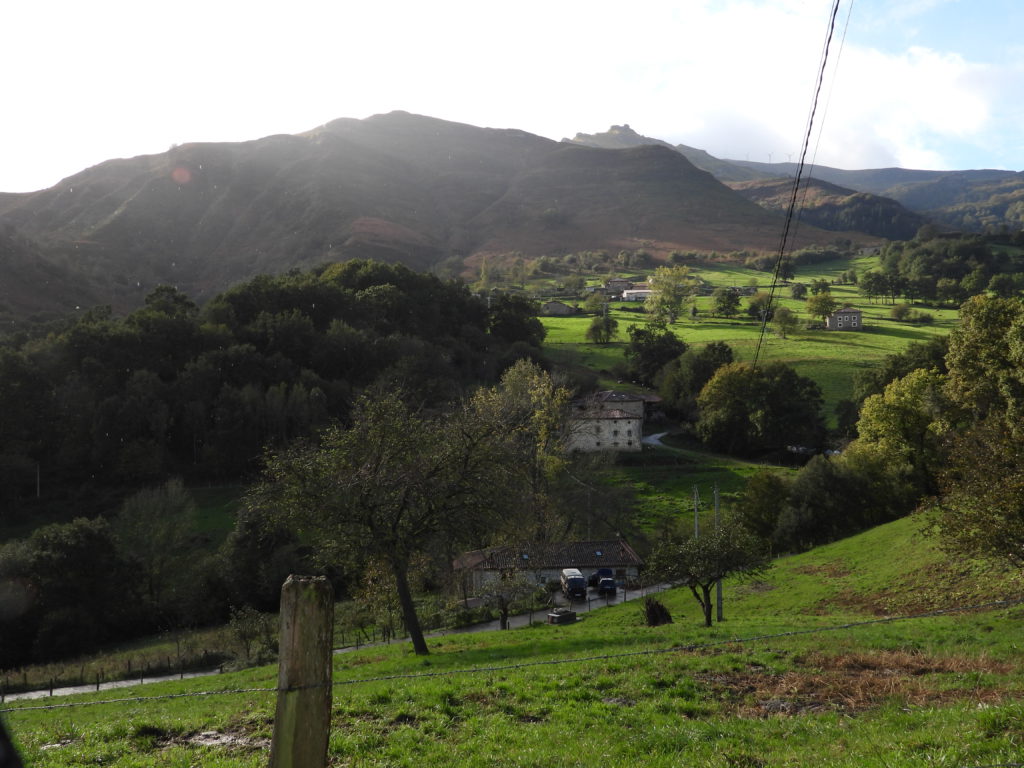 The local road out to the west is much less of an adventure than yesterday's long approach from the east.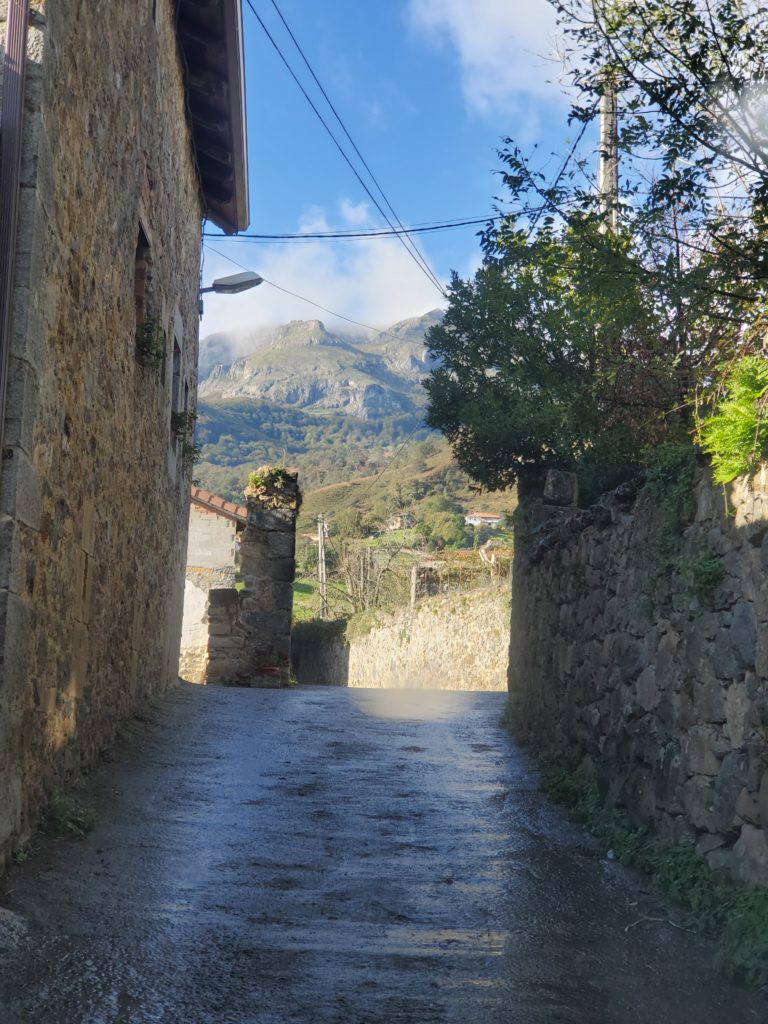 There's a large waterfall nearby, so I swing by there on my way our of the area. Google Maps tells me it's not far up a restricted road, so I park and walk up past some cattle pastures. An informational sign maps the cirques and moraines visible in the wide open glacial scenery. Of course the ice is long gone.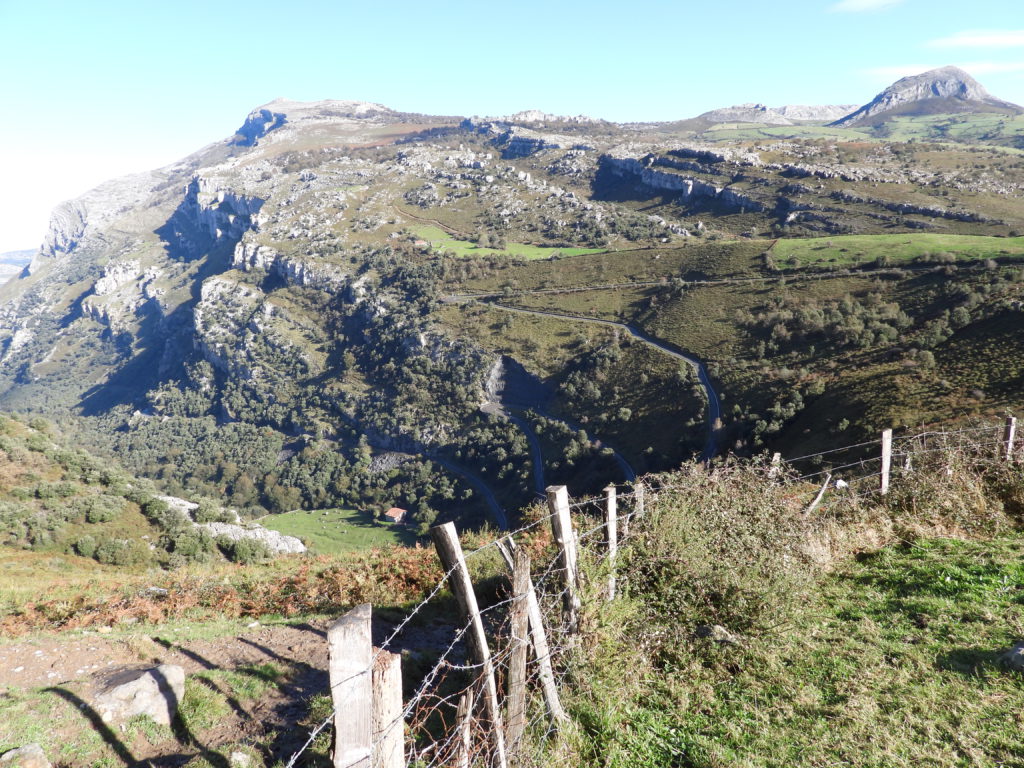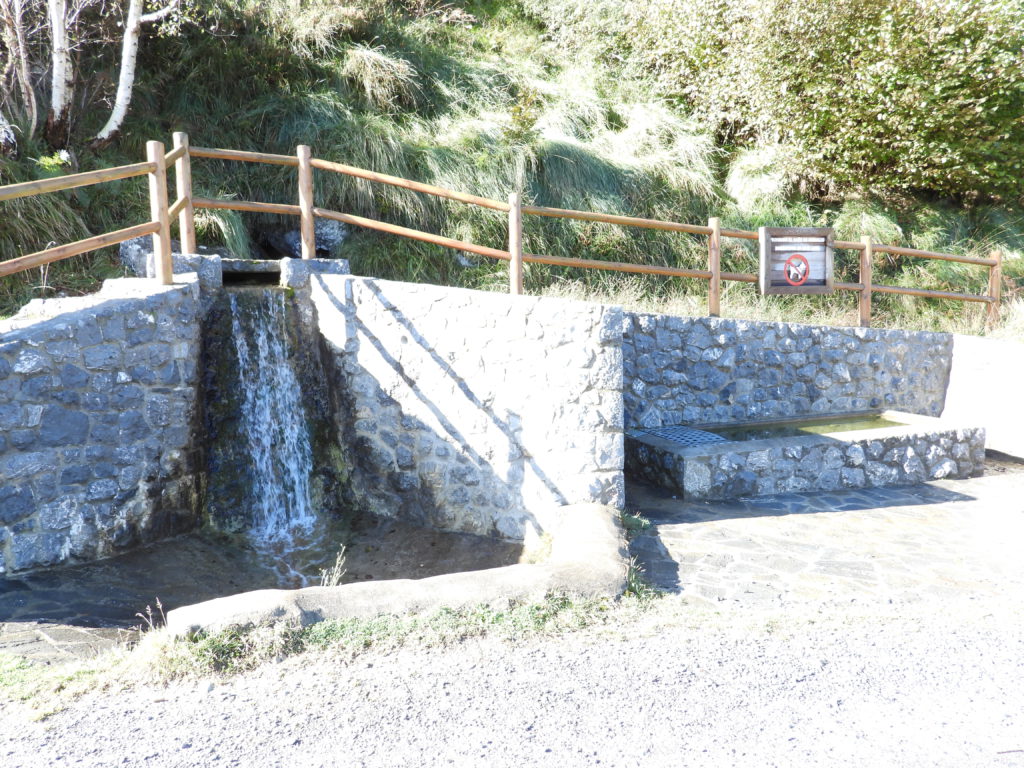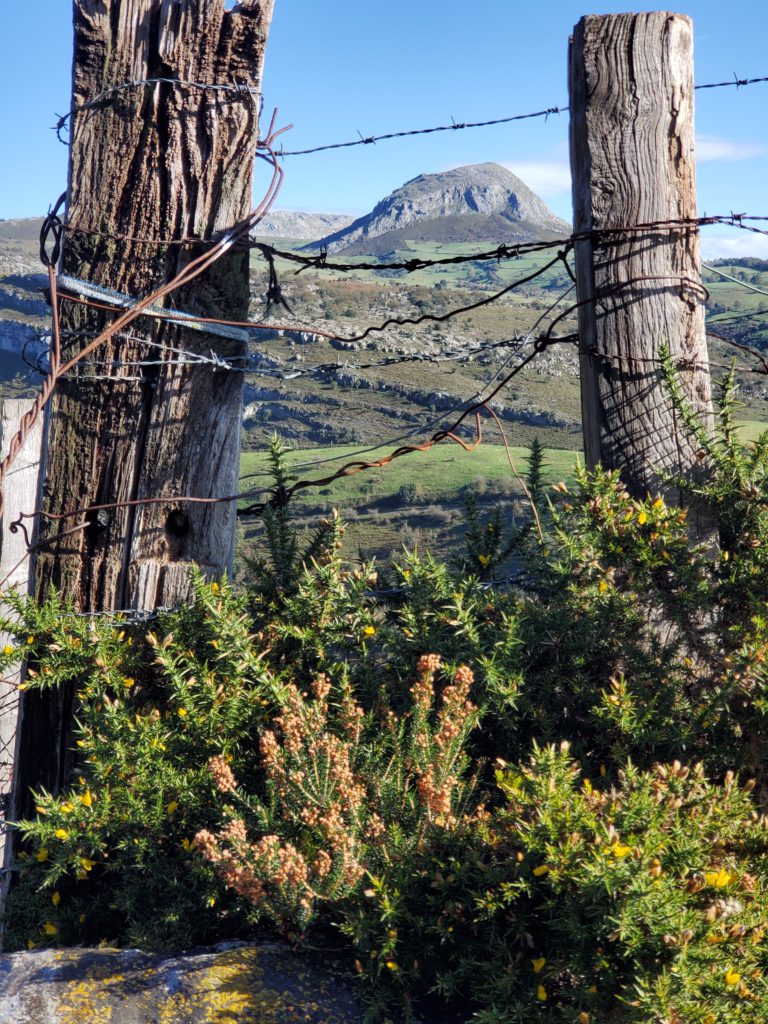 The walk is very nice but after a mile or so it's obvious the waterfall, which photos show issuing from a cave and making a long drop to the valley floor can't be up this road. Maps is wrong. I'm pretty sure now the fall is below me rather than above. I work my way slowly back to the car and continue down into the canyon. Sure enough, a short way down the switchbacked highway, there it is across the steep gorge, spewing from mid-cliff and dropping a respectable distance to the canyon floor. I had been walking above it with no way to notice it from there.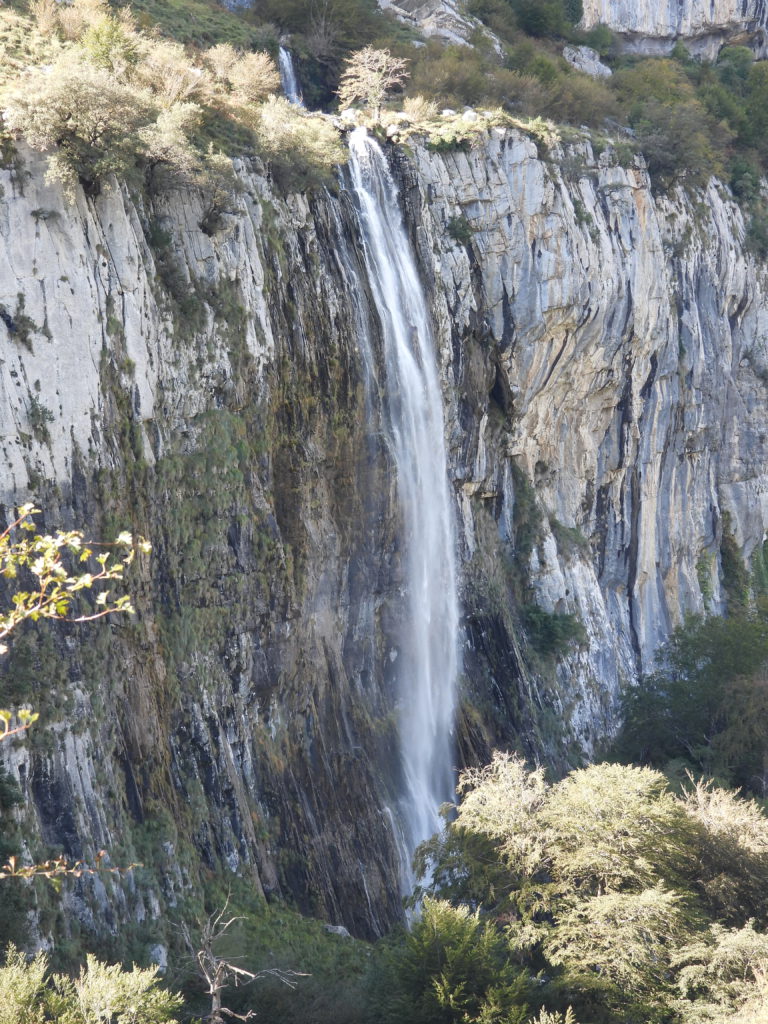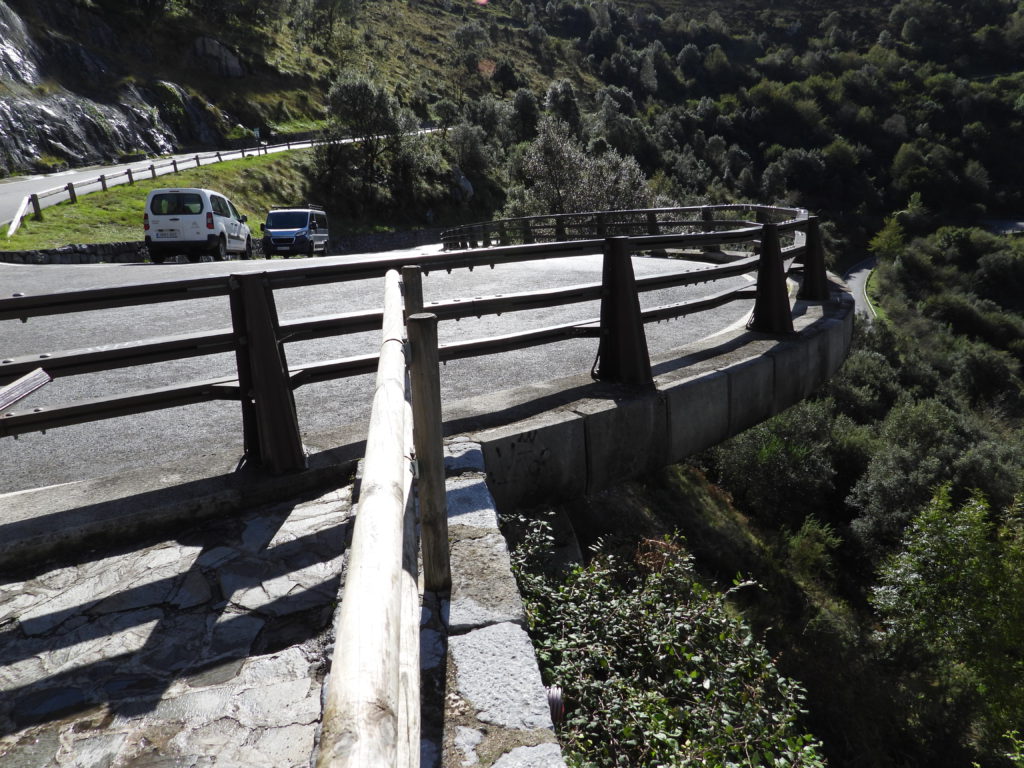 Mystery solved, I continue on my way. As is so often the case in Spain, cows share the road with cars, and they have the right of way.
My route takes me to the northern edge of the mountains where I get an expansive view of the Bay of Biscay, although I'm not actually going to the coast today.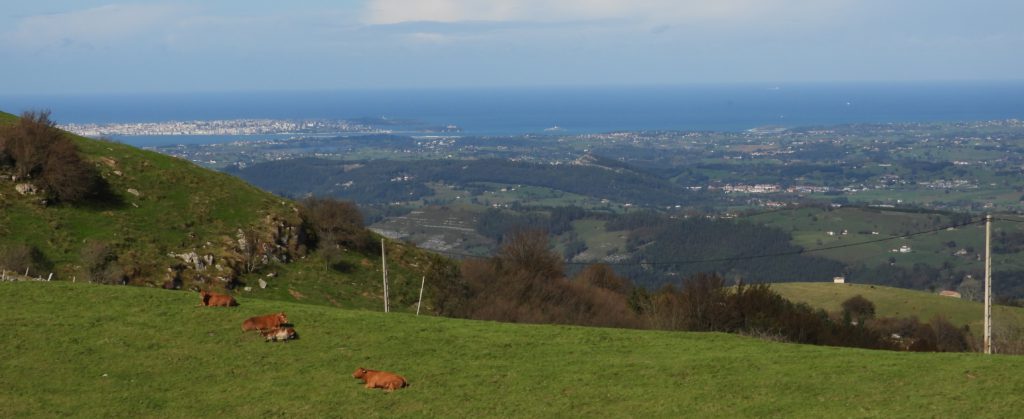 Tonight's destination is Picos de Europa National Park and I'm heading for a small and cheap hotel/bar in a small village south of the park. It's about 150 miles of mostly twists and turns. As I make a turn northward on the final leg, I'm surprised to see that the distant mountain slopes are covered with termination dust, the Alaskan term for the first light, high altitude snow of winter. I'm definitely heading into colder weather, at least for a while.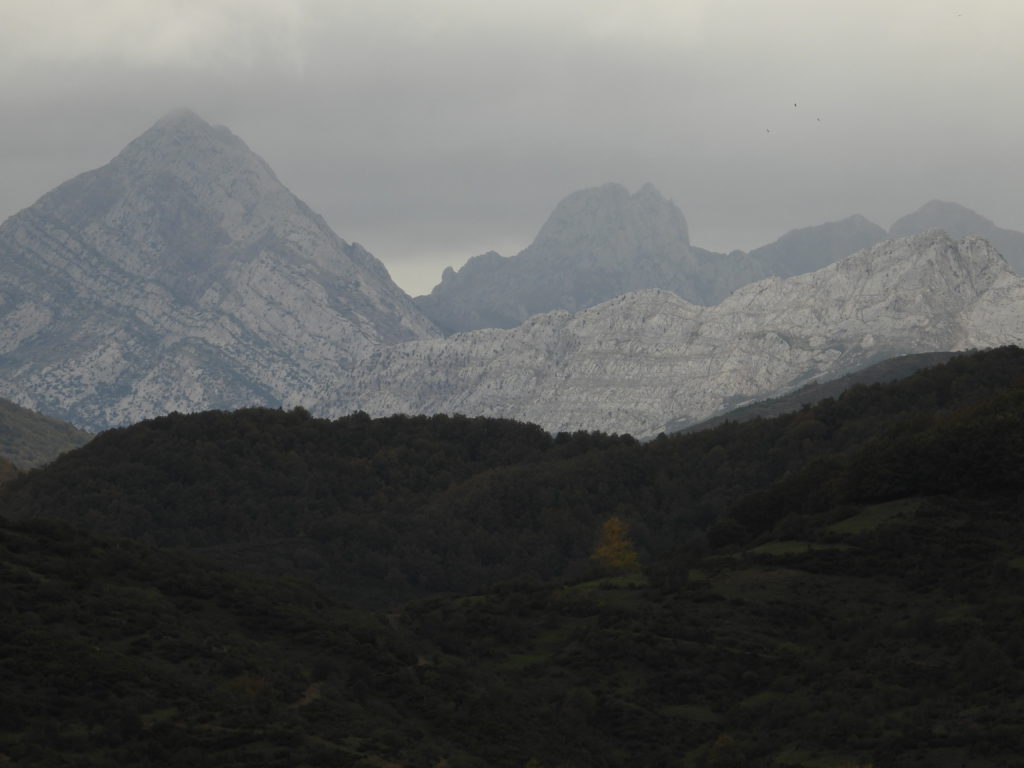 Next post: https://blog.bucksvsbytes.com/2023/11/10/road-trip-europe-ii-23-10-27-23-10-29-picos-de-europa-national-park/