Prior post: http://blog.bucksvsbytes.com/2019/11/19/south-america-by-subaru-19-10-30-santa-rosa-to-see-friends/
[NOTE: To enlarge any image, right click it and choose "View image" or similar. Use the Back button to return to the post.
We get up refreshed after our first night at Cabañas Kangarú. Chris is cleaning the pool outside and we strike up a conversation. He, like me, is not suitable for a 9 to 5 job and seems to have found his niche with Yanina, who is a Buenos Aires escapee. They bought the property, which was a neighborhood trash repository (or "tip" in Chris' Aussie terminology), brought in machinery to haul off all the garbage, and built their house several years ago. As they found the funds, they added two well thought out cabañas, the pool, and various amenities. The coming summer is their first full season and we are their first non-Argentinian guests.
Yanina brings in outside money teaching in a school, tutoring English, and who knows what else, while Chris' main work seems to be upkeep of the property. Chris and Yanina are both so friendly we feel at home here after just a few hours.
Susan's author friend Josie Peralta is who drew us back to Santa Rosa for a second visit. We meet up with her this morning at a coffee shop and catch up on the two years since our last visit.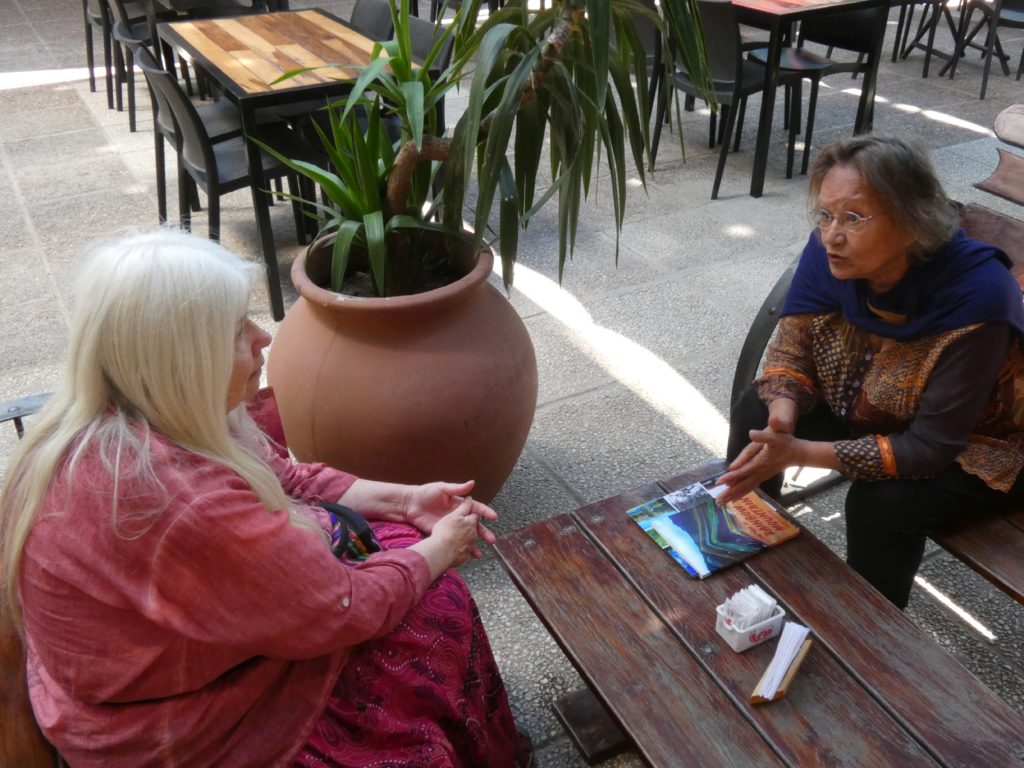 Josie's invited us to her son, Alberto's, house in a nearby town for the afternoon. We drive out there with her and enter a gated community with large, sun baked lots and scattered homes. Clearly, there is much more construction to come. Subdivision lots for sale can be seen everywhere in Argentina. Due to the vicious inflation, pesos have no long term value (one friend refers to them as painted paper), so Argentinians are constantly looking for ways to preserve value. Real estate is one favorite approach. Buying dollars, despite legal limitations, is another.
We pull up to a nice house surrounded by open lawn. I park next to a large Toyota Hilux, what I long ago dubbed the Argentine national pickup truck. At one side of the house is a concrete swimming pool, the deep green agae color showing it's currently unused. Alberto is there to greet us. He grew up in the U.S. while Josie lived in Woodstock NY for many years and only moved to Argentina and learned Spanish as an adult. He's one of those maddening people who can master a second or third language completely, while I perpetually struggle to speak and, especially, understand anything beyond English. It took me a long time to accept that any language learning I accomplish is by brute force rather than aptitude.
Alberto founded a successful chain of gyms in New York and now makes his living remotely in a most unusual way. Residing in rural Argentina, he owns a popular takeout restaurant in Lahaina, Hawaii! Through a network of cameras and a reliable on site manager, he runs the operation via internet. In inflation ravaged Argentina, his US dollar income seems to keep him very comfortable. For someone like me who's found a thousand ways not to get rich, his feat is very impressive.
Alberto feeds us parrillada, the Argentine national dish, consisting of several kinds of meats barbecued very slowly over a sparse bed of coals.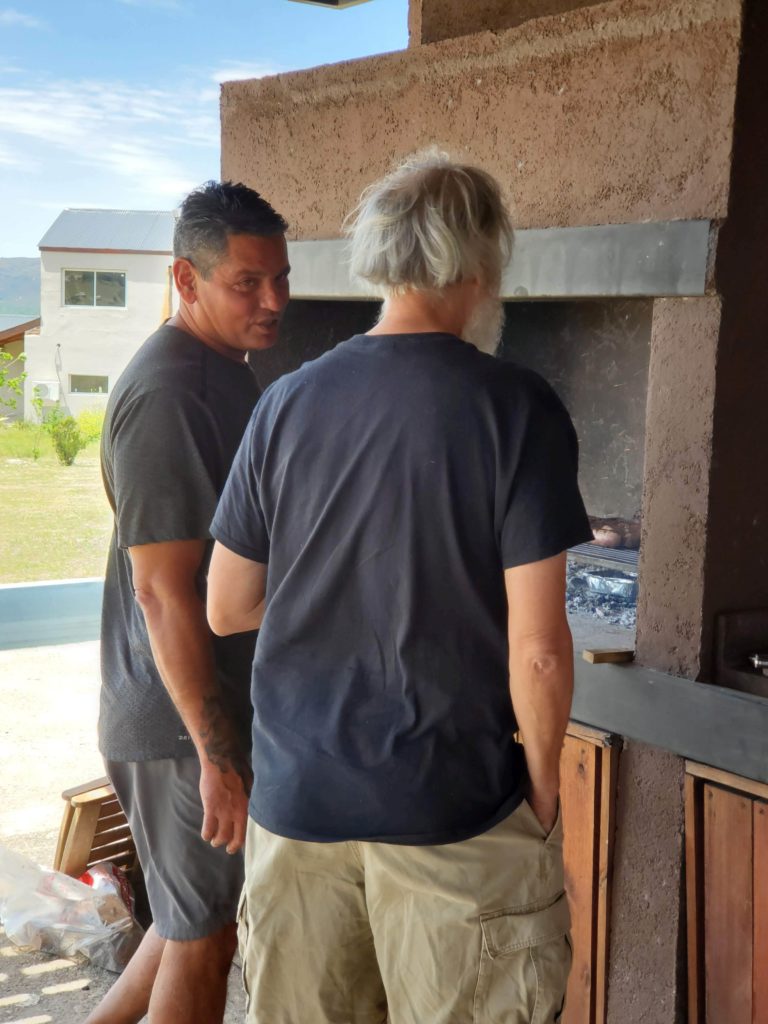 Parrilla is an obsession here and every cook has their own secret techniques and spices. In some parts of the country, produce is almost nonexistent because the diet consists almost totally of meat and starch. This led the late Anthony Bourdain to exclaim during a foodie visit to Buenos Aires, "After a week or two here, even confirmed carnivores like myself will fall to their knees praying for a vegetable." After spending several months, over 4 trips, traveling almost every corner of the country, I know exactly what he meant.
Unfortunately, asado (barbecue) here is truly delicious, so the temptation to eat it returns quickly once your body clears out the globules of fat careening through your arteries after a meal. The only down side is that some of the items presented eagerly by your host are various organs and body parts that aren't very appealing to dilettante carnivores such as myself. It takes some real diplomacy to negotiate exhortations to taste and compliment grilled calf intestine or goat brain on crackers.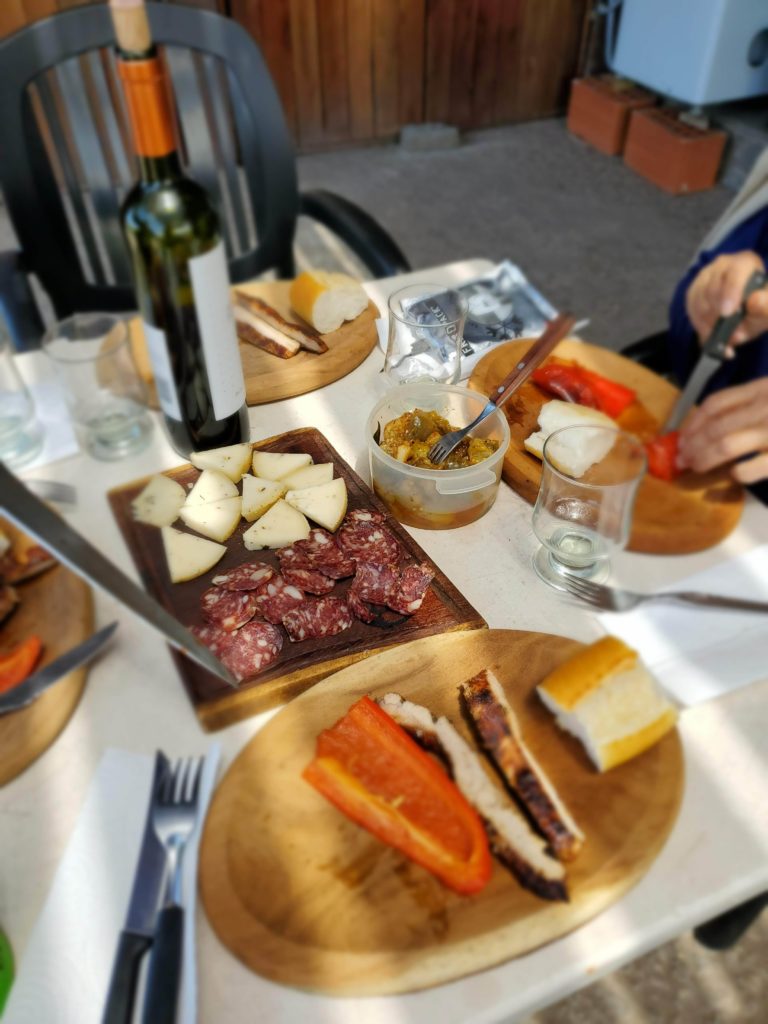 Of course, the meat fest is all wasted on Josie, who is a vegetarian — seemingly one of the few in all Argentina. It must work for her because, at 79, she still has incredible energy and purpose. Alberto makes sure he has items that fit her diet as well.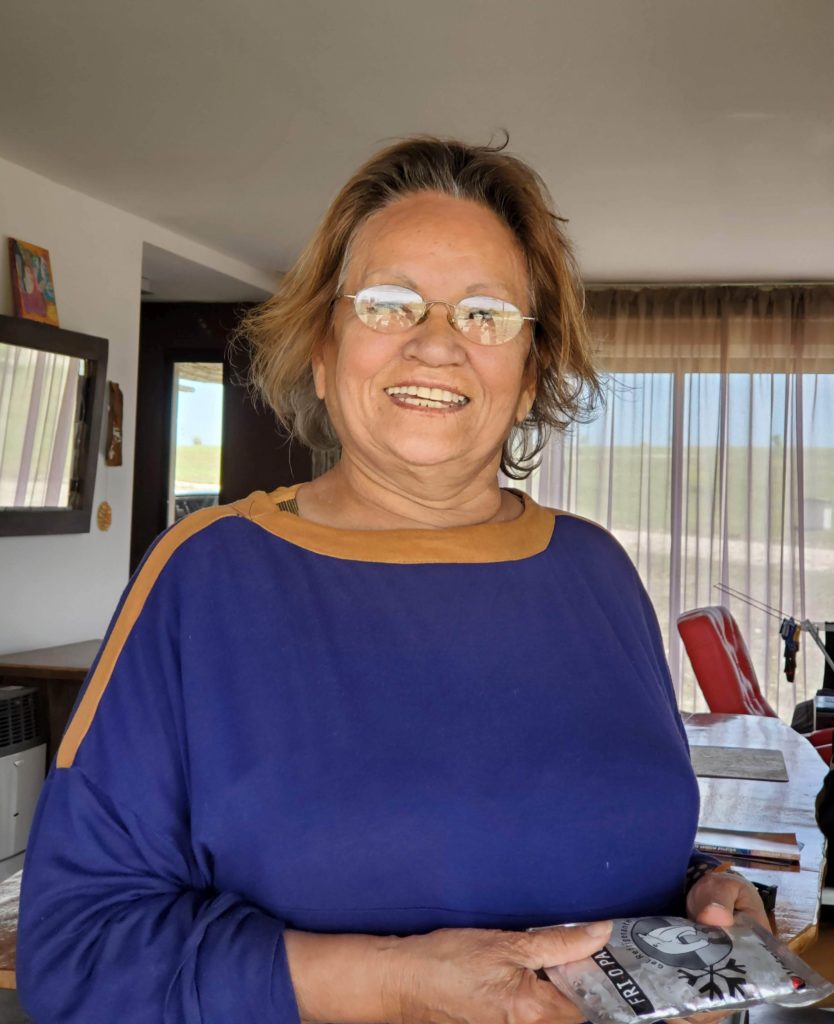 We also meet Leonardo, Alberto's employee who does groundskeeping and other work for him. Leo is a shy man who speaks very softly and reticently, but we soon realize he has a good command of English. It turns out he did very well in school but due to poverty he was unable to advance his education. His is, sadly, a typical South American story.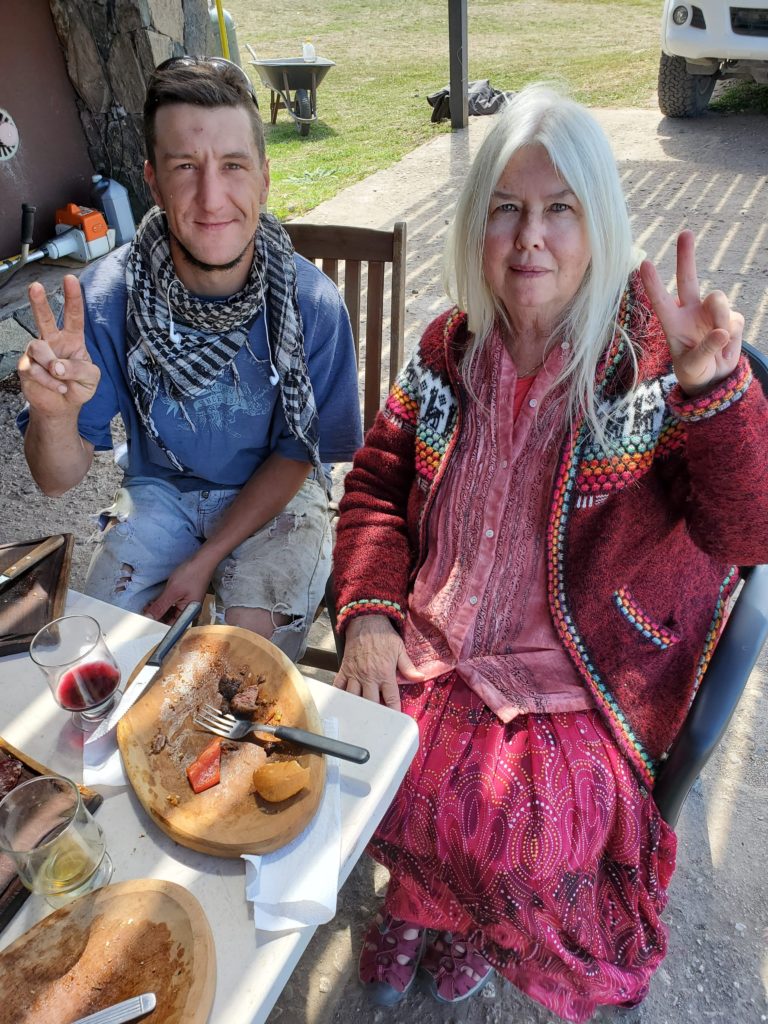 Alberto and I get along famously, despite substantially different approaches to life, and we tend to talk non-stop. It turns out the house we're in, nice as it is, is just a rental while his "palace" is under construction nearby. After lunch, we all hop in the Hilux so he can show us the new place and his horses. Alberto loves horses, he owns several and is an accomplished jumper, a sport I find excessively dangerous. As he backs off his lawn, instead of heading perpendicularly to the road, he spins the wheel a bit to angle out and — BANG! –the corner of his enormous truck whacks the Subaru parked adjacently. My instinctive reaction is a very sarcastic "Thank you!" which, fortunately, is ignored in the heat of the moment.
The truck bumper hit the front passenger quarter panel and bashed it in noticeably, and the damage is enough to prevent the passenger door from opening fully. Alberto is obviously embarrassed but we put off further discussion until we return from our little tour. First, Josie insists that we stop on a road in the subdivision named Capricornio. I have no use for astrology. In fact, it's hard to describe how quickly my respect for someone plummets when they give any credence to the idea that the accident of birth divides all humans into 12 categories of personality. I often try to tell astrology nuts that my birthday is 6 months later than it is, so they can go through some elaborate analysis of how my traits fit whatever sign my false birthday puts me in. Unfortunately, Susan, who claims not to believe in this bunkum but brings up the subject repeatedly, never lets me get away with my ploy. She outs my attempted deception immediately. I have yet to receive satisfaction at hearing someone go off an astrological cliff.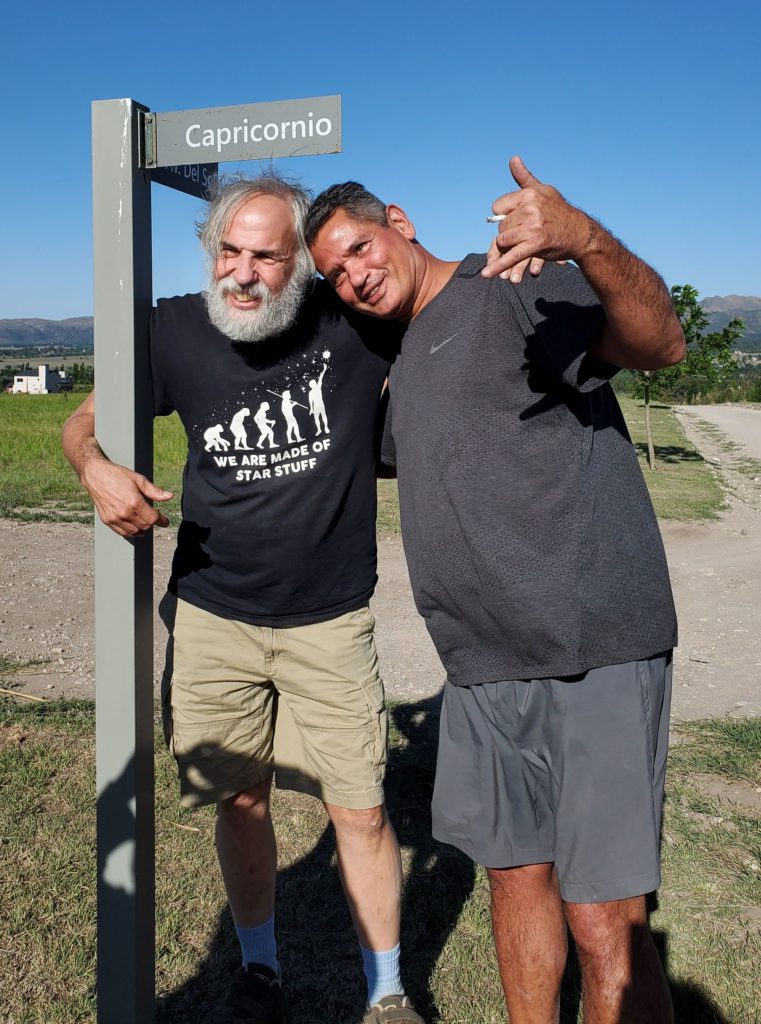 Josie picked up on my distaste for the topic immediately and delights in good naturedly tormenting me with it. Alberto and I were both born in January and she insists that we take pictures under the Capricornio street sign. This humiliation accomplished, we continue on to the new house, Nearing completion, it's been under construction for, I think, two years and it is impressive. Beautifully designed, it offers great views of the sunset over the western mountains.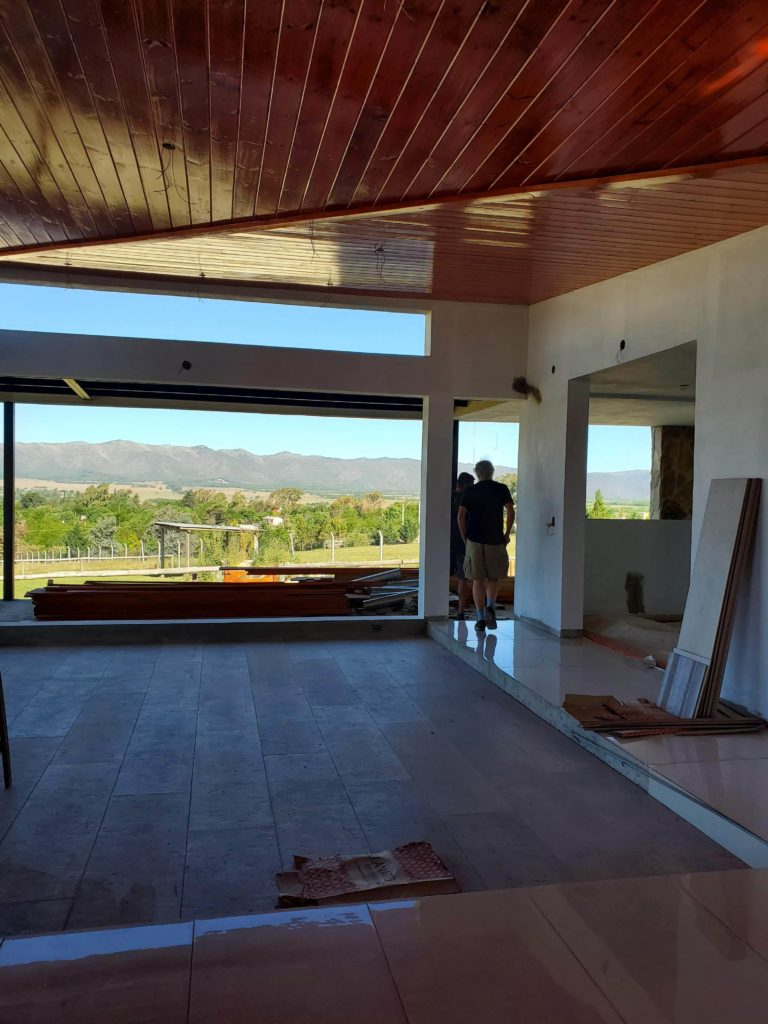 Alberto has included space for Josie to move in when she's ready and for her schizophrenic 60-year old daughter, Alberto's half-sister, as well. His generosity gives each of them a secure living option as they age, but it strikes me the rural location would make it difficult for either Josie or Leda to engage in external activities and social life. They currently live right in the center of Santa Rosa where they have easy access to cultural events, restaurants, and services.
The pride and joy of the house design is Alberto's beer garden on the roof, although today it is still unshaded and brutally hot up there.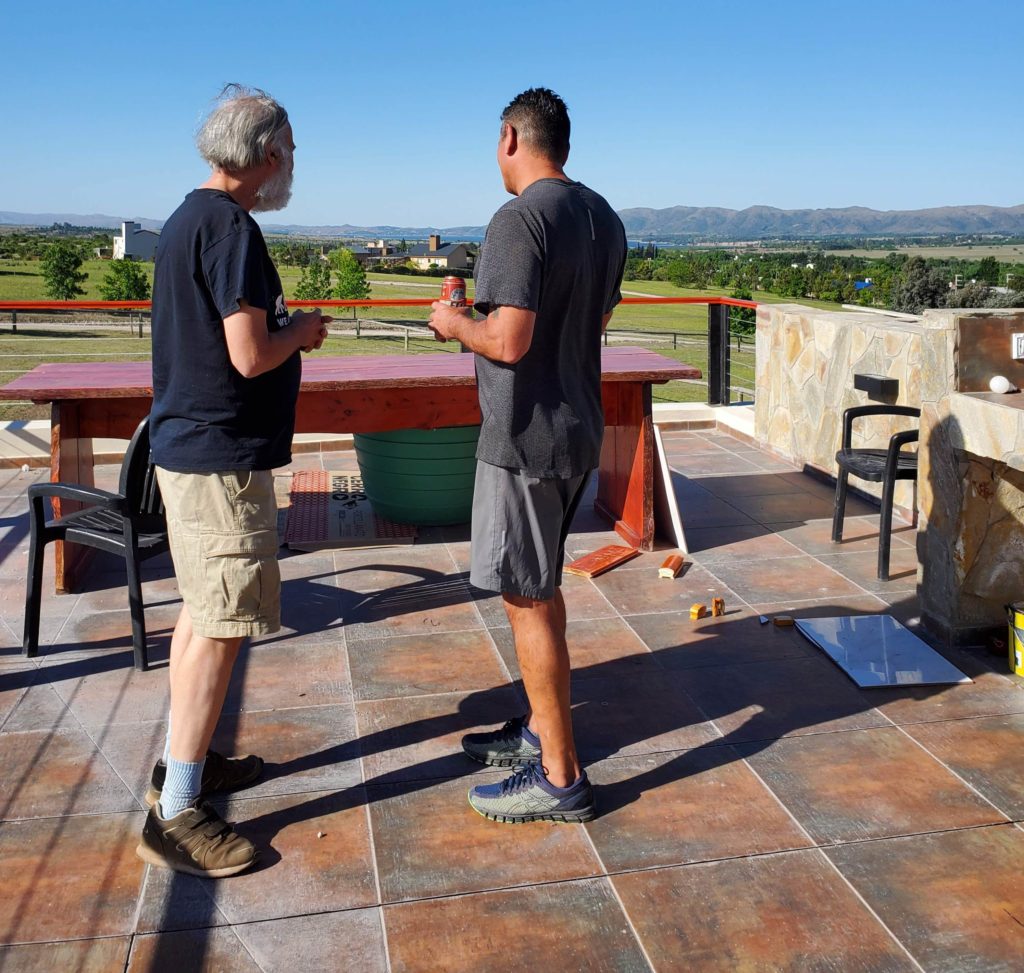 He has bought an adjacent lot to ensure that no one builds nearby and he'll be able to keep his horses right outside once he moves in. Our next stop is his temporary pasture, where we meet his three horses.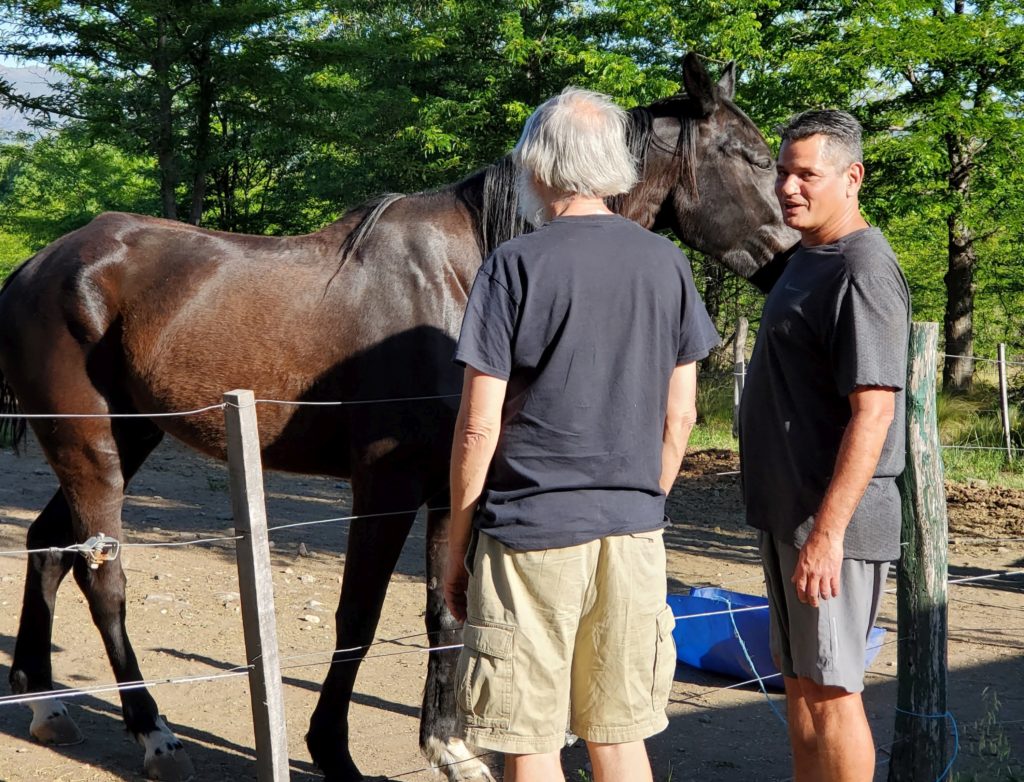 Alberto loves these animals and each one plants their wet lips squarely on his face when he intones "Besito" (little kiss). Having never been a horseman, I marvel at the strong bonds some people have with these enormous, intelligent animals. Alberto's connection with his is obviously very deep.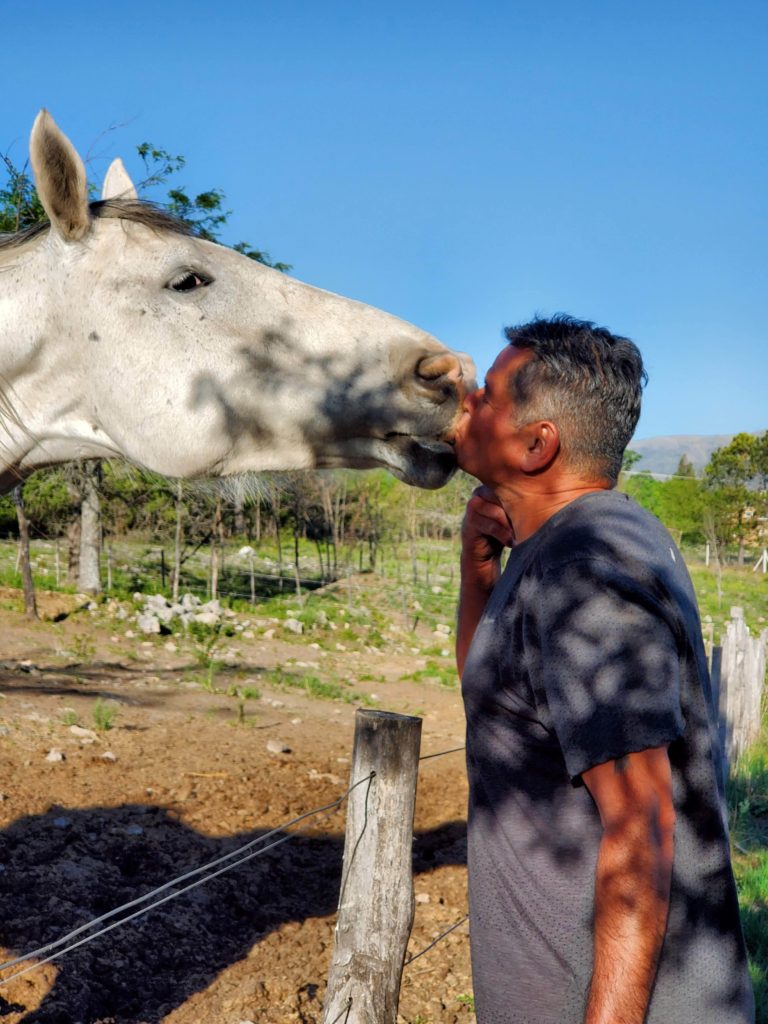 Returning to the scene of the crime, Alberto offers to pay for repairs and I tell him all that's needed is to yank out the worst of the damage so the door is again functional, rather than "good as new" body work. Really, the 2007 car has 140,000 miles on it and other blemishes (one when I was lightly rear ended at a speed bump by a distracted driver in Tierra del Fuego and another when I carelessly backed a tail light into a tree trunk in Perú). When we're ready to return to Santa Rosa, we convoy to a body shop en route, drop off the car, and Alberto arranges and pays for a functional repair. The car is promised in 24 hours and Alberto takes us and Josie to our respective residences.
Stuffed to the gills with asado, we don't even think about dinner and spend the remainder of the evening at the cabaña. Touchingly, Chris tells us Yanina was very worried at our daylong absence, concerned that something happened to us. He reassured her, "No worries. They're experienced travelers." I really don't understand all the unfounded worrying people do. In Susan's family, it's a moral crime not to let someone know that you've arrived safely after leaving their home. Of course, it's nice to have someone else do your worrying for you. Since Susan and her sister worry intensely about everything bad that might conceivably happen, I let them carry my load and, as a result, can go through life care free. In Yanina's case, I find it rather endearing that this young woman bothered to be concerned about the two old farts who she had just met as customers the night before.
Next post: http://blog.bucksvsbytes.com/2019/11/24/south-america-by-subaru-19-11-01-carless-for-the-day/