Prior post: http://blog.bucksvsbytes.com/2019/11/01/south-america-by-subaru-19-10-23-stupidity-strikes/
[NOTE: To enlarge any image, right click it and choose "View image" or similar. Use the Back button to return to the post.
I'm out of bed at 5 AM to get to Mendoza's main bus terminal in time for the 6:30 bus to Santiago, lugging my heavy, ruined A-frame.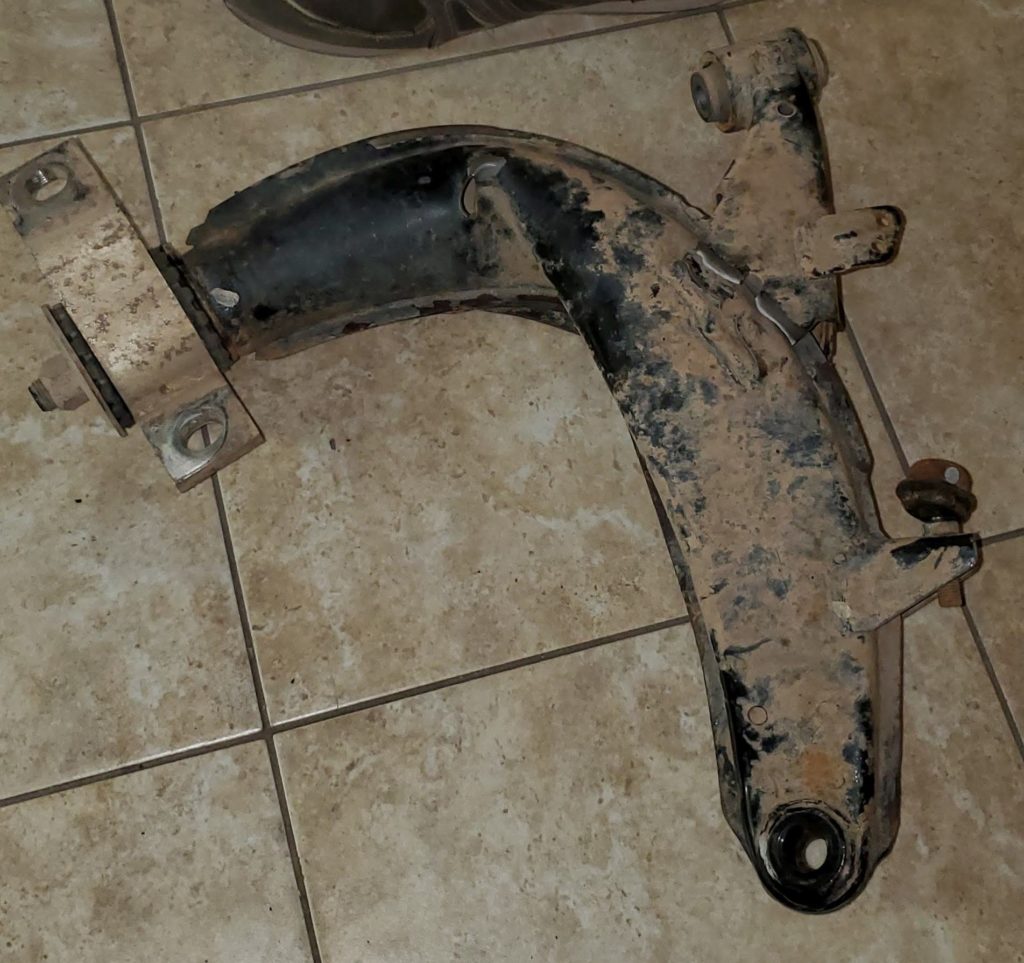 The agent, pegging me immediately as a tourist, assigns me the front seat of the upper level, assuring I can see the expansive mountain views. The ride is uneventful and comfortable. Border formalities passing from Argentina to Chile are much simpler as a bus passenger than with our car.
I've sent a message to Álvaro in Santiago, who was so generous and helpful in storing and preparing the Subaru for its return to the road. He owns an automotive accessories business and, before long, he's done the research, tells me what parts store to go to, and has arranged for me to pay the reseller price.
Arriving at the Santiago bus terminal, I immediately make my way the 4 miles to the store via local bus (micro) and foot. Although the city is in political upheaval, there's no evidence of that along my route. At the store, I'm told the parts won't arrive from the warehouse until tomorrow at 2 PM. Given the curtailed bus service to Argentina, my original hope of getting the parts to the mechanic in time to have the car repaired tomorrow, Friday, have already been dashed. Repairs can't possibly happen until Monday but Susan is sitting in our Mendoza B&B with no car and very little Spanish at her disposal so I'm eager to get back as soon as possible. I've urged her to use this forced delay as a writing retreat but I know well that writing happens on her terms, when the timing and conditions are suitable.
I pay for the parts in advance and do a quick search for suitable accommodations. I find a US$7 bed in a highly rated hostel about a mile away on the Alameda, a prominent boulevard that heads west from downtown Santiago. Although Susan has never agreed to stay in a dormitory room, my needs are modest and I like the social interaction that often occurs, so I walk over there to check it out. As I near the Alameda, I see it occupied by a seemingly endless parade of overwhelmingly young demonstrators, many thousands, peacefully but determinedly marching, carrying an array of protest signs.
This piques my interest because we've been following the news from Chile every night. The protests are now in their eighth day and it's clear they've become a mass movement, and unexpectedly here I am again not far from the heart of it. I check out the hostel, which is just steps away from the moving demonstrators, find it clean and pleasant, and get a bed in an otherwise empty 4 bunk room.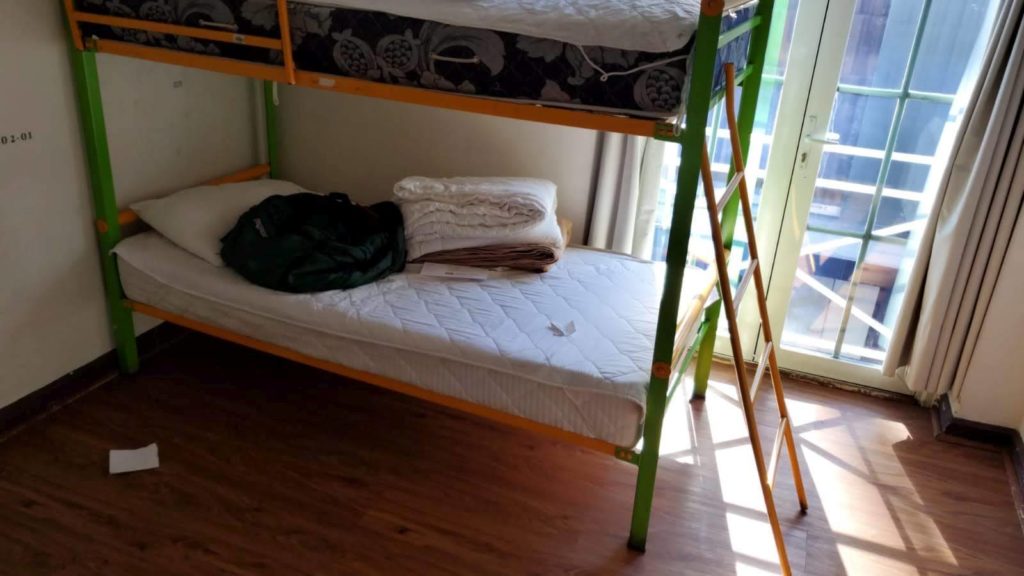 I quickly head back out to the street to observe events. All the stores and buildings are closed and protected with metal roll downs. There's a heavy police presence including armored vehicles but where I am they are largely stationary and ignoring the vile insults hurled by a minority of the demonstrators. Underlying everything is the rhythm of Chilean protest, cacerolazo (from "casserole"), the rhythmic banging of kitchen pots with spoons. Vehicles passing by, duplicate the rhythm with their horns.
I speak to a variety of young people. They're all very friendly to me as a North American and I'm struck by how deeply dissatisfied they are with the status quo. They're out here, at some significant risk to themselves – in some cases, parents are wheeling children in strollers – to try to force big changes in a prosperous nation whose inequality exceeds all other Latin American countries — and that's saying something.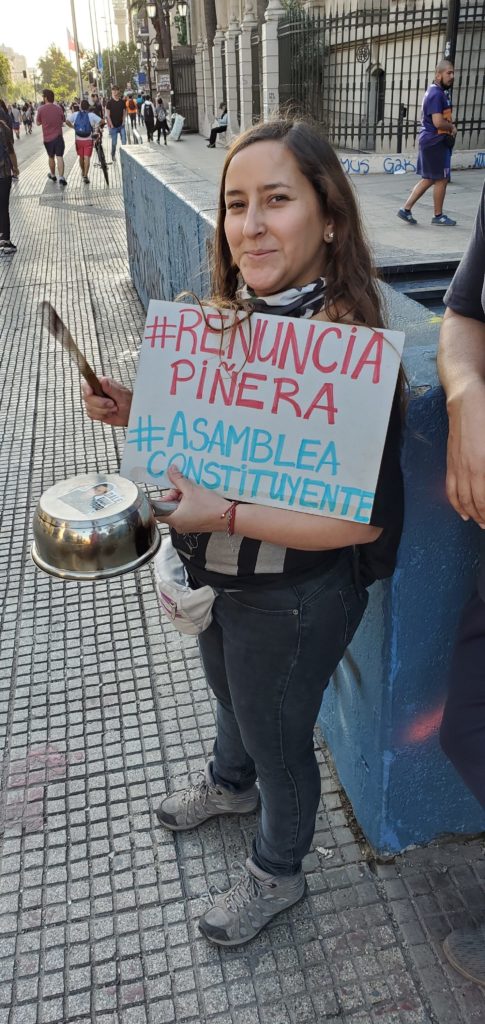 I'm very skeptical of revolutions, whether peaceful or violent. Successful ones tend to create power vacuums which are too often filled with corrupt politicians or other criminals. The American and French revolutions, arguably, were beneficial to the masses, but those are rare examples and were simultaneously fraught with many injustices and persistent cruelties. In this case, having developed many local acquaintances and friends, I fervently hope some lasting good comes out of this upheaval
Despite the overwhelmingly peaceful tenor, there are some hooligans vandalizing public amenities and some intersections have trash fires fueled with plastic, pallets, mattresses, and other flammables.
Closed Metro station amid Santiago, Chile protests, 10/24/19

Santiago, Chile protests, 10/24/19

Homeless encampment amid Santiago, Chile protests, 10/24/19

Santiago, Chile protests, 10/24/19

Santiago, Chile protests, 10/24/19

Santiago, Chile protests, 10/24/19

Santiago, Chile protests, 10/24/19

Santiago, Chile protests, 10/24/19

Santiago, Chile protests, 10/24/19

Santiago, Chile protests, 10/24/19

Santiago, Chile protests, 10/24/19

Santiago, Chile protests, 10/24/19
I shot a lot of photos. If you want to see more than the ones I've included here, the entire raw and unedited collection is at https://photos.app.goo.gl/pzeawM1WaUK9NhFg7
After some hours, hunger overcomes me and I'm forced to walk at least 10 blocks perpendicular to the Alameda to find any kind of open restaurants or small grocery stores – large supermarkets are out of the question. The few available eateries are expensive and not to my taste but I make do, then hoof it back to my 3rd floor bunk and fall asleep to the sound of boisterous groups wandering the street below until about 4 AM.
Next post: http://blog.bucksvsbytes.com/2019/11/13/south-america-by-subaru-19-10-25-santiago-chile-in-turmoil/