Prior post: http://blog.bucksvsbytes.com/2019/11/01/south-america-by-subaru-19-10-22-rest-day/
[NOTE: To enlarge any image, right click it and choose "Open image in New Tab" or similar.
We wake up at Casa Huésped, ready to move on. By our second morning, we've gotten a bit friendlier with the owner, Ines. While eating the modest supplied breakfast, we share some family info and give her one of the photo collages we're carrying as token gifts.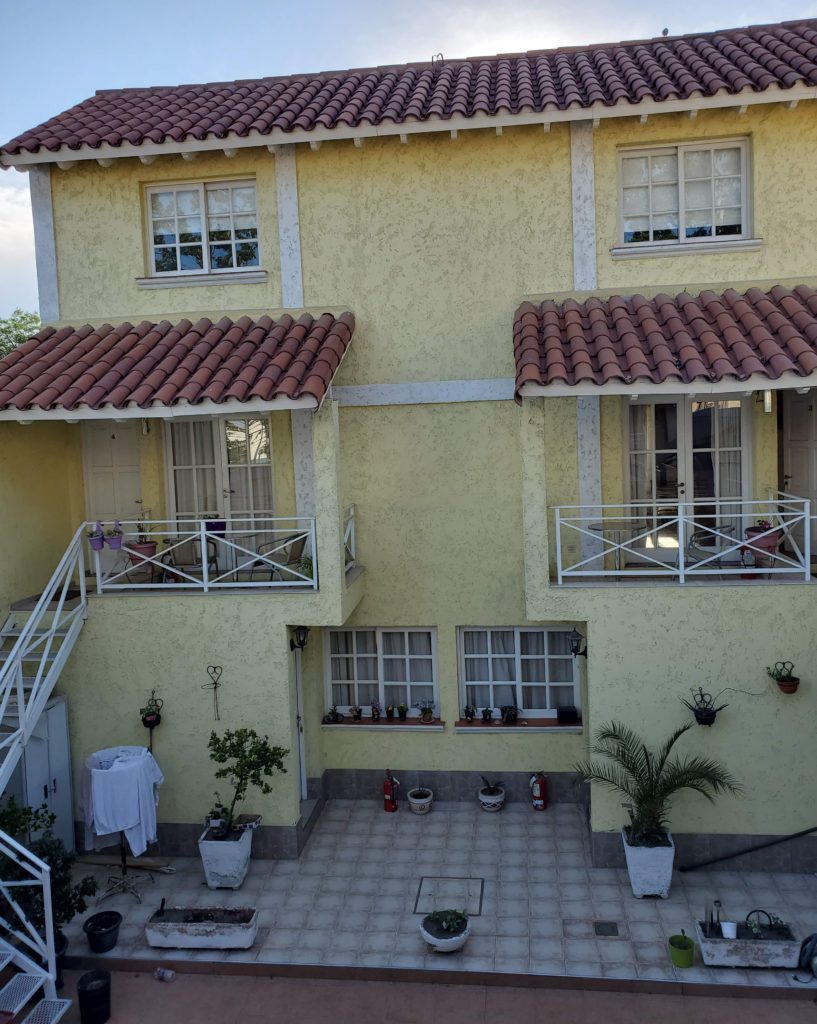 We throw the few things from our room in the car, and head out of town. Just a block away, I realize I need to mount my phone on the dashboard, so I pull over into a driveway entrance, out of the traffic lane, to do that. Except we never make it…
As I turn the wheel to pull in, the front right of the car, and Susan, free fall about a foot with a simultaneous loud "BANG!" and our forward motion stops instantaneously.
Before I go further, I need to describe a salient characteristic of Mendoza streets. Most of them are lined with parallel concrete ditches (pozos), two or more feet deep and almost as wide. I'm told these prevent flooding by channeling substantial runoff during wet periods. Basically, they are open storm sewers. Some stretches of these are covered, but most are not. In addition, many of the pozos are placed immediately adjacent to their street's driving lane. Over 90% of these have 8 inch high curbstones, usually painted yellow, separating the lane from the ditch. The other 10% is what got me.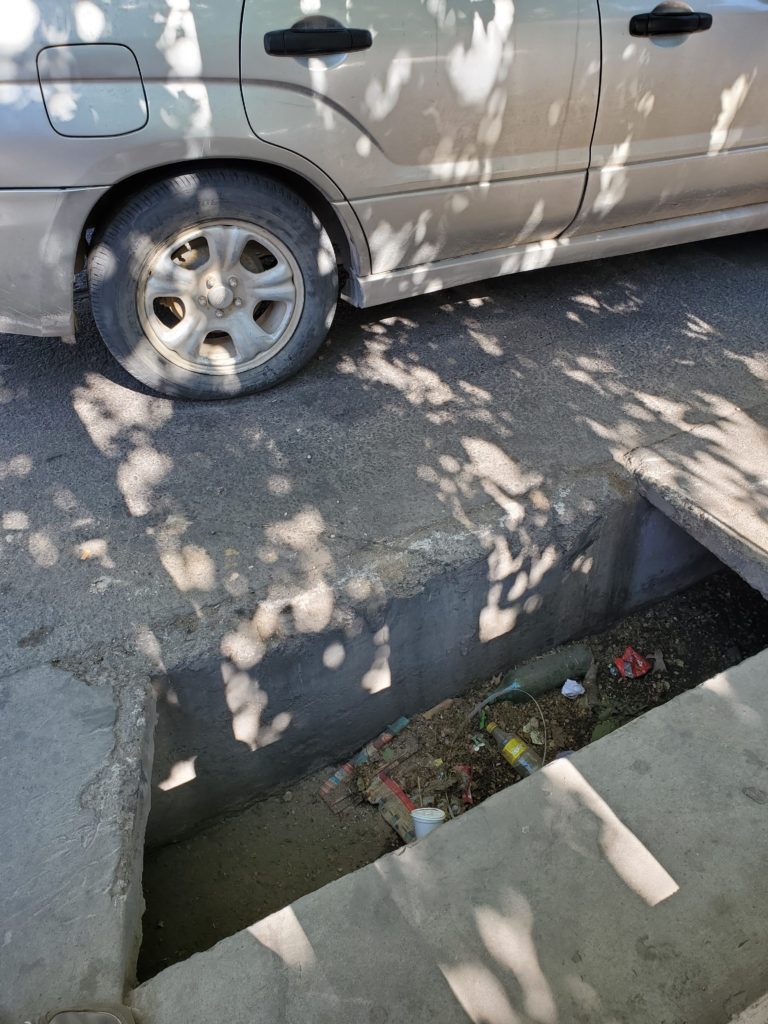 In a failure to pay keen attention to the details of the road, I turned the wheel just a foot or two too early for the driveway I was aiming at and the front right wheel dropped into a short segment of unprotected ditch, with dramatic effect. There is no excuse for my failure to perceive the hazard, it was nothing other than blatant, careless stupidity. But, had I done that almost anywhere else, my tire would have harmlessly bounced off the substantial curbstone. Unfortunately, the spot I made my mistake didn't have this protection. I was a pozo Bozo.
At any rate, there we are sitting askew with the chassis resting on the pavement and the front wheel and tire deep in the ditch, grotesquely jammed up against the wheel well. Clearly, this is not going to be a simple fix.
I want you to note, in the following account, how much help and kindness we receive from various Argentinians. This was an unexpected upside to a stupid mistake.
It doesn't take a genius to realize we need a hook-and-chain tow truck to lift the car out of the ditch, followed by major repairs. People have come out of the adjacent retail businesses to stare at the idiot who drove his car into an obvious pozo. I ask them to call a tow truck for me, but several come over to the car and tell me I can reverse out of the hole. This looks impossible to me, but I dutifully get behind the wheel and put it into reverse while about 5 men grab the front right quarter and lift the car and wheel out of the ditch. I back up just enough to get it back onto the pavement, because that tire is jammed and turning only under extreme duress. Just about then, a police car pulls up behind me and two friendly Mendoza Province officers amble over to see what's happened. After a short discussion, the one named Angel calls for a tow.
Since we're only a block from our just-vacated hostal and obviously not going anywhere today, I help Susan drag our luggage back and inform Ines that we'll need more nights. I'm back at the car in a few minutes. Since the car is blocking half of the northbound lane, there's quite a traffic jam as city buses try to get around the it while oncoming traffic yields way only reluctantly. The policemen don't seem to consider this any of their concern and we chat amiably until the wrecker arrives about 15 minutes later.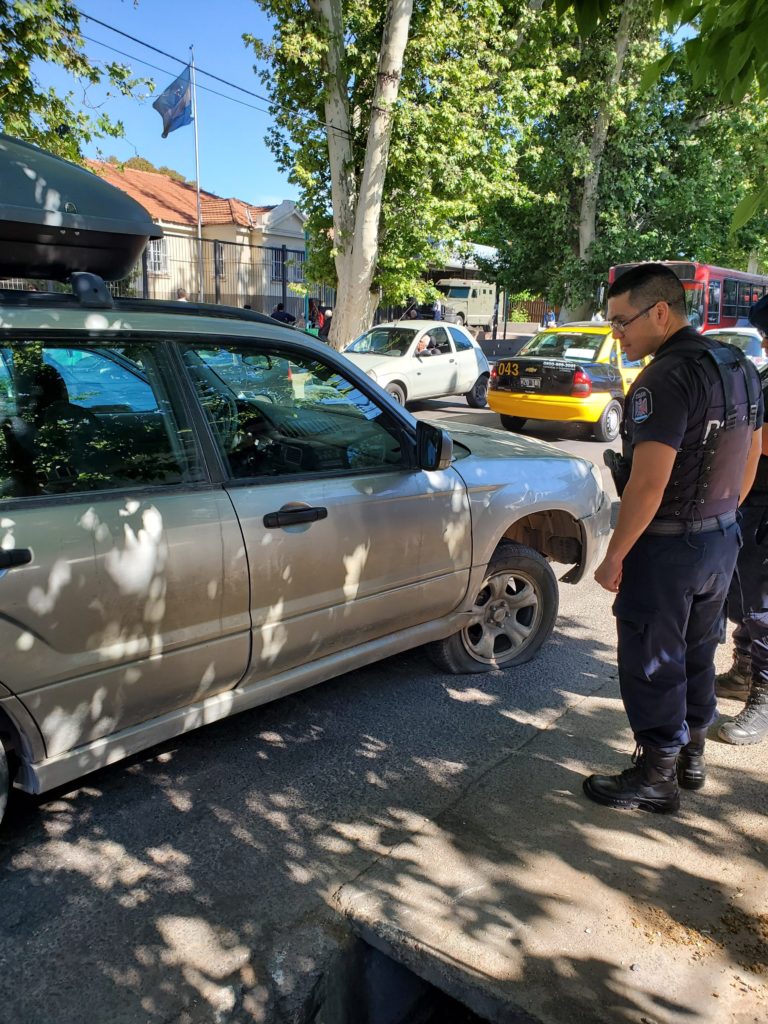 The police excuse themselves and the driver prepares to haul off the Subaru. I now appreciate that the car is already out of the hole and back on flat ground as his flatbed tow truck has no vertical lifting capability. The operator laboriously uses a manual jack to raise the jammed front right wheel and slip a dolly under it to allow it to roll. While he's winching the car onto the bed, a well dressed passerby stops to observe. He's a prescription drug representative named Eduardo, and after a minute's conversation he says he can recommend a friend's nearby repair facility.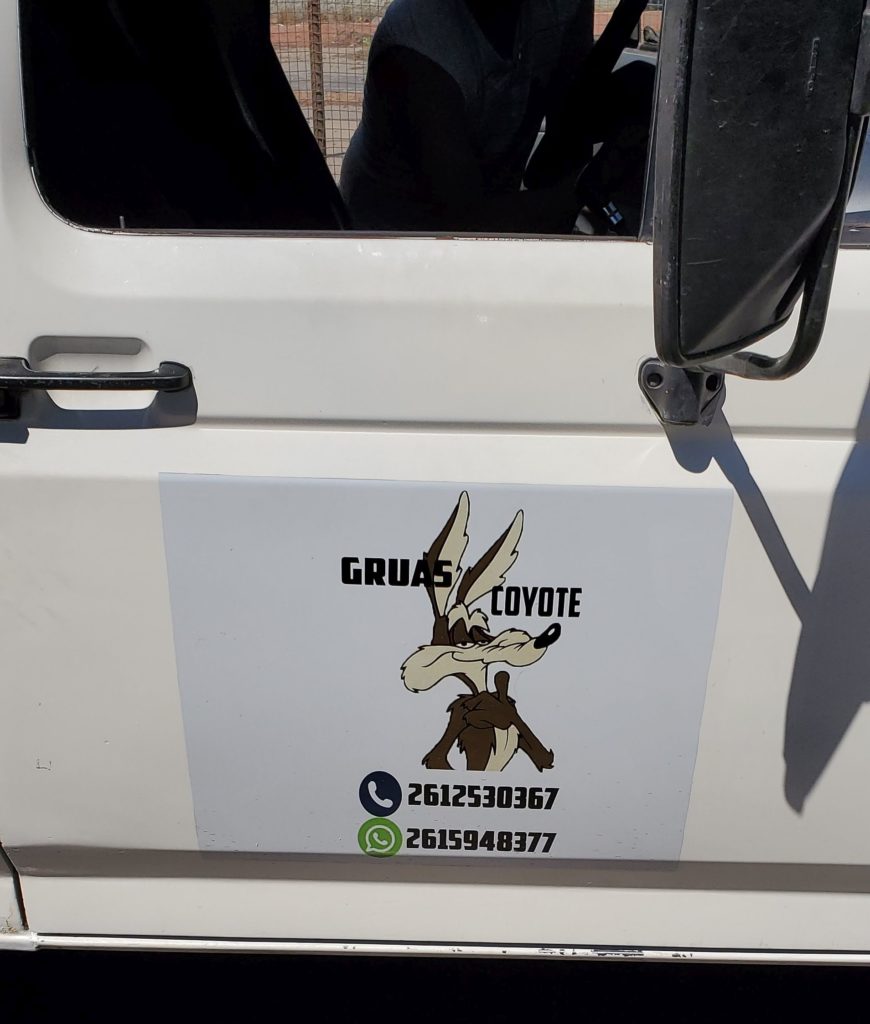 The driver has no objection and with everything secured, he and I soon arrive at Hermanos Ricci (Ricci Brothers), a well equipped, modern tire store and repair shop. Eduardo's friend, Carlos, is ready for us and the car is unloaded directly onto a lift.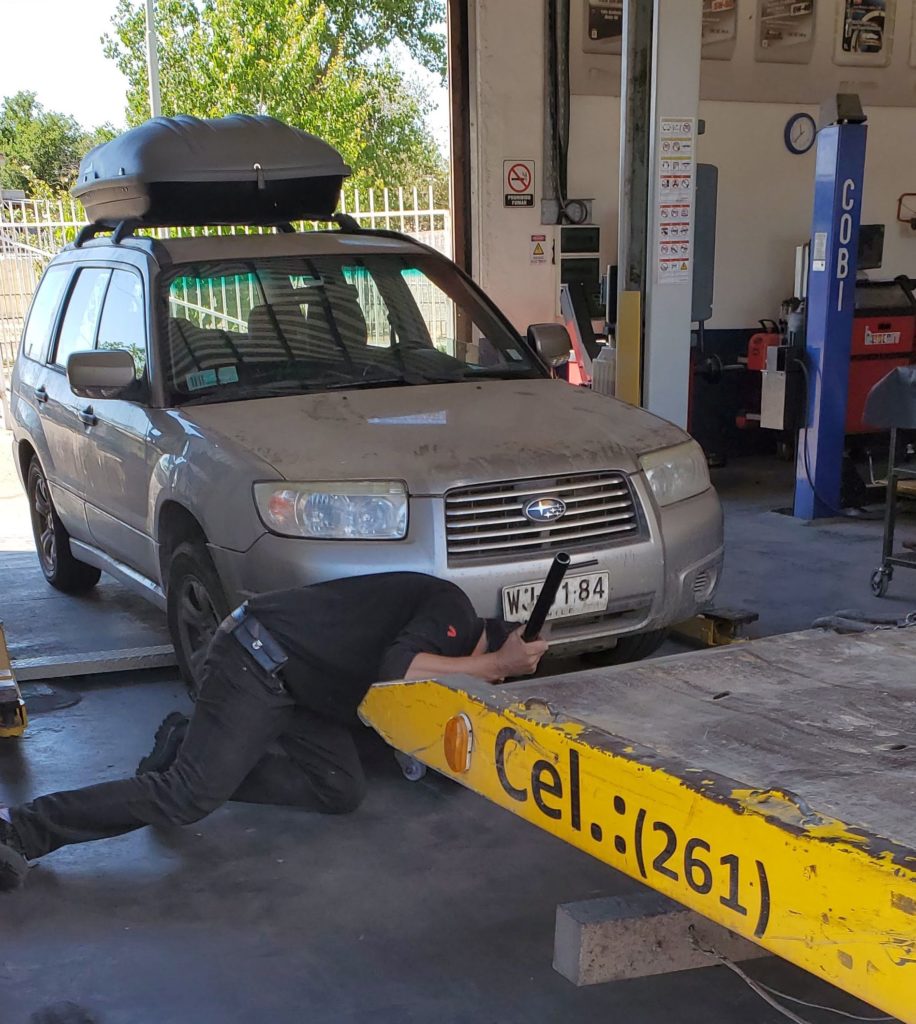 He pulls the front left wheel and, in addition to some seriously mangled front end and steering parts, we can see a very substantial V-shaped gash in the wheel rim. In addition to repairs, it looks like I'm going to need a new rim and tire. Carlos and I exchange WhatsApp info and he says he'll contact me as soon as he analyzes what's needed. I amble the mile or so back to Casa Huésped down a pleasant tree-lined street, resuming my prior Argentina hobby of photographing Ford Falcons. While you almost never see a Falcon anymore in the U.S., they were assembled for years in Argentina and there are still many on the road in various states of restoration or decrepitude. In three prior Argentina trips, I've developed quite a Falcon collection.
Ford Falcon

Ford Falcon

Ford Ranchro pickup, cousin of Ford Falcon
Later in the day, Carlos texts me and asks if I can come down to the shop. I jog my way back to discuss the repair cost and time. First, on the bright side, he shows me that he's already hammered out the damage to the wheel and the tire is holding air. No U.S. tire shop would ever do that. Then the bad news: he says the two main parts we need, the heavy A-frame and a steering link, are unavailable in Argentina in less than 45 days (Subarus are sold in Chile but not here). This has been my recurring concern with driving any car through various South American countries, possible lack of parts or skills in case of trouble. Even in Chile, I was unable to buy a set of rear brake shoes for my carry along collection of spare parts. Today, though, after 40,000 miles of meandering, it becomes an issue for the first time.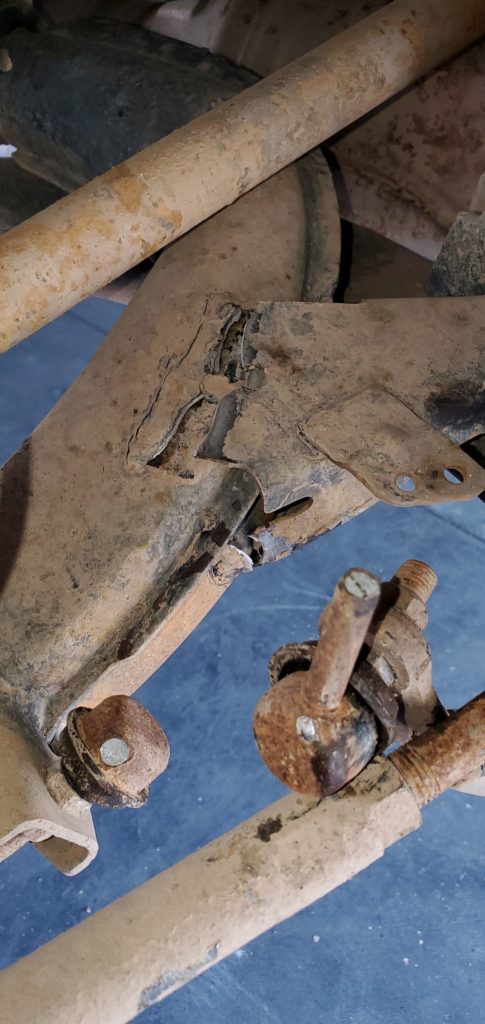 Fortunately, Mendoza is only an 8 hour bus ride from Santiago, although the city has been wracked by mass protests and transit shutdowns for 5 days now. I pack up the broken parts and head for the bus terminal, intending to take a night bus, shop for parts first thing Wednesday morning, and be back Thursday in the wee hours.
My first small obstacle is getting on the local bus to the terminal. I had asked the tow truck driver this morning whether Mendoza buses accepted cash and made change and he assured me they did. It's only when I hop on the bus that the driver informs me I need a prepaid transit card. I must have really looked crestfallen because he waves me to the back with "Pase". He's giving me a free 30 cent ride. Arriving at the terminal about 4 PM, I ask for a ticket on the next departure for Santiago and am sandbagged when the agent says it's not until tomorrow. It turns out the Chilean government, due to the roadway protests, has banned all night busses. During the crisis, they're only leaving Mendoza between 6:30 AM and 1:30 PM.
Back to the hostal I go. As I leave the terminal I ask a bus dispatcher where I can buy a transit card. She tells me the office is closed (and this is during normal business hours, mind you). This time, I proffer pesos and tell the bus driver I'm unable to buy a card and he asks another passenger to pay my fare and I give that man the cash. Now I see how to handle the system.
Now, Susan and I, having no kitchen and no car, are really faced with very limited dinner choices. We go across the street — again — but stubbornly refuse to eat the same meal a third time. Instead we choose another food court option and order something named "hamburger" from a fast food joint, but it's barely recognizable as such. Not particularly satisfied by our choice, we sleep off our dissatisfaction in anticipation of my multi-day parts quest to Santiago.
Next post: http://blog.bucksvsbytes.com/2019/11/06/south-america-by-subaru-19-10-24-descent-into-the-maelstrom-santiago-chile/