[NOTE: To enlarge any image, right click it and choose "View image" or similar. Use the Back button to return to the post.
Prior post: http://blog.bucksvsbytes.com/2020/02/09/south-america-by-subaru-20-02-08-a-taste-of-carnival-in-rio/
After 3 welcoming and restful nights with Servas host Déo in Rio de Janeiro, it's time to move on toward Brasil's Northeast. Since I'm still waffling whether to wait around until Wednesday for the opportunity to see golden lion tamarins, I decide to spend today in nearby Serra dos Orgãos National Park. The mountains are named after formations that struck someone as resembling organ pipes.
The jewel attraction is a 20 mile traverse of the entire park, which tempts me briefly, but it's clearly not practical. It's a three day trip with a severe ascent, hiring a guide is both mandatory and advisable, and the gear I have is suitable for car camping but quite heavy to haul into the back country. Reluctantly, I let the idea go.
Research indicates the park opens at 8 AM and has 3 widely separated accesses, so I plot a course that hits each one. I'm sure the entrance fee is only good for the day and, of course, I want to get my money's worth. I set off early, before Déo and Gilberto are stirring. This is not very polite and not my normal style, but Déo is a late riser so I leave a note and slip out.
Northbound out of Rio, I decide to take the toll road to save time and encounter one of the strangest divided highways I've ever seen. It starts out very typically, and I cruise along at 75-80 mph, but right after the toll booth, the road divides. Directly ahead, oncoming traffic is moving toward me on a flat road at high speed but my direction veers off on a completely different track along a steep upgrade. Although it remains one way traffic, the route twists, turns, and climbs like a typical, slow mountain road. More curious, there are quite a few homes and businesses along the roadside. They can only be approached from one direction and exited in the other, so moving even a hundred feet backwards would entail driving against traffic on the busy road.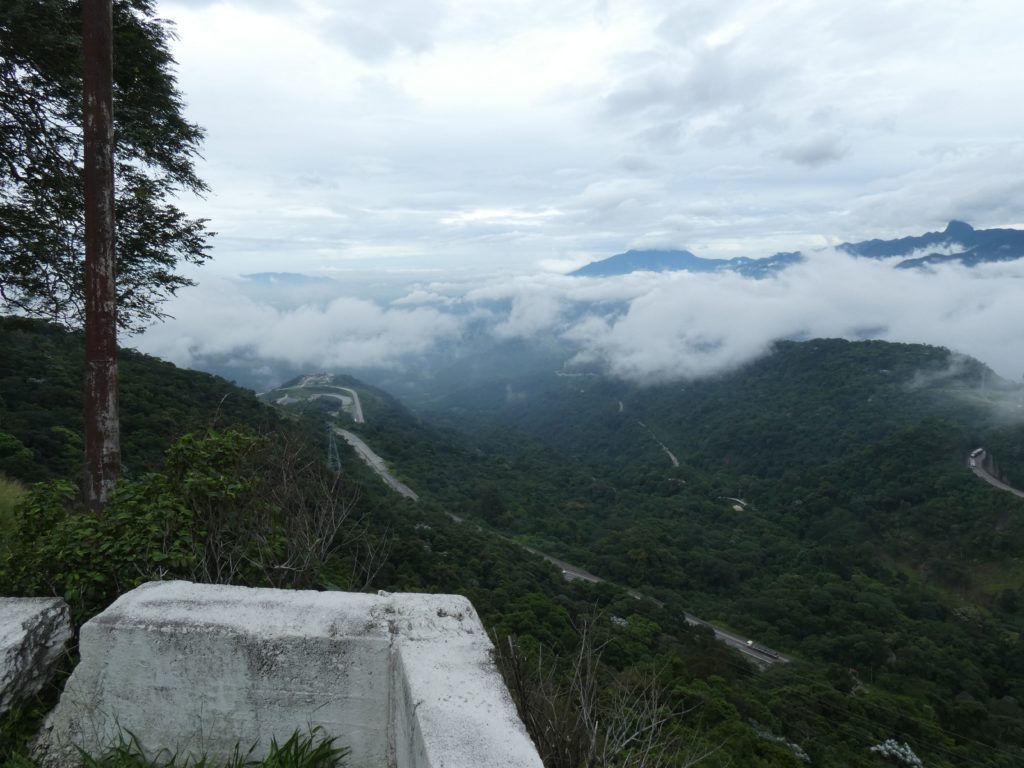 It dawns on me that this used to be the regular two lane highway (maybe the segments of poorly painted out double yellow line were my clue) and the residents were really screwed when it went one way only. To go south, anywhere south, they have a 10-20 mile loop to the north and back. Apparently, the government built a new, more modern road on a completely different route across the mountains, miles from the road I'm on, but never finished the northbound lanes.
Thus, the old highway became the "temporary" northbound lanes. This is confirmed later when the road ducks under a modern underpass, one side of which ends in midair with no indication of current construction. Although the Brasilian federal highway system is generally excellent, this project seems to have gone terribly wrong for who knows how many years.
I later find out this route, the Washington Luiz highway (named after the president who ordered it built, declaring "government means opening roads") was the first paved road in Brasil, opened to traffic in 1928, when there were only about 130,000 vehicles in the entire nation. 1,783 of them traveled the road on its first day.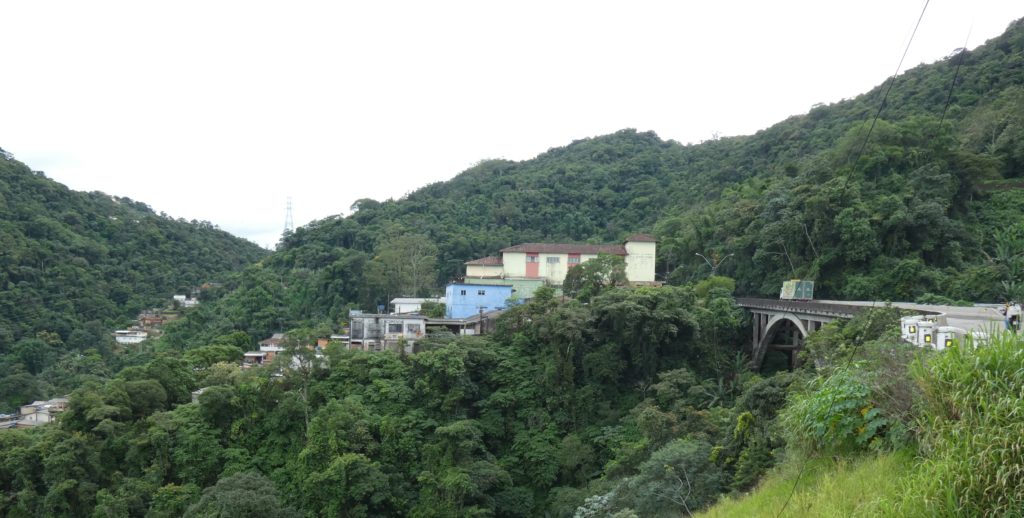 I was hoping to get to the first park entrance right at opening time, but I'm not going to make it. From the highway, Google Maps routes me along a terribly pot-holed, one lane road toward Petrópolis. There's enough oncoming traffic that I frequently have to squeeze onto the non-existent shoulder to let a taxi, truck, or school bus slip past. Part of the road, still in very poor condition, runs through a mountainside subdivision full of expensive homes, complete with guards at both ends and frequent monitoring cameras. I guess because I'm on a public road the guards don't actually stop me but they carefully eye each entering vehicle.
I don't tarry in Petrópolis although it's interesting due to it's having been the de facto summer capital of the Brasilian Empire in the 1820s… because the emperor liked the upland climate much better than down in hot, swampy Rio de Janeiro. As Mel Brooks said, "It's good to be the king."
Once in Petrópolis, the way toward the national park is clearly marked — for a while. As the road gets narrower and rougher again, one last sign says "Park entrance 1.5 miles. No parking on site." A few additional signs would have been helpful since the road devolves into a series of dead end tracks. Worse yet, Google Maps depicts the entrance on what turns out to be the wrong dead end. Workmen I ask along the way seem oblivious even to the existence of a nearby national park until I come across a tourist jeep excursion whose driver gives me detailed and comprehensible directions to the correct branch. One more serious ascent in low gear and I reach a small entrance complex. I'm the only visitor in sight. Confirming that I'm welcome and that there's no parking area, indeed almost no room to reverse direction, I jockey the Subaru around in the narrow space and go downhill about 200 yards where an enterprising landowner has posted a crude sign announcing parking. There's no room to negotiate the 315 degree uphill turn into his steep, bedrock driveway, so I have to go further down the road to a slightly wider spot where I can pull a tortuous multi-step K turn and surge back up the steep grade into a small parking area.
Paying my fee to the owner, I stash safety gear and supplies in my pack and slog back up to the entrance, where more money is collected and I'm given a small trail map.
The trail is a spur that runs over two miles up valley along a rushing stream, past half a dozen named pools. The first quarter mile is lined with barbed wire fence and I can see banana trees and other crops on the uphill side. Above, on both sides, very steep rock walls covered with epiphytic bromeliads form the valley. I wasn't expecting to see such rugged terrain. I haven't been much above sea level for weeks so this pseudo-alpine terrain is a nice change. The vegetation is still the jungle-like Atlantic Forest but at this altitude it's more of a cloud forest, frequently awash in mist and fog. The trail is steadily and often steeply uphill, quite wet, and by turns rocky and muddy. I make the short detours to the various pools. They're boulder filled and pleasant, but not overly impressive.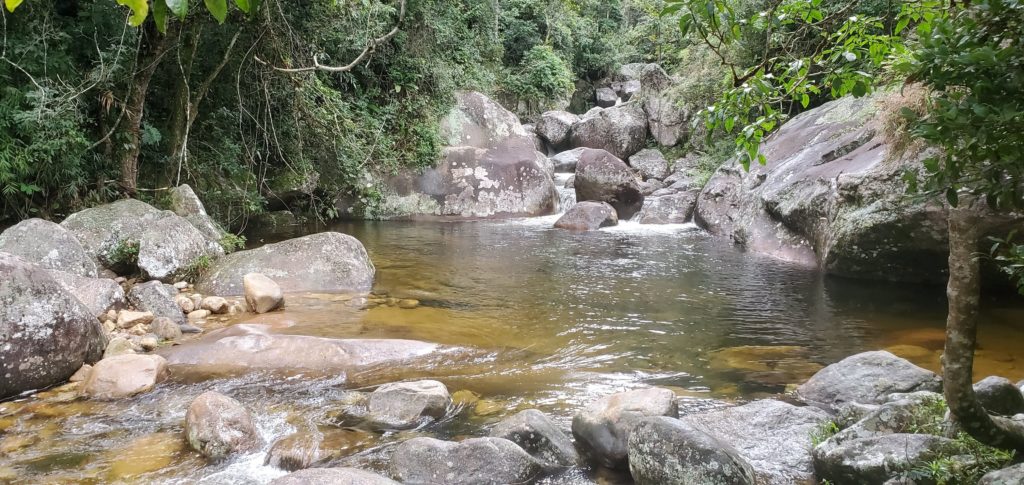 As I continue up the valley, alternately leaving and rejoining the stream, the uphill effort gets quite noticeable. Behind me, there are periodic long views down the canyon's impressively severe topography toward the distant settlement miles below.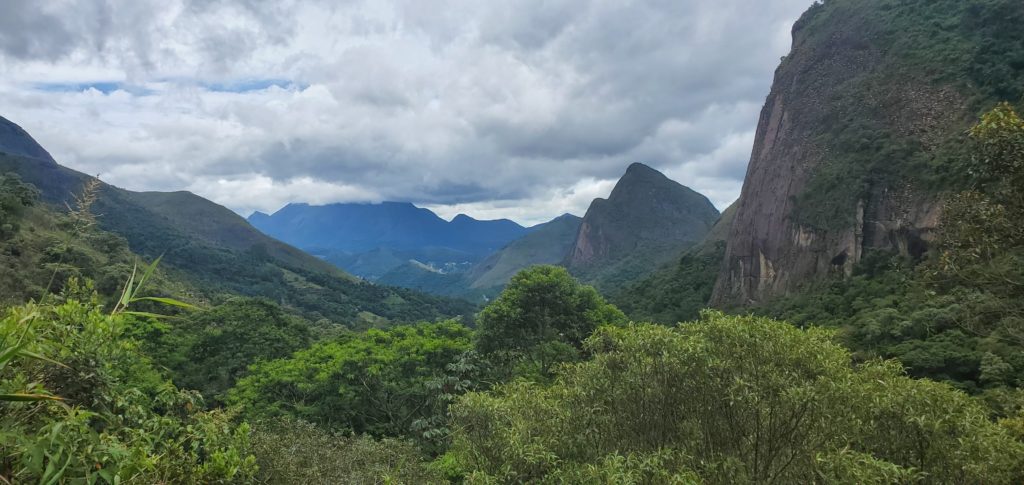 As I walk the final half mile or so, the 20-mile traverse trail branches off, clearly marked "permit required". At this point, I'm tired enough by the uphill slog that I give it only a quick, envious glance as I continue past. The final attraction is Bridal Veil Falls (how many of those are there in the world?), but reaching it requires three traverses of the rushing stream, none with bridges or even a prepared crossing path. I have to hop from rock to rock and enter the water to get across, The first crossing is at the very brink of a substantial waterfall requiring some cautious stepping in order to cross without serious mishap.
The trail ends at Bridal Veil Falls, a respectable 4600 feet elevation and they are indeed rewarding. I'm grateful that after seeing thousands of waterfalls, each new one is still interesting, even delightful. I don't now why they never get boring, but I'm glad. Perhaps there's some genetically preserved reaction triggered each time I see one.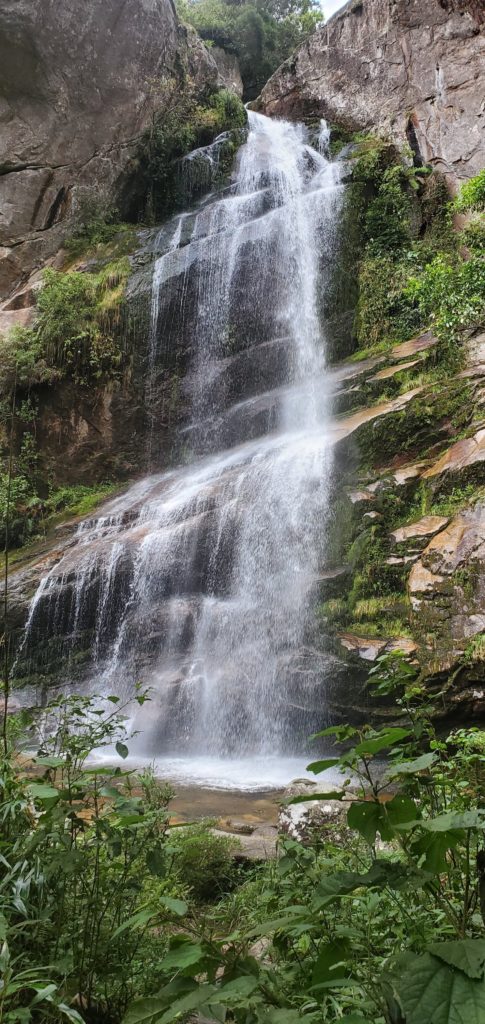 The trip back to the entrance requires less energy for being downhill but at least as much caution to avoid losing footing and taking a humiliating or even injurious fall on the slippery mud, exposed tree roots, and uneven rocks.
For decades, I've reminded people that doing things solo is inherently more dangerous than with even one companion. Mishaps that are trivial if there's someone else around can be serious, even fatal, by yourself. A twisted ankle, the beginnings of hypothermia, a slip off a narrow trail, or anything else can ruin a solo hike — or a solo life. In my long gone Alaska days, where I often took novices into the wilderness, including a week or two of ocean kayaking, I always had redundant plans for contingencies — storms, bears, snow, loss of gear, etc. Although nature in Alaska is always trying to kill you, I had an unblemished record, no deaths or maiming injuries. Of course, a few people did disappear, but my policy is if the body isn't found, it doesn't count.
Here, I am hiking a moderately difficult trail by myself, so you can be sure I'm super cautious. Of course, almost every time there are no mishaps, including today, which is lucky since except for passing one group of 4 hikers as I near the car, I have the whole trail to myself.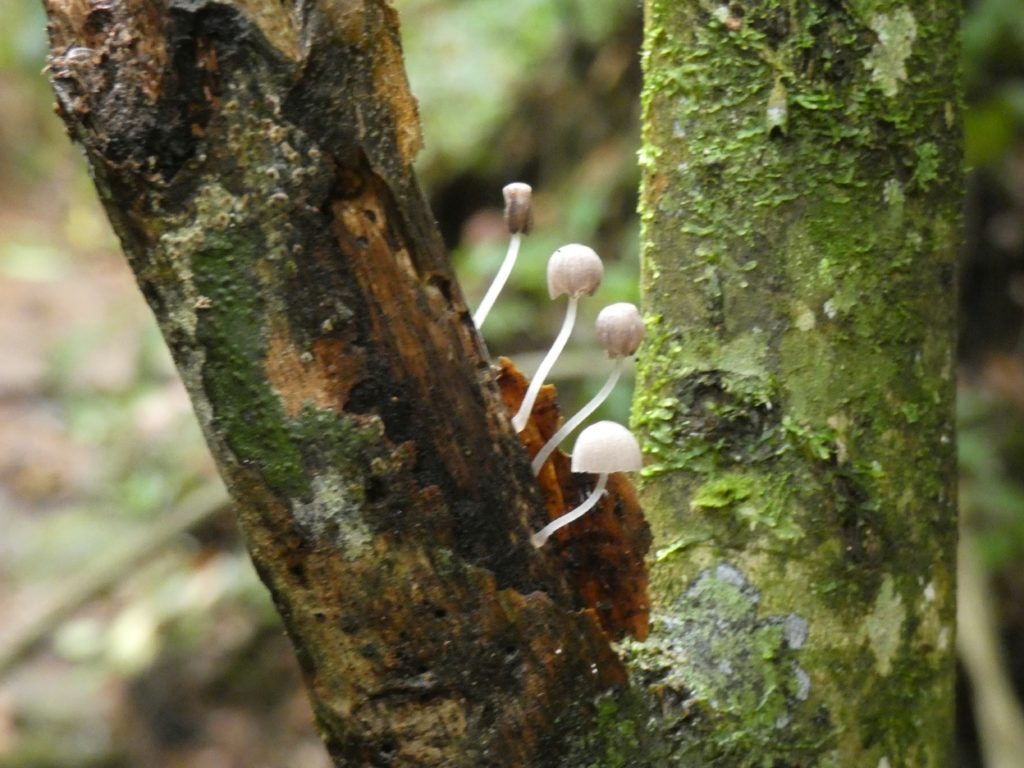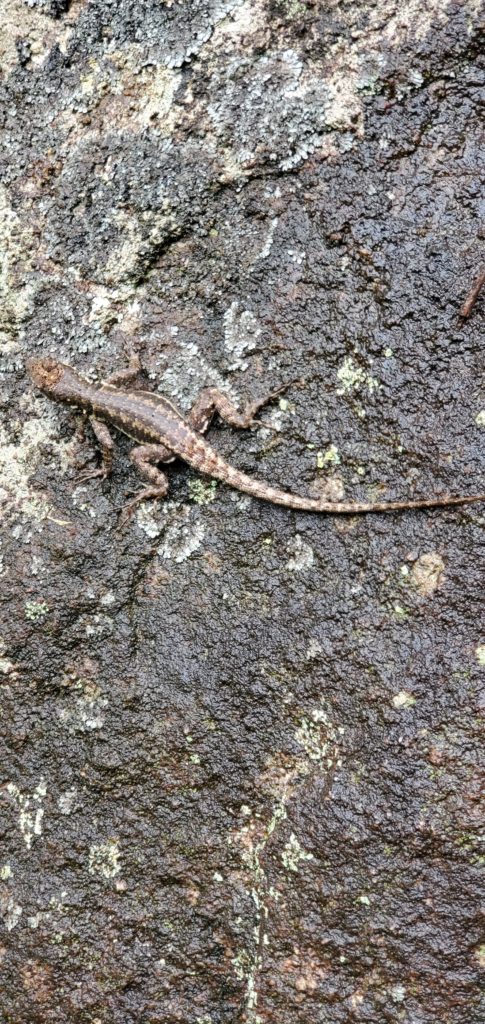 I'm back to the car by 12:30 and immediately creep back to the main road and head for the second park access over an hour away.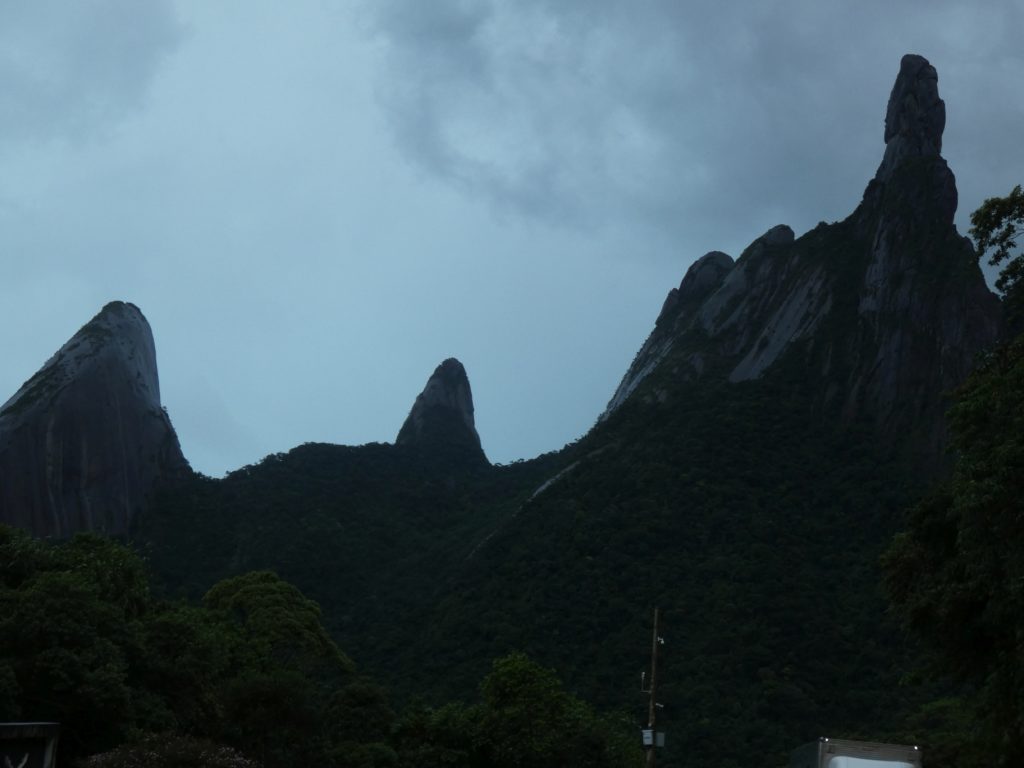 On arrival there, I check out the posted trail map and decide on a route up to what's labeled as "the post card view". This area is more developed than the last, with a small visitor center, winding paved road with parking areas near various trailheads. I pass a camping area that looks like it may no longer be functional and a pousada (lodge) that is definitely defunct. There's thunder sounding in the distance and the clouds look like they may be closing in to obscure distant views but I set off anyway, humping my way up the steep trail over an endless series of uncomfortably high steps leading uphill. Alas, after a half mile or so of effort, I hear heavy rain approaching and barely have time to don my rain jacket and hat before the deluge. I retrace my steps downward in a deluge, and my shoes and legs are thoroughly soaked when I reach the car.
As I'm backtracking the cobblestone road to the park entrance, the roadway is blocked by a fallen tree, just toppled from the muddy bank during the current rainstorm. One car is already stopped and its driver is pulling on the tree in a futile effort to move it out of the way. With the addition of my effort, we get it moved just enough to slip the cars between tree and the steep downhill bank. A couple of park employees are looking on but apparently think that dealing with a blocked road and stranded motorists is not in their job description.
I've hiked less than six miles today but I'm very fatigued. As I drive out of the mountains, I'm trying to figure out why. I can only think of three possibilities:
I'm out of shape after 4 months of sitting behind the steering wheel, OR
Hiking solo is much less fun than having companionship and my brain is saying, "I'm not going along with this foolishness," OR
Perhaps, just perhaps, it has something to do with my recent 70th birthday. Nah, no chance it's that.
It's too late in the day and too rainy to bother with the third area of the national park, so I locate suitable lodging online and let Google Maps show me how to get there as quickly as possible. When I turn off the highway, though, something is not right. The turns I'm being instructed to make aren't quite in the right place, although I find similar ones a bit offset from what the map shows. Shortly, I'm descending a steep, rough one lane road out of the mountains. Although it's only 4 PM, between the afternoon hour, thick clouds, heavy rain, and tree cover, it's almost dark where I'm driving. I have my high beams on, concentrating on the steep turns and slopes in front of me. As I glance down at the map on my phone, I see the location arrow has diverged from the road on the map, meaning Google thinks there's no road where I am — not a good sign since this road has clearly never been rebuilt here from a different alignment. I keep descending for a couple of miles until suddenly, on a particularly steep and narrow stretch, the road ends at a couple of closed driveway gates. Great, a dead end with barely any room to turn the car. I manage to get it pointed uphill and have to retrace my route back up the rough mountain road through the runoff. Considering Google has mapped basically every road in the world, it's amazing how rarely they get them wrong. Tonight, though, I'm a victim of bad data.
Back at altitude on the main road, I realize that the only way to my chosen lodging is now a long drive. I search for something more convenient to my new situation, find it, and head directly there. I've gotten lucky. The pousada I've chosen, suspiciously cheap at $18, is surprisingly nice. A big room, pleasant grounds, swimming pool, and decent internet (far from assured in Brasil). Worn out from hiking and fighting with Google Maps, I'm asleep in record time despite the early hour.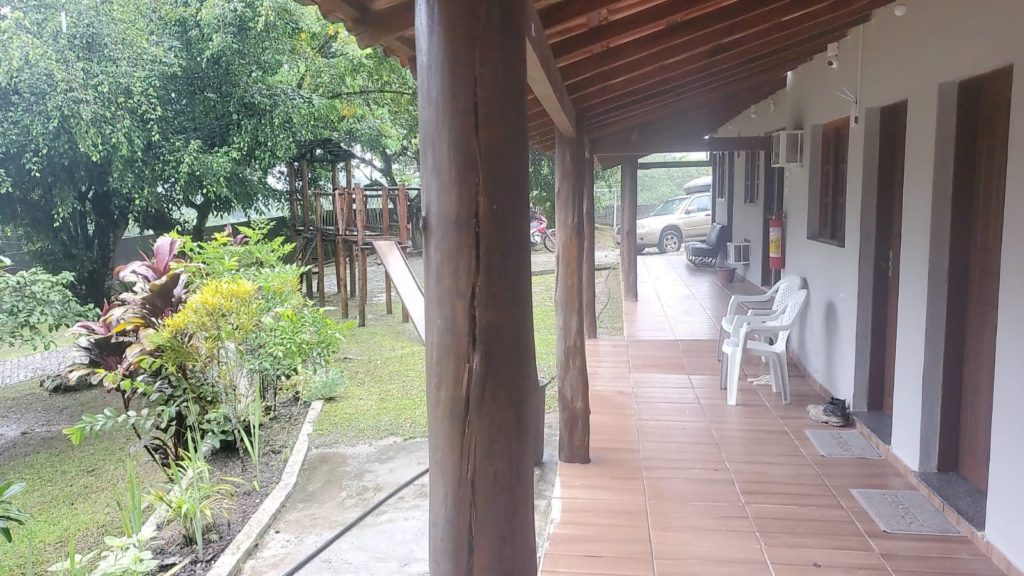 Next post: http://blog.bucksvsbytes.com/2020/02/21/south-america-by-subaru-20-02-11-monkey-shines/