[NOTE: To enlarge any image, right click it and choose "View image" or similar. Use the Back button to return to the post.
Prior post: http://blog.bucksvsbytes.com/2020/02/09/south-america-by-subaru-20-02-07-first-day-traveling-solo/
I wake up refreshed here at my host's home in the Laranjeiras district of Rio de Janeiro. I have no great ambitions for today, just take it easy after an intese two day round trip drive. The internet went down overnight so I have no access until the router is rebooted and I'm not nervy enough to wander around the house on my own to find it. When Déo arises, I tell her what's needed and ten minutes later I'm online again. The first thing I check is email and WhatsApp and, as expected, I see the news from Berkeley that Helene has successfully given birth to Felix the Child overnight — she and James have launched a successful Silicon Valley startup. Now, I can finally stop being considered a defective human being all across South America. Everyone you meet down here asks, "Do you have children?" and when the answer is yes the next question is "Grandchildren?" When I say no, their pity and sadness for me is palpable. Today, that ends, I am now a grandfather. No more, "Tão triste…" ("So sad").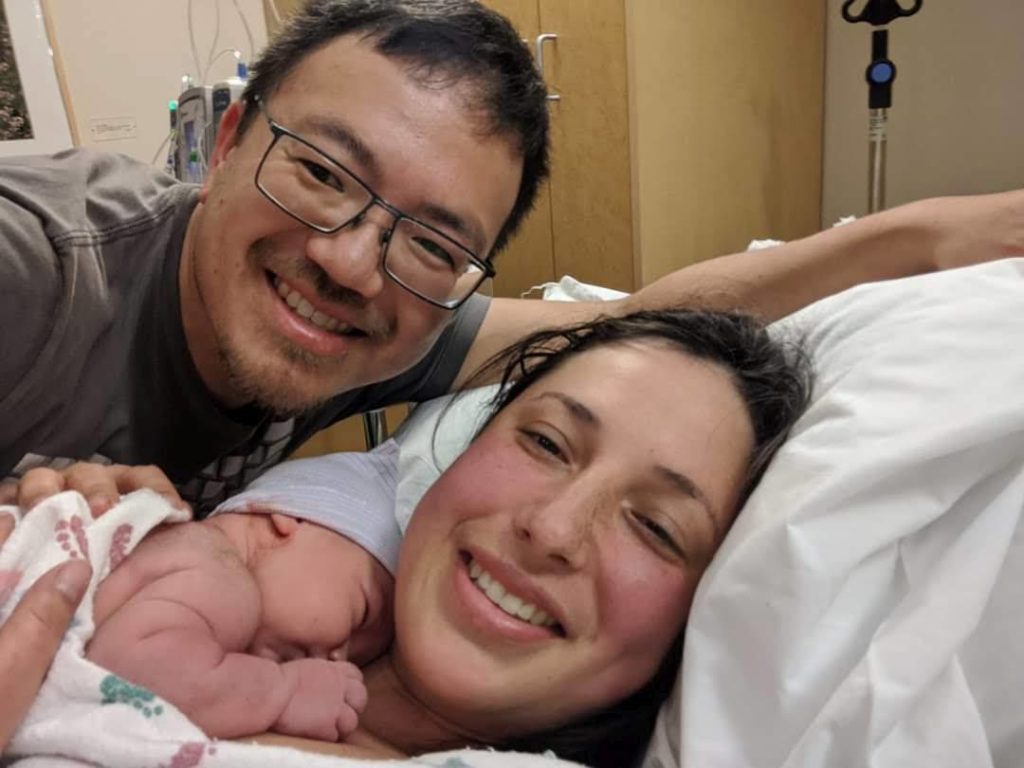 Déo and Gilberto and I talk quite a bit through the morning. The topics of Trump and Bolsonaro come up prominently, of course, and our views on them are closely aligned.
Déo has had an interesting life to date. She alludes to multiple marriages, a long time reluctance (now abandoned) to get involved with Brasilian men, international travel, and a general need to follow her own path through life rather than just "fit in". Her brother, sister-in-law, and young nephew pop in to discuss family matters. Déo is leaving shortly for Florida to accompany the latter two to Disneyworld.
Brasilians have been fascinated by Disneyworld since it opened. I'm sure it's the single most popular destination for Brasilian international travel. On my first journey here in 1984, I went to a comedy club in São Paulo (I understood a lot more Portuguese thn than now) to see João Soares, known as O Gordo (The Fat Guy). Brasil, at the time was in the throes of rampant inflation, there was no foreign exchange so very little was imported, oil was years from being discovered so engines ran on domestically produced ethanol, and the military dictatorship was so eager to escape blame for the problems that they were handing the government over to civilians. O Gordo's solution was to emulate The Mouse That Roared: Brasil should declare war on the United States, attack the country, be defeated, and get tons of foreign aid from us. And, he said, we don't even have to send an army to invade — we already have one at Disneyworld!
Since Déo can only stand a limited amount of theme park, she's thinking of going off alone for a portion of the trip to visit Miami. I try my best to dissuade her from wasting precious days of her life in Florida. She's already been to New York City and, in any case, the winter temperatures are a significant barrier. I suggest New Orleans as a unique experience and she's receptive to that. By coincidence, the sister-in-law has visited there and adds encouragement. I might have done my good deed for the day. Sorry, Miami… not!
After lunch, I go out to photograph the neighborhood in daylight.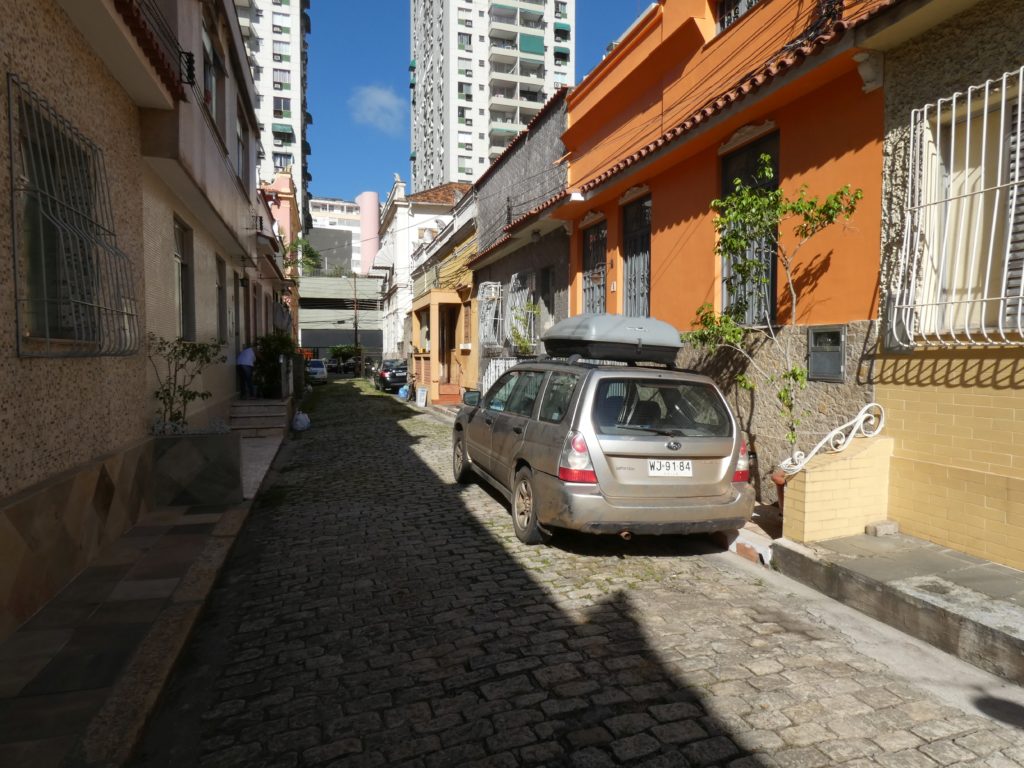 Déo tells me the arrangement of attached houses on a dead end alley is rare in modern day Brasil but traditional in Portugal. The name for it there doesn't translate descriptively into other languages, including Brasilian Portuguese, so Déo has a hard time describing it to others. Does anyone have an English (or for that matter any other language) name that conveys the concept?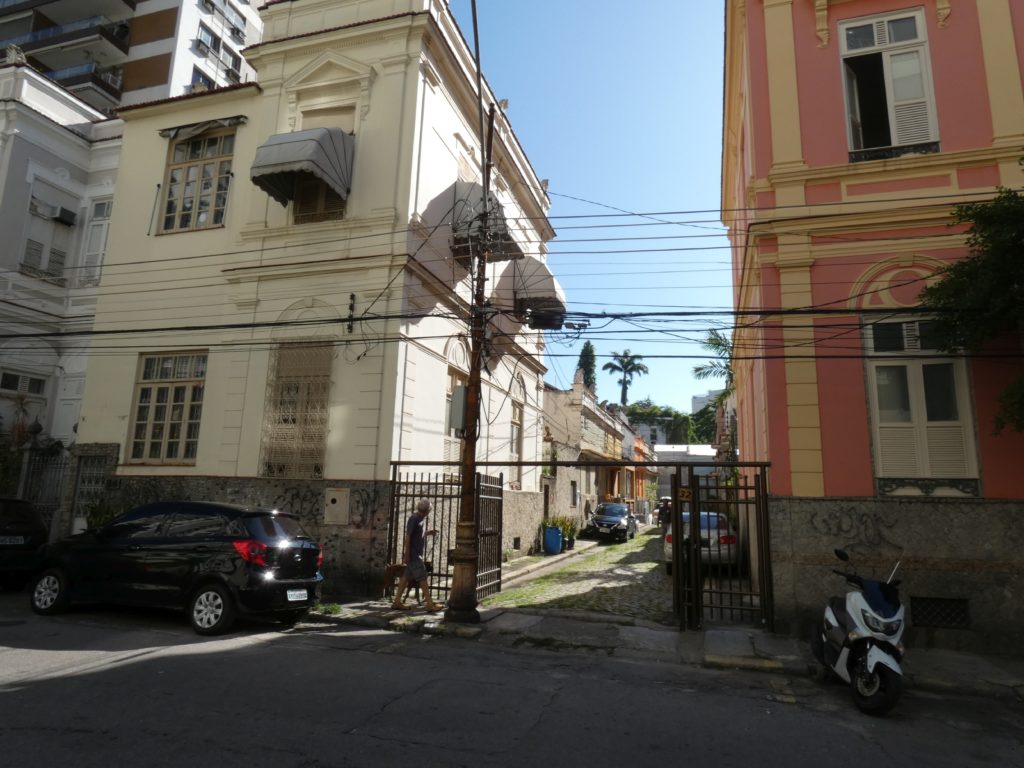 There's a lot of music and rhythm emanating from the next street and Déo tells me this is a local celebration, Carnaval de Rúa (Carnival of the Street). Although the climax of the season is over two weeks away, such neighborhood parades are happening all through February.
You're probably aware that Carnaval (what we call Mardi Gras in the US) is an enormous event in Rio and other large Brasilian cities. The obsession, expense, and intensity put other famous Carnival venues, like New Orleans and Port of Spain in Trinidad, to shame.
The local parade today is just a small event in Rio terms but the dense crowd throbs to the music and singing emanating from a full size bus inching it's way down the street. People are dressed in outrageous costumes: women in the near-naked beachwear that is normally taboo once you step off the sand, men in tutus and other female costumes. Face and body paint, and glitter is de rigueur. The atmosphere is very infectious and it's easy to see how a lot of crazy stuff happens. Although I arrived after Carnaval in 1984, I remember posters still tacked on utility poles warning, "DON'T have a Carnaval baby!"
Right behind the tail of the crowd comes a garbage truck and crew of street cleaners, some of whom are also dancing to the music as they scoop up parade trash.
Susan and I are planning to come to Rio specifically for next year's Carnaval and, after today's experience, I can hardly wait. As I head northeast up the coast, I'm sure I'll see more parades and music before it all ends on February 25 and Brasil returns to its perpetual football (soccer) obsession.
The remainder of the day is spent indoors. The architecture of the house is interesting, three floors surrounding an open atrium – very airy and light and filled woth Déo's paintings and other art.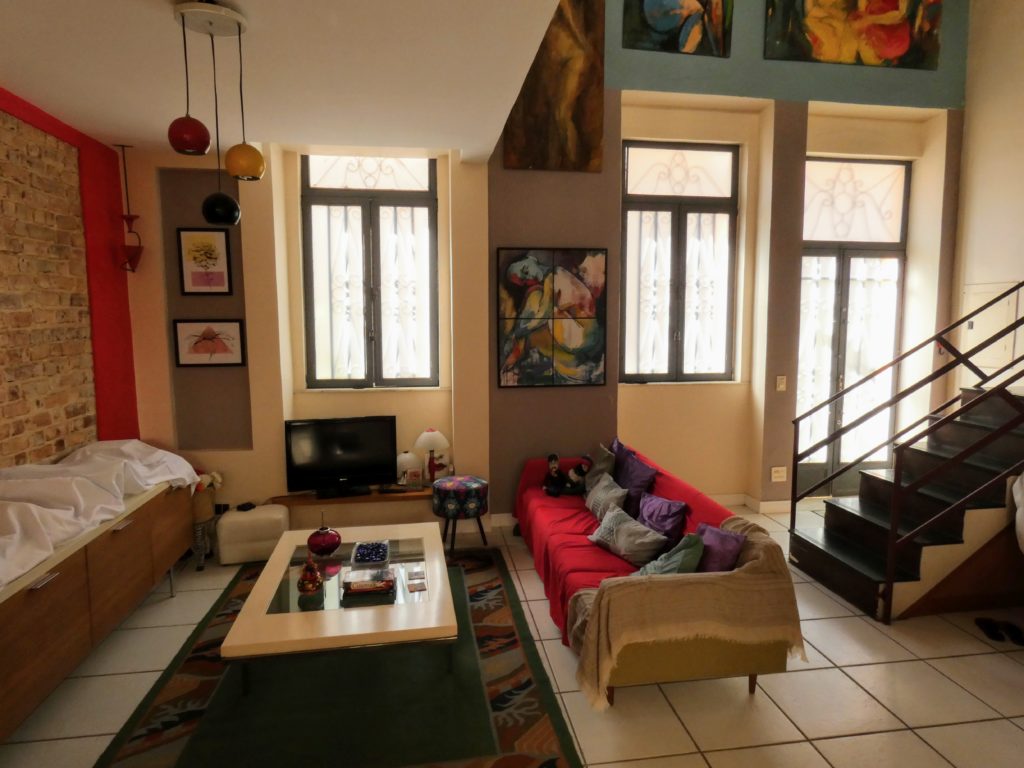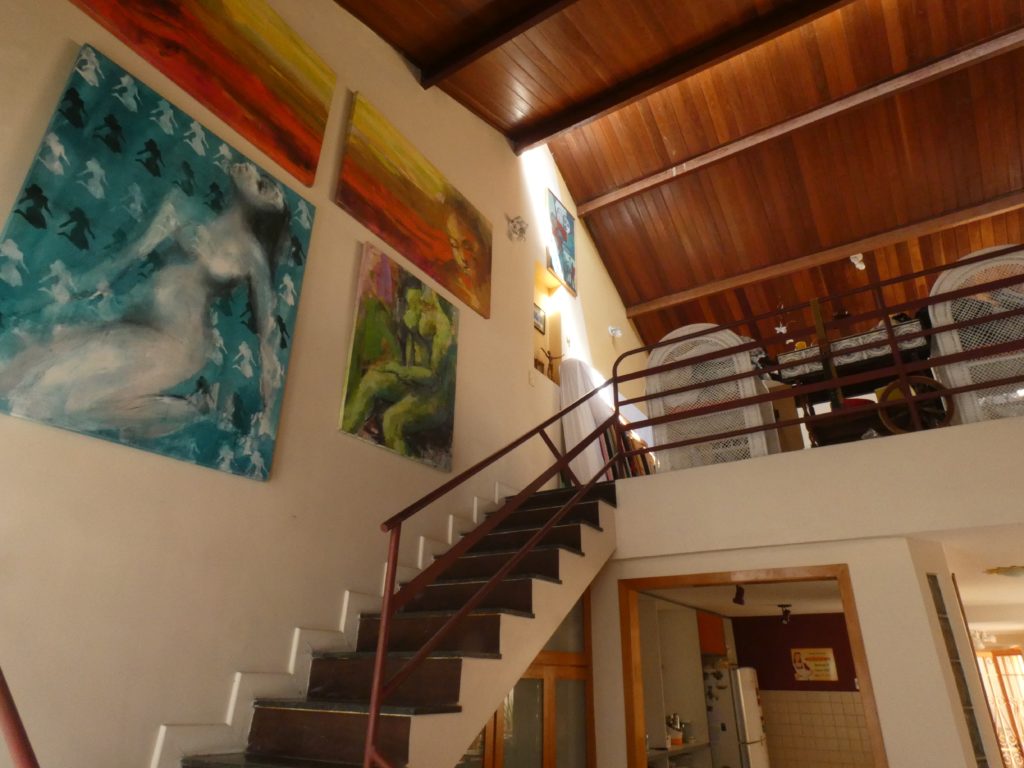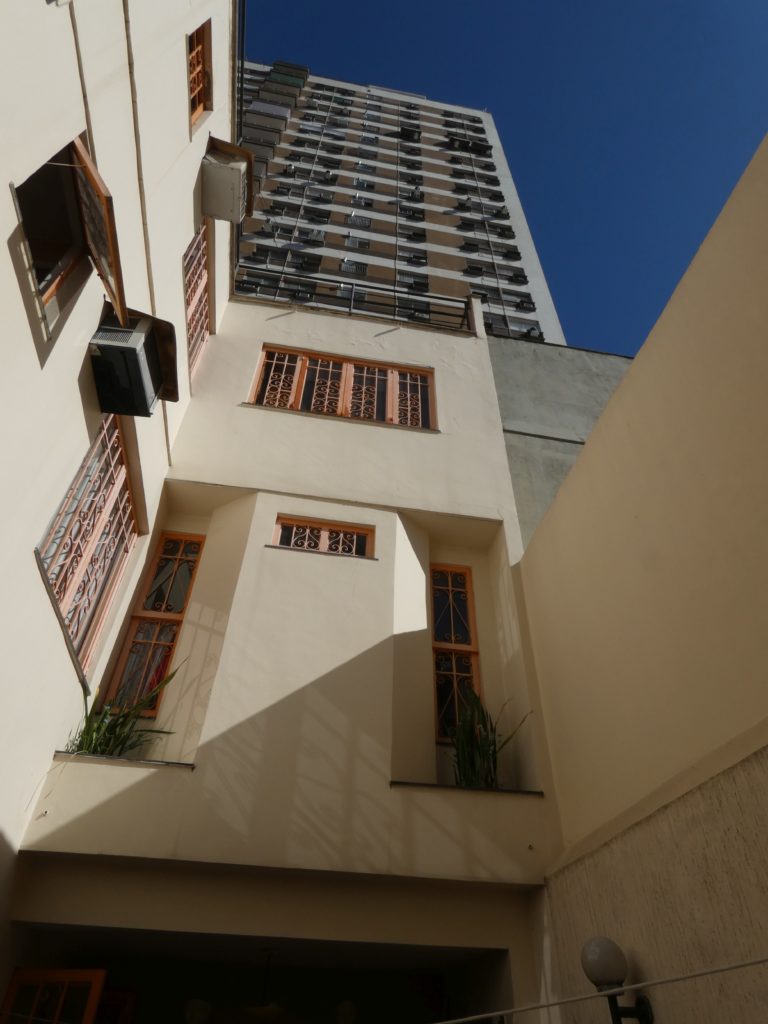 It isn't air conditioned, though, so sitting in front of the ventilating fan is essential to my survival. As the creation of three blog entries demonstrates, I spend my time writing.
Next post: http://blog.bucksvsbytes.com/2020/02/13/south-america-by-subaru-20-02-10-solo-hiking/