[NOTE: To enlarge any image, right click it and choose "Open image in New Tab" or similar.
Prior post: http://blog.bucksvsbytes.com/2020/02/13/south-america-by-subaru-20-02-10-solo-hiking/
My hotel last night was very cheap but attractive and comfortable.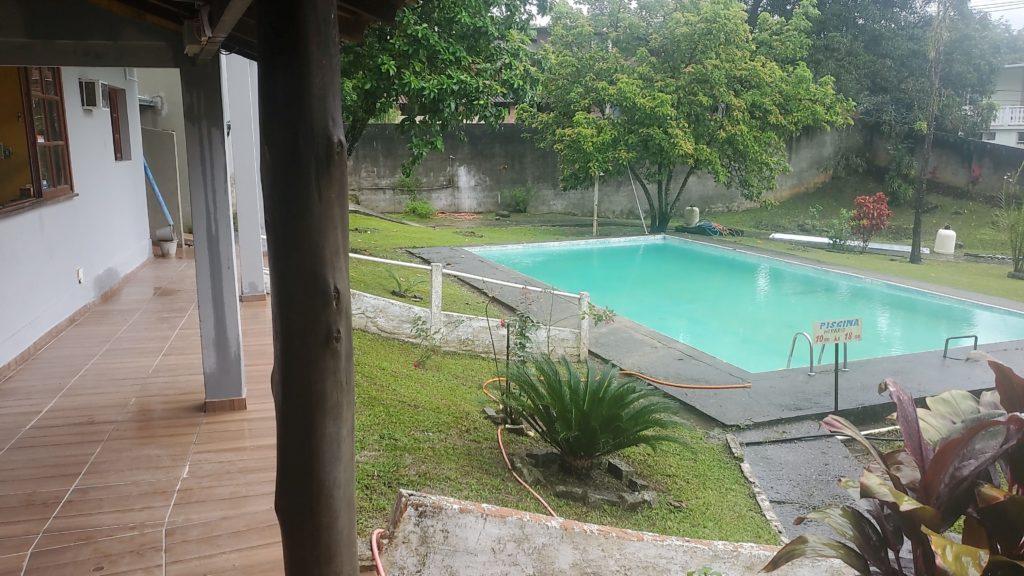 For that price, though, the breakfast buffet can hardly be anything more than Brasilian basic, but it punches above its weight and I have no trouble stoking up for a day of driving. A particularly nice amenity is plentiful cold milk and chocolate powder. That alone makes it a treat. Unfortunately, in Brasil, virtually all milk sold in stores is processed at ultra high temperature (UHT) so it doesn't need refrigeration, which gives it, to me, an unpleasant cooked taste. Oh, how I have to suffer. The refrigerated dairy drink distribution system here only extends to yogurt.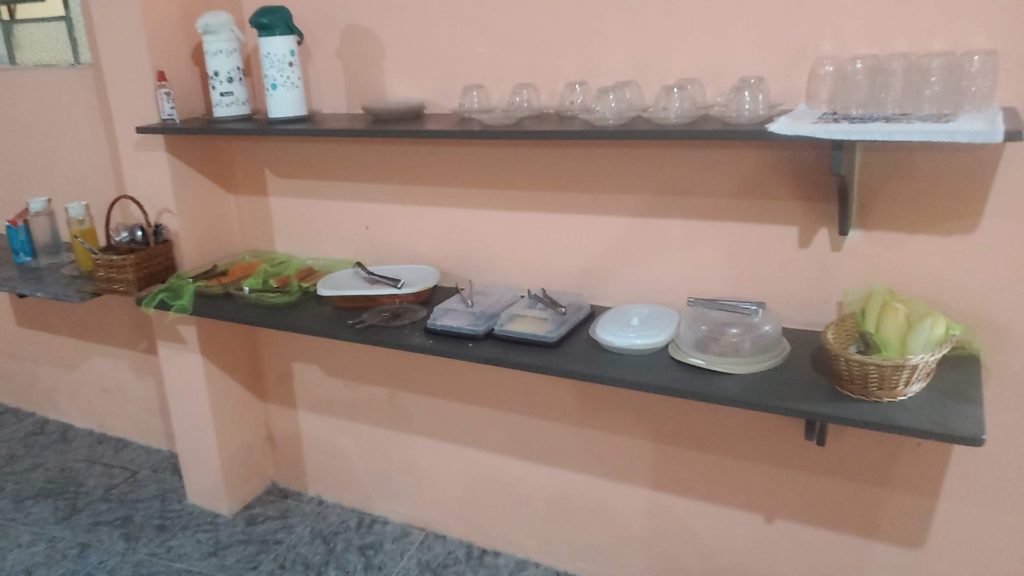 I've been communicating with a non-profit group whose mission is to advance the conservation status of the golden lion tamarin. I saw one of these in the wild on my first Brasilian visit in 1984 — at least I think I did. None of the research I've done recently confirms that they ever existed in the place where I saw them despite my vivid memory of trekking out there specifically for that purpose. It wouldn't be the first time I remember something that turns out not to have happened. Memories, despite being fundamental to how we manage our lives, are a neurological phenomenon — not necessarily an accurate representation of reality.
Getting back to the tamarins, this species only exists in the wild in Brasil and at one point was down to just a few hundred individuals. The Golden Lion Tamarin Association (AMLD in Portuguese) was formed at this low point in 1992 to try to save them from extinction. Through their efforts, the population is up to several thousand and I'm interested in getting another (?) look at these unique creatures.
There are two government reserves containing tamarins but they're open only to researchers. AMLD is creating private reserves to increase the habitat and encourage more genetic diversity. On one of these, they offer guided public access to allow observation. They told me last week that it would be possible to visit on February 12. At the time, coinciding with Susan's flight home and the onset of my solo journey, I thought I would be long past the area of the reserves, but it hasn't worked out that way.
Yesterday, I received a confirmation from AMLD that the Wednesday viewing would happen if I confirmed today but included something new — a strict requirement that all visitors show proof of vaccination against yellow fever. I was vaccinated in 1984 before my first Brasilian visit but the documentation is long gone. Susan and I both got the shot in Bolivia, which is the only South American country to still require it, about a year ago on our prior road trip but I forgot to bring my proof with me on this one. I immediately emailed AMLD assuring them that I am vaccinated and asking if they will accept my word for it, It would be unfortunate if leaving the card home prevented me from seeing tamarins.
As of this morning, I've heard no word on whether or not I can actually go tomorrow. Since the AMLD office is only 2 hours away and on my route out of the area, I decide to drive over there and see if I can clarify the situation face to face. It's still the rainy season, but with eternal optimism, I plan a back road route to reach there. Each of my "shortcuts" turns out to be dicey due to extensive mud holes. During the dry season, I rarely give up on a rough road, but faced with a severe risk of getting mired, it only makes sense to turn back, although the required U-turns are themselves often difficult on muddy, one lane ranch roads hemmed in with fences on both shoulders.
Today, I backtrack to the paved highway three different times so my route ends up being the exact long, boring way I was trying to avoid.
To my surprise, rather than a dingy office, I find a modern, rural facility set back from the highway near one of the public reserves.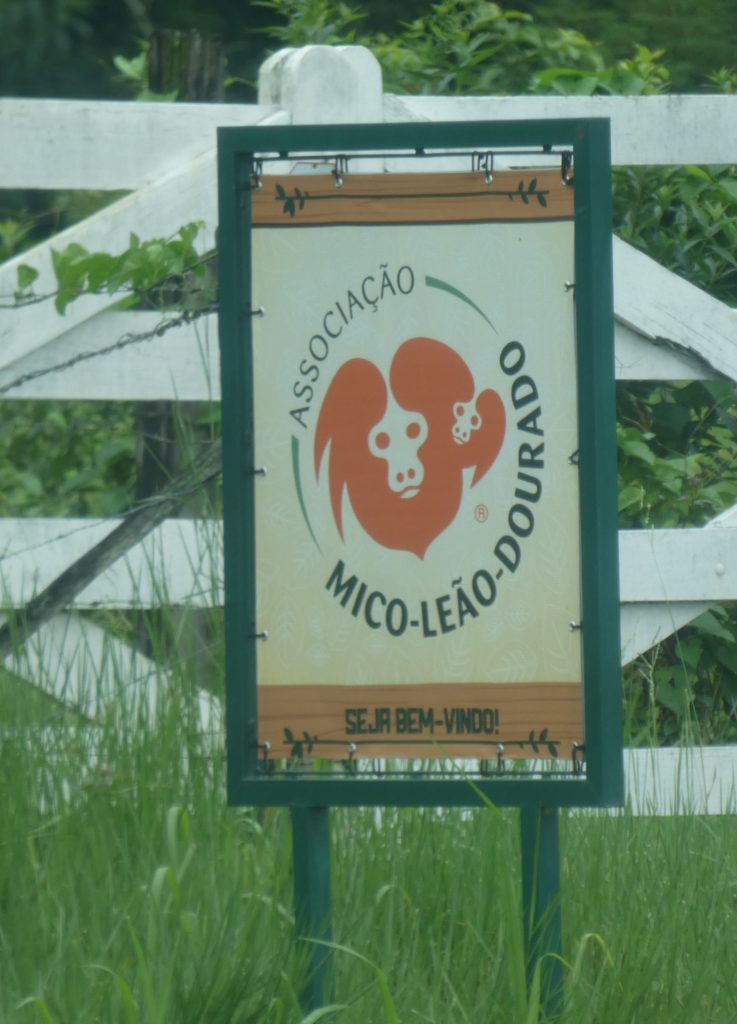 I walk in and explain that I had emailed and heard no response as yet. As usual, the answer is a torrent of Portuguese that exceeds my auditory decoding ability. It's very frustrating to both be able to express myself and read Portuguese reasonably well but still have a terrible time understanding the spoken language at normal conversational speed. I meet many people who have learned a language primarily by listening to music or watching television. It makes me crazy jealous but I just don't have that talent or brain wiring. I need to see the words or mentally visualize them in writing and that really slows up my ability to comprehend conversation. I've had many great exchanges in Portuguese about politics, society, travel, etc with people on a one-to-one basis as long as they are speaking directly to me and understand that they need to restrain their normal speed and keep the vocabulary simple and/or rephrase things when my eyes start to cross. Ambient noise level is also important as music, multiple voices, or traffic noise makes it much harder to decode the spoken word. This is extraordinarily frustrating at parties and group dinners to which I'm periodically invited.
Seeing my quizzical looks and repeated questions covering the same territory they've just explained, two staff member ask me to wait and in a few minutes the association's executive secretary, Luis Paulo, comes out and we end up spending over an hour in his office as he explains what the association is doing — in English. He says their internet connection fails frequently during the rainy season and that my latest inquiry wasn't received for that reason.
I tell him about my recent vaccination and fortunately he accepts my word, so I'm go for the tamarin walk tomorrow. AMLD's efforts are inspiring. Operating with no government money, they are working on the future of the tamarins and, by extension, the Atlantic Forest biome on many fronts. They've bought farmland needed to connect fragmented habitats (sometimes through consistent, nagging pressure), they've replanted native trees with great success, they collar individual tamarins so they can monitor the location and condition of groups. they raise money by allowing people to see the tamarins in the restricted areas, they're trying to build a tamarin-based tourism economy to encourage locals to support conservation, and many more. They've successfully pressured highway builders to install a major tamarin trailway over an expressway (many roads in Brasil are government concessions to private companies). The contractor doesn't want to publicize their effort, presumably because similar amenities could be demanded in many other places along their roads. Luis Paulo says the AMLD will trumpet the overpass far and wide as soon as it's put into service. By the time our conversation ends, I'm so impressed by the selfless, difficult work of these volunteers that I donate substantially more than the excursion fee they charge.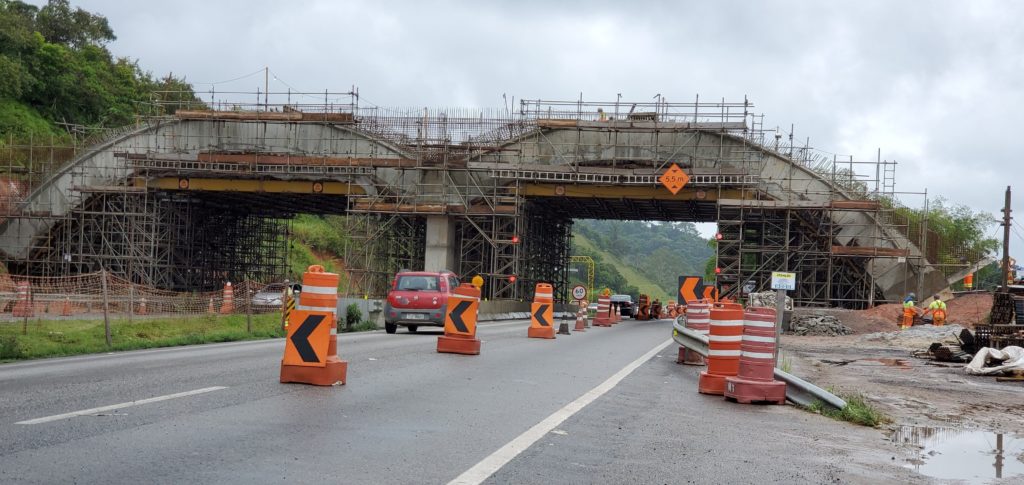 Why the strict yellow fever vaccination requirement? He tells me primates, along with humans are susceptible to yellow fever, which is often fatal. In the past 3 years, the golden lion tamarins have been hit hard by an epizootic (that's an epidemic among non-humans). Just when they were doing quite well, 30% have now been killed off by the disease. AMLD is trying to develop a vaccination program to alleviate the danger, but capturing each animal to vaccinate it is going to be very expensive, if their is even a safe and effective vaccine for that species.
Unfortunately, private conservation efforts often depend on "marquee species", particularly cute or striking animals, to attract substantial funds from the public. The golden lion tamarin (mico leão dourado in Portuguese) is certainly one of those "awwww, cute" generators but the proceeds of that feeling are benefiting Brasil's Atlantic Forest and everything that lives in it. That forest used to blanket all of eastern Brasil, an area larger than Alaska, but has steadily been cut down and fragmented until now there is only about 12% left. Since it was never extensively studied, just exploited, we'll never know how many Mata Atlantica species have already gone extinct. Even in it's vastly reduced state, it's still a reservoir of biodiversity.
The private land I'll be visiting tomorrow is 20 miles back the way I came and the area has few hotels, so Luis Paulo gives me the name of a cooperating ranch nearby that can offer me lodging. I make my way back there and pull into Fazenda dos Cordeiros (Lamb Ranch), a big active place with the guesthouse in the family residence in a quiet uphill spot.
The owner, Ana Beatriz, welcomes me into the house, surrounded by jungle-like woods. The price she quotes, US$50, is higher than I'd like but I quickly succumb to her friendliness, the inclusion of both dinner and breakfast, the overall family vibe, and the paucity of other nearby choices.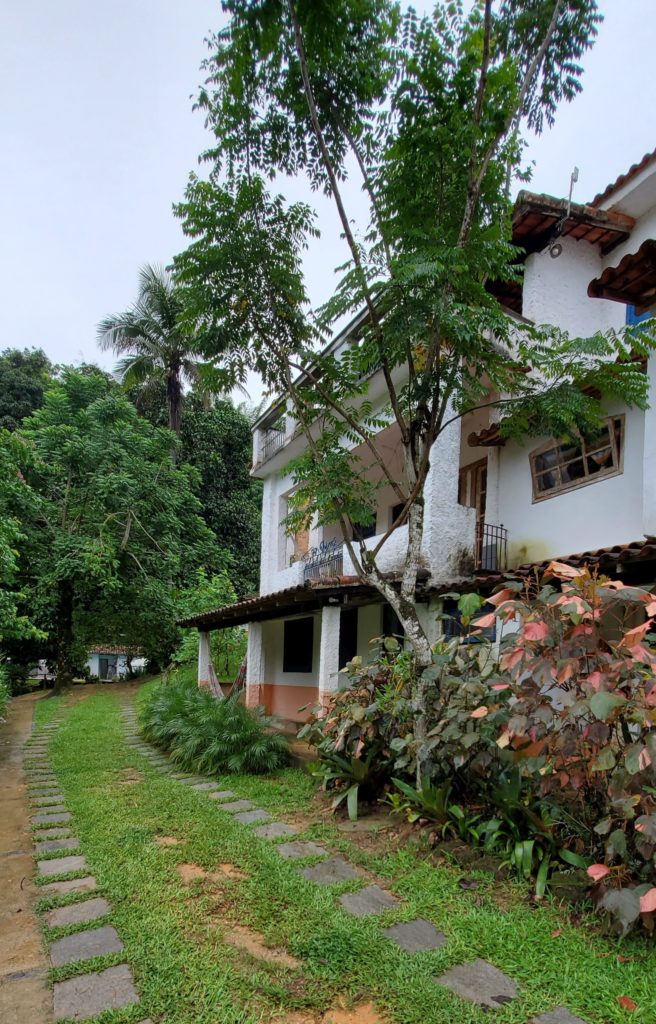 As soon as I accept,she offers me "coffee" which turns out to be, essentially, lunch, with homemade bread, local cheese, and a variety of fresh fruit and preserves. She describes how sustainable they are, harvesting most of the fruit and vegetables they eat from the trees and garden. The fazenda is totally organic and she seems quite knowledgeable about farming practices, recent developments, and marketing of unfamiliar fruits. She frequently refers to agricultural and culinary reference books during our discussion, which is smooth and rapid due to her fluent English.
I spend the afternoon and evening sitting outdoors in the shade with the computer, amidst the beautifully landscaped surroundings, replete with various orchids, which the fazenda also raises for sale.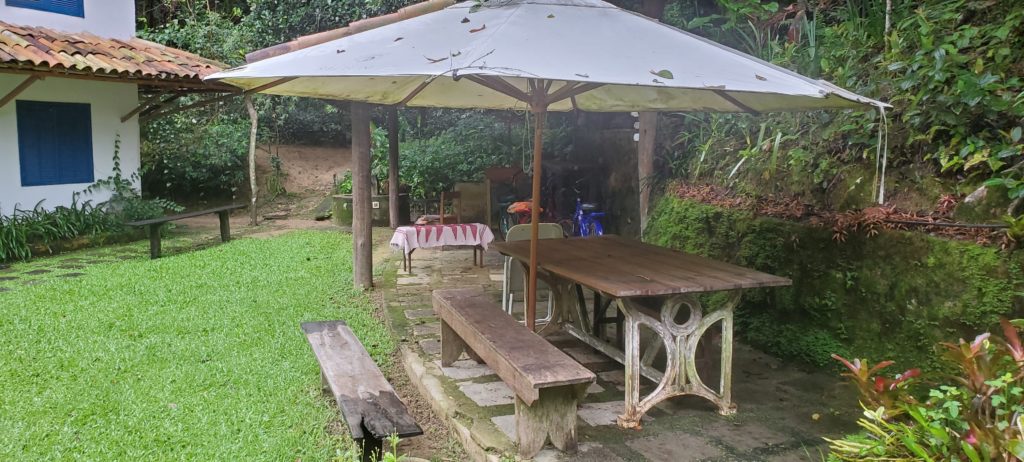 I take advantage of the covered parking to reorganize the car without standing in the hot sun. At 8:30, dinner is called. The selection of dishes is ample and I have no trouble eating my fill. Ana Beatriz's husband and mother-in-law have come home and we have a lively discussion, more in Portuguese than English this time, eased along with Ana's translating help. After dinner, it's time to hit the hay as I have to load up, have breakfast and drive down the road to the rendezvous site by 8 AM.
Next post: http://blog.bucksvsbytes.com/2020/03/08/south-america-by-subaru-20-02-12-i-see-rare-golden-lion-tamarins/