[NOTE: To enlarge any image, right click it and choose "View image" or similar. Use the Back button to return to the post.
Prior post: http://blog.bucksvsbytes.com/2020/01/12/south-america-by-subaru-20-01-08-escape-from-the-clay/
This morning, after nine days in Rio de Janeiro, we undertake the six hour drive to São Paulo International Airport. After almost 4 months on the road in our Subaru, Susan is flying home to her nest in the Catskills. We drag all our stuff down from the eleventh floor of the Casa Nova Hotel in the active but not very touristy Lapa neighborhood. the long drive is to give Susan the convenience of a non-stop flight to Newark instead of flying out of Rio and changing planes in São Paulo.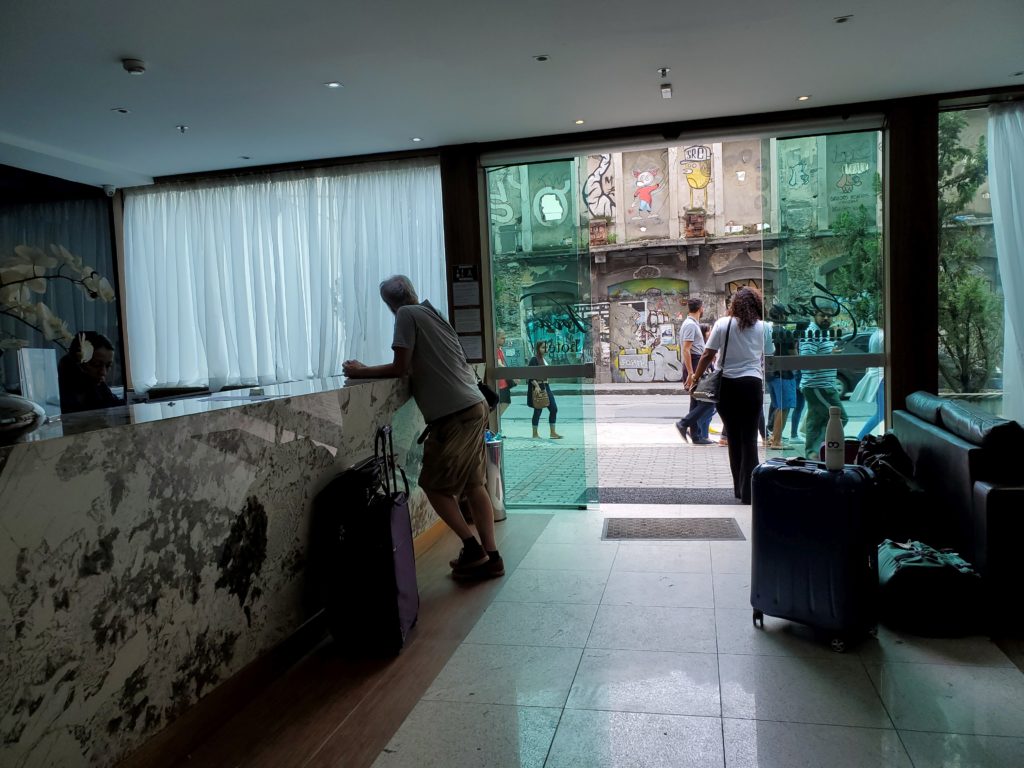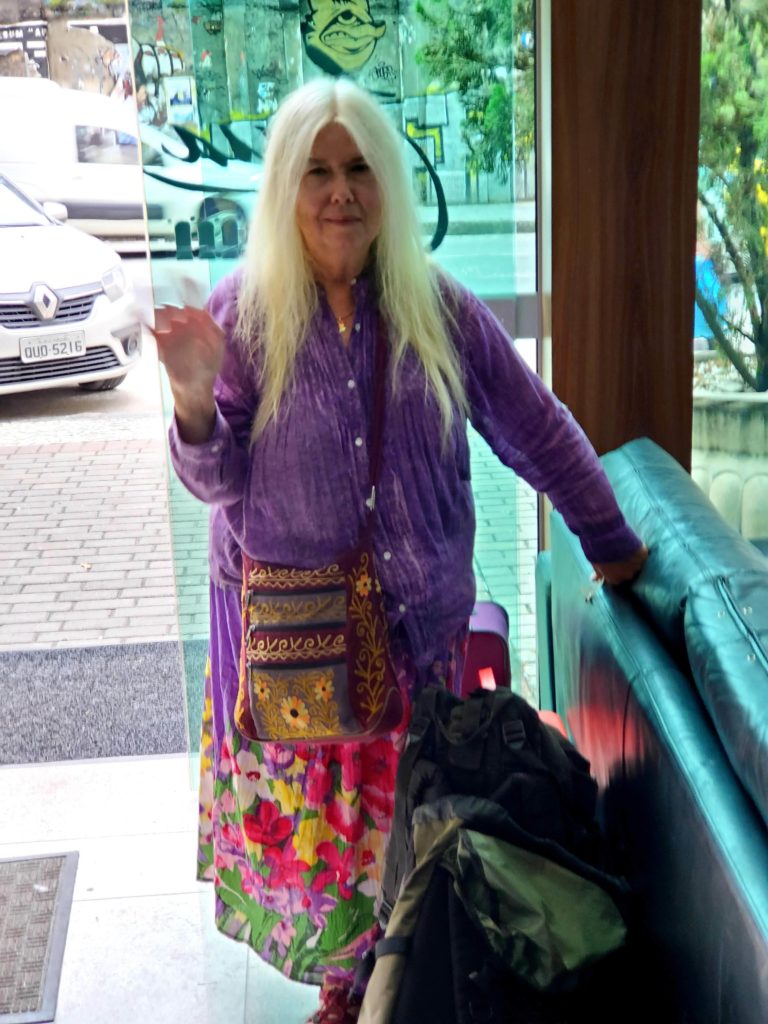 On the way out of town we detour to Ipanema to drop off the last of Susan's books for Raphael, our new friend who has invited us to return next year for Carnival, promising to hook us up to the cool parties and events.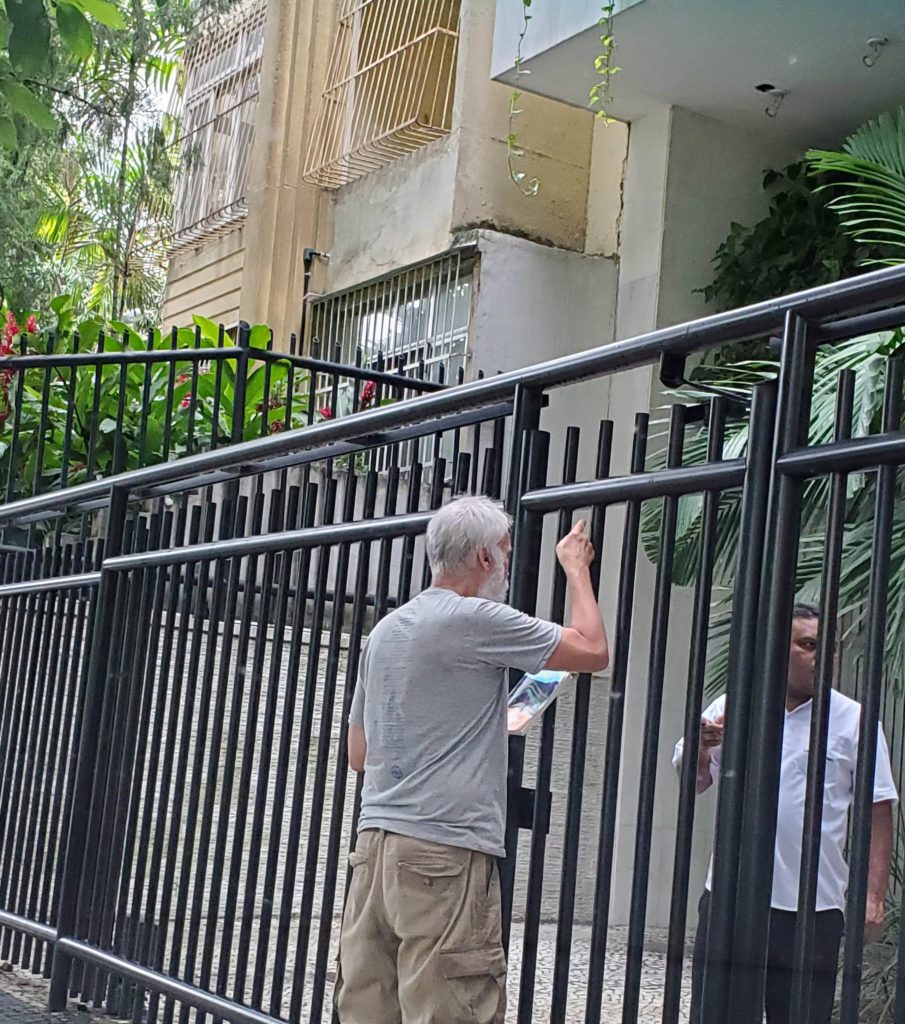 Our route out of town takes us past many iconic Rio de Janeiro sights, including Corcovado: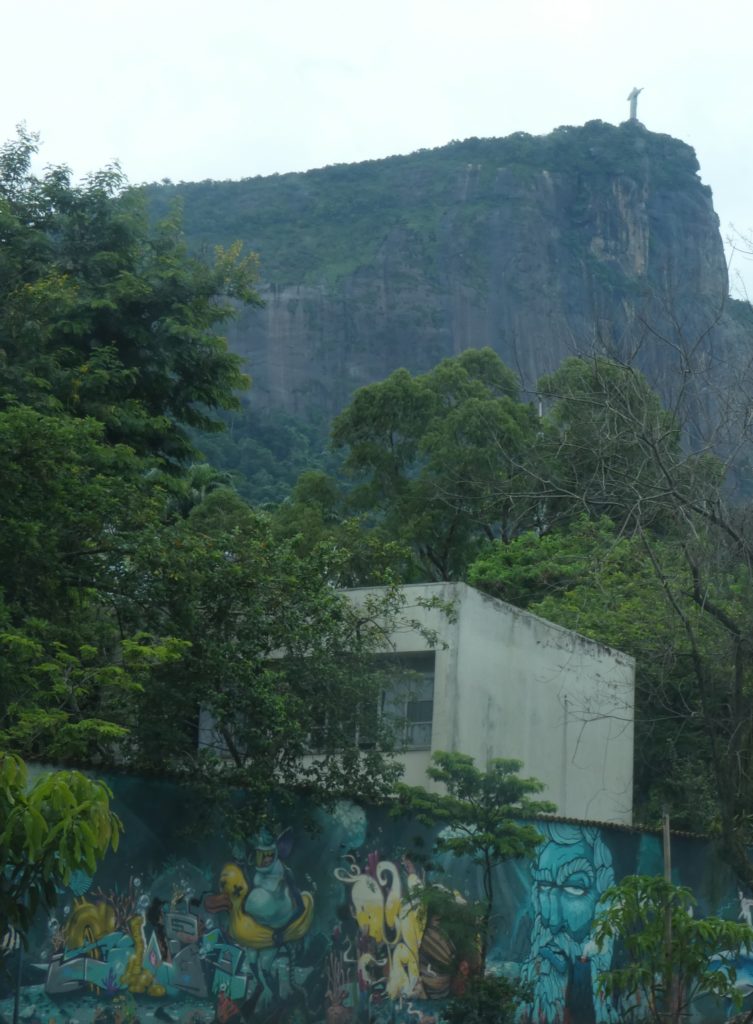 Expensive beachfront residences: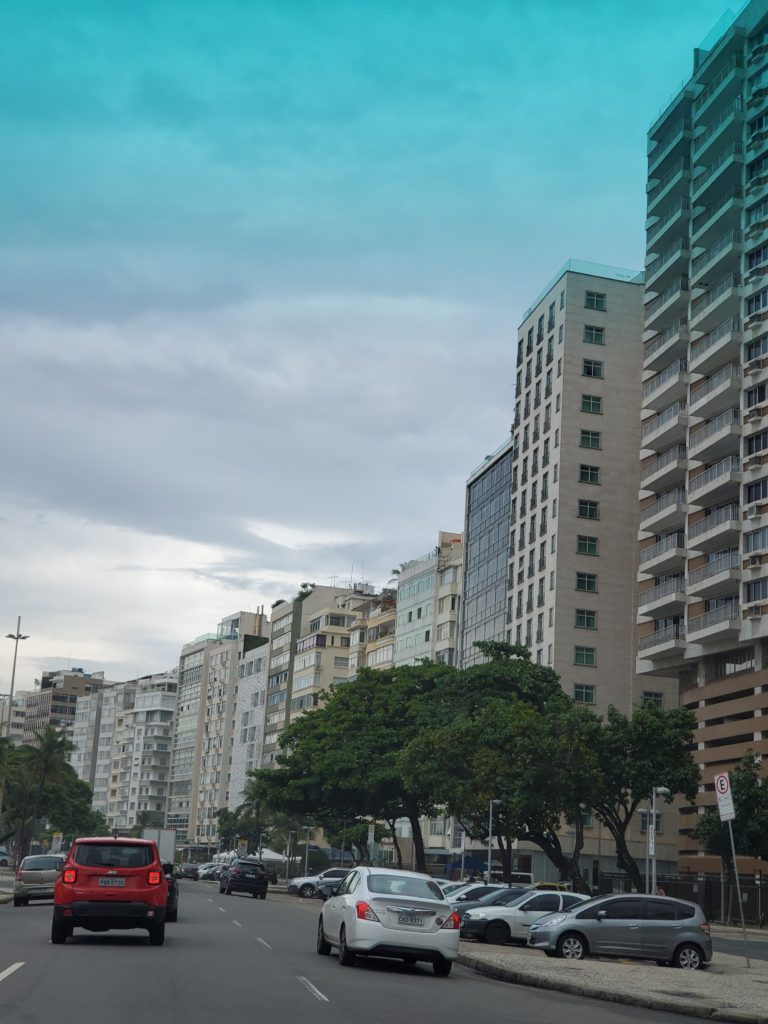 Tunnels that are vital links between neighborhoods: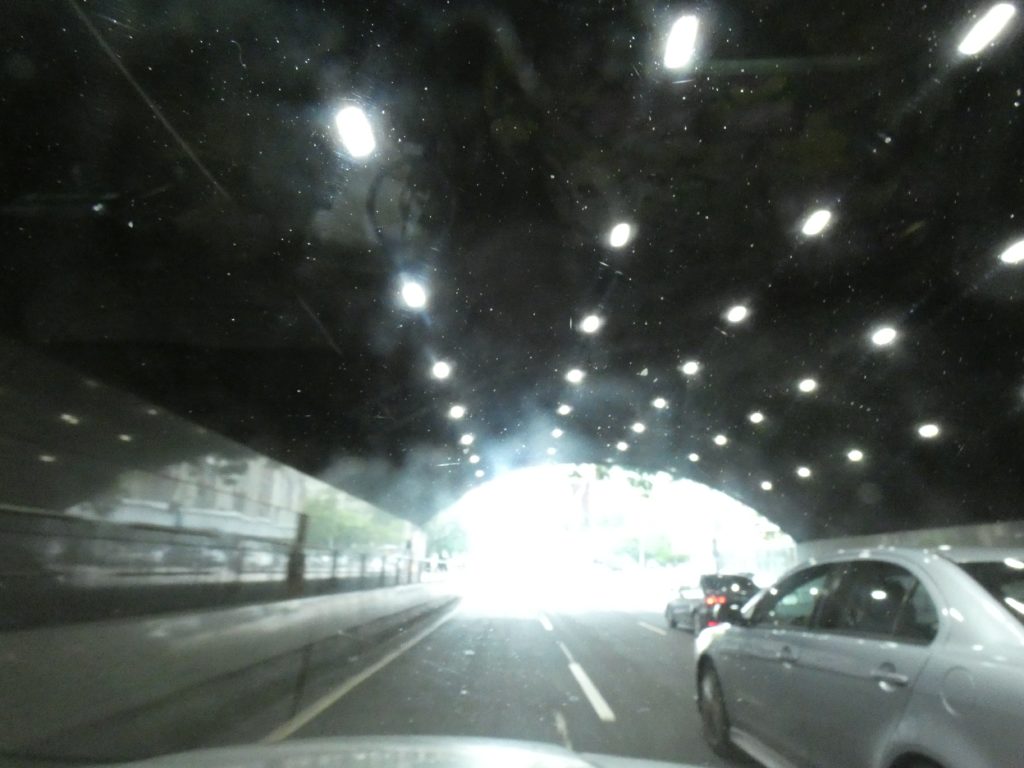 And street murals: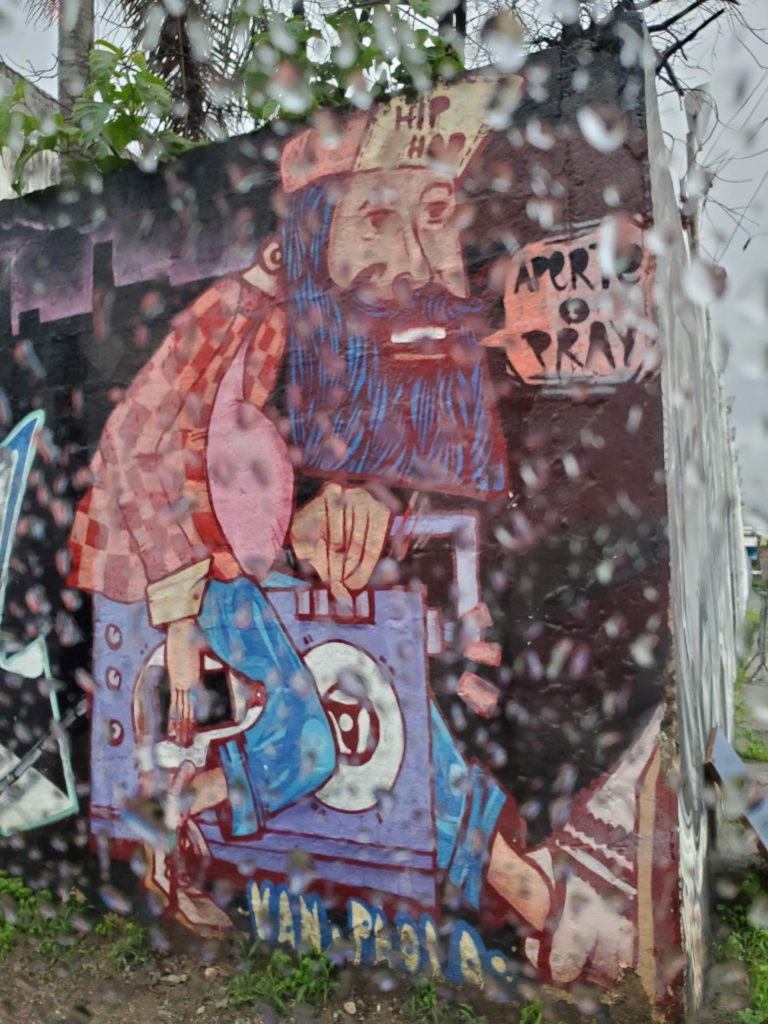 It's almost noon by the time we head out on the highway toward São Paulo. Susan's flight departs at 9:30 PM so we have plenty of time as long as we make steady progress. In a departure from our usual style, we've chosen the main highway — high speed (except for traffic jams) and frequent toll booths.
The outskirts of Rio aren't particularly attractive and Susan assumes her standard cruising posture.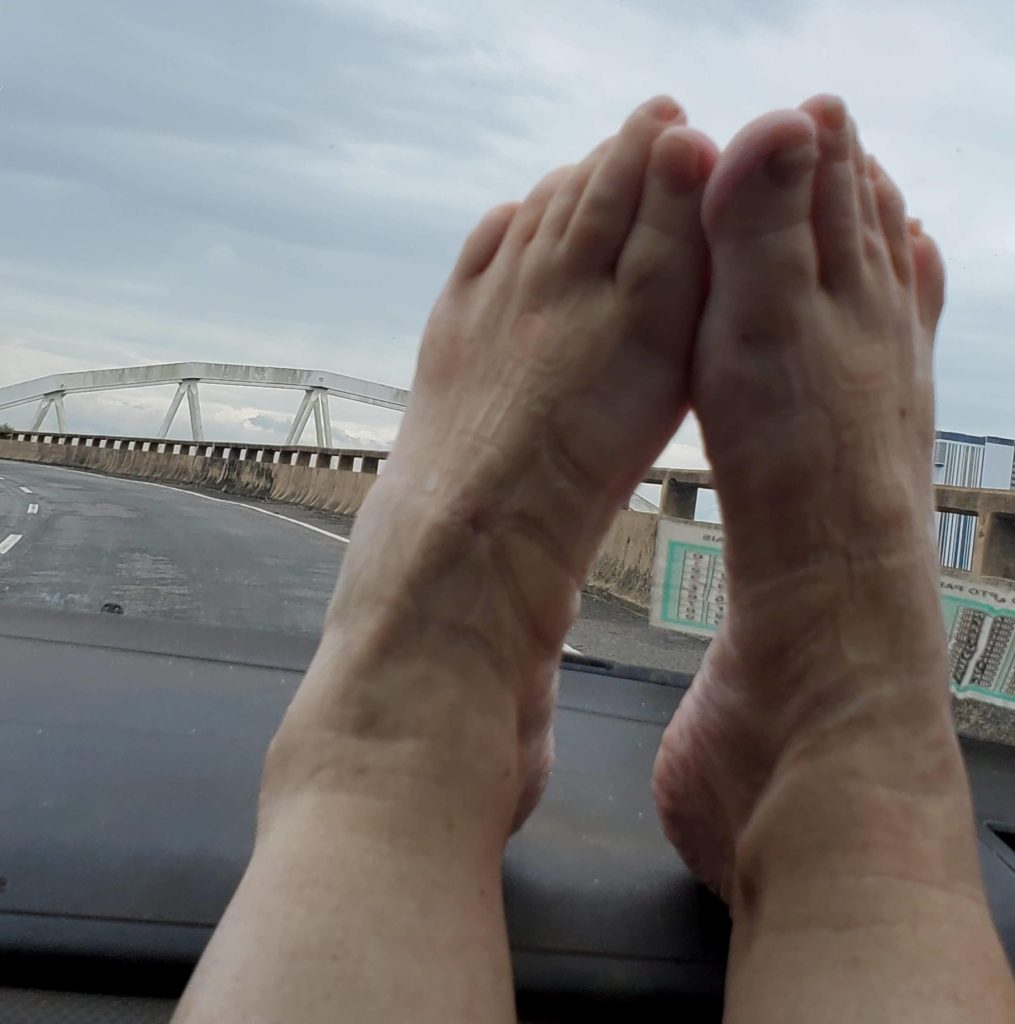 We're soon ascending through the mountains to the northwest. It's the rainy season and everything is lush in varying shades of green.
For some reason, gasoline in Rio de Janeiro state is about 25% more expensive than in neighboring São Paulo state. I've been tanking up on costly fuel in Rio for the past two weeks so I'm trying to drive economically to reach a particularly cheap station I encountered previously along our route. Alas, the long uphill climbs and the air conditioner mean I can't quite make it, so I stop on the Rio side of the border to get a small refill.
Another 60 miles brings us to the desired gas station where I fill up and we check out the fairly elegant looking restaurant next door, curiously from a US viewpoint, named Wimpy, The House of Cod. A look at the menu surprises us with prices double or more the usual range. At $35 a plate and up, Susan decides to wait for something more modest that she likes. She's had breakfast and will be getting dinner on the plane in about 7 hours, so all she needs is something to tide her over.
Shortly afterward, we reach the town of Aparecida and exit to look for more restaurants. We're turned off by the aggressive touts, standing on front of the moving car in an attempt to force us into their restaurant. What astounds us though is the religious theme of the town. It contains a giant cathedral, many religious artifact stores, and a skywalk (Stairway to Heaven?) .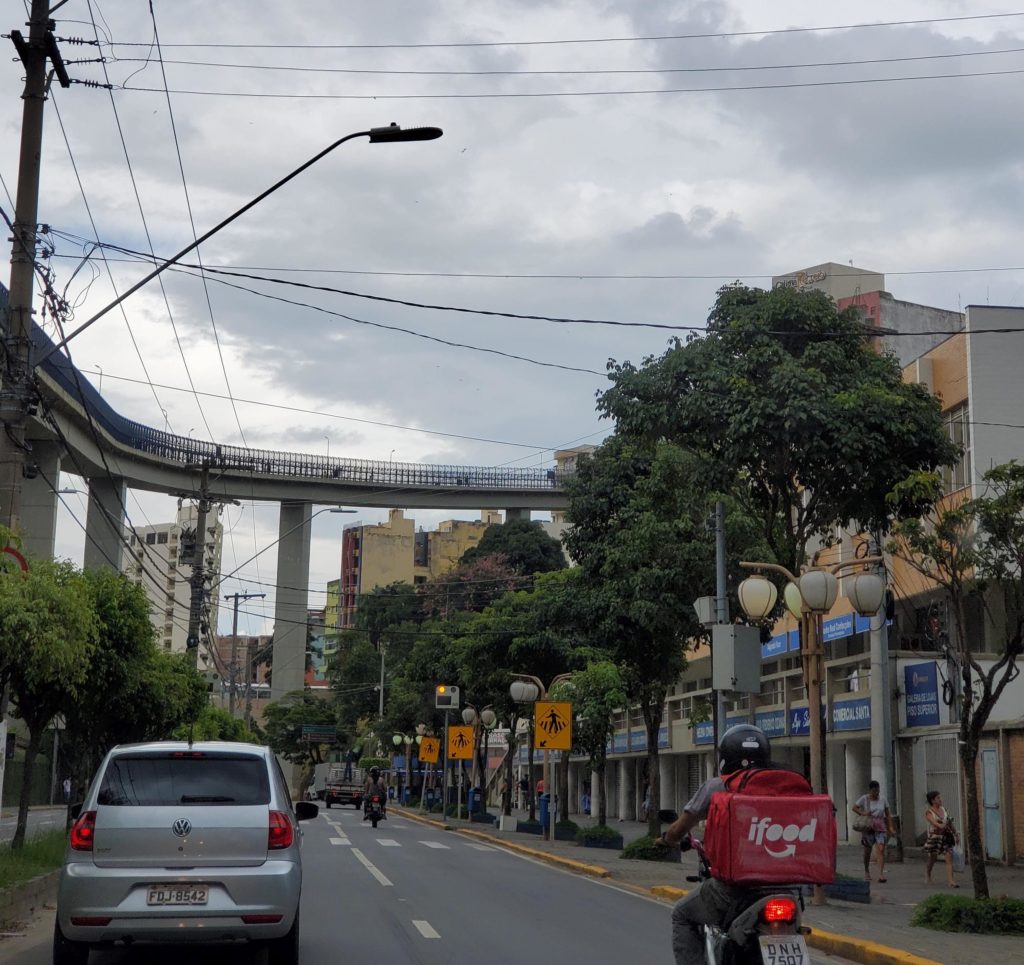 Also above our heads is a cable car from the church grounds to an adjacent hilltop cross monument. Incongruously, there's an amusement park next door. Roller Coaster to Christ?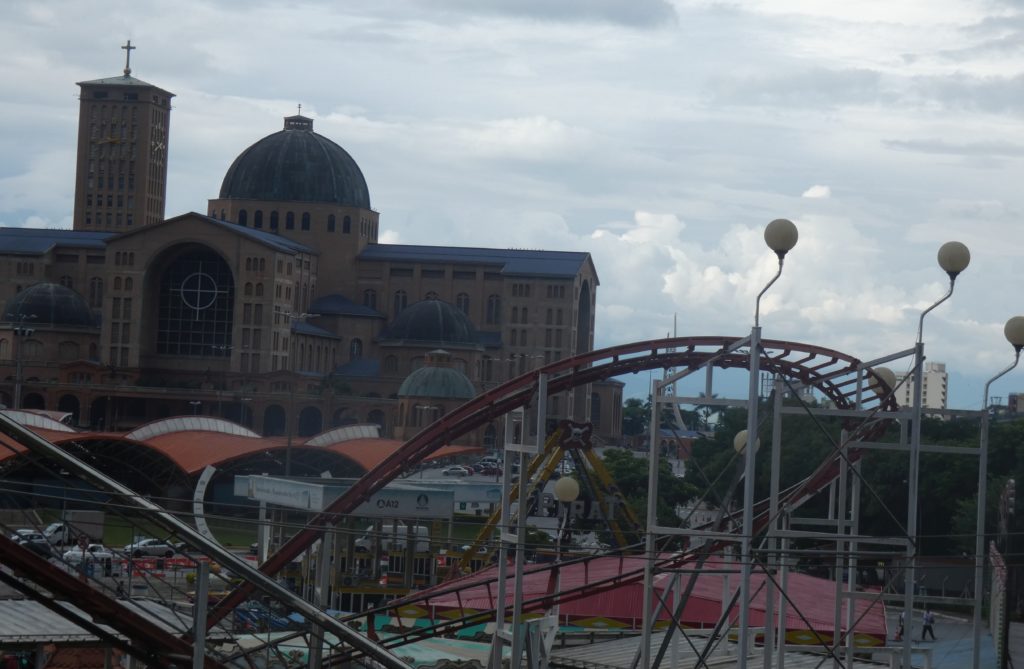 The remaining two hours of driving is uneventful: superhighway, toll stops, and intermittent heavy rain. Near the airport we insert ourselves into a traffic jam looking for a hamburger restaurant which seems to have disappeared, at least its mapped location is now occupied by a traveling circus. The airport is identical to virtually every other one in the world. We're pleasantly surprised, though, that luggage carts are free and United Airlines has a Special Assistance queue, allowing people over 60 and with children to jump the line to the ticket counter. Are you listening Port Authority of NY/NJ?? Equally surprising: the United employees at the line entrances speak no English, although the ones at the counter do — fortunate because the queue guards won't let me accompany Susan there because I'm not flying.
Susan still hasn't eaten, so after check in we opt for the Pizza Hut on the concourse. In the US, I wouldn't even consider eating their vile food. Many years ago, I stopped at one on a business trip because it advertised all you could eat pizza. I am a lifelong all-you-can-eat customer and restaurants break even — if they're lucky — on my meals there, but I couldn't even come close to eating my fill of their crap. In Brasil , though, (with abject apologies to all the millions of Brasilian pizza lovers) even a good pizza is mediocre by my standards, so how much worse could Brasilian Pizza Hut be? The restaurant advertises a suspiciously cheap $5 lunch that includes one slice of pizza, a side dish, a tiny espresso, and unlimited salad. I understand the strategy when I pay the bill and find that a standard fountain soft drink costs (price not posted) as much as the lunch itself.
I escort Susan to the security portal, we say our good byes, and she is vacuumed around the corner on an inexorable path to takeoff.
I race back to the car because the exorbitant parking fee is accruing rapidly.
Now, I'm on my own. As I've often acknowledged, I can't remember a single time in my life when I've said to myself, "I wish I could be alone." I've been made to realize over the years that this is very odd among homo sapiens. I can be solitary, of course, but I prefer companionship. Two's company, three's a crowd, and eight's a PARTY. I think the longest I've ever traveled alone is about two weeks and now I'm either facing an aborted trip with a long drive back to Chile to sell the car or a sustained solo journey north along the Atlantic coast to Belém on the shores of the mouth of the Amazon River, before an even longer return to Santiago. We'll see if I stick with it.
With Susan gone, the loneliness will be offset by some practical changes: staying with more hosts, cheap hostel beds instead of hotel rooms with private bathrooms, economical all you-can-eat lunches of standard Brasilian fare, and more camping and hiking. Driving, sleeping, and eating by myself will be a fundamental change. Susan's and my strongest point is that, even after 10 years together, we never run out of things to talk about. That's tough to replace during long days on the road and long nights in hotel rooms.
Once in the car, I contact our friends Francisco and Jairo to see if they'd like a last minute visit from me (our third on this trip) and head for a nearby hostel as a backup. Just as I arrive there, they send me a message welcoming me to stay with them, so I point the car toward the highway for the 75 minute backtrack to their comfortable house.
In the familiar surroundings, Francisco and I spend the evening talking. I describe some of the cool places we've been in the last 2 months and he talks about his job and what they've been doing with their new car over the same period. I eventually hit the hay after the long day of driving.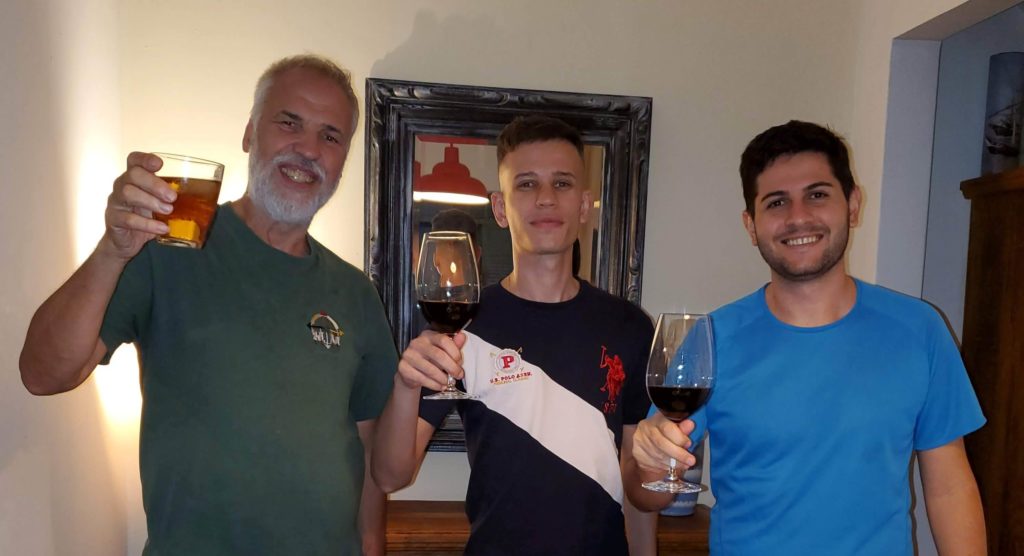 Next post: http://blog.bucksvsbytes.com/2020/02/09/south-america-by-subaru-20-02-07-first-day-traveling-solo/