Prior post: https://blog.bucksvsbytes.com/2023/11/16/road-trip-europe-ii-23-11-02-23-11-03-i-go-underground/
On arrival at the Albergue San Pedro, I find it's a small, modern hostel whose owner lives upstairs in a private home. It's clean and pleasant but has no "atmosphere". The only common area is the kitchen and there's no lounge or comfortable seating. The dorm room is empty as I put down my stuff but one other bed is occupied by someone currently absent.
I set up the computer at the kitchen table and immediately discover this hostel's unanticipated omission – the kitchen is sans stove. There's no way to cook. I'm hungry, so I drive a few miles to the nearby beach town of Sardiñeiro de Abaixo. This is probably a hopping place in summer but it's quiet and closed up now. I locate one bar that's seems to be open although I have to go inside to be sure. The clientele is two locals drinking beers desultorily. It's pretty shabby but I order food and get an adequate meal.
Back at the hostel, I meet my dormmate, a Chinese woman who's walking the Camino de Santiago. We spend some time talking about our differing goals and experiences. She's walking alone while her husband has stayed home in Hong Kong. At some point, I ask how he feels about her extended, solo trip. Her answer is a crisp, "It doesn't matter what he thinks."
Breakfast is included here and the owner brings down a tray with each person's meal for tomorrow morning. Late at night, while working away, there's a tap at the window and I look up to see a bedraggled figure staring in at me. It's been raining since afternoon and he's quite wet. I open the door and he explains he's a bicyclist looking for shelter. I ring the owner's bell, she comes down, and with a little translating help from me, he says he cannot afford a room but can he sleep under her exterior roof? She strikes me as very businesslike so I'm somewhat surprised when she immediately says "Yes."
There's a long tradition on the Camino of offering assistance to pilgrims. There used to be many free hostels, or "donativos", where walkers pay whatever they can afford for a bed and meal. There are still some of those, but most accommodations are now commercial and charge money although there are many beds available for only about $15. The tradition of assistance survives, though, and I guess I'm seeing an example of it. Although I have no right to do it, I tell the cyclist I'll let him in to use the bathroom. He gratefully takes me up on the offer later tonight and once in the morning.
Eventually, I crawl into my bunk and get a good night's sleep. In the morning, I eat my tray breakfast and leave. The major attraction in this area is Fisterra, literally Land's End. This is a headland facing the open ocean, which prior to Columbus' return from the West Indies was mare incognitum. I drive out there arriving amid a substantial off-season crowd. There are a couple of tour buses disgorging old people and a lot of walkers and drivers.
[NOTE: To enlarge any image, right click it and choose "Open image in New Tab" or similar.
It's an exposed point and the wind is blowing fiercely and continuously. There's a lighthouse at the end, now converted to a restaurant and gift shop. The wind is strong enough to pose a danger of being blown off my feet by a particularly strong gust, so I'm bracing myself against it as I walk.
At one point I see someone's windbreaker high in the air turbulently heading westward. It's not hard to imagine 15th century inhabitants standing here and thinking they really were at the literal end of the world.
The surf is crashing furiously into the cape. It's certainly one of the most violent seas I've ever seen.
I see a large flock of sparrows clustering defensively near a somewhat sheltered rock. They're all staying close to the ground to avoid being blown out to sea.
It's with some relief I get back into the shelter of the car. There are a number of steep tracks, not gated off, on the cape so I explore some of those until I get to a point that looks too dicey to proceed, so I work my way back to the paved road.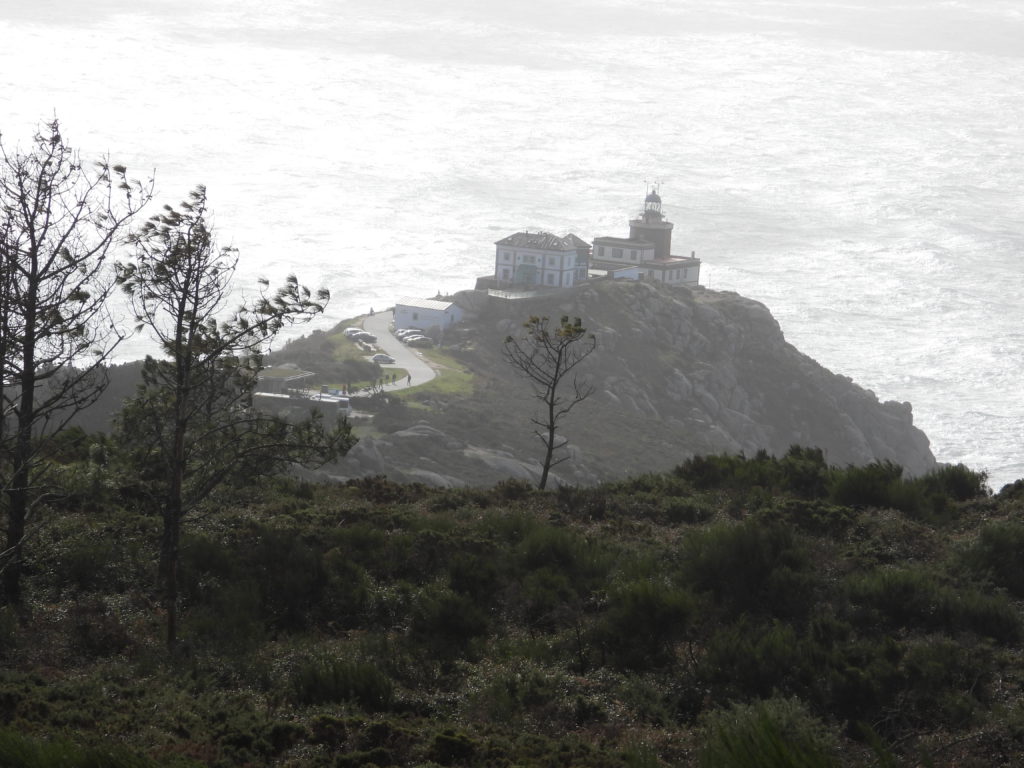 An hour or so later I drive down a dead end beach road at Praia do Porto das Botes to take a short nap while the furious surf tries its best to erode away the rocky coast.
I'm in Galicia, Spain's westernmost province. Like many others, it prides itself on having its own language, one of many areas in Spain that do so. It seems to be a mixture of Spanish and Portuguese (Portugal is immediately to the south). Spain appears to have the most decentralized government I've seen. Many areas harbor secessionist sentiments to various degrees — some Galicians would like to be part of Portugal — and where we have states, Spain is mostly comprised of "autonomous communities". Political and legal power is unevenly distributed across various levels of government but federal power is definitely diluted. Even the Catalonian separatists who were pursued by the national government for daring to declare independence in 2017 have just been pardoned by the newly re-elected prime minister. This has led to large protests by right wing voters. There are still a lot of Franco-supporters, fascists, and neo-fascists in Spain, 50 years after the dictator's death. More than most countries, the modern nation appears to still be an agglomeration of different cultures and languages.
Even as I drive, I don't really know where I'm going so I book a night in another albergue further south toward Portugal where I'll plot my next few days. This place is right in the town of Caldas de Reis (The King's Hot Springs). The Iberian Peninsula was a major part of the Roman Empire, so there are many Roman relics and place names. This hostel is, again, clean, nice, and cheap but not particularly intriguing. The only common area, the kitchen is locked up at night. In the morning, I become aware of the unusually early checkout time of 10 AM. I finally get this when the owner is making up my bed before I've left the room, and I get a scolding "Tsk, tsk" when she realizes I haven't read the fine print on the bedroom door.
I've decided to head for one of Portugal's ten national and natural parks, so off I go.
Next post: https://blog.bucksvsbytes.com/2023/11/17/road-trip-europe-ii-23-11-05-23-11-06-i-lose-my-phone/