Prior post: https://blog.bucksvsbytes.com/2023/11/13/road-trip-europe-ii-23-10-29-23-10-31-surf-city-here-i-come-but-not-surf-city-usa/
Inés is a semi-retired teacher, living in a nice view apartment above the Gijón small boat harbor with a nephew as a part time boarder.
[NOTE: To enlarge any image, right click it and choose "Open image in New Tab" or similar.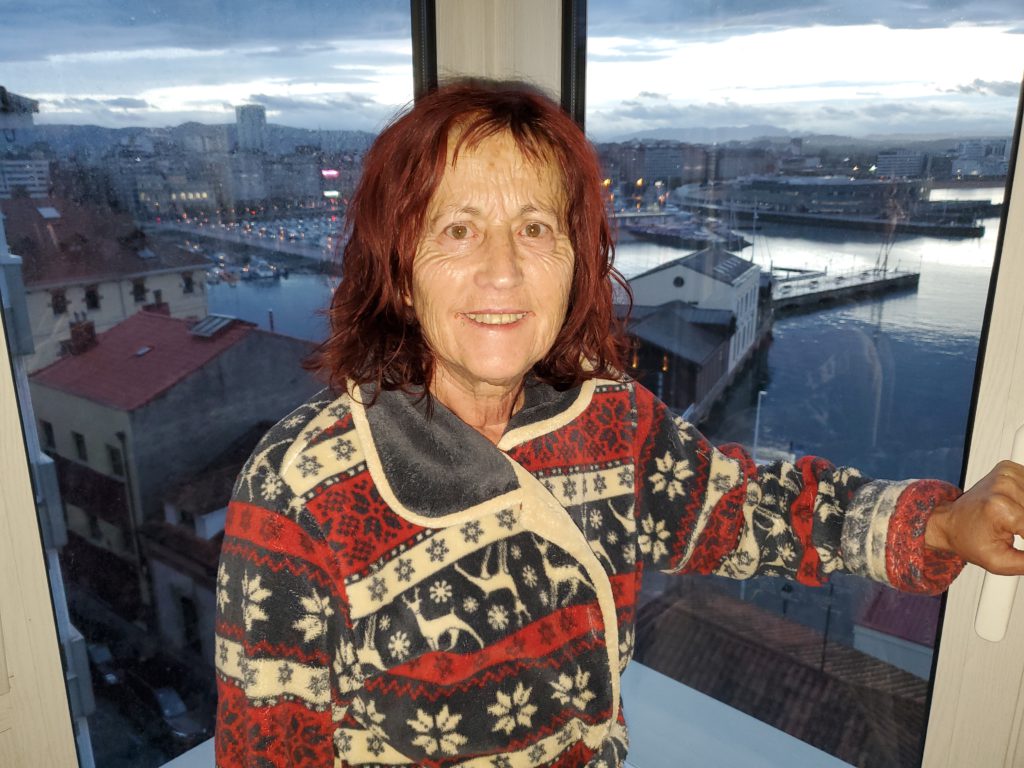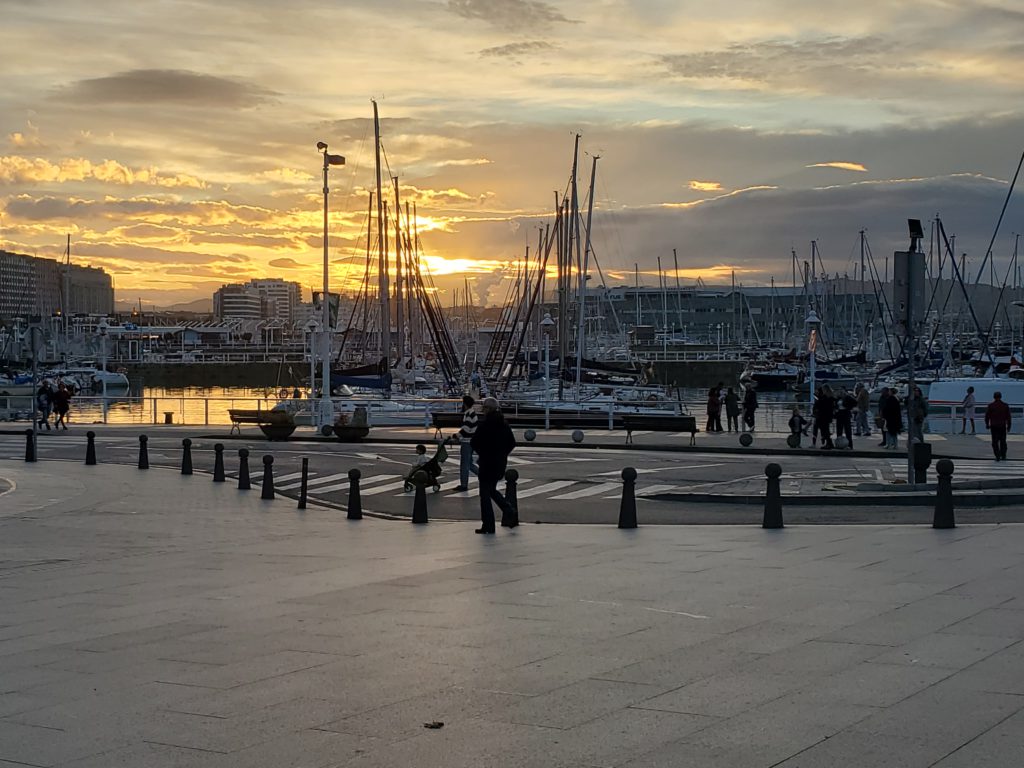 She speaks no English, so I have to function totally in Spanish with her. By now, that's not too difficult although much of the last few weeks I haven't been speaking it. Damn Europeans. So many of them speak very fluent English. Luckily, I can street park the car but I have to pay $5 to the beginning of the holiday free period at 6 PM. I think that's the first parking fee I've paid this trip.
Gijón is a bear for me to pronounce. In Spanish, the G and the J both have an H sound, but the G involves more phlegm and spittle, as in the German "ich". I really have to work at it to make the two variant sounds in quick succession.
After she feeds me a simple but tasty lunch, I accompany Inés on an errand. She has to pick up some boxes of heavy ceramic tile from a warehouse. She takes along a rolling suitcase in lieu of a wheelbarrow. At the tile place, we load the material carefully into the suitcase and take a roundabout way home to avoid any stairways. The suitcase is ok to roll cautiously but impossibly heavy to lift. Even preventing a runaway while descending a ramp is a challenge. After that she takes me on a long, walking tour of the town.
Along the water near her house is what looks like a giant glass Christmas tree composed of green bottles. Inés explains that it's a monument to "sidra". Asturias is famous for producing prodigious amounts of hard apple cider. There's a big festival for it in August. The shtick here is that the cider is poured into glasses at great height without spilling it, bottle and glass held as far apart as possible.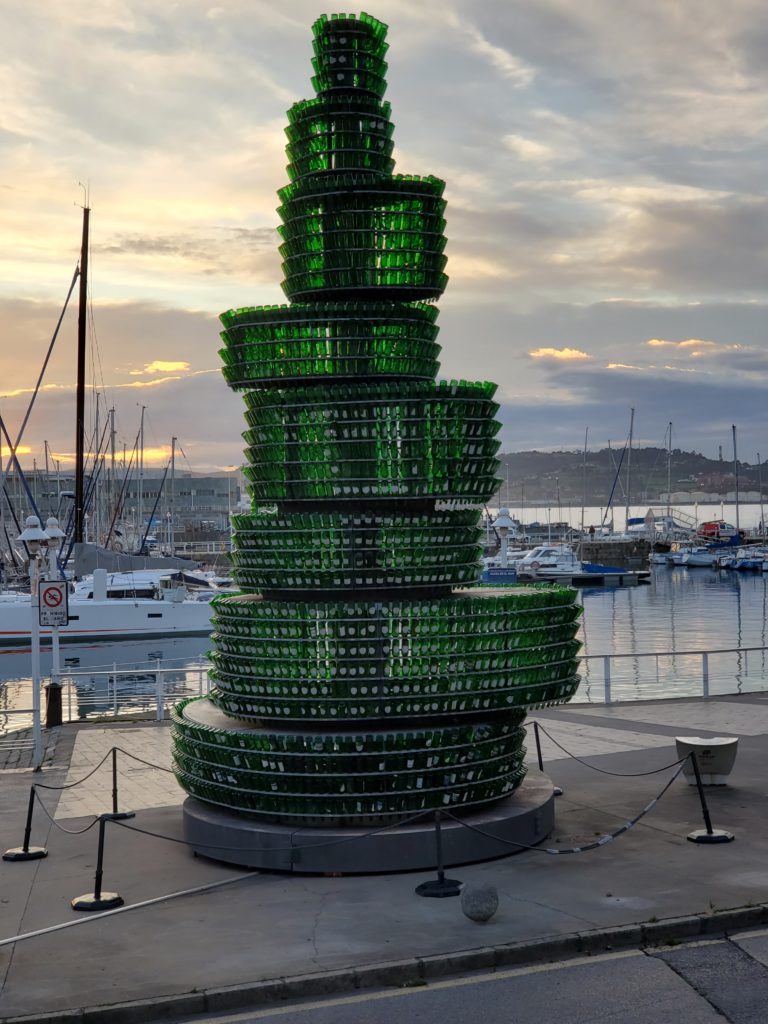 American Halloween has permeated Europe so there are many decorated balconies as well as costumed children seeking sweets from the stores. It's impossible to go from home to home knocking on doors in Europe because apartment buildings have access security and detached houses have walled yards.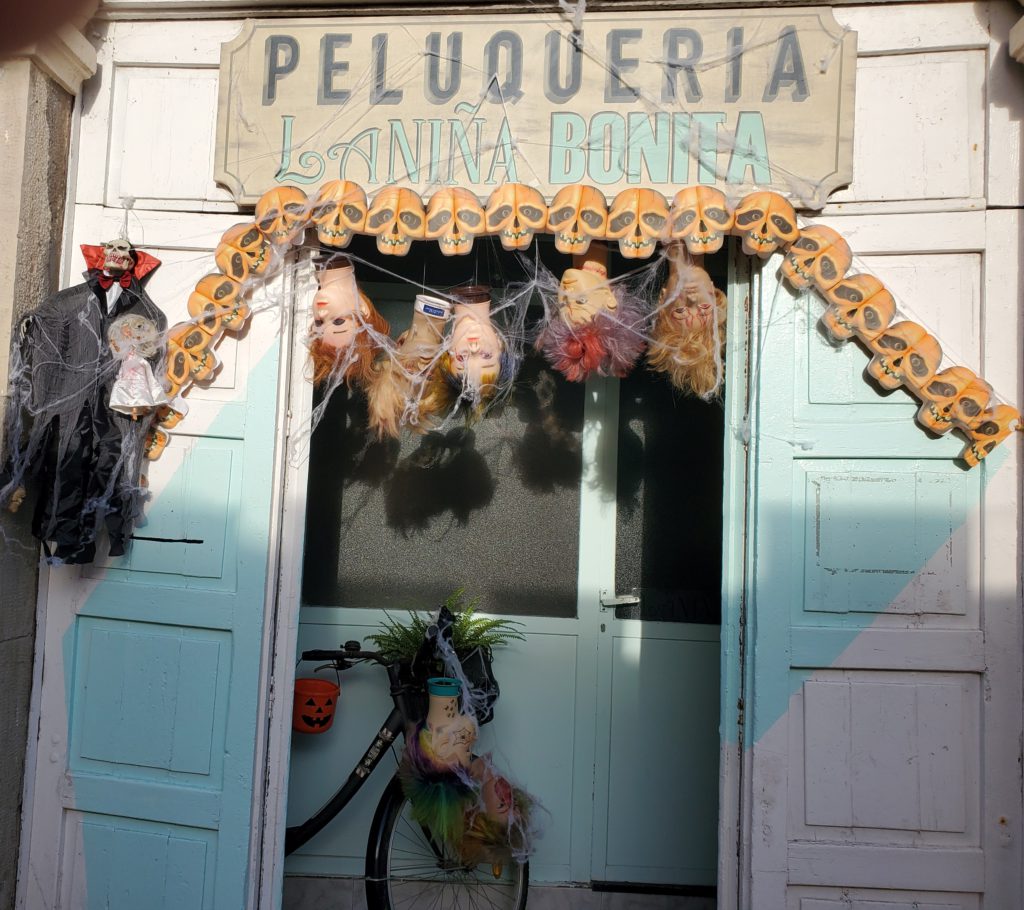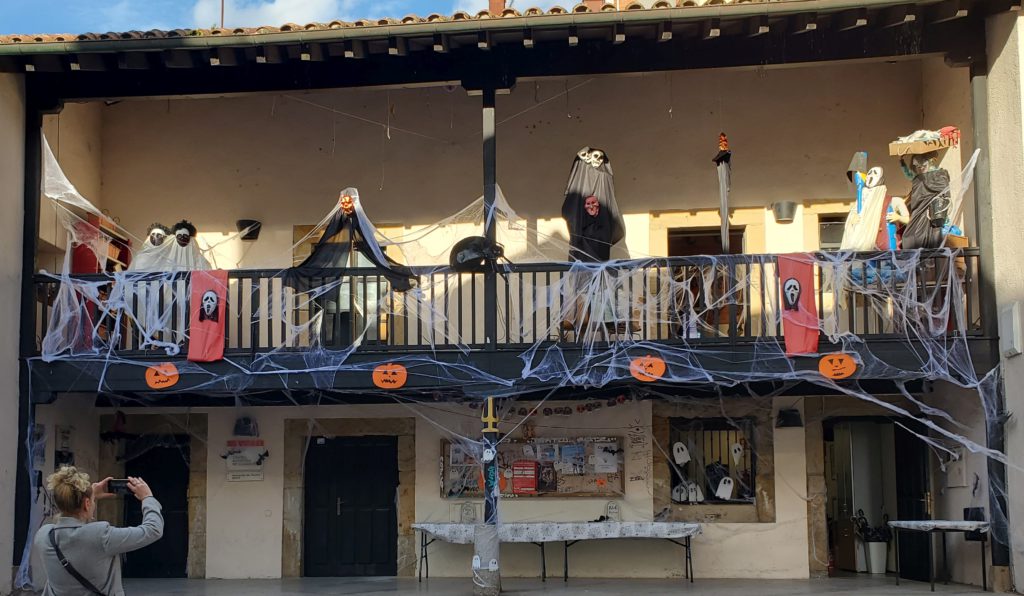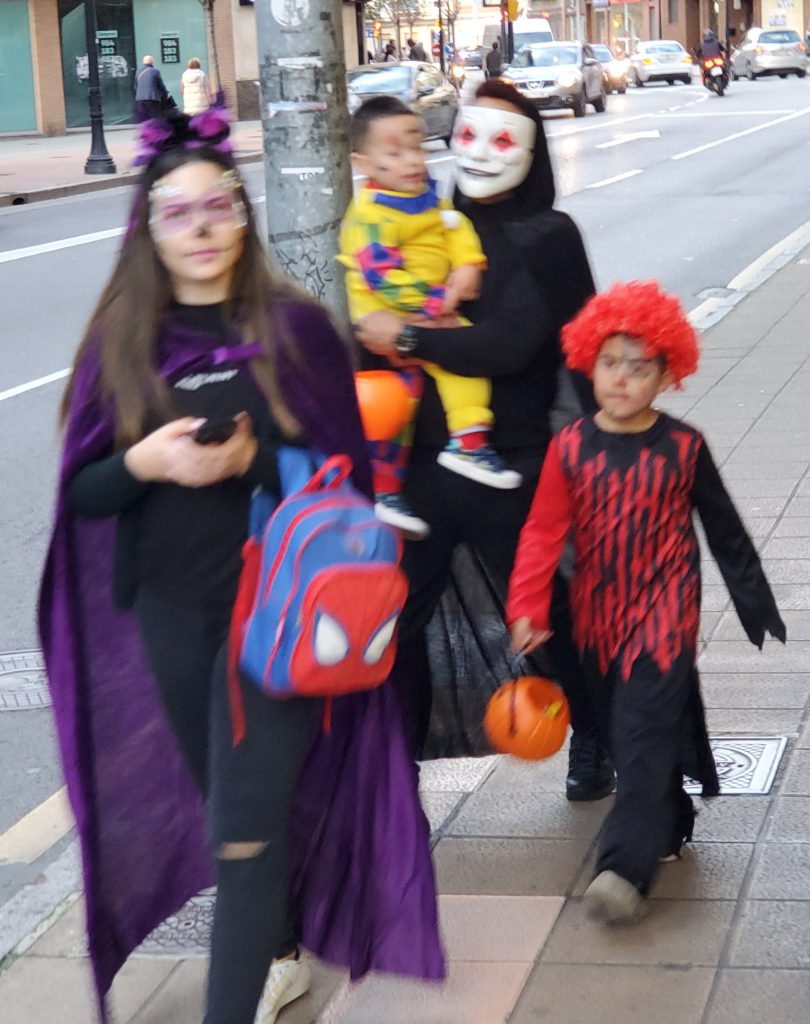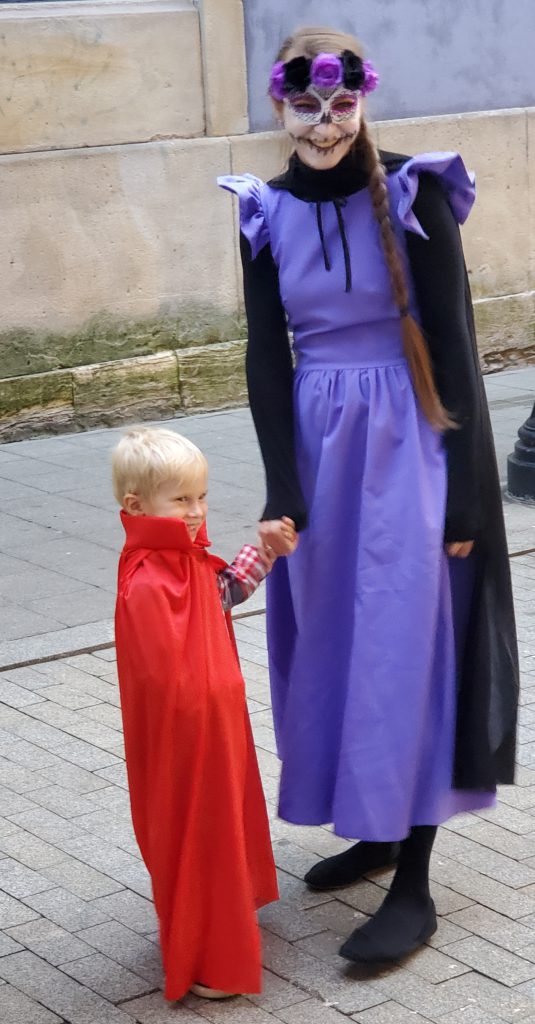 Part of our walk involves checking on the renovation progress of an apartment owned by a relative. Apparently, the tile we got is eventually destined for here. Inés seems very knowledgeable about renovation and engages the worker at length. I understand virtually nothing of their technical conversation.
Wednesday morning, I'm planning on sourdough pancakes. Inés has invited two friends to join us for breakfast, an Irish expatriate and his Spanish wife. We sit down at 9 AM but the two visitors have eaten breakfast earlier and Inés takes about one eighth of a pancake and then eats her normal cold cut and bread meal. I end up having to pull most of the load, a task for which I'm well suited but cooking for people is much more rewarding when they're big eaters. In 2016, in Labrador we made tacos for a family we were staying with. They were the best because every time I said, "More?" the unanimous answer was an enthusiastic "Yes!" We did the same when they fed us an elaborate Saturday dinner that included bear meat.
After breakfast, we're all going to take a walk but apparently I haven't been paying attention. The four of us leave the apartment, me in sneakers without socks, no phone, no water, and no sun protection. By the time I come to my senses we're on a 10 mile walk along the entire Gijón shoreline and back. Fortunately the sun isn't fierce and there's a coffee shop at the farthest point, but that distance without socks is likely to be hard on my feet.
As we stroll along the shore, we pass a number of statues and memorials. The most interesting is dedicated to the mothers who remained behind as many Asturian emigrants left to make a better life in Mexico, Cuba, and Puerto Rico. It's a rather poignant representation.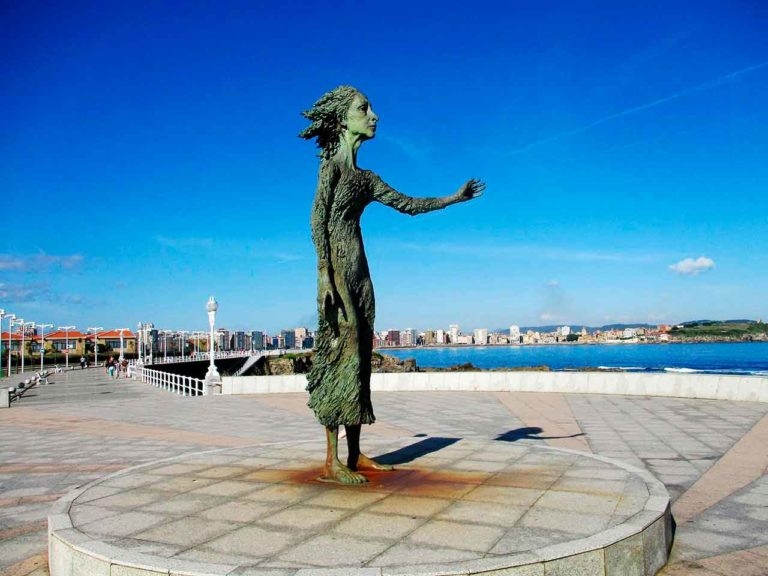 Our outbound destination is the Mirador de la Providencia, a tower looking out to sea, built in the shape of a ship's prow.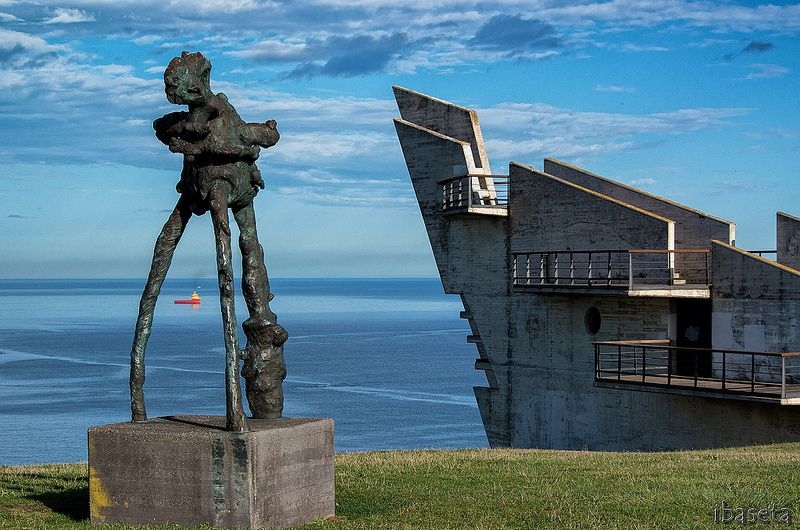 Nearby, we sit at a cafe for coffee and a pastry and then start the 5 mile return walk. By the time we get home, I've trodden carefully all day and just have one moderately abraded toe and no photographs.
The rest of the day is quiet as Inés takes a post-exercise nap and later makes another delicious, simple dinner. As is often the case, I've changed my plans at the last minute. I had planned on continuing west toward the northwest corner of the Iberian peninsula but Atlas Obscura highlighted a cavern to the south and since I'm a sucker for caves, I bought a $20 online ticket for 9:20 AM. The tour is limited to 10 people and only offered three times a week, so I'm lucky to have snagged a spot at the last minute. I'm up early Thursday, drag my bag to the car, and drive off in the dark at 6:30 AM.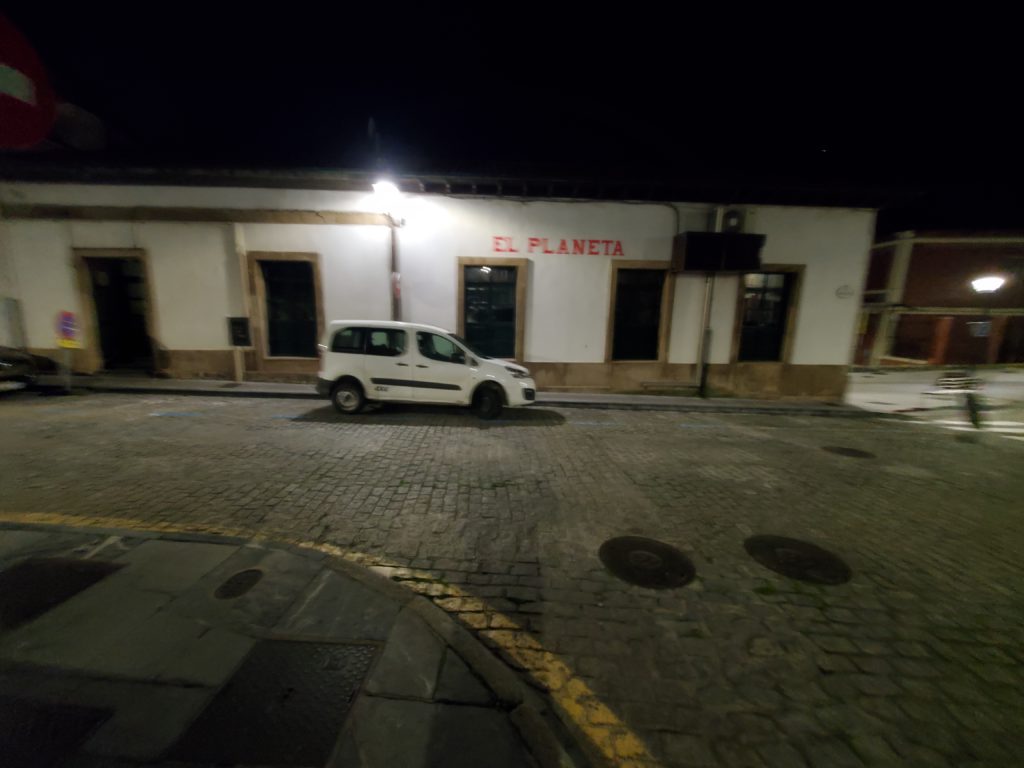 As I pass the seawall, waves are furiously crashing into it with spray splashing onto the promenade. Just yesterday, at low tide, there was a broad, sandy beach with many people. I'm surprised at the change.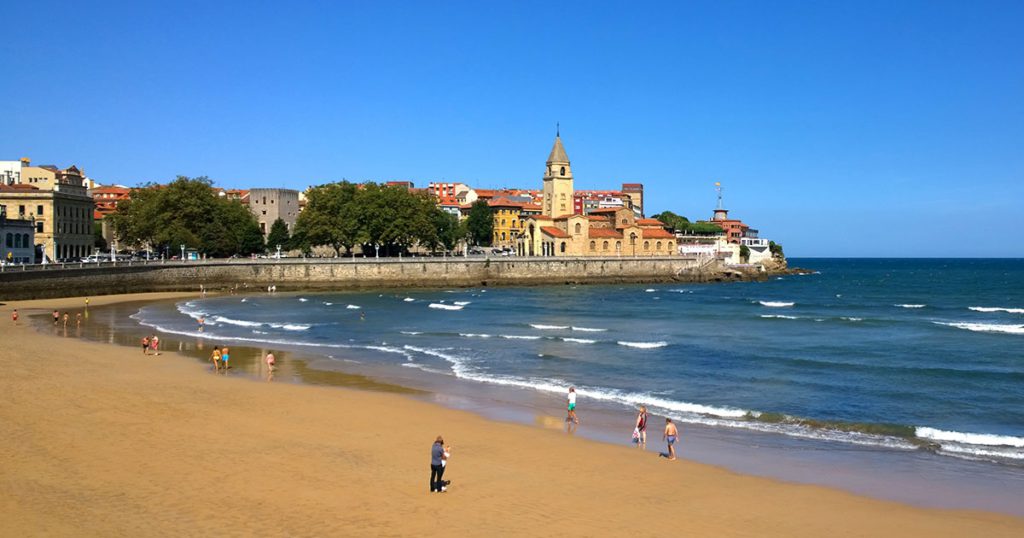 Leaving Gijón, I make the 90 minute drive to the south to my cave appointment.
Next post: https://blog.bucksvsbytes.com/2023/11/16/road-trip-europe-ii-23-11-02-23-11-03-i-go-underground/