Prior post: https://blog.bucksvsbytes.com/2023/11/10/road-trip-europe-ii-23-10-27-23-10-29-picos-de-europa-national-park/
I have an invitation from a Servas host in the coastal town of Gijón beginning today, Sunday, but when I contacted her last night to confirm, she said she wouldn't be home until Tuesday, so it's a good time for a writing and working day. Using my well honed booking.com lodging picking techniques, I've located a likely place in Gijón – very cheap, highly rated, breakfasts included – so I've reserved two nights there.
Periodically, I scan through Atlas Obscura, a list of usually quirky places all over the world. I often find destinations worth a visit there and I've got two possibilities lined up for today. Because they're not on my direct route to the hostel, I'm forced to retrace about 45 miles of yesterday's northward drive to reach La Cuevona. This is a road through a natural cavern that is the only vehicle access to the town named, appropriately, Cuevas (Caves).
Along the way, in Cangas de Onis, I take a break to admire a surviving Roman arched bridge.
[NOTE: To enlarge any image, right click it and choose "Open image in New Tab" or similar.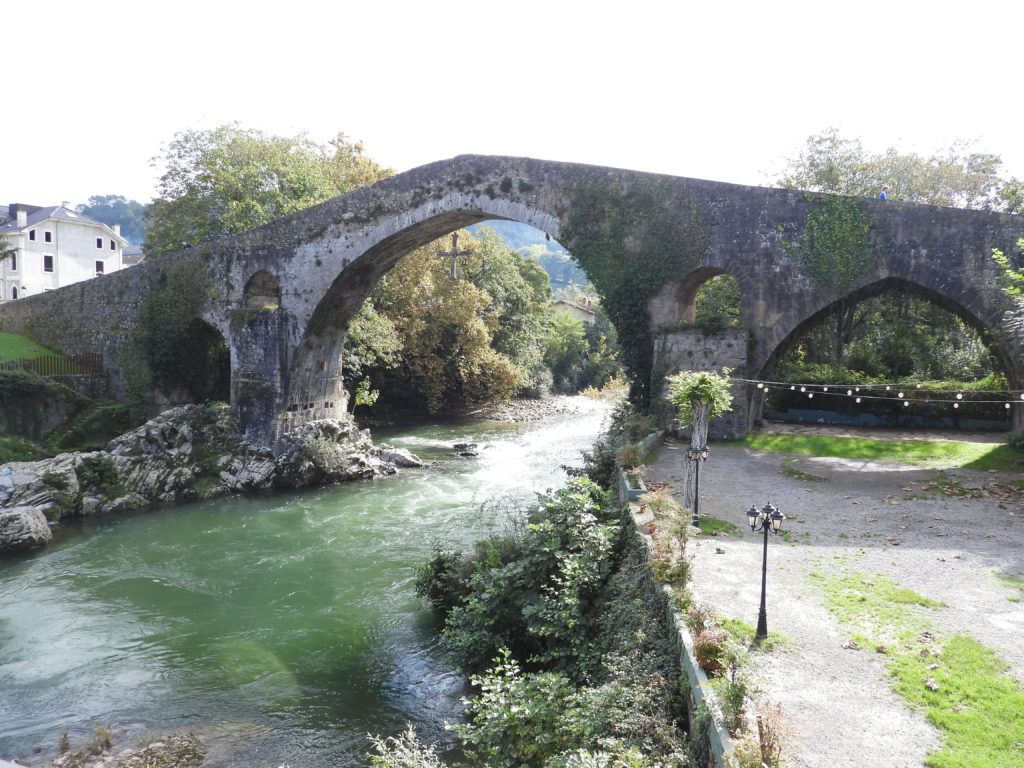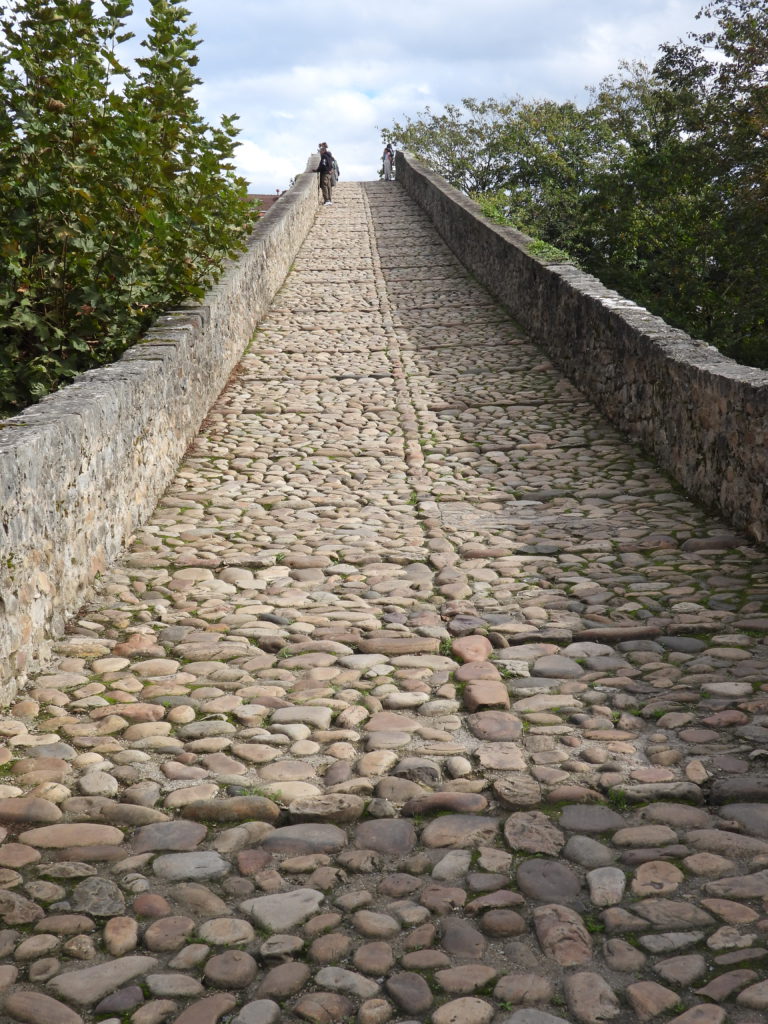 Leaving the highway, I wind and twist up and down a narrow road. Shortly after it ducks under the east-west coastal expressway I see what looks at first glance like a typical tunnel entrance. In this case, though, it's a natural tunnel. The road winds over 800 feet through a large cavern carved over thousands of years by the adjacent stream. I've never seen anything like this. Definitely cool.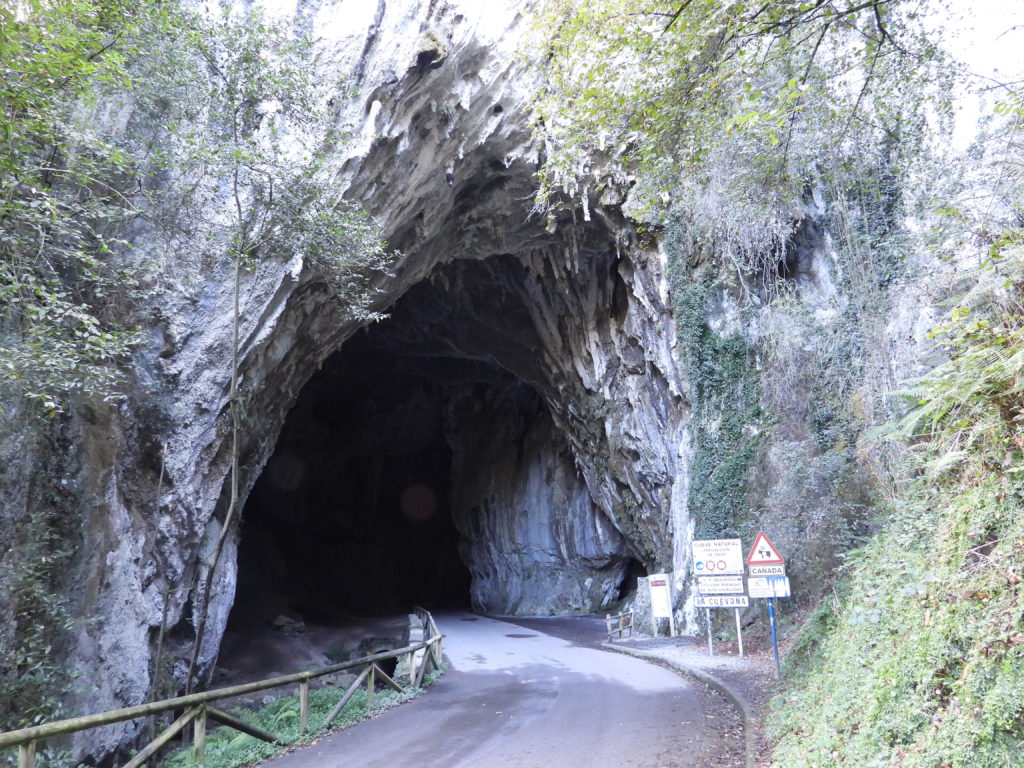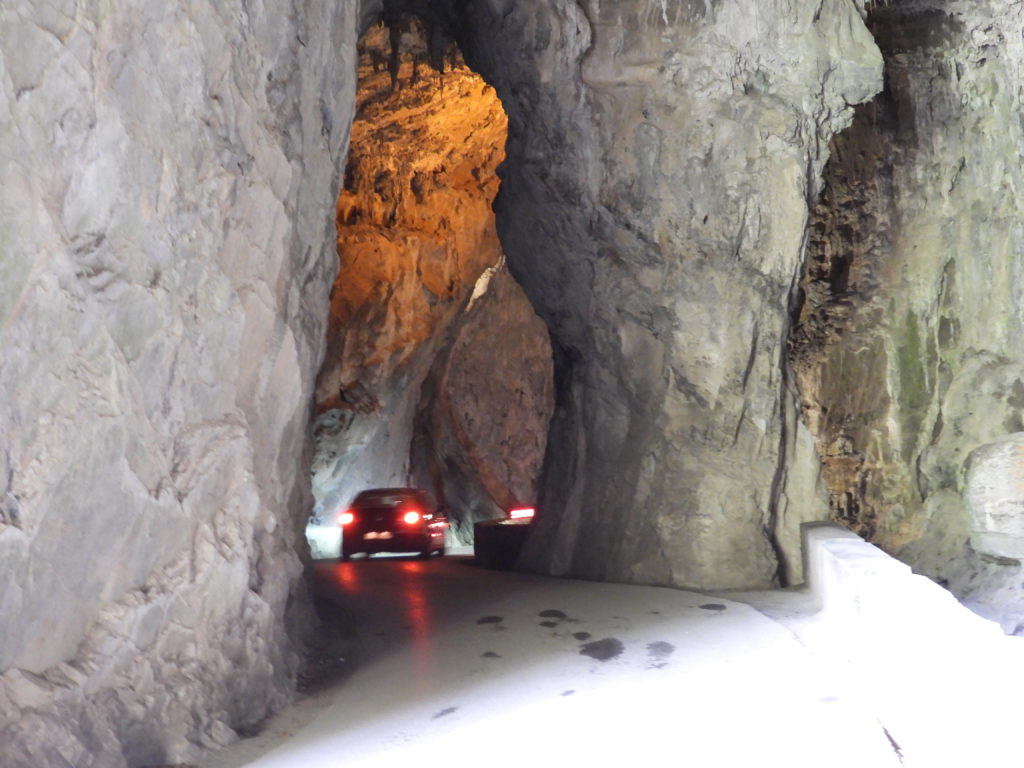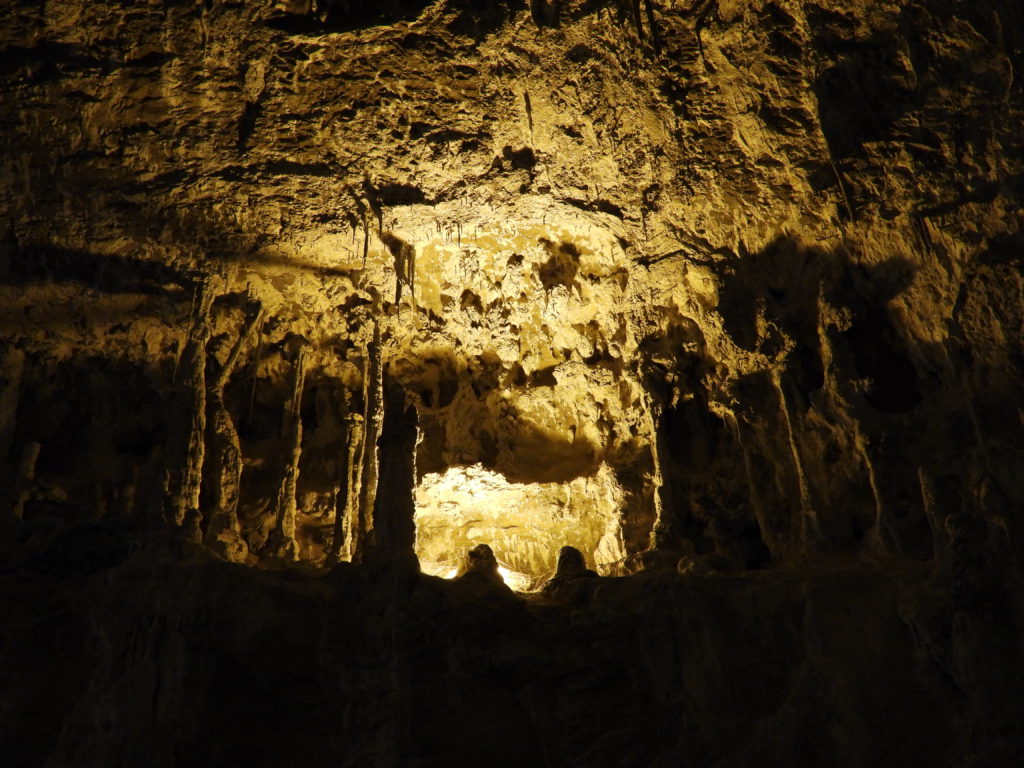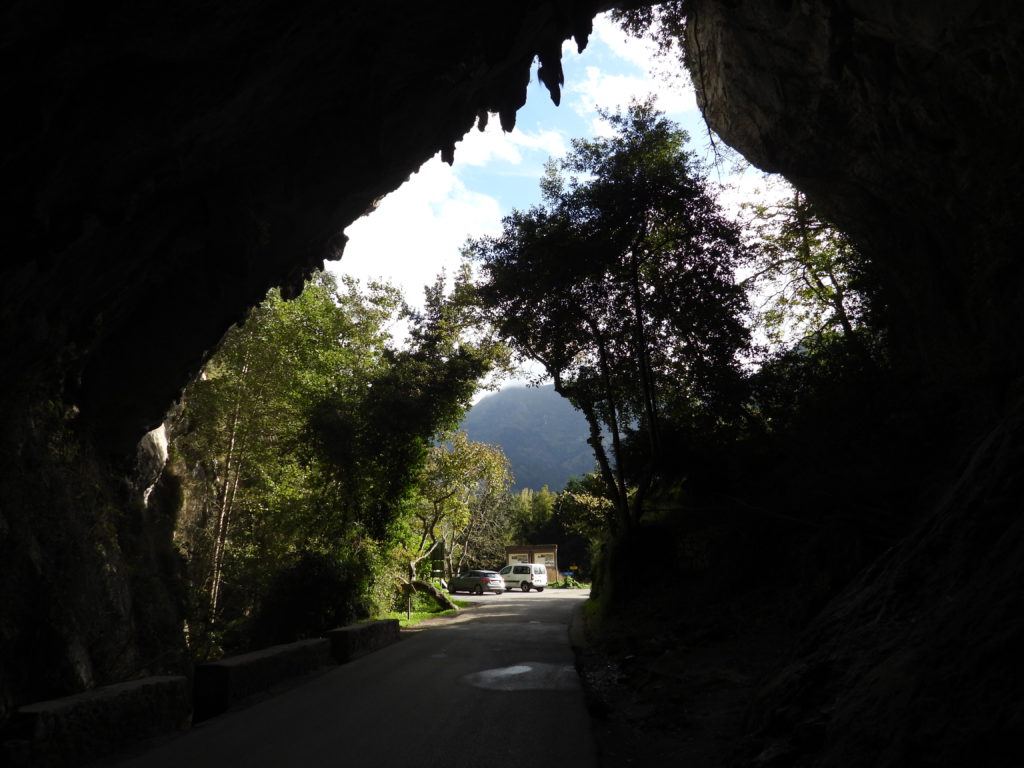 After gawking and walking a while, I turn west to my next destination, The Jurassic Museum of Asturia. Scenically situated on a 500 foot hill with an expansive view of the Bay of Biscay coast, its outdoor area is full of life size dinosaur statues. I've arrived late in the day so I decide it's not worth paying admission to the museum building, especially since I already know quite a bit about dinosaurs.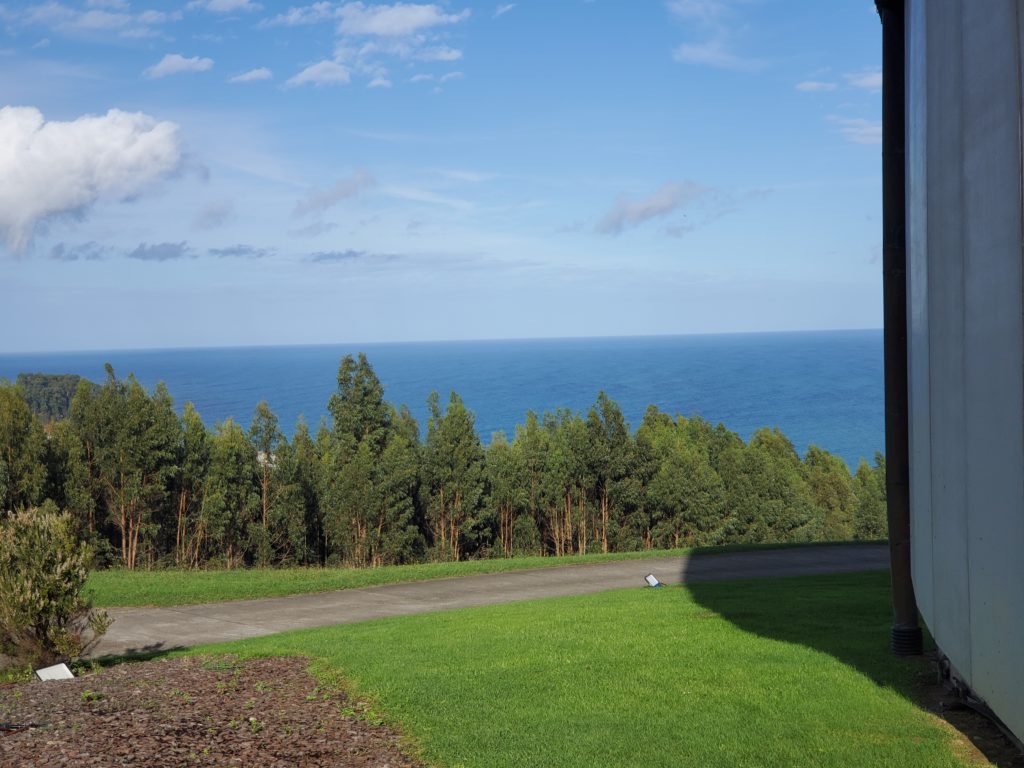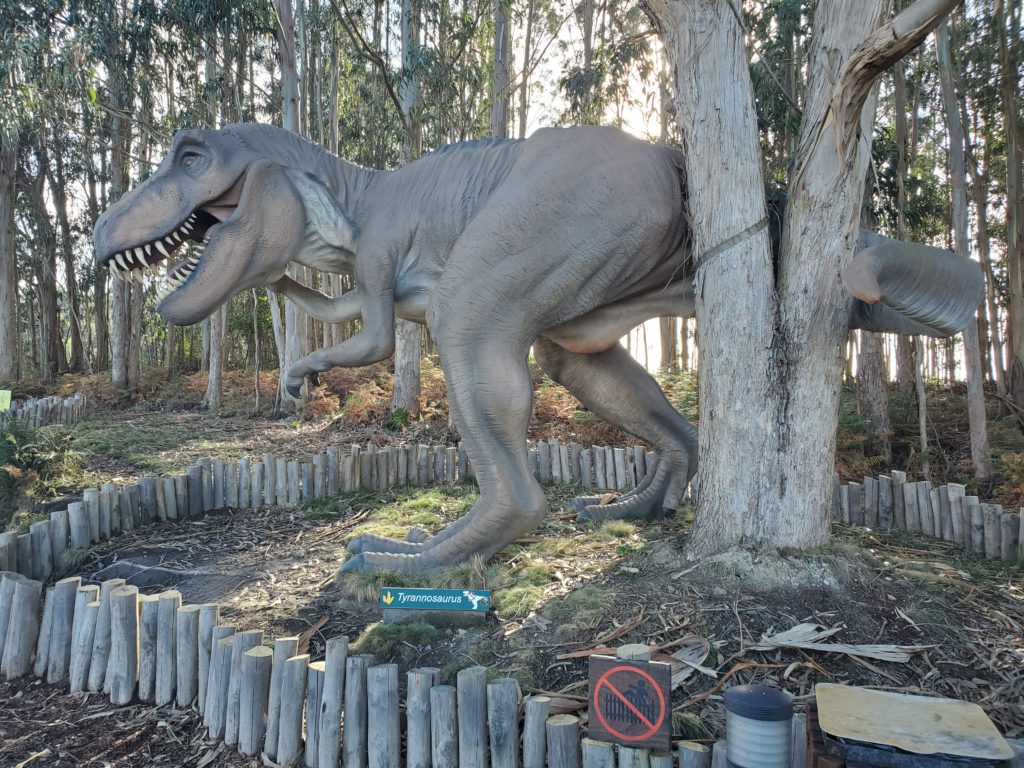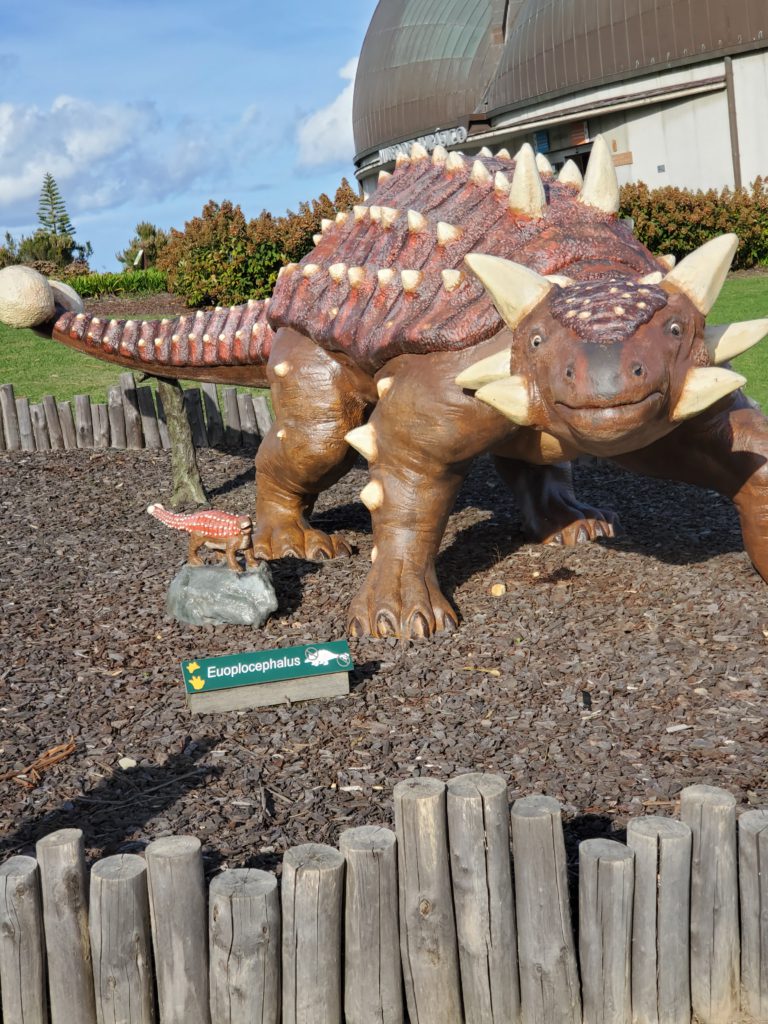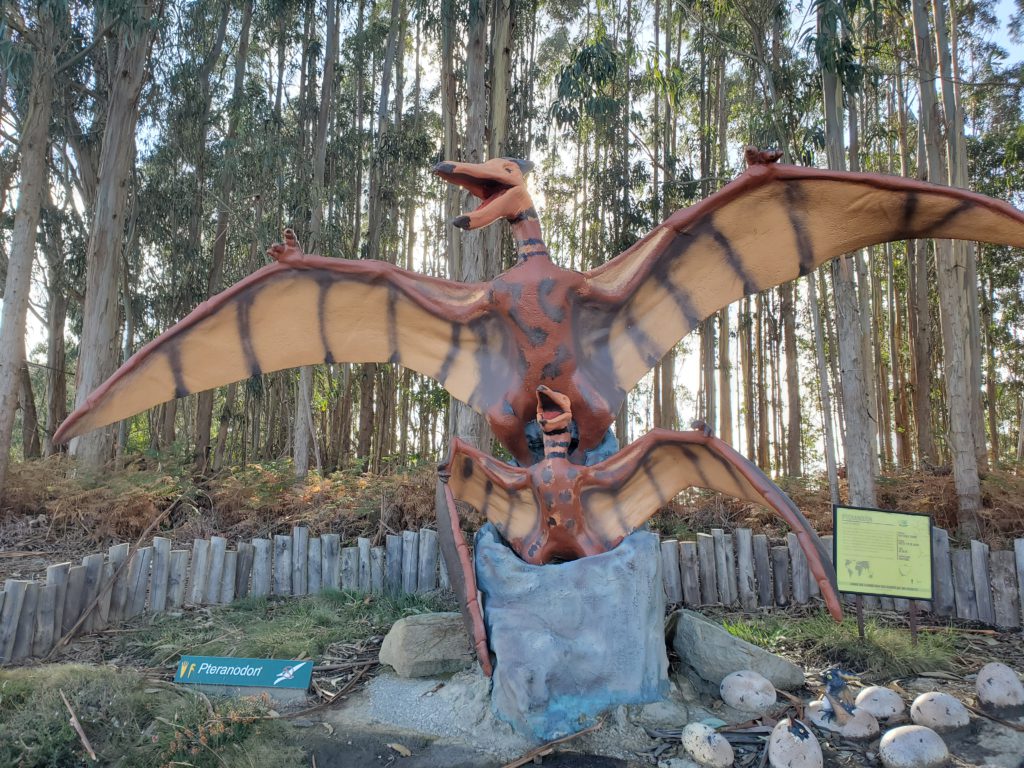 Continuing west, I wind through residential streets to the Gijón Surf Hostel (GSH). As I hoped, it turns out to be a great place. It's a large building, obviously purpose built to serve as a hostel. The staff is Workaway volunteers from a variety of countries, so the lingua franca is English rather than Spanish, which suits the mostly young, international guests. The place has many of the best hostel features – good internet, two well equipped guest kitchens, a front patio with picnic tables, a lawn with hammocks, a comfortable common area with couches, and a giant table with desk chairs, perfect for working. There's also a big, free parking lot around the corner where many RVs are parked (the owners would say they're camped).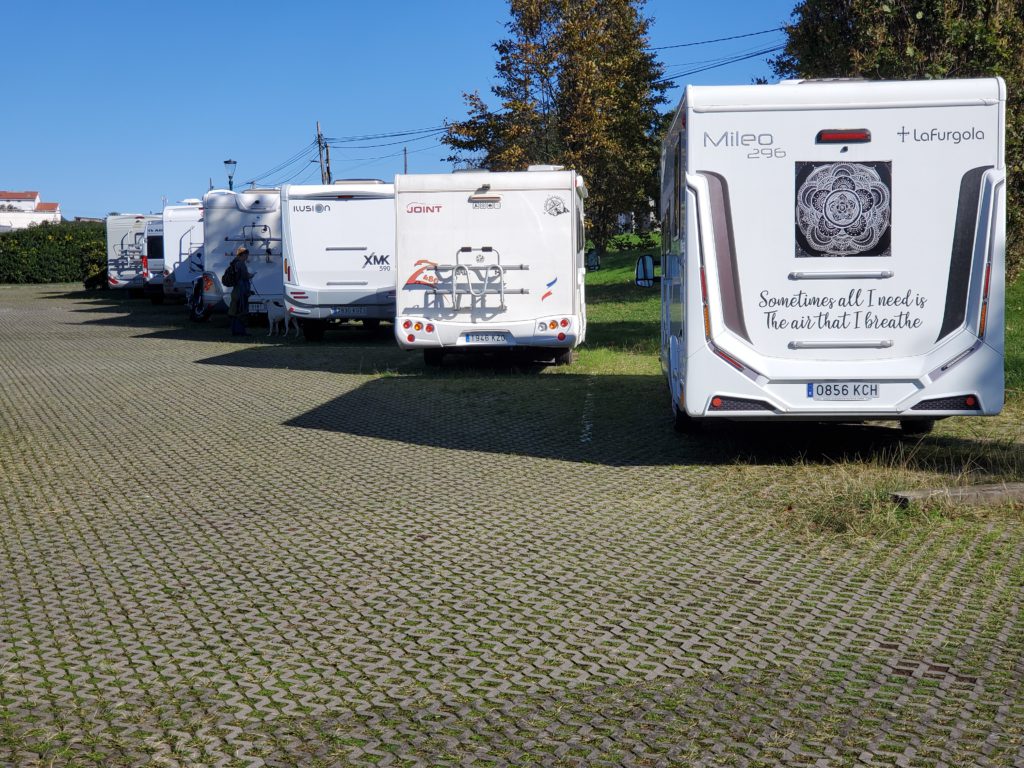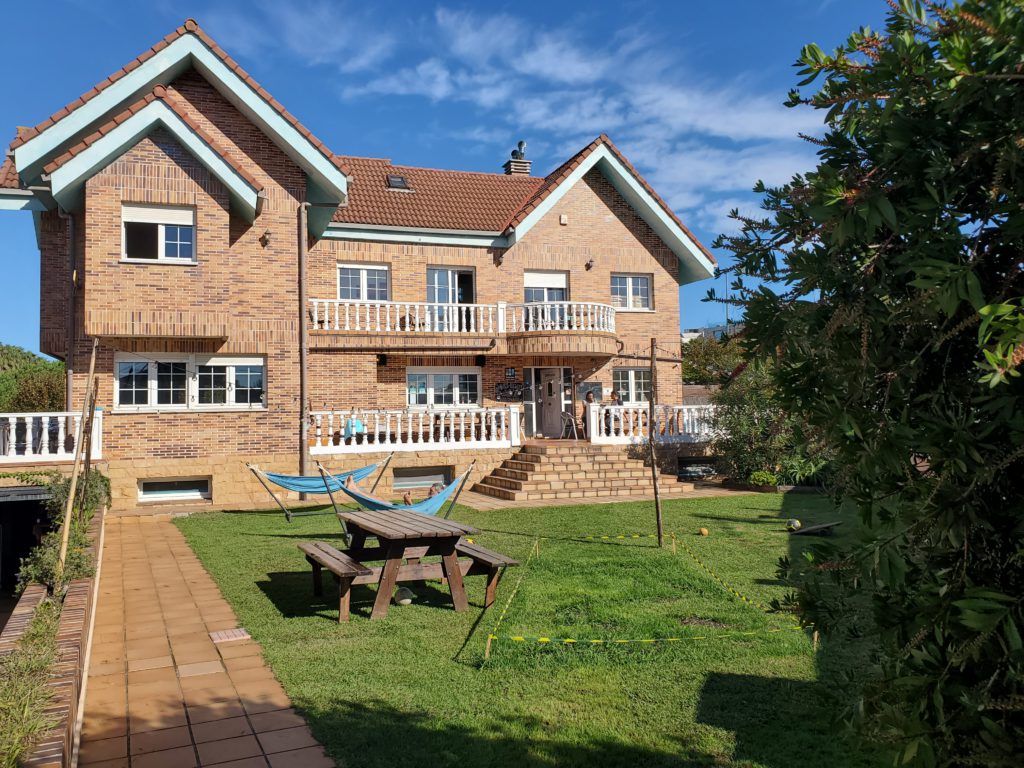 I check in, pay my measly $32 for two nights, stake out a bunk bed, refrigerate my perishables, and get online. GSH caters to surfers (water, not web) as well as other travelers. A whiteboard lays out the schedule for surfing lessons and gear rental charges. The basement garage has been converted to a surf shop. The beach is a few blocks away and there's a constant trickle of guests and staff coming and going there. As evening approaches, being too lazy to go shopping and knowing that breakfast is coming in the morning, I cook an inadequate dinner of two small pancakes from a bit of leftover batter I'm carrying,. My conversations are limited to a few hellos and brief introductions. At 12:30 AM, the staff locks up the common lounge for the night, so I close up the laptop and head downstairs to bed.
Breakfast is at 8:30 AM and I'm very hungry, so I'm at the kitchen door a few minutes before, milling with other eager guests and staff. It's a good breakfast, self service, all you can eat, but no hot dishes. It's way better than I have a right to expect for the piddling overnight price. I load up and eat at one of the picnic tables in the mild morning sun. This is where the conversations start. Gijón is on the Camino de Santiago, originally a pilgrimage route for Catholics. Rather than my conception of a single trail, it's actually a network of them, radiating inward (if that's possible) from assorted origins in France, Spain, and Portugal to Santiago de Compostela, a locale that has some important religious significance. Some of the routes are easy, some mountainous, all have food and lodging options along the way, so there's something for everyone.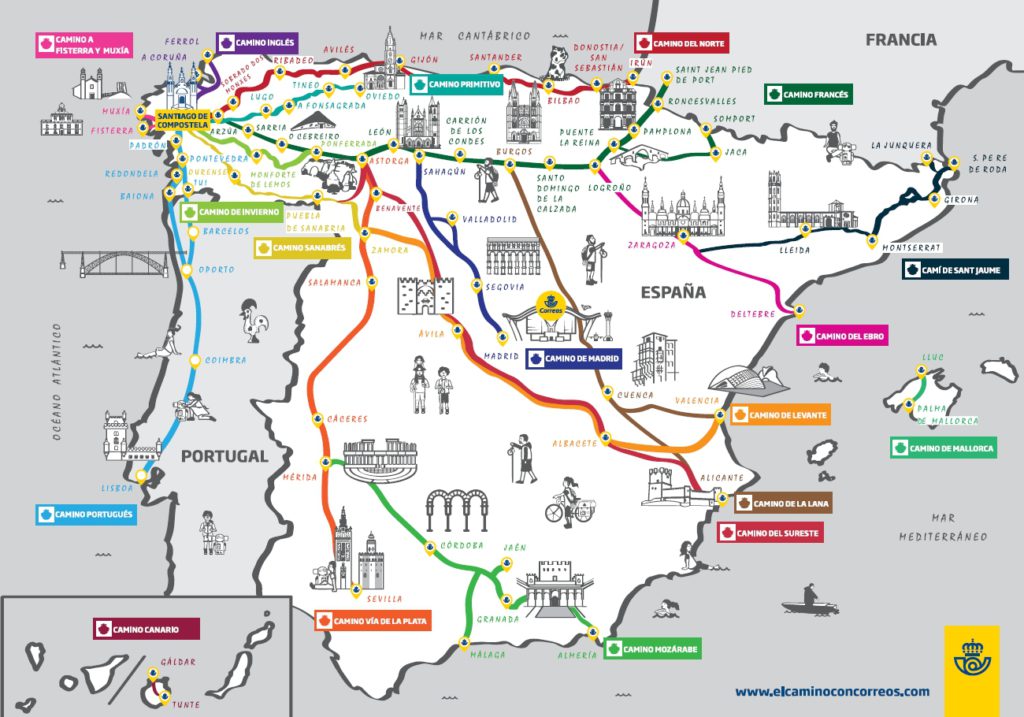 In modern times, many of the walkers are still devout Catholics, but there are people out for the hiking experience, couples sharing some joint adventure, and many people who are walking solo while they sort out the next step in their lives.
Gijón is along the so-called Camino del Norte, one of the easier routes that stays along the coast and avoids most of the heavy climbing. Interestingly, the shortest and easiest option is named the Camino Inglés. I guess it's targeted at candy-ass American and British walkers. My driving routes have intersected the Camino many times since I left Girona. The route is well-marked and there are walkers everywhere along it.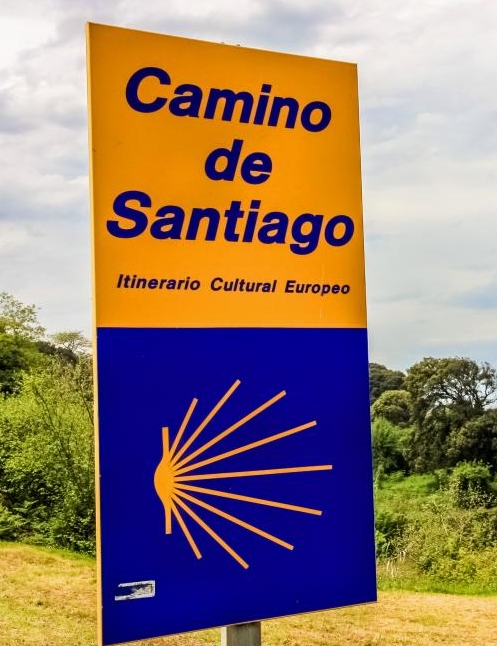 One flaw is that in many stretches, the Camino is on roads, although often separated from the traffic lanes by several feet. I suppose if you're walking to find god, penitently flaying your back with willow branches (this is just my imagination), the route environment is irrelevant. As a hiking experience, though, road walking leaves a lot to be desired.
I have two long conversations with walkers. Lena, a young German woman in her late thirties had been a dancer for 20 years and found the professional opportunities becoming intermittent and the toll on her body significant. She dumped a long-standing but unsatisfactory boyfriend and is walking solo to contemplate her future. She's learning guitar, and writes poetry in a couple of languages. She came off the trail with a miserable blister and has catered to it for two days. Even more or less healed, it's the ugliest walking wound I've ever seen, but she can't afford to tarry longer. During her stay, she spends hours in the lounge strumming and singing. She's not at all a typical German.
Roger, a German-Swiss, is a devout believer in the validity of the stories in the bible. His religious intensity doesn't prevent him from being social and friendly with atheists such as myself and we speak at length of our different approaches to the scientific evidence of earth's longevity and the indications or lack thereof of godly existence. He and his wife are walking separate Camino routes to enhance the religious import and rendezvous every several days before resuming their solo journeys.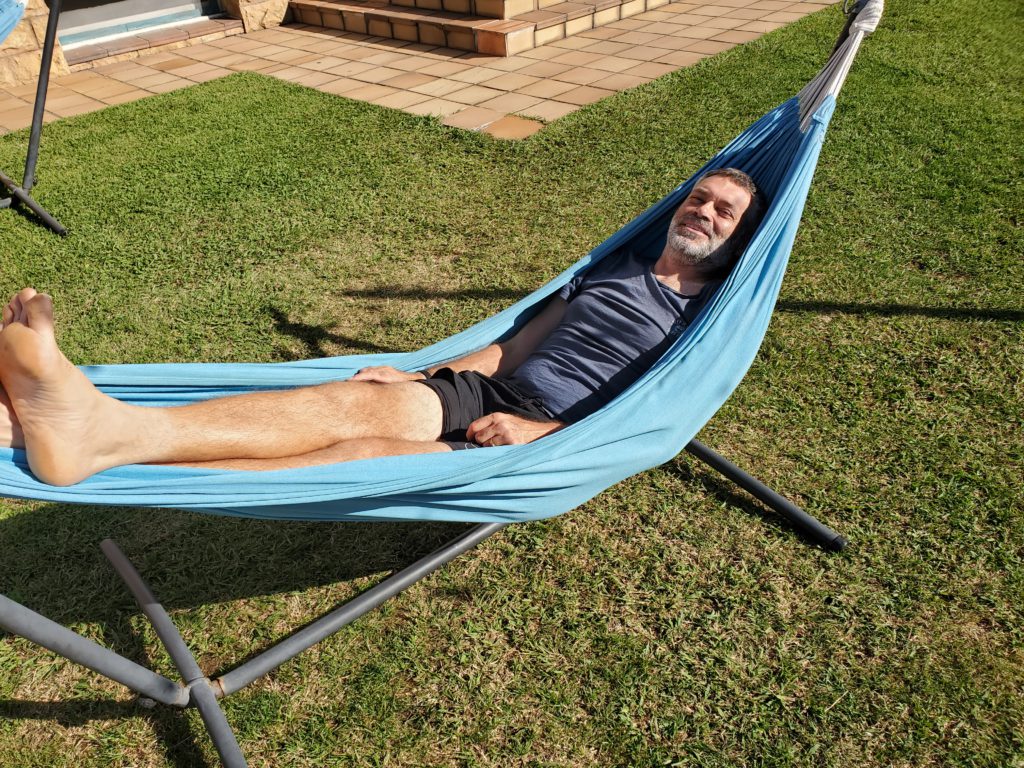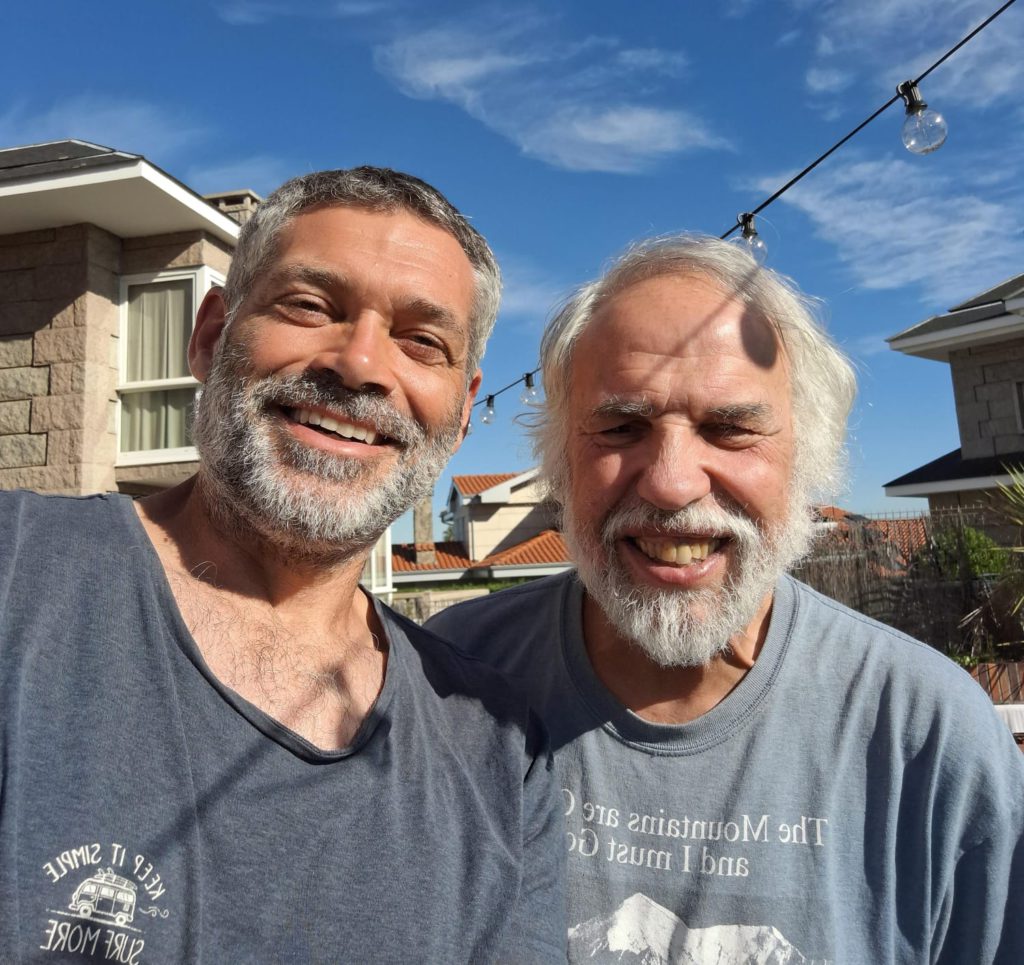 By contrast, the non-walkers are out for fun. One trio of Workaway women had planned to take surfing lessons today but blow them off in favor of a shopping expedition in town. Hannah, a young, long term traveler originally from British Columbia, spends at least an hour talking to another volunteer about her various options for getting her first tattoo, or two or three. This is a bit disconcerting to me as a parent as she has the physical appearance of a high school freshman although actually she has finished university. It took me years and long periods in Argentina where virtually every female has prominent tattoos to at least partially change my view of ink from bodily mutilation to a true expression of art. Another vivacious volunteer from rural Germany is making plans to move to Berlin, hit the techno clubs, and put more excitement in her life. The surfers talk about little but surf conditions. I mainly see them peeling in and out of wet suits.
In the afternoon, I get into a conversation with 3 guests, Tom (German carpenter), Hannah (German wanderer), and André (Belgian wanderer). They're volunteering at the second home (finca) of the hostel's owner, so as a fringe benefit they can stay here free on the weekends. They're due back at the finca this afternoon but it's a long bus ride and then a long walk to the rural site. Since I'm on vacation, I offer to drive them home and they gratefully accept.
About 3 PM, we take off heading back eastward, the direction I came from. During the ride, I tell them about La Cuevona. They weren't aware of it and it turns out to be quite close to where they're staying so they resolve to bike over there at some point. Tourist advice, just another service I provide.
It's about an hour's ride to the finca so, as a token of appreciation, they offer to show me the local sights before I drop them off. We ride small roads to a very attractive little waterfall and swimming hole and then proceed to an impressive rocky outcropping with panoramic views and constant, fierce wind.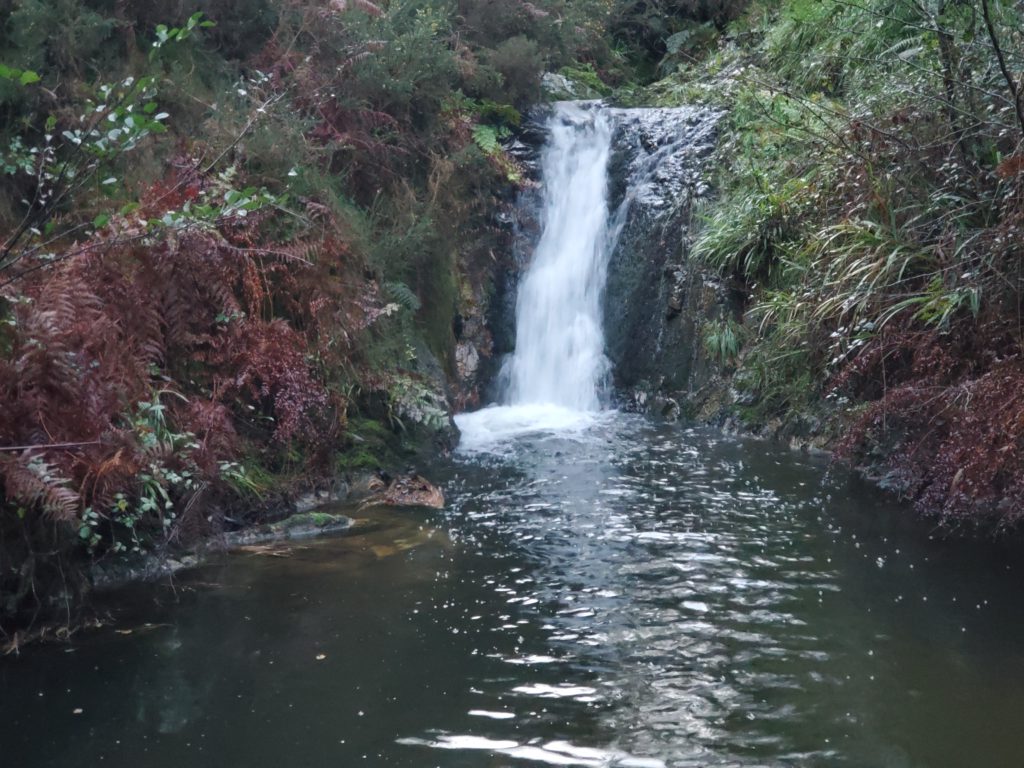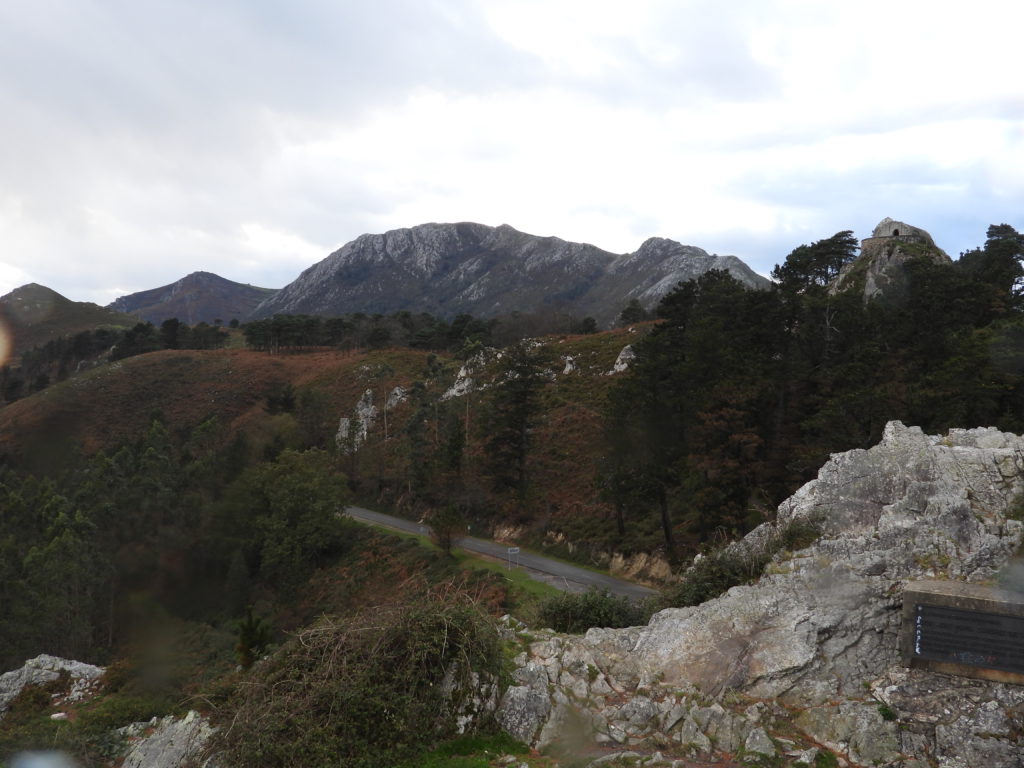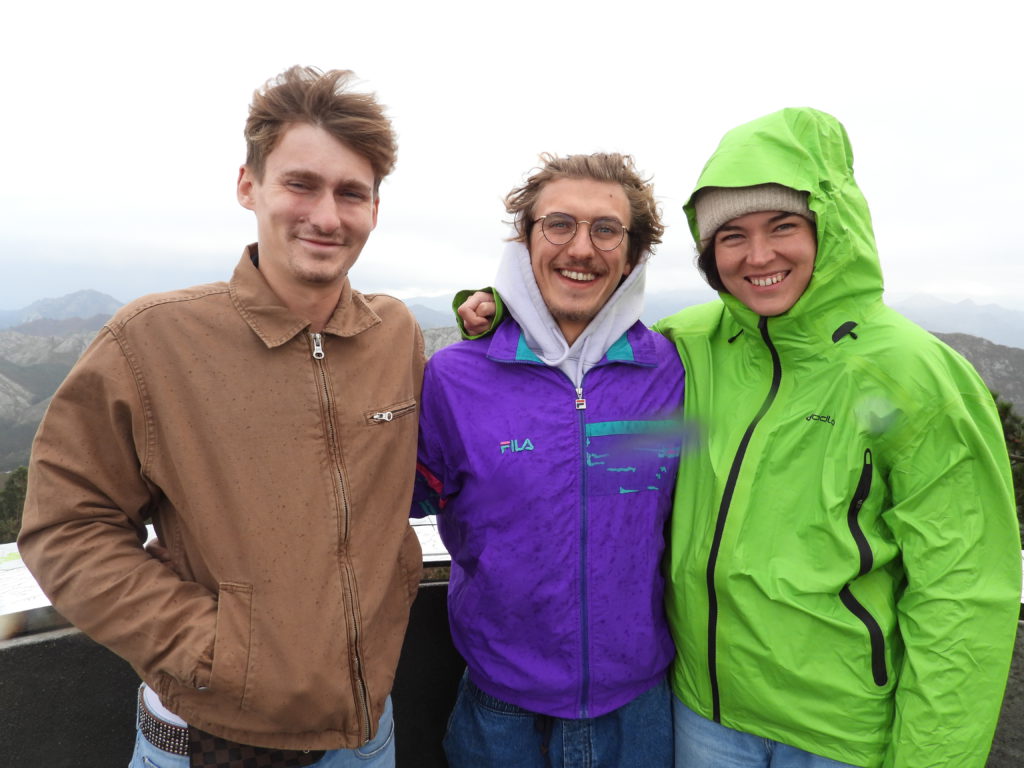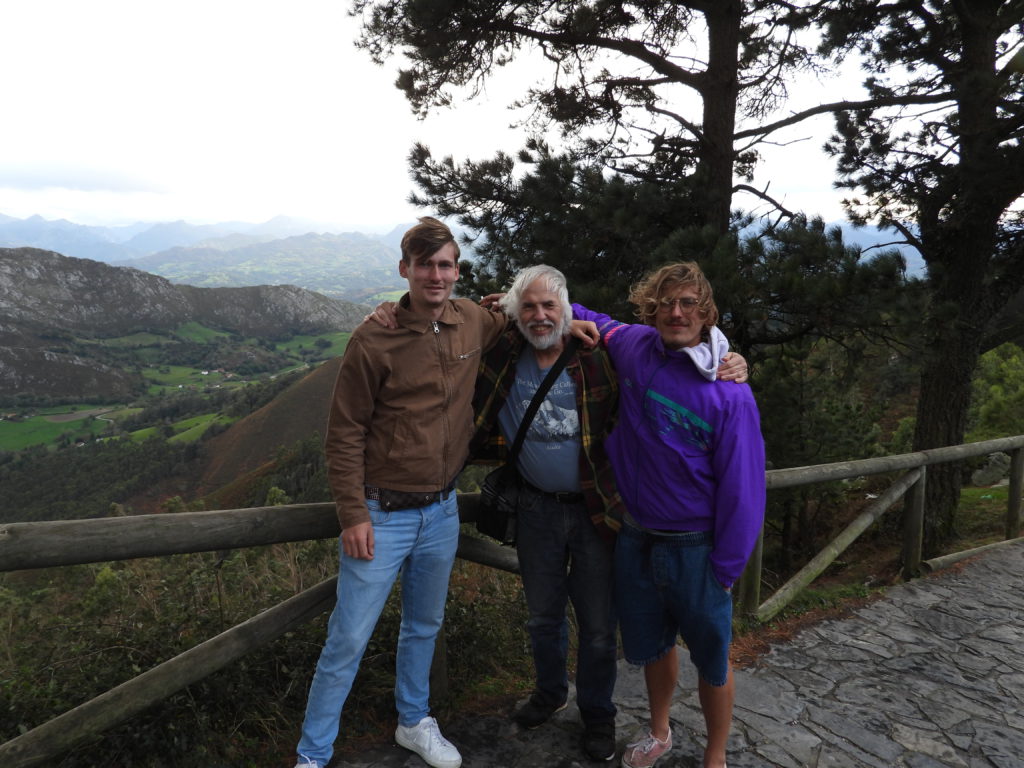 By the time we get to their home, there isn't much light left, so after a brief tour of phase I of the premises in their current state, I leave for Gijón.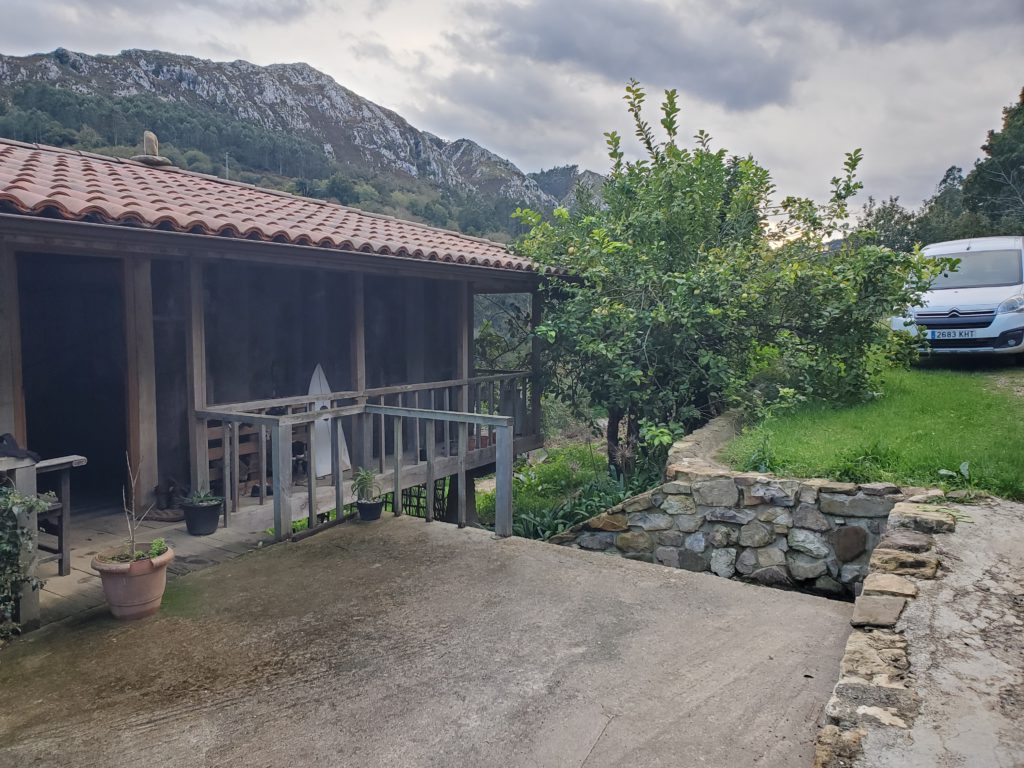 To avoid backtracking, I pick a more circuitous route on Maps. I figure there's just enough light left to drive it and get back to the expressway by full darkness.
You won't be surprised to hear it doesn't work out as planned. The route I've picked is a steep lane which then turns into a dirt logging road. I plug onward but finally there are so many branches across the narrow way that I'm starting to lose traction. Finally, I can't proceed upward any further. I could back down a little and get a running start over that spot, but I have no idea whether I'll encounter some more obstinate barrier further up the hill. This road clearly hasn't been used in a long while. Discretion being the better part of valor, I decide to abandon the project. This is easier decided than accomplished.
The road is literally only a few inches wider than my wheel track, with a steep uphill embankment and a precipitous downhill drop with uncertain, crumbly edges. There is absolutely zero chance of a U-turn. My only choice is to reverse down the road until I find a spot wide enough for a 10-leg K turn, and I know that spot is a long way below. So now I'm backing down an impossibly narrow road, in the gathering dark, with extraordinary care because a 6 inch mistake could put one of my wheels over open air, or maybe the entire vehicle far below in the valley. I'm managing this, keeping the wheels in the appropriate spots. The road is generally straight but undulates gently so I can't just back straight down. Every few meters I have to adjust the direction slightly. This is painstaking work with almost no tolerance for error. Many times I see I'm on the wrong track and have to pull uphill a bit to correct the car's alignment. My backward progress is more suitable for measurement in furlongs per fortnight than miles per hour.
It's now very close to totally dark so I have only my backup lights, and perhaps ESP, to keep the car on the road. At one point I'm ready just to put the brakes on and sleep until daylight, but that would mean missing my prepaid breakfast [joke!] so I plug on. I remember, i.e. I think I remember, seeing a wide spot not too much further down. It takes me about 90 minutes to back down about 1300 feet – an average speed of under 15 feet per minute – infants crawl faster — with total concentration the entire time. It's with considerable relief I reach the wide spot, "wide" only by comparison, and take about 5 minutes to safely manage the U-turn. Once pointed downhill the remainder is a piece of cake. I mean I now have headlights to show me the eroded dropoff side of the road.
Of course, there are no photos of my predicament because when these things are in progress, I'm not thinking about recording them until the problem is solved. Too late, then.
I stop at a supermarket for groceries, get back to the hostel quite late, make myself a good dinner in the deserted kitchen, and get some well earned sleep.
Tuesday morning, Halloween, I pack up my stuff, gorge on breakfast, say goodbye to a few new acquaintances, and head across town to meet my host, Inés, at about noon.
Next post: https://blog.bucksvsbytes.com/2023/11/14/road-trip-europe-ii-23-10-31-23-11-02-a-different-milieu-in-gijon-asturias/