Prior post: https://blog.bucksvsbytes.com/2022/12/11/road-trip-europe-22-11-28-31-the-spanish-car-buying-experience/
[NOTE: To enlarge any image, right click it and choose "Open image in New Tab" or similar.
I haven't spoken yet about being in Catalonia, a portion of Spain that, despite already being an autonomous region, has its own succinct culture and wants to be its own nation. The language of Catalonia is Catalan, not an offshoot of Spanish, but its own separate Romance language dating back to the original divergence of Latin into dozens of new languages including Italian, French, Spanish, and Portuguese. Almost all commercial and, among Catalonians, social speech in the region is in Catalan. Typically, the only non-bilingual Spanish you see written is by Federal agencies. It's similar to the attitude toward English in Quebec, Canada.
The desire for independence has long smoldered here but picked up speed in 2009 when communities held the first of three symbolic referenda on nationhood. In 2012, the first ever pro-independence majority took control of the Catalonian parliament. They held a protest-filled, binding independence referendum in 2017 which the Spanish vigorously blocked as illegal, including with violent police action before and during the vote. When the regional government voted to declare a Catalonian republic, the federal government treated it as treason, suspending Catalonian autonomy and moving against political leaders, some of whom fled into exile to avoid imprisonment.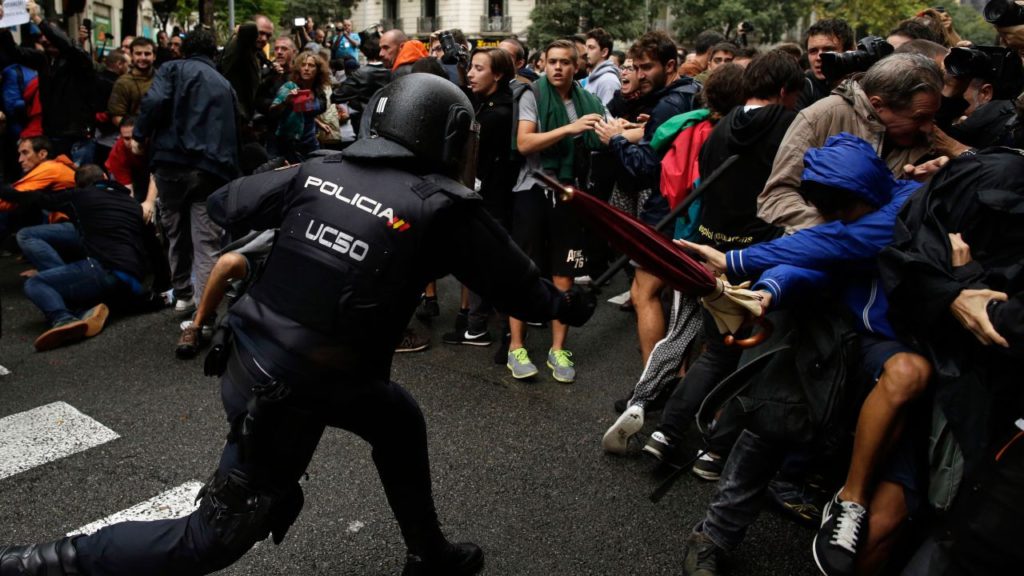 Bottom line: many Catalonians are mighty pissed off and not inclined favorably to residents, like my son Eric, who can't speak the language.
Once I have the car, which will be titled and insured in Eric's name, not mine, I want to carry a power of attorney from him that lets me treat the Berlingo as my own if anyone questions me. I print out a reasonable power in both English and Spanish and set off Friday on foot to find a Notario to authenticate Eric's signature. Well, that's a bust. With the help of Google Maps, I ferret out 5 offices all of which either tell me they can't do it today or are closed early for the weekend. I really want that document but I'm not sure there will be time on Monday morning to get it along with picking up the car and Eric's noon departure on vacation. No point in fretting since it definitely isn't going to happen now.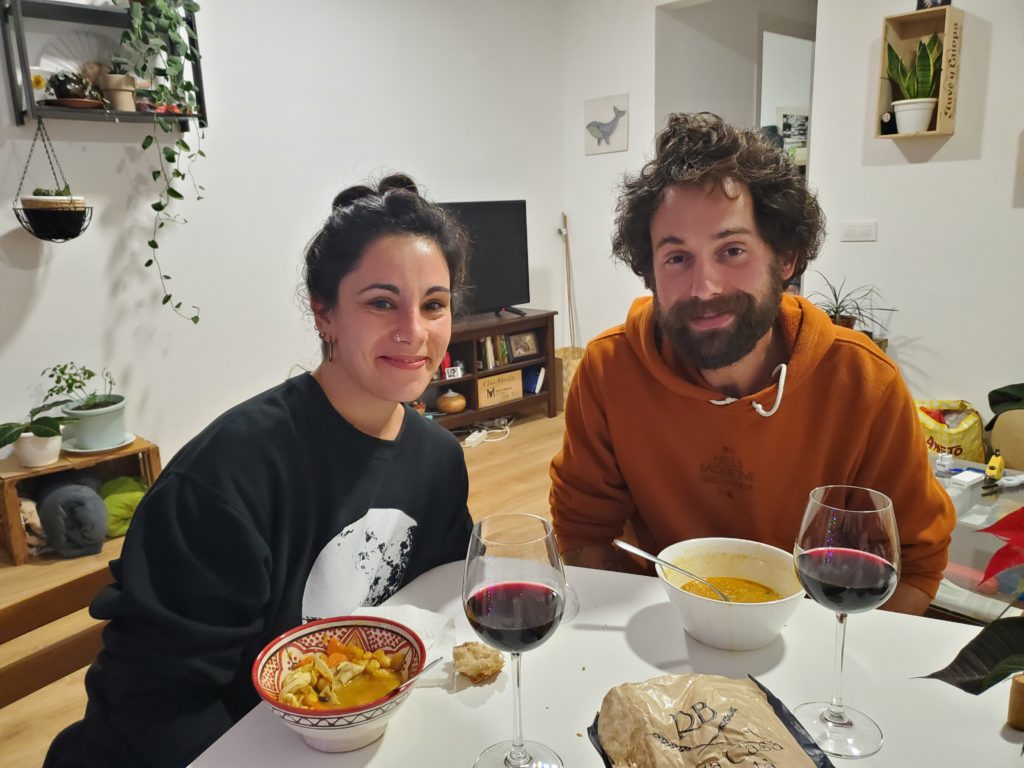 Saturday morning, Eric — who historically has disdained my cooking and in particular my buckwheat-sourdough pancakes — surprises me by saying he's purchased buckwheat flour (in Spain it's called Saracen flour) and invites me to cook pancake breakfast for him and Gemma. I gladly launch into the task, although I haven't been off the plane long enough to get a new sourdough starter established. They seem to enjoy the resulting buckwheat/wheat flour pancakes, judging at least by both of them taking second helpings. Eric even has a small jar of maple syrup on hand.
After breakfast, we pile into Gemma's car and head about an hour up toward the Pyrenees, the rugged tectonic mountain range that divides Spain and France. For our outing, we're only going to the "pre-Pyrenees" for a short but steep hike to Mare de Déu del Mont (Catalan for "Mother of God of the Mountain").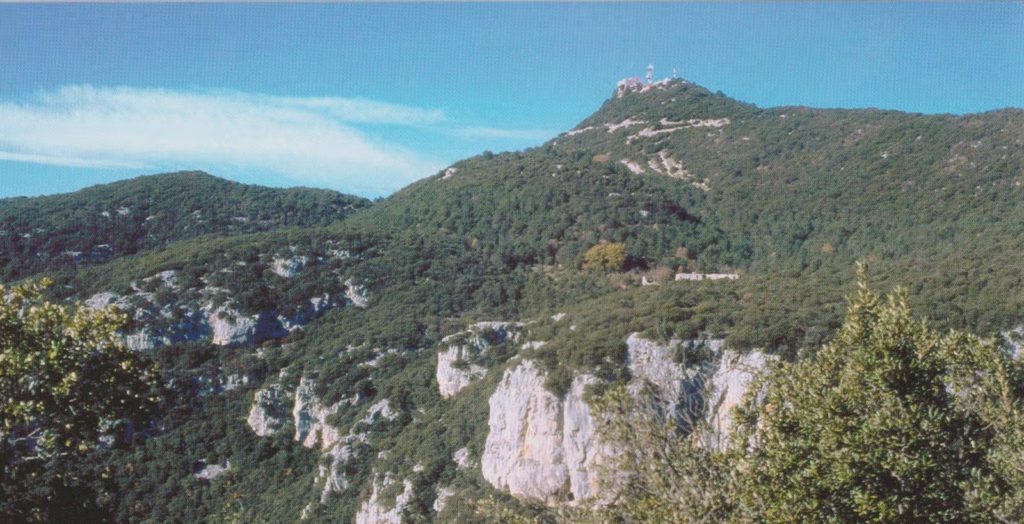 It's an old, mountaintop church, now more productively re-purposed as a restaurant, hotel, and the inevitable monument and cell tower. I learned long ago Europeans won't climb anything unless you can at least get a beer at the top.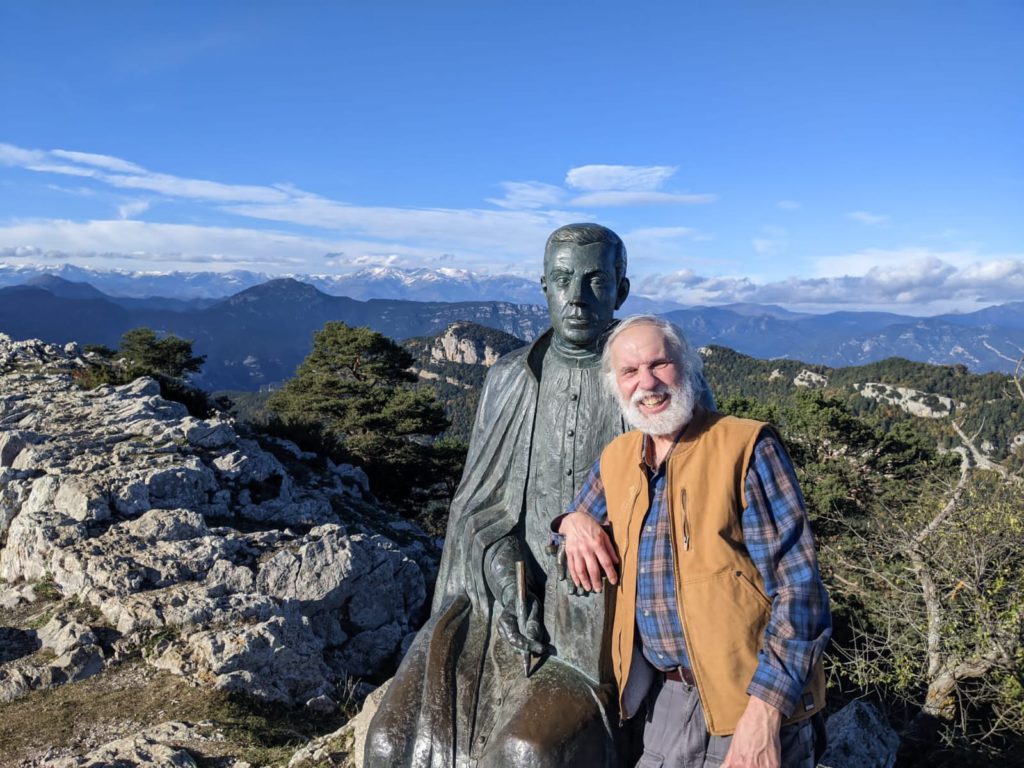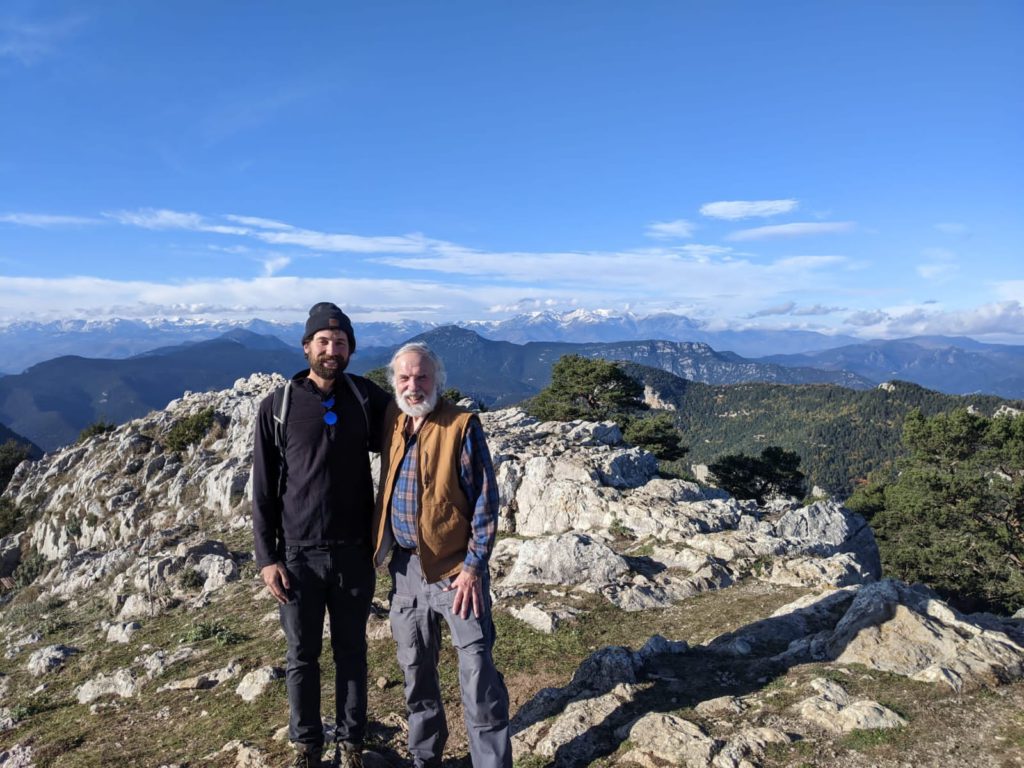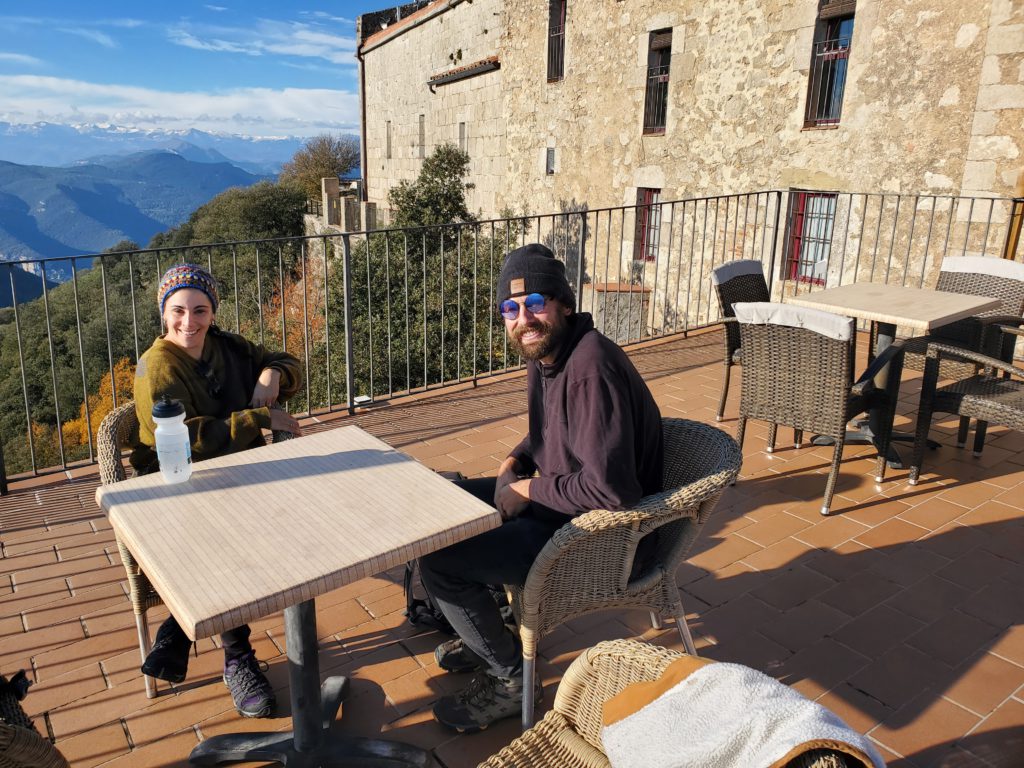 We buy refreshments while sitting on the terrace soaking in the magnificent view and the sunshine and then walk back down to the car in the increasing chill. We're at about the same latitude here as the Catskills, so as we approach the winter solstice the days are currently quite short.
On arrival home, Eric prepares Catalonian paella, very tasty and noticeably different from the more widely experienced Spanish version. The three of us polish off every bit of it. There isn't much energy left after that.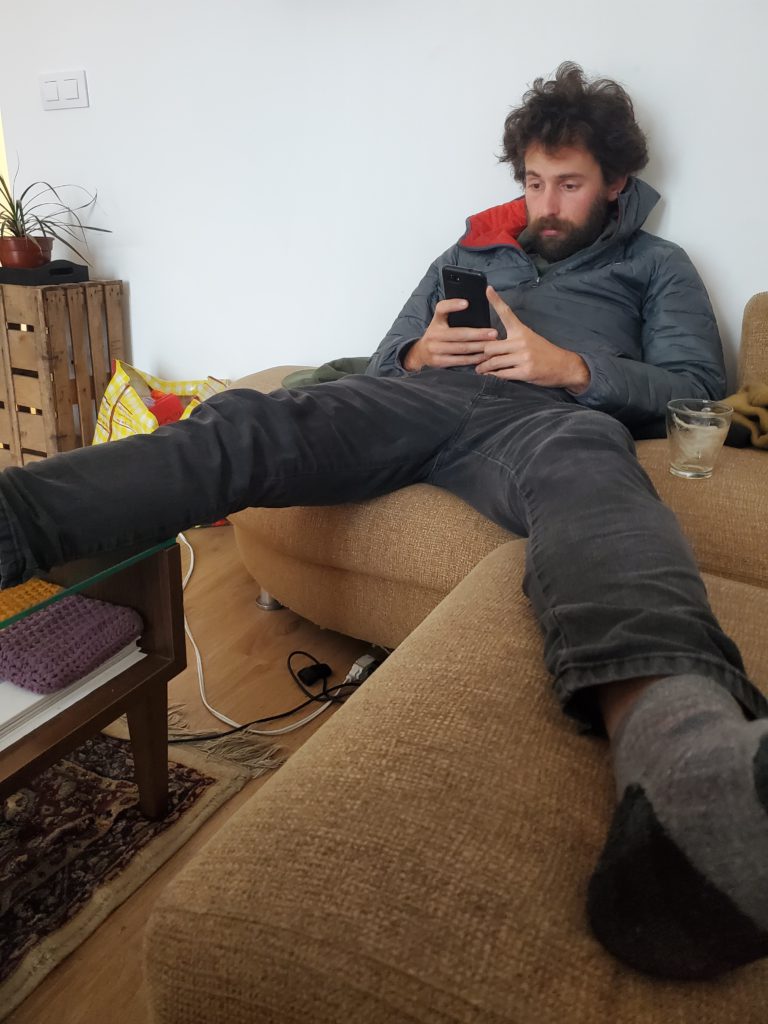 Sunday is a rest day. Mid-morning Eric and Gemma and I head out to a nearby cafe for Catalonian "brunch" which seems to entail sitting at an outdoor table drinking vermouth and eating olives.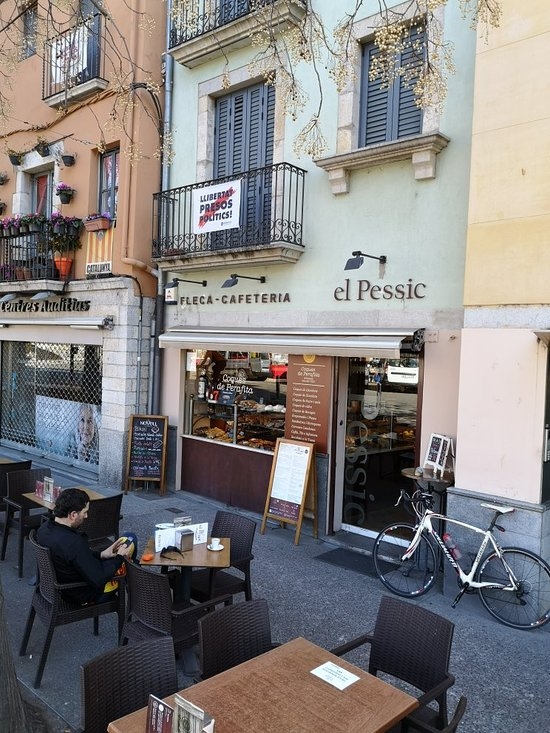 They tell me it's very popular but in today's cold weather we are definitely not in a crowd. As we leave, Eric tells me his criteria for re-patronizing restaurants require 2 out of 3: good food, good service, good price. He says El Pessic is now on his blacklist. After, we walk through Girona's old quarter (Barri Vell in Catalan, compare with Barrio Viejo in Spanish) and eventually back to the 5th floor apartment. Going up and down the steep stairs a few times a day doesn't bother me but it's definitely more work whenever I return from Aldi supermarket hauling a backpack of groceries. If I lived in his apartment, I would never own a bicycle. Eric has 6, all of which are invariably carried back up the stairs after each use.
Tomorrow, I must pick up the car and all associated paperwork. If for some reason it doesn't happen, I'll be delayed for weeks.
Next post: https://blog.bucksvsbytes.com/2022/12/16/road-trip-europe-22-12-05-the-car/