Prior post: http://blog.bucksvsbytes.com/2021/07/28/road-trip-21-06-19-together-again-susan-flies-in-to-fairbanks/
[NOTE: To enlarge any image, right click it and choose "View image" or similar. Use the Back button to return to the post.
I'm up by 8:30 at Billie's Backpacker Hostel to prep my buckwheat sourdough pancake breakfast for everyone while Susan sleeps off her jet lag. I had promised a 9 AM breakfast, but after yesterday's late evening, I'm going to miss that by an hour or so. I mixed up a mess of sourdough starter yesterday and this morning it's suitably bubbly and foul smelling so I add all the requisite ingredients to make the batter. I have no idea how many people will be eating and how big their appetites will be so I just pick an arbitrary amount and hope it will be about right.
Susan appears at about 10, just as I'm finishing up cooking all the pancakes. Dee, another hostel guest, has contributed maple syrup and fresh blueberries, so breakfast is quite a feast. About 8 of us enjoy pancakes as early departers and late risers miss out.
Susan really gets into the social life of the hostel and we spend the morning talking to travelers of all kinds. We'd gladly stay another night but Billie is booked solid and can't squeeze us in anywhere. She does offer to let us use the house if we choose to sleep in the van out front, but in any case, we have to vacate our room.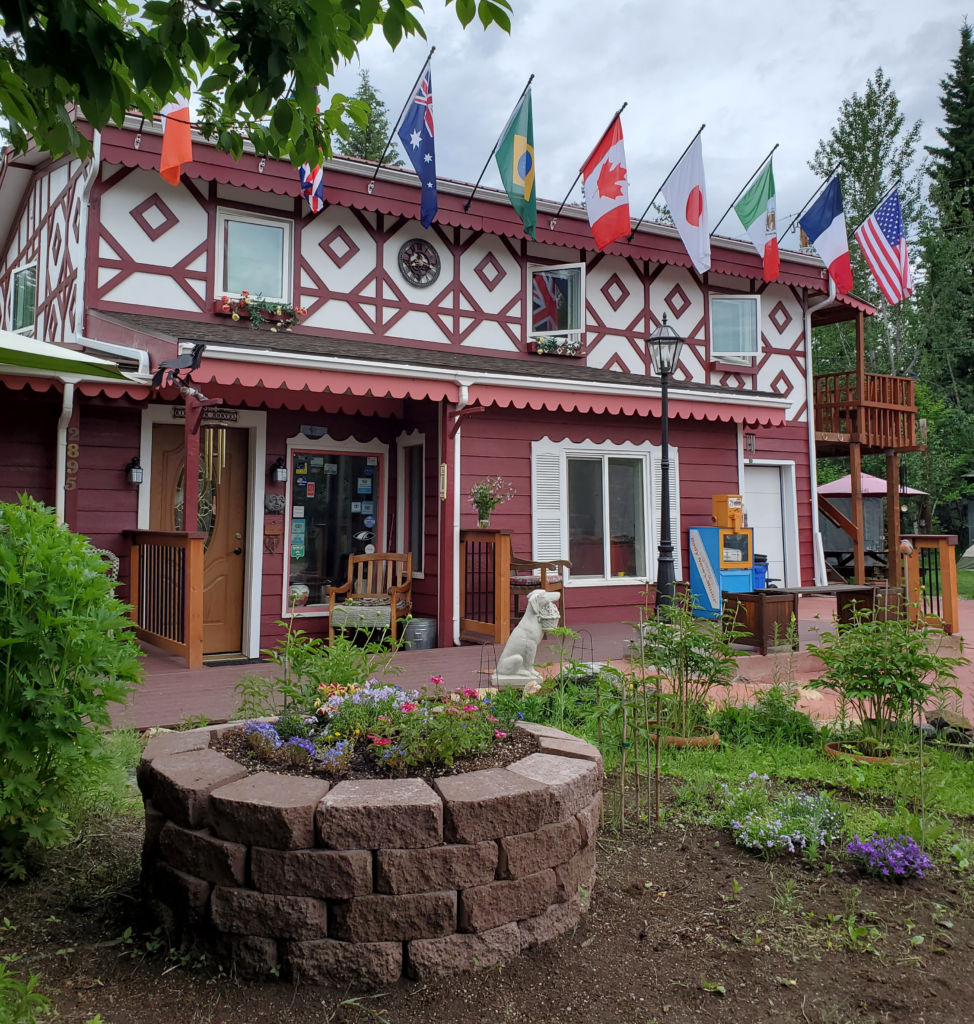 Today is the Summer Solstice Celebration, in the form of a street fair in downtown Fairbanks. All packed up, we head there in early afternoon. It's several blocks of vendors, music, and performers.
Everyone is in a good mood, free of oppressive safety measures and intense social distancing. Fairbanks still has its share of outlandish characters so there's a sprinkling of quirky outfits among the revelers.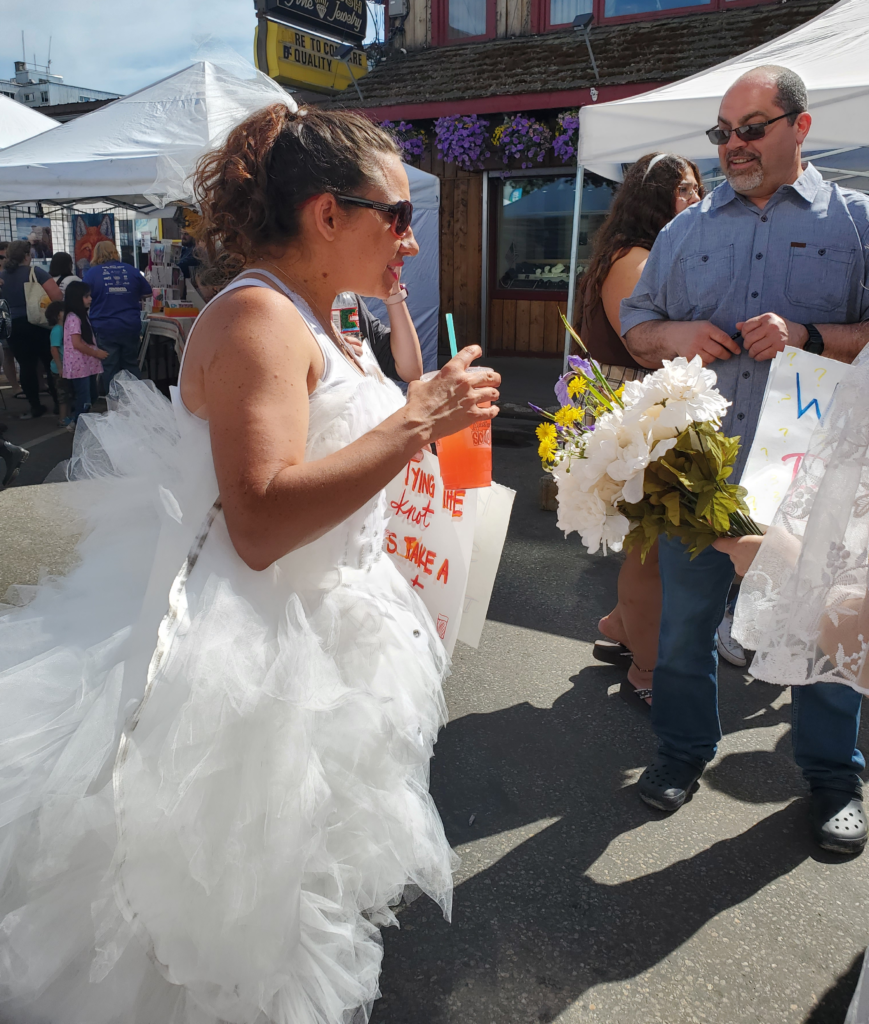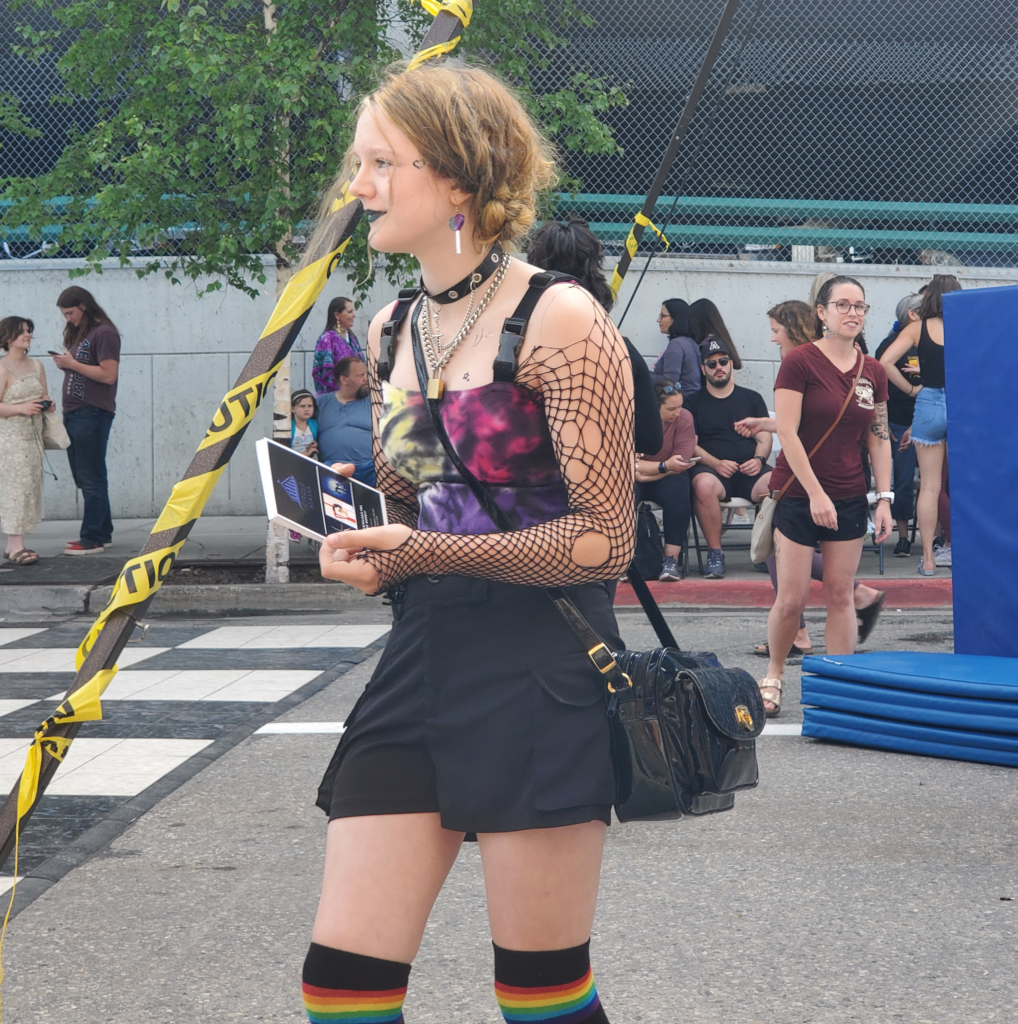 Overall, Alaskans were vaccinated early, although there are a lot of anti-vax assholes screwing it up for everyone. Those of us who are now protected are no longer wearing masks, along with an unknown number of the unvaccinated.
I call my friend Will to arrange a get together and he says he'll join us shortly at the fair. There's plenty of street food for sale, along with clothing, art, and useless junk.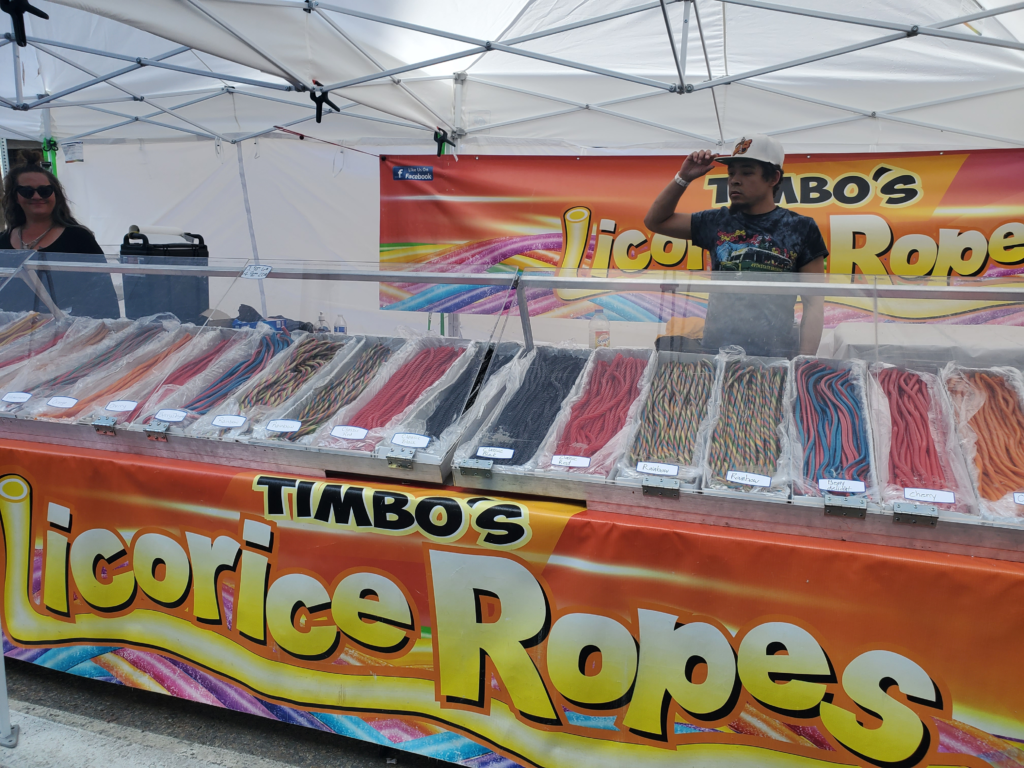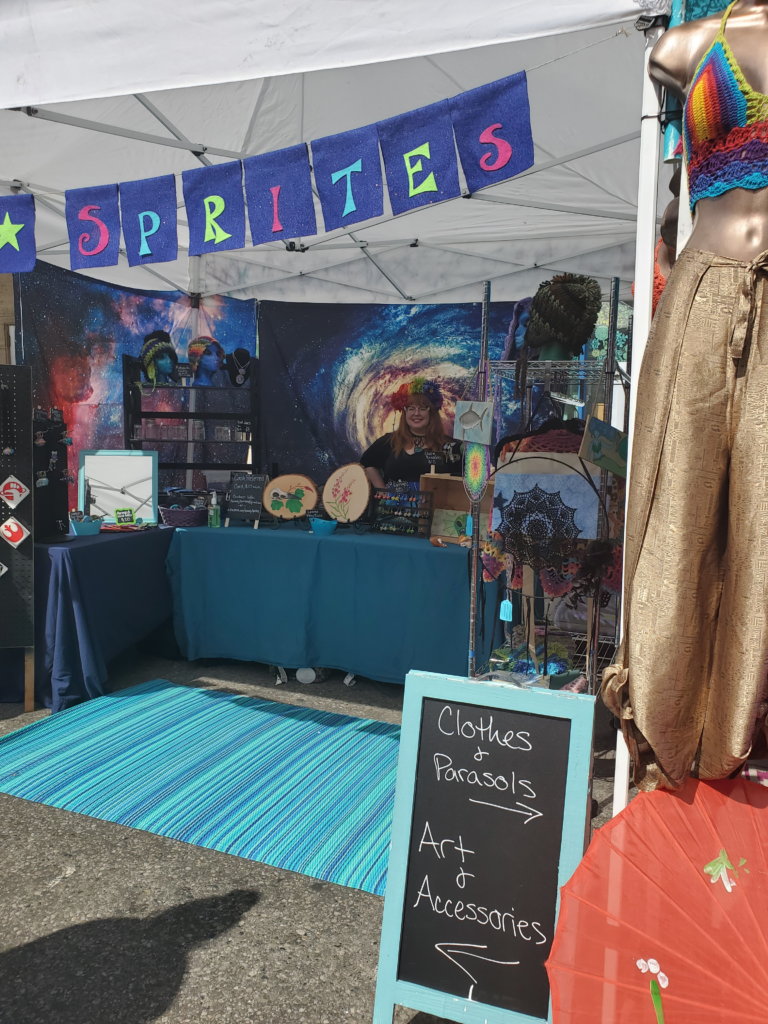 At the performance area, we see that Fairbanks is generating acrobats. A variety of young women successively display their skills holding on to suspended aerial rings and silks. I wouldn't have guessed that pool of talent existed in the far north.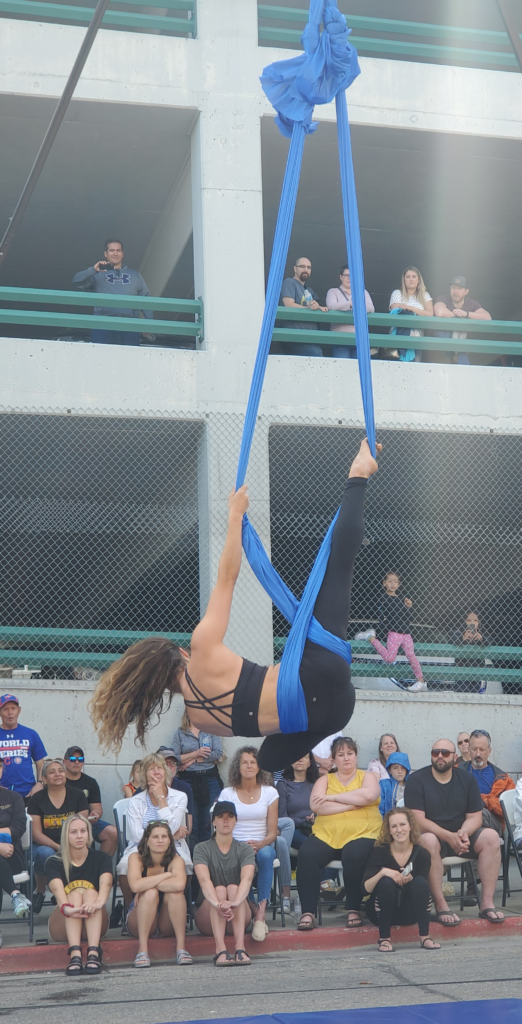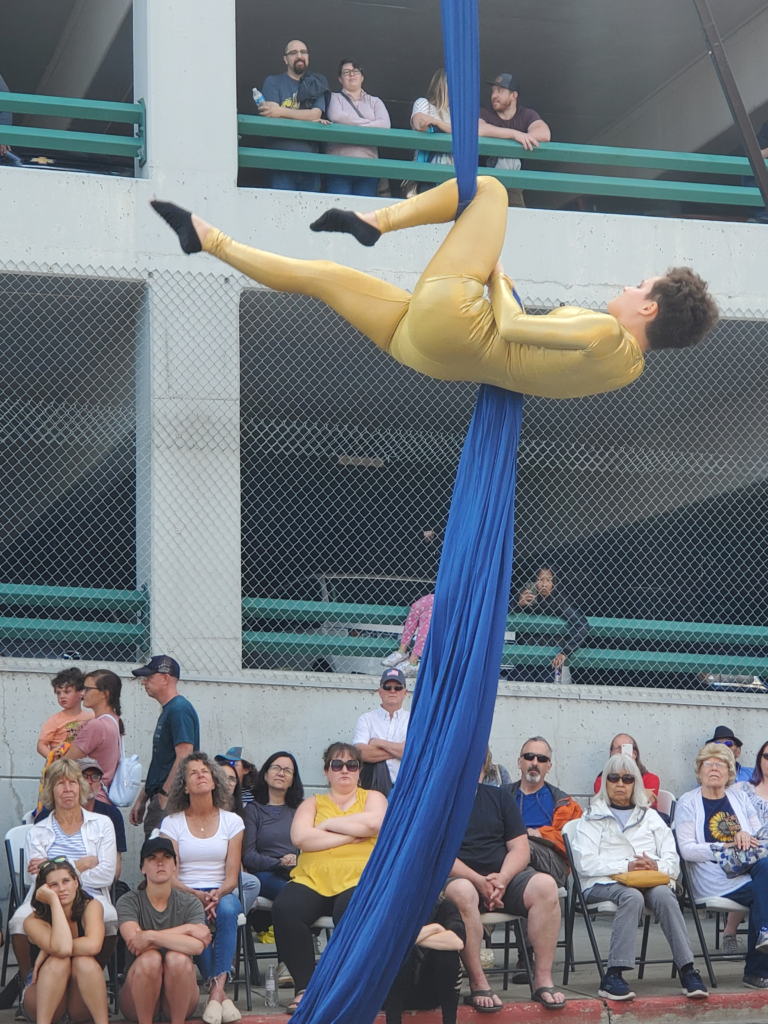 Will arrives during the performance and we spend the next several hours together. We have 40 years to catch up on and Susan is meeting him for the first time.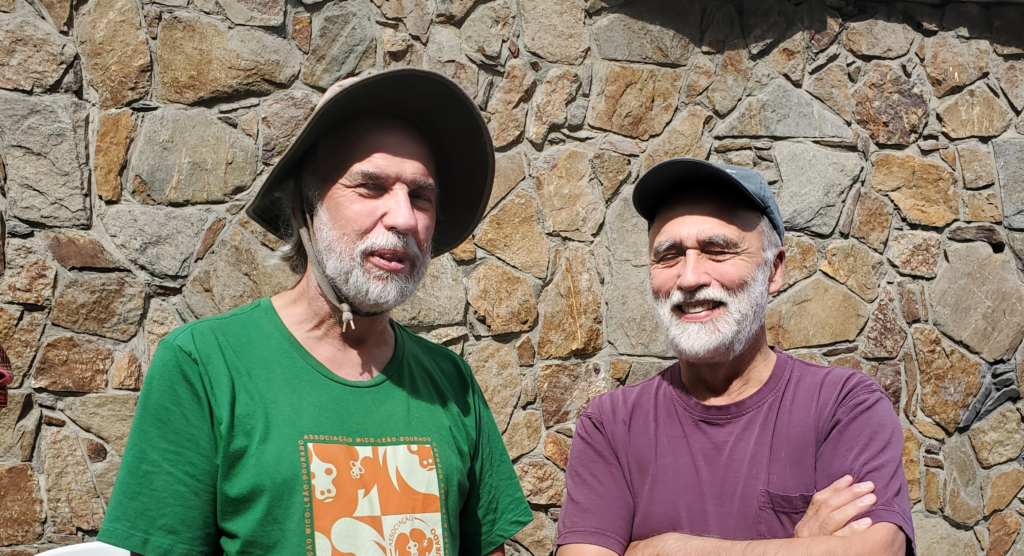 After the acrobats, the stage is given over to belly dancers. About half a dozen women do their routines, some with swords. By virtue of having all their extremities intact, it's obvious they put a lot of time into rehearsals. Well maybe not — one woman did dance with her arm in a sling.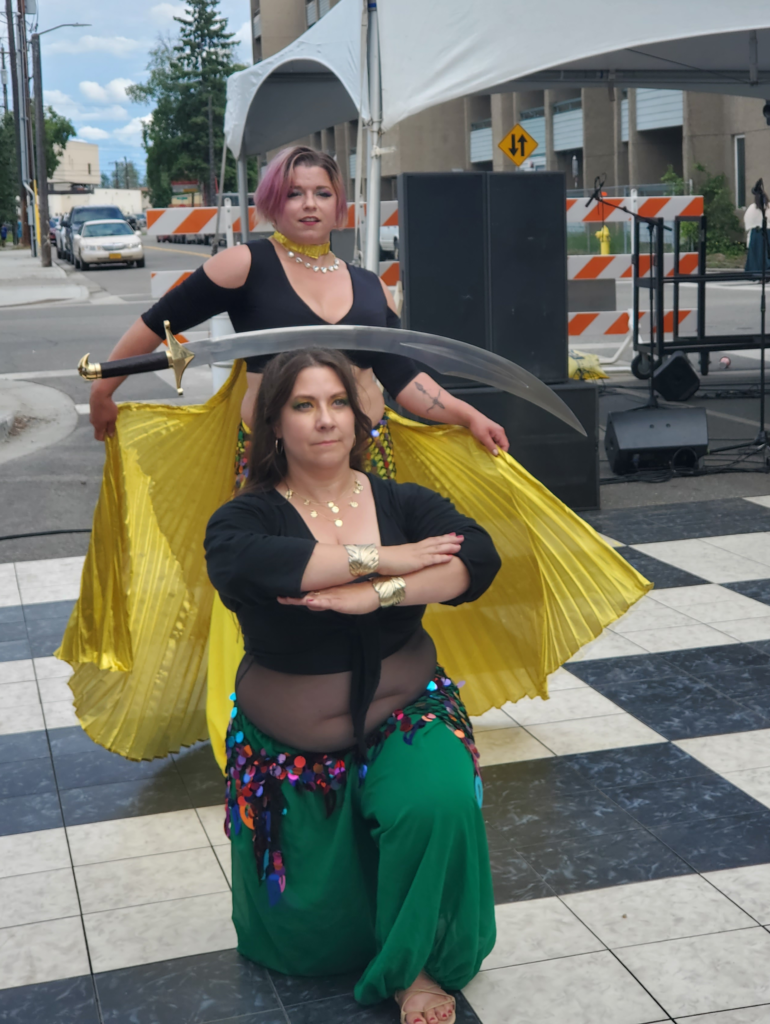 With the shows over, the three of us buy some street food and then retreat a few blocks away to the quieter surroundings of an indoor/outdoor bar to continue our conversation.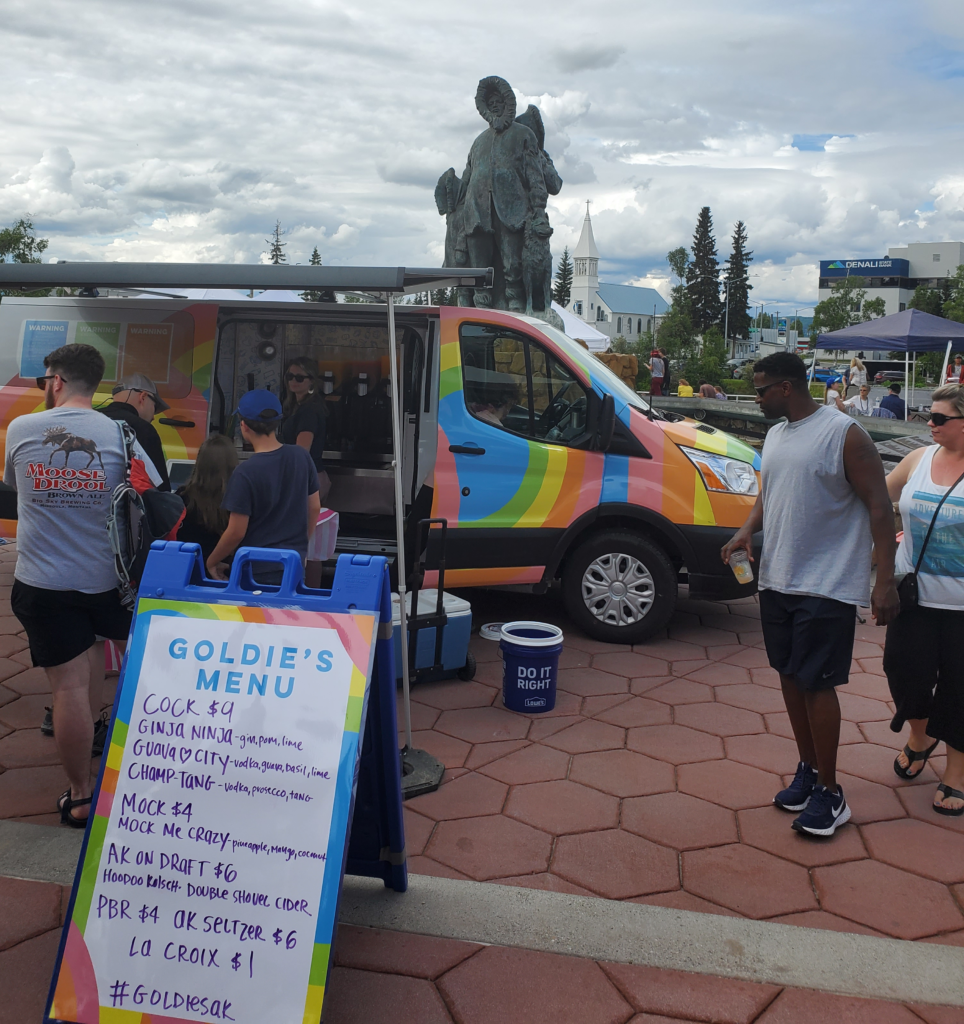 Despite being the second largest city in Alaska, Fairbanks is a small town so we're coincidentally joined by one of the hostel guests, a young Utah woman visiting Alaska for the first time, solo. Will is a lawyer who spent many years representing workers in employment matters. He started out in Fairbanks as a legal aid attorney, so most of his career has been spent on the white hat side of law. He's heavily into music, with weekly sessions of up to 25 people at his home where non-playing audience is strictly excluded — musicians only.
Our final activity is back at the street fair music venue to hear friends of Will perform jazz in front of the crowd.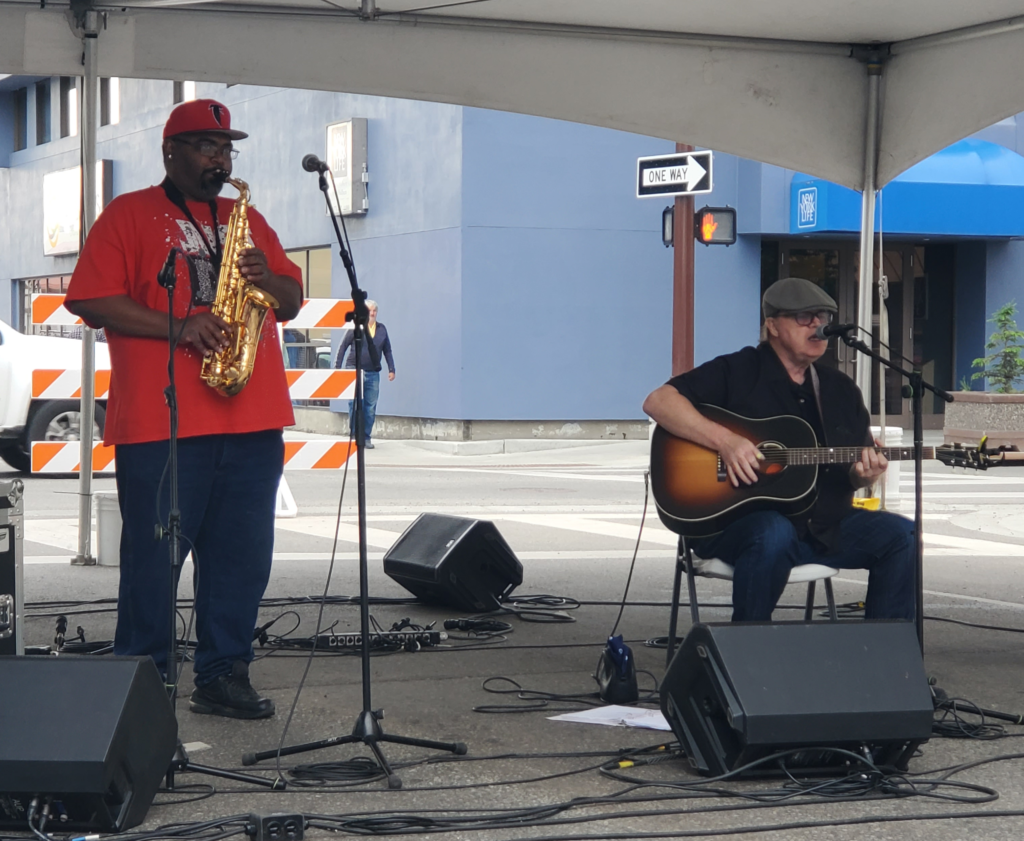 At the end of the set, we part company with Will and start working our way back to the van. As we pass the other music stage, there's an energetic rock group blasting away. Atypically, they have a female drummer.
Downtown Fairbanks is still fairly recognizable from its 1980s appearance although virtually all the old businesses have been replaced. Notably there's still a hanging sign for Tommy's Elbow Room, a legendary 1970s hangout for construction workers on their week off during construction of the Alyeska Pipeline. Many a worker arrived in Fairbanks on a Friday with a couple of thousand dollars in their pocket and found themselves busted flat by Monday morning, sometimes happy, sometimes rueful, and sometimes blank as to how the weekend transpired. The site hasn't been a bar since 2003 but the sign lives on, albeit with "Tommy's" thoroughly whited out.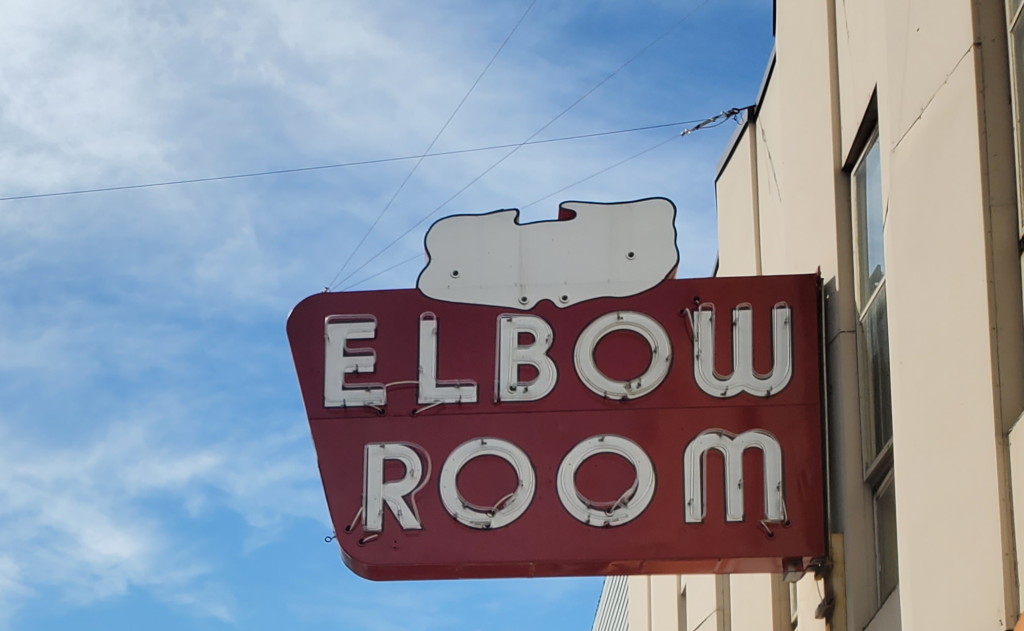 There's a lot of street art in town, mostly in the form of colorful murals. During the long dark winter, these help preserve people's sanity.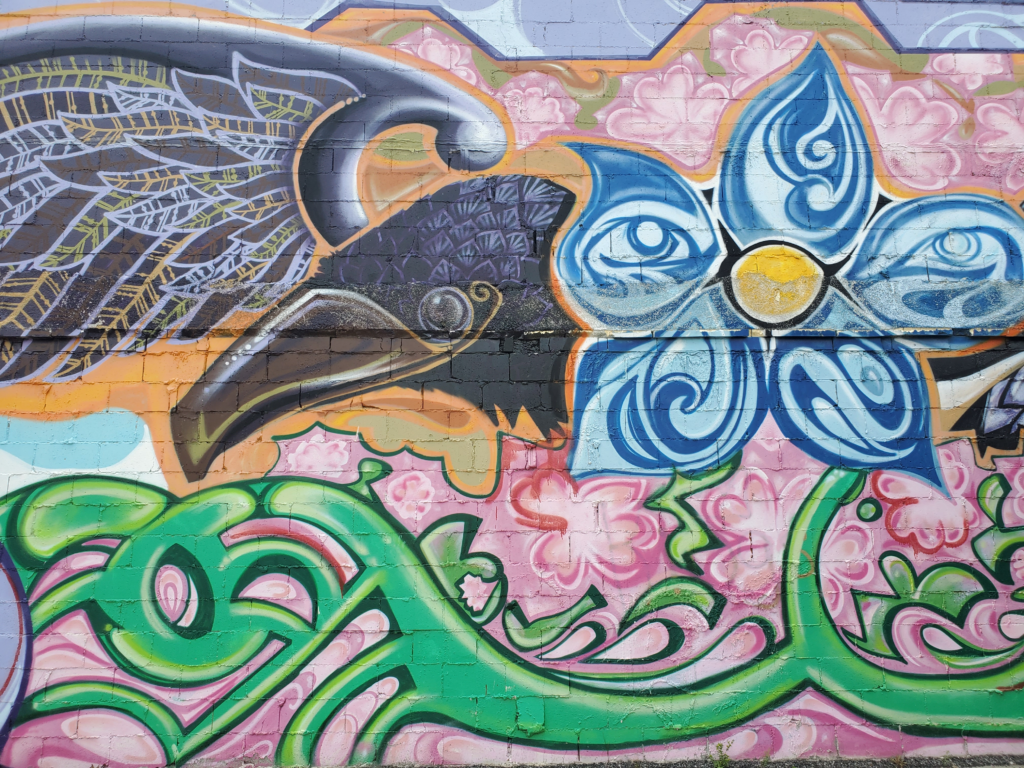 Susan strikes up a conversation with an Alaska Native who's bought a piece of local art as a birthday gift for his son.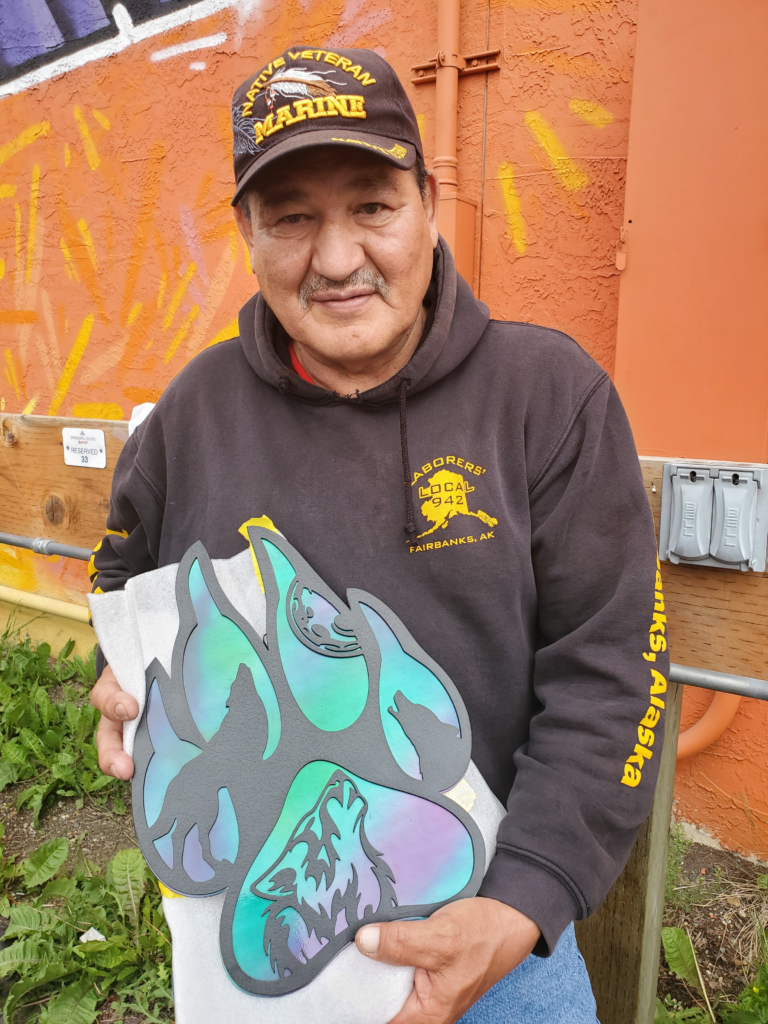 Leaving downtown, and with Billie's Hostel unavailable to us, we decide to head north on a long journey up the Dalton Highway (formerly the pipeline haul road). It's the only vehicle access to the Brooks Range, an impressively austere line of mountains stretching all across Alaska above the Arctic Circle. As we're gassing up the van, we take a thorough look at the arctic weather forecast and see that rain and clouds are all that's expected for the next 10 days, with temperatures down to 35 F. Upon consideration, we postpone that trip for later in the summer and, instead, decide to head south along the Richardson Highway to Valdez.
The first leg heads southeast out of Fairbanks toward Delta Junction. I drove this same road three days ago to get here, so this is a partial backtrack for me but brand new for Susan. 25 minutes out of town, we pass North Pole, Alaska (its official name).
North Pole, named by its developer in 1952 in hopes of attracting a toy manufacturer to site there, was famous for many years by virtue of a single enterprise. Merchant and fur buyer Con Miller would arrive in remote villages wearing a Santa suit at Christmas time. When North Pole was being formed, he and wife Nellie built a trading post there which they named Santa Claus House. With its incorporated postal station, Santa Claus House served as the community center for the new village. When the Richardson Highway was improved in the 1970s and tourists travel increased, Con and Nellie started carrying Christmas products all year. With increasing notoriety, Santa Claus House gradually lived fully up to its name, attracting busloads of visitors each day. Offspring of the Millers still operate the store.

Although it's closed when we arrive (in the daylight) at 9 PM, Susan gets to see the exterior, along with the adjacent 42 foot Santa statue. She's determined to return at a later time to buy gifts.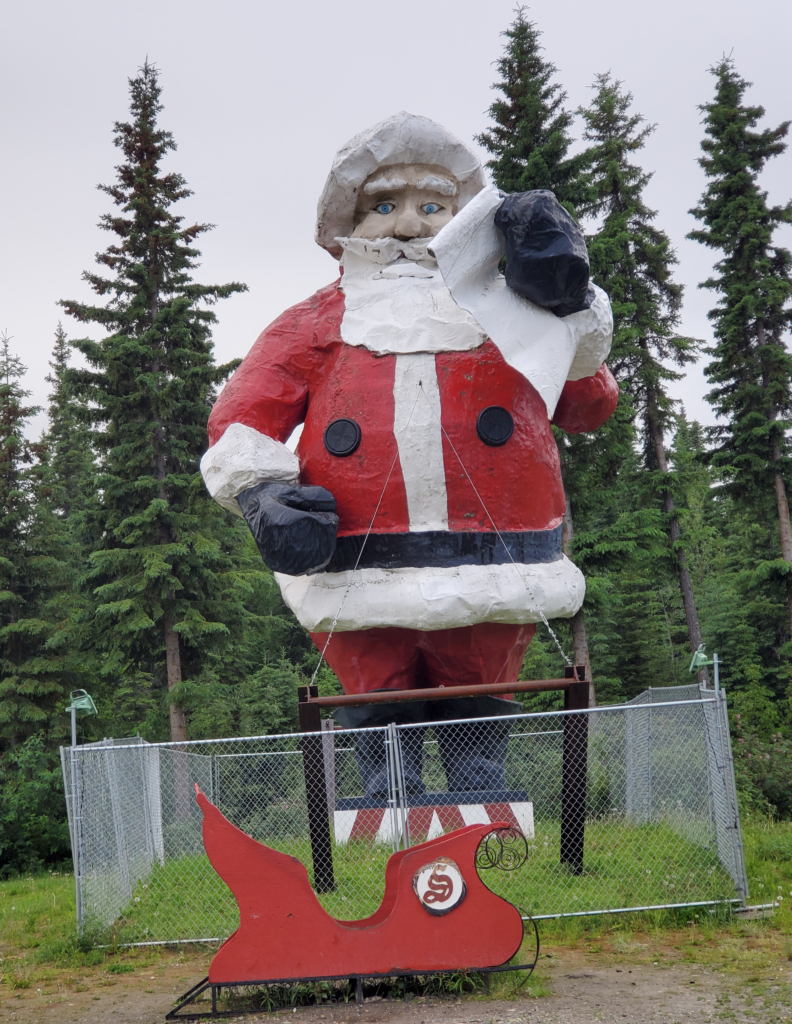 Proceeding a bit further, we take a side trip up to Chena Lake Recreation Area. Fairbanks, situated along the banks of the Chena River used to suffer serious floods in some years. A large project was conceived to construct a new channel upstream to divert flood waters across a drainage divide directly into the Tanana River, thus sparing the city. The recreation area is a byproduct of that project. We pull into a parking lot to walk along the Chena at about 10 PM (not dark, remember?). We do manage it, but the mosquitos are so plentiful that we abbreviate our stroll to avoid excessive blood loss.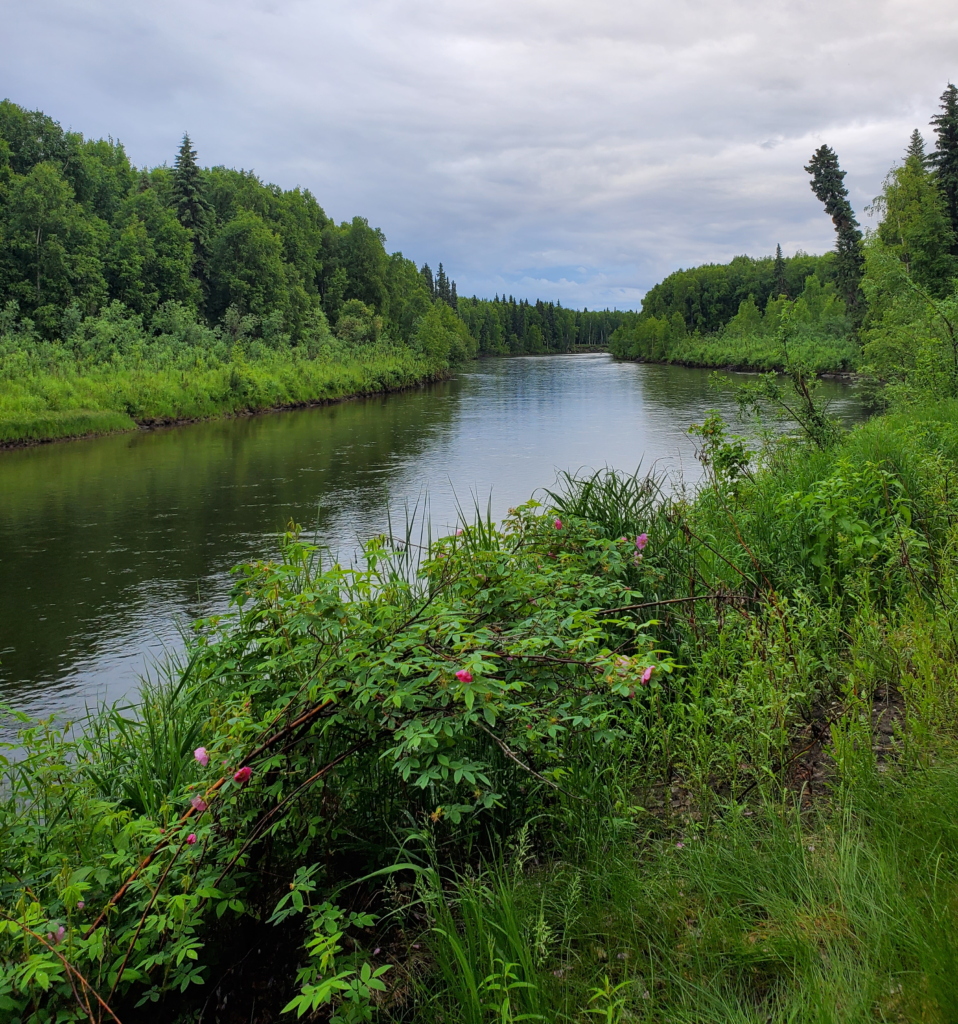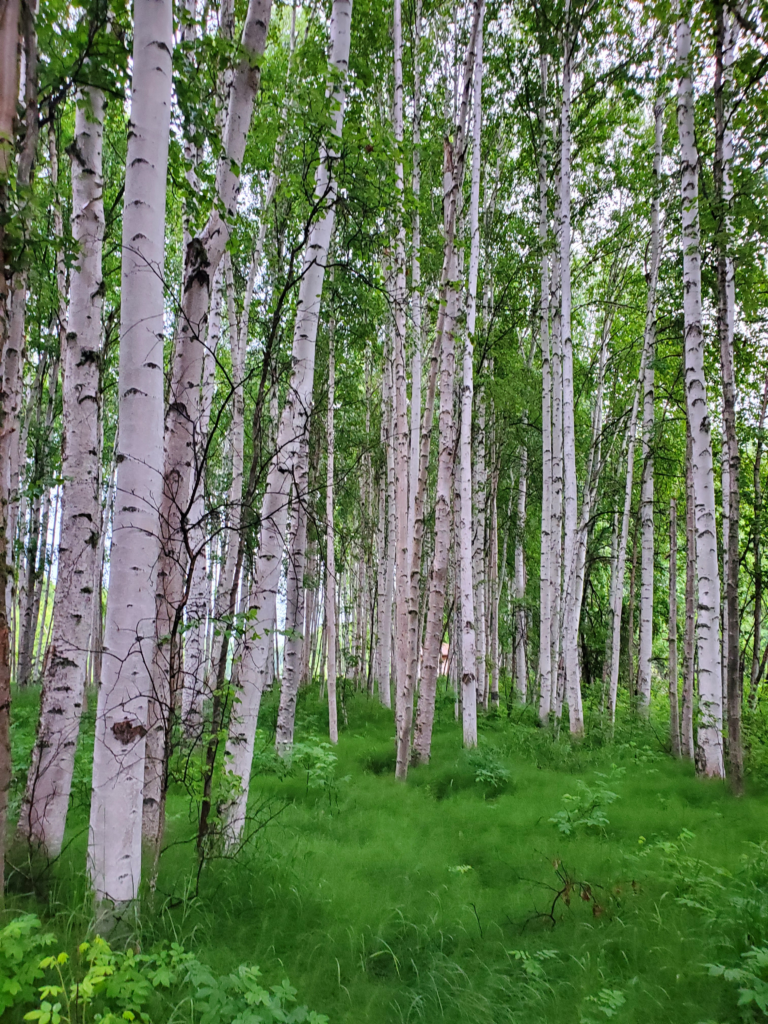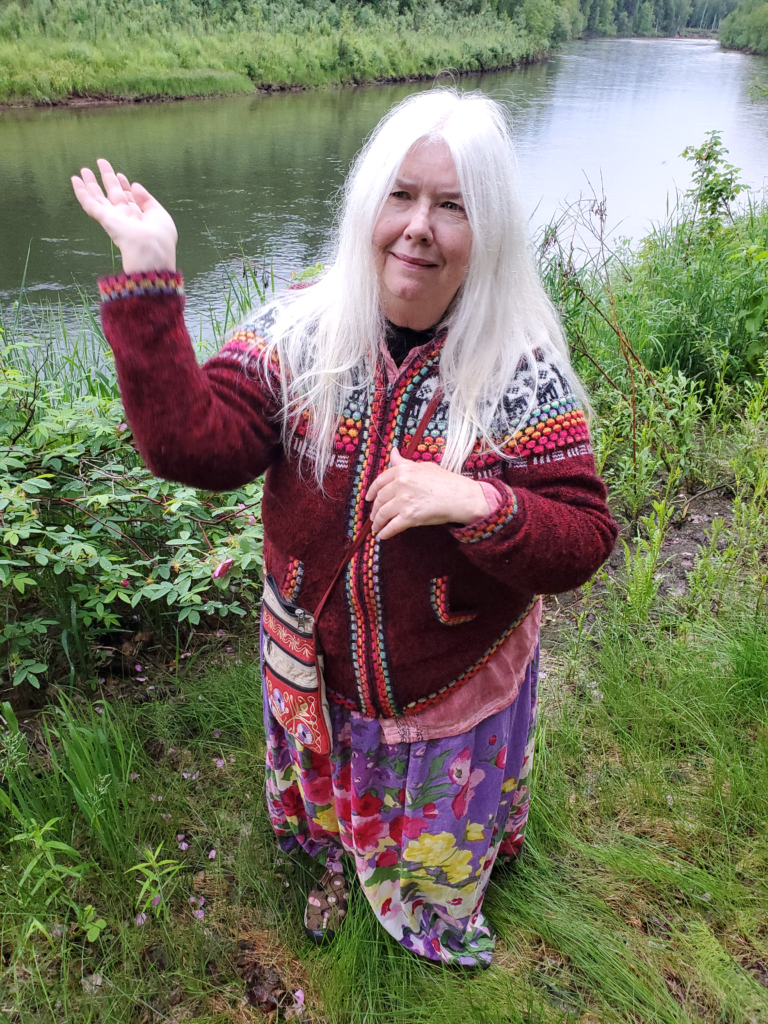 Proceeding southeast, we pass a shop whose front yard boasts a typical Alaskan art display, chain saw burl art. Burls are the rounded growths that sometimes appear on tree trunks. They're prized as the basis for wood sculptures.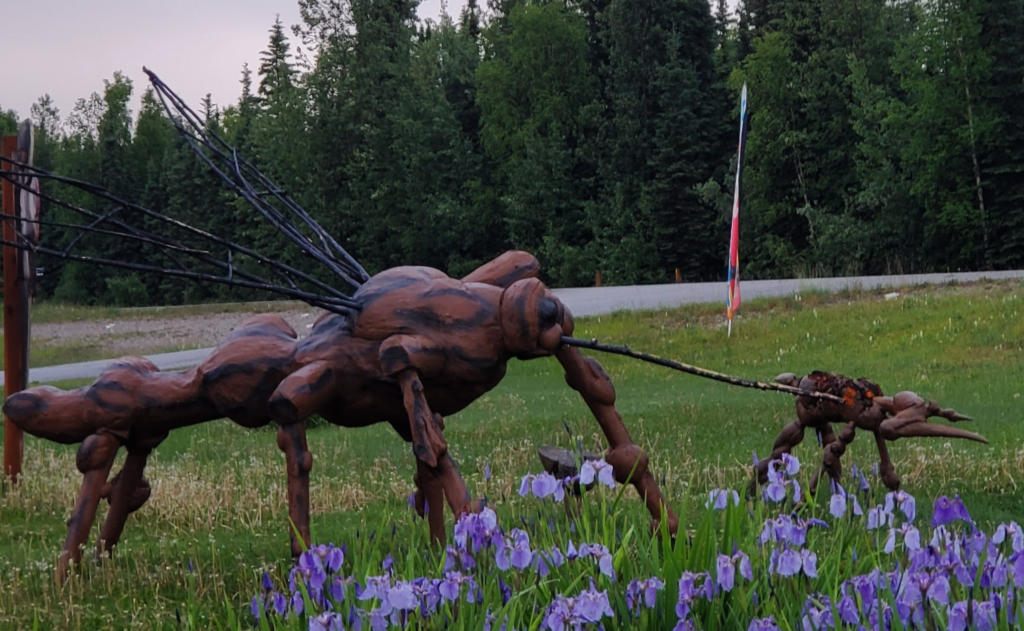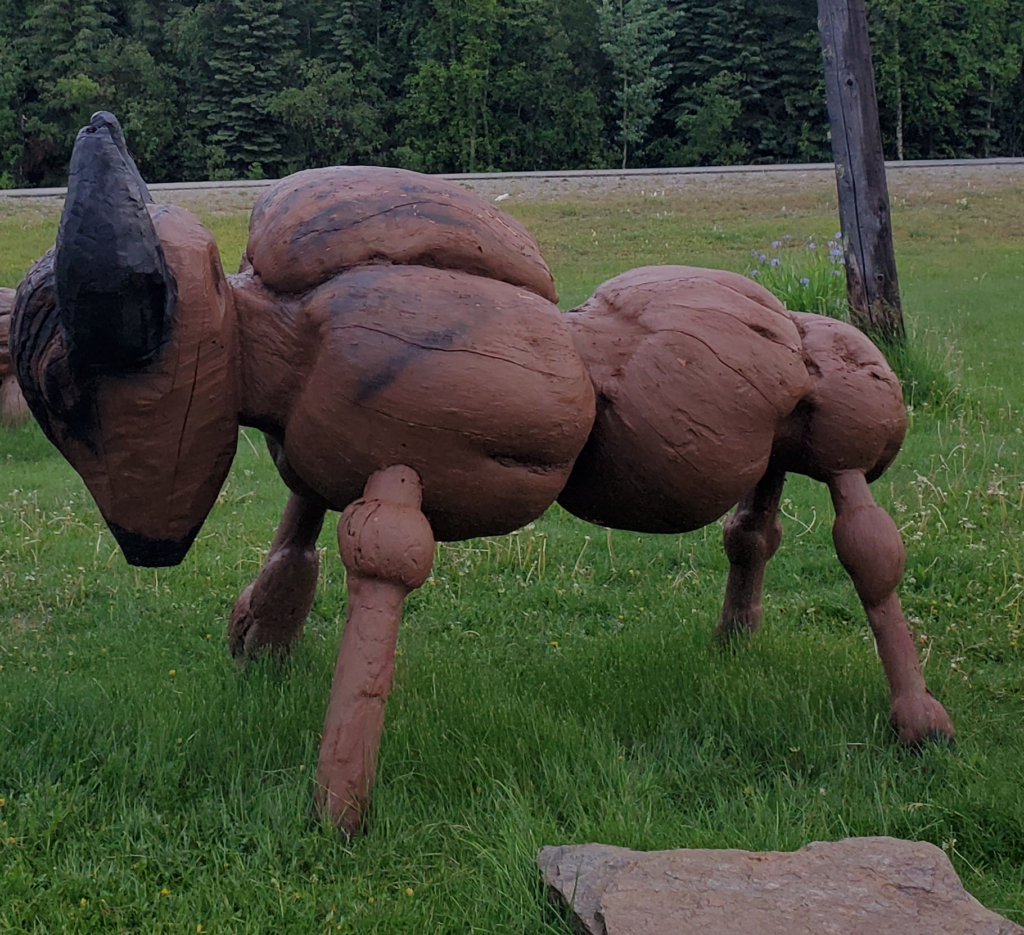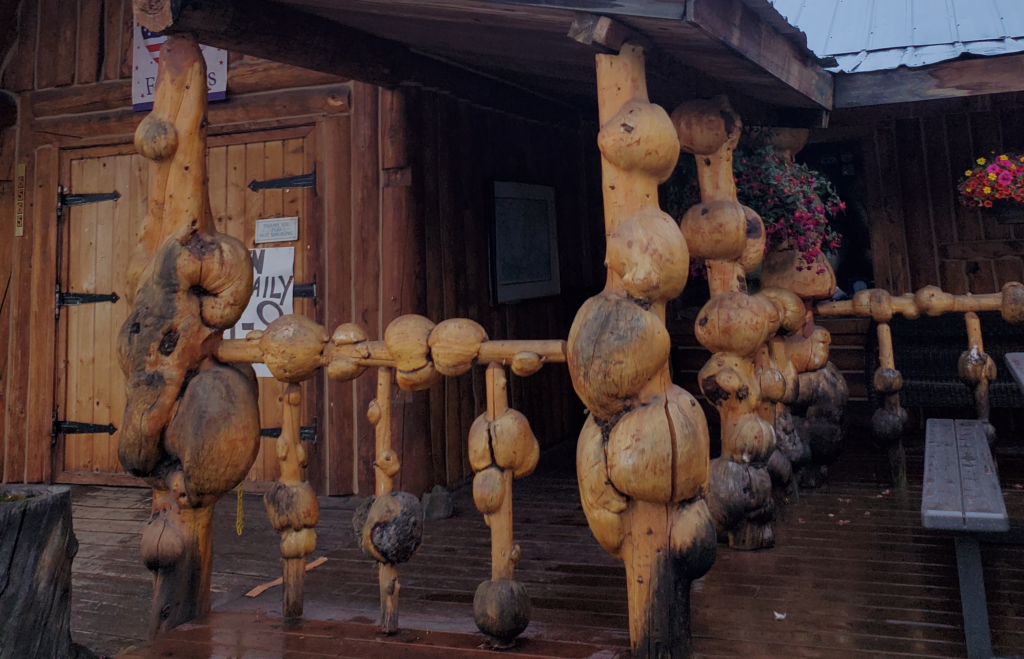 As midnight approaches, we decide it's time to rest so we park in a pullout along Birch Lake and crawl onto our comfortable airbed to the accompaniment of the extended subarctic summer sunset.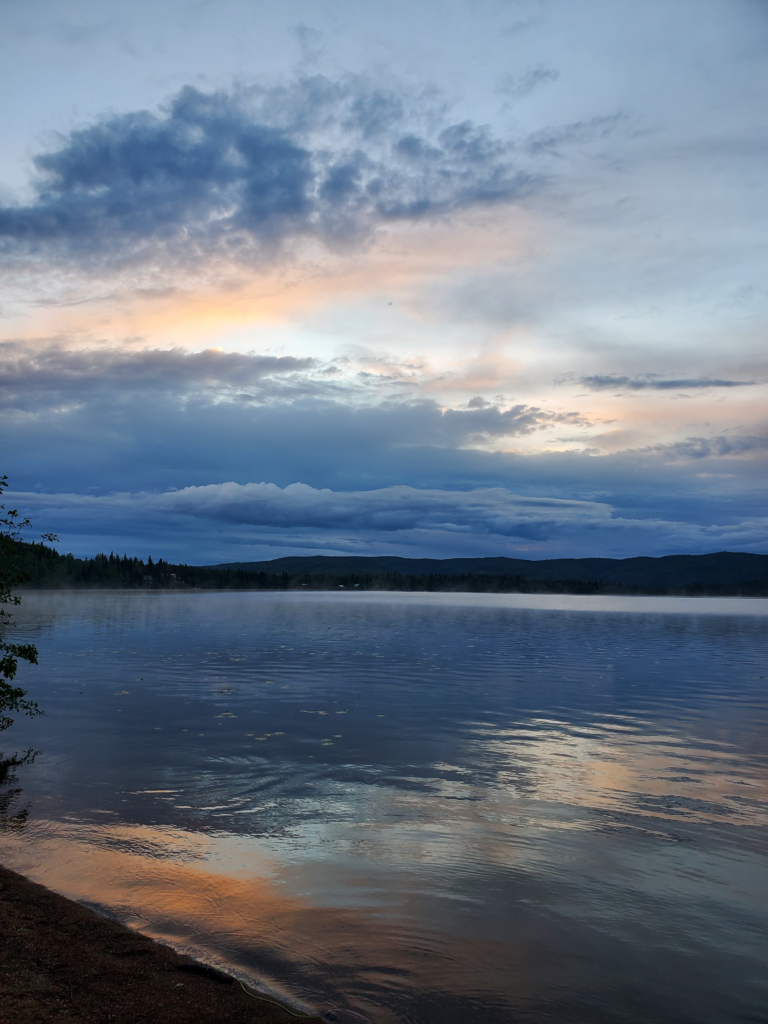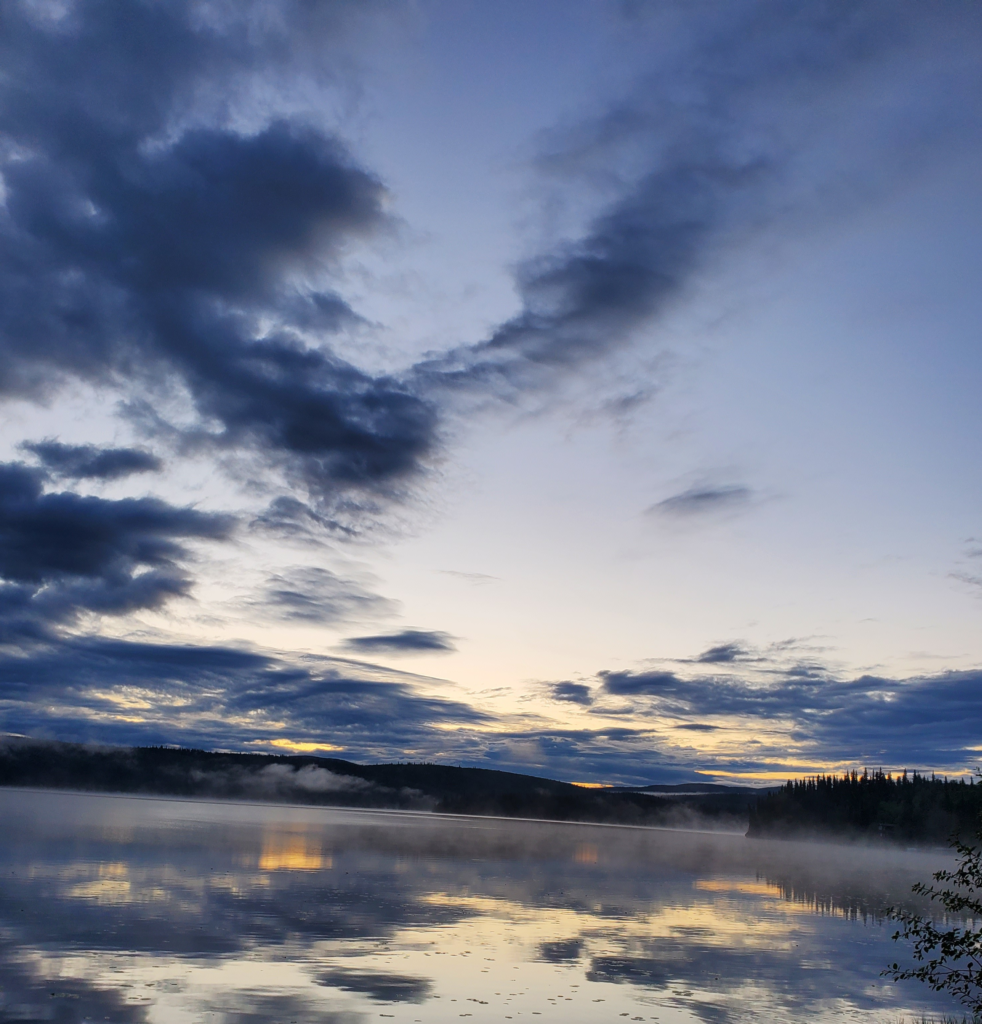 Next post: https://blog.bucksvsbytes.com/2021/08/02/road-trip-21-06-20-we-head-south-across-the-alaska-range/