Prior post: http://blog.bucksvsbytes.com/2021/07/09/road-trip-21-06-13-continuing-my-mandated-race-through-canada/
[NOTE: To enlarge any image, right click it and choose "View image" or similar. Use the Back button to return to the post.
I wake up in the rest area at 4:30 AM, ready to continue onward. I have to check out of Canada by 1:30 PM to meet the Yukon Territory's 24-hour transit mandate. That's about 6 hours further up the road, so I'll make it with hours to spare.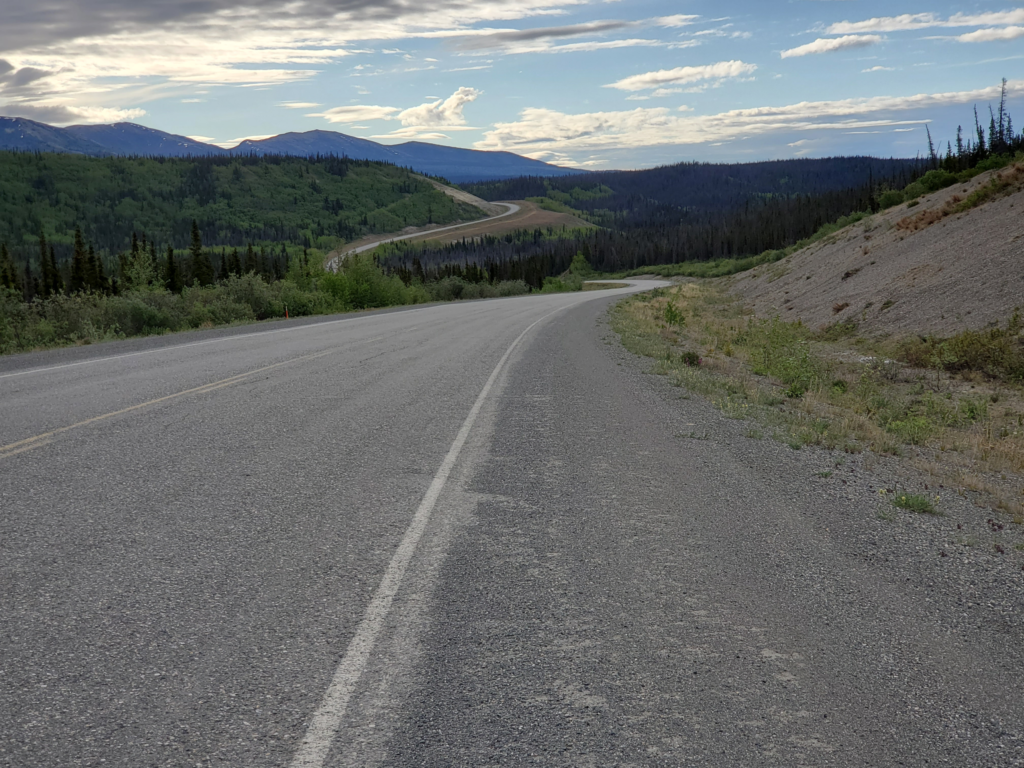 After a beautiful drive along the shore of Marsh Lake, I arrive at Whitehorse, the territorial capital. Normally, I would stop and see whether the town retains any of its cheerful, frontier persona of the 1980s but, despite being vaccinated, I'm not allowed to leave the highway so I gas up at an unmanned service station on the bypass and press on.
Beyond Whitehorse, the Alaska Highway is still paved but much rougher. Lots of frost heaves have damaged the road, making it quite a roller coaster in many places, interspersed with a generous selection of potholes. I have to slow down quite a bit because it's very difficult to judge if an oncoming dip is a mild roller coaster thrill or will fling me into the air for a suspension killing return to earth — I've got a van, not a jeep or Subaru. And I have that large plastic cargo box on top. Even though it's firmly attached to the roof rack, it could crack from the force of a hard landing, of which I have several in my effort to compromise speed and dip handling. Short sections of seriously damaged pavement have been torn up in many places and filled with gravel. The road is much more rugged than in Alberta and BC, but still way tamer than when I drove it in the old days.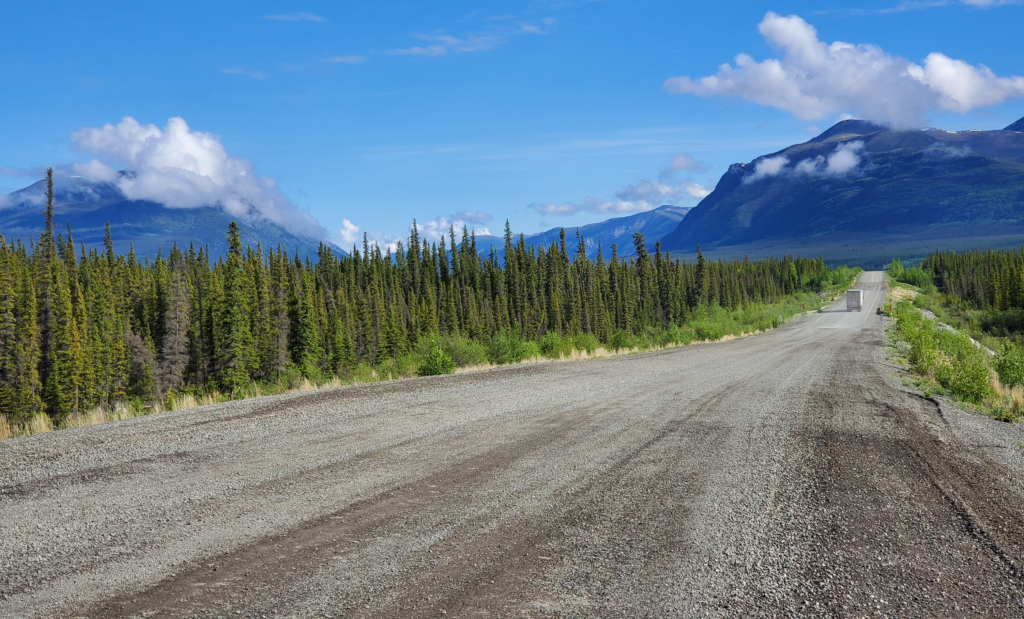 The Yukon is a beautiful part of North America. Lots of long, deep lakes, with the road running along the shore. And then you get to Kluane Lake which is just magnificent, one of the great places in the north.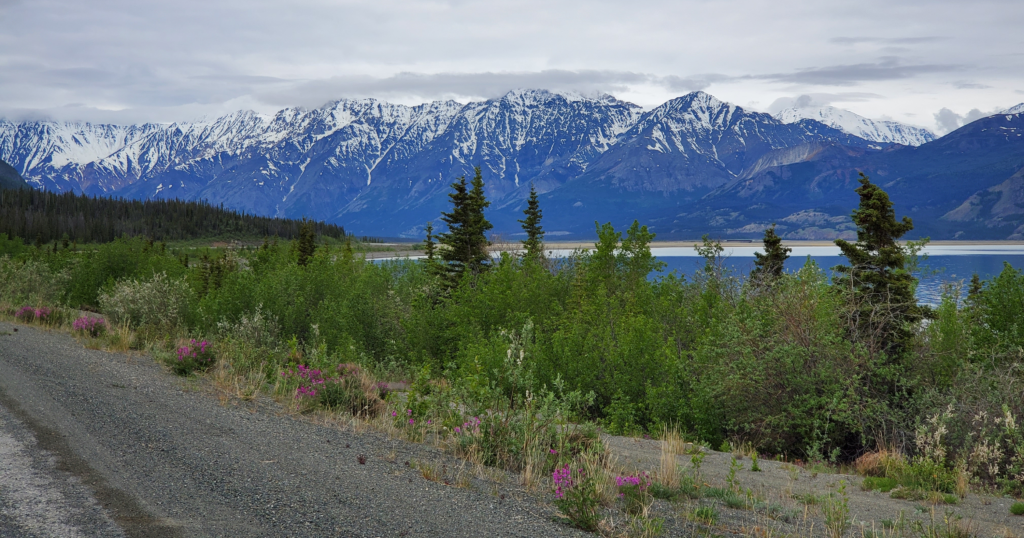 It was here in the winter of 1981, I saw the best display of northern lights in my life. It was about -10 F. A friend and I were driving across the Yukon to Haines, Alaska to catch a ferry for Juneau. The aurora was multicolored and simply stunning. We stopped the old Subaru, got out our pads and sleeping bags and lay on the ground as long as we could stand it, just staring up at shimmering curtains of dancing lights. I'll never forget it and I've never seen lights like that since.
Today, in the unrelenting daylight there is no chance of seeing the aurora borealis but I dawdle along the shore admiring things big and small.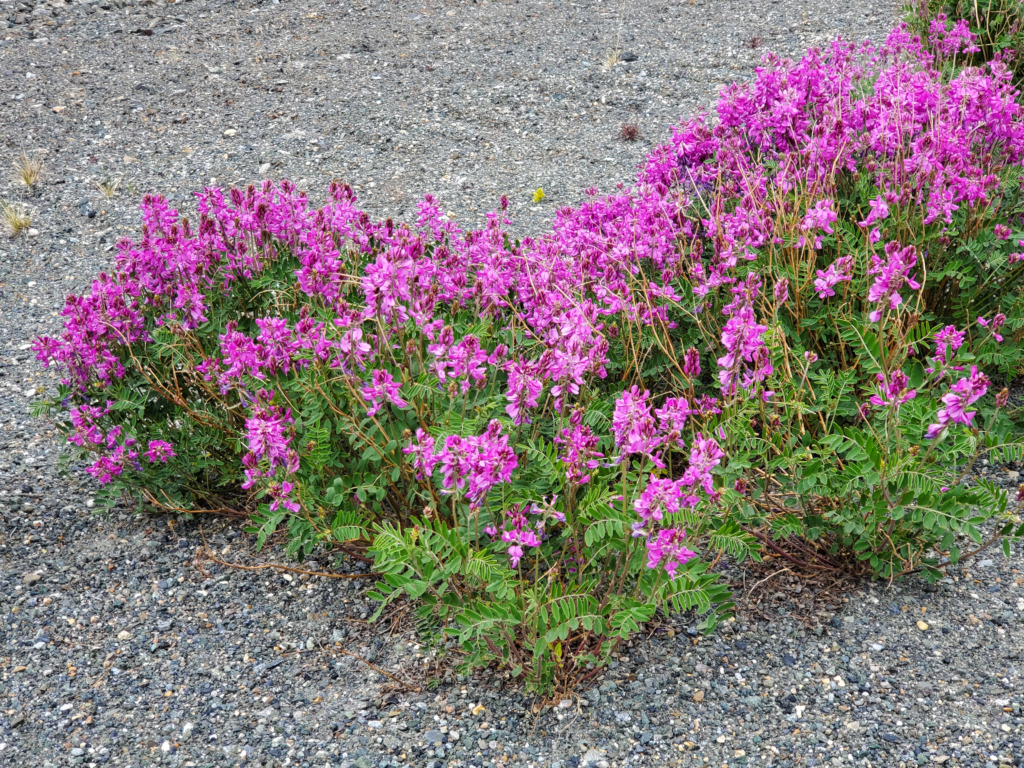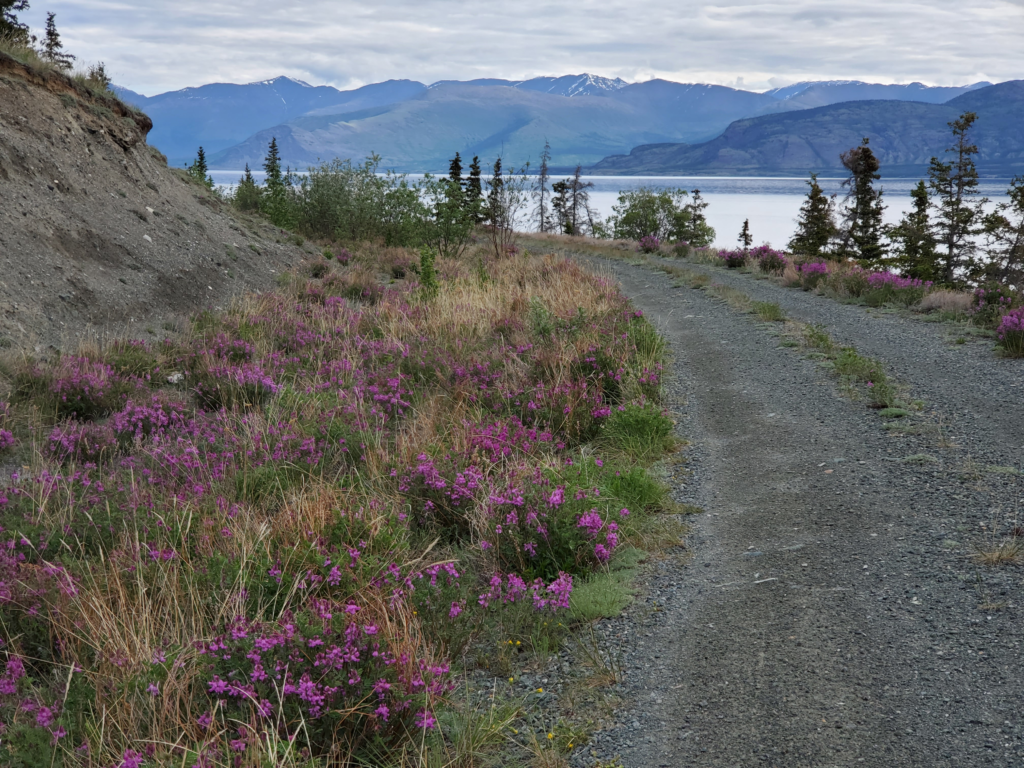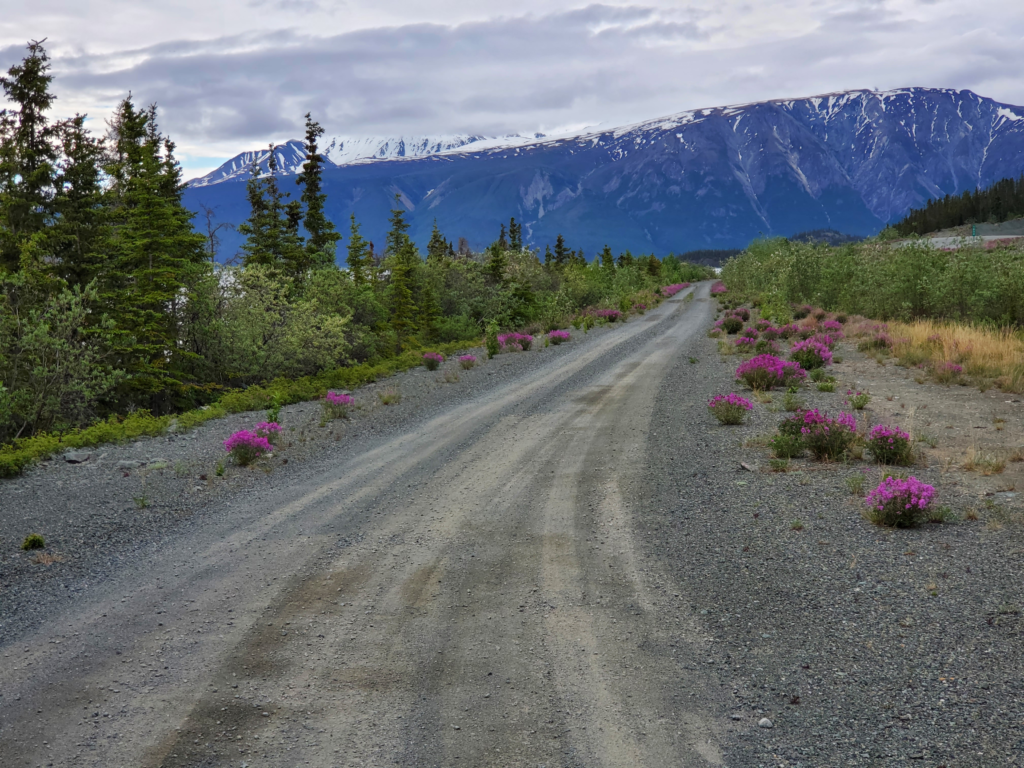 At one stop, a raven alights next to the car, staring at me patiently, doubtless hoping for a handout. Ravens are very adaptable and intelligent birds, found all across the north country.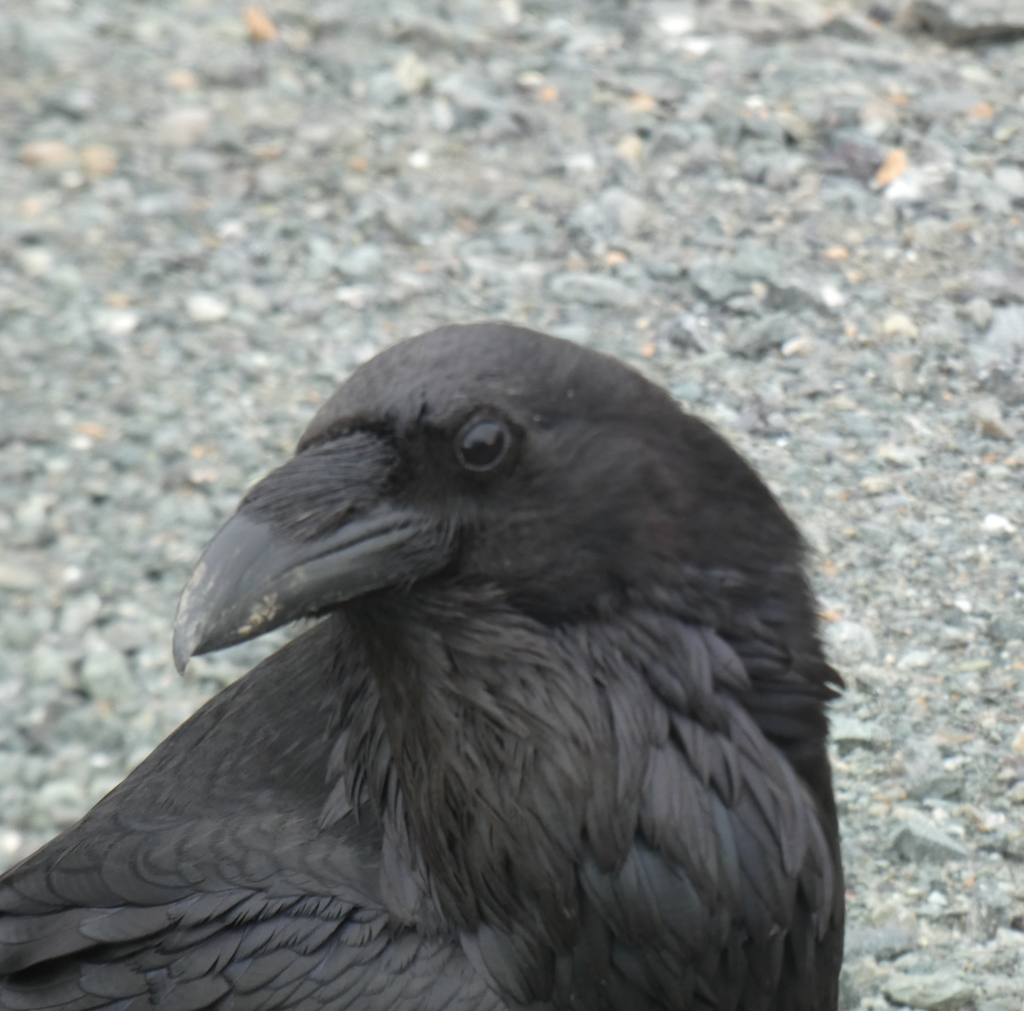 The highway along Kluane Lake is eerily deserted. Normally this is a major thoroughfare and by now there would be a steady stream of tractor trailers, RVs, and passenger cars. Far fewer goods are hauled by truck in recent years because most Alaska goods now arrive by ocean container ship or air cargo. Tourist vehicles are currently banned, of course, so traffic is very sparse. Many of the services along the way have gone out of business due to the absence of tourists, as I mentioned earlier. Owners I've spoken with are livid at Justin Trudeau for being so unyielding at this point. But the scenery is still incredible.
I've been seeing new-looking recreational vehicles in groups of 2 or 3 heading toward Alaska. Encountering one of the drivers at a turnout, I find out why. A rental company in Anchorage has bought a fleet of 260 new RVs in Indiana and drivers, usually retired couples, are being paid to shuttle them to Alaska, after which the drivers are flown home to pick up another RV and do it again. The couple I talk to have no interest in sightseeing. They just want to get to Anchorage and catch a flight back home to Indiana.
By 11 AM, I reach Canada Customs in Beaver Creek, positioned about 30 miles from the actual U.S. border. Normally, you wouldn't stop there as you exit Canada, but until restrictions are lifted travelers must check out and turn in their transit paperwork. That done, I proceed to US Customs 30 minutes farther along.
I manage to get through there without totally pissing them off. When I have the time and can afford to be held up, I generally make it a point not to let myself be quizzed in order to gain re entry to the United States. My feeling is if I present my passport and fill out the customs form, I'm entitled to go in without being hassled. And that usually doesn't happen. In this case, a very nice woman in the booth asks me what my business is, where I'm coming from, etc. I explain to her, courteously, that as a matter of principle, I don't want to answer those questions. She must be new on the job because she gets quite flustered and doesn't know quite what to do with my attitude. She talks to her boss, comes back out, and hands me the same customs form you get on US-bound airplanes. I fill that out and then she asks me to park the van and come into the office. Typically, this is the beginning of one to three hours of waiting, questioning, and a thorough search of my vehicle.
The supervising agent comes out and turns out be a really nice guy. I explain to him that, as a returning American citizen I don't want to answer extraneous questions. The obvious point of these is an attempt to trip me up and figure out that I'm an ISIS terrorist. I'm sure no border agent gets promoted for efficiently processing people into the U.S. Likewise, I'm sure there's no career penalty for being officious and dickish, but if a bad guy were allowed in, the agent who passed them through would certainly feel the effects.
This senior agent explains to me that another reason for the questions is to help them judge how much of an inspection to do. That's something I'd never been told or understood before. So in that regard, I may be more willing in the future to respond to the ones relevant to whether they decide to tear my car apart or just let me through. Even though I've refused to answer questions, he and his associate accompany me outside, politely ask me to open the back of the van and the hood, spend about two minutes looking inside, and say, "On your way". We shake hands and it ends up being a nice interaction, despite my bit of defiance.
I continue along the Alaska Highway but now, finally, in Alaska. The post-border landmarks are quite familiar despite my long absence but the road continues to be deserted.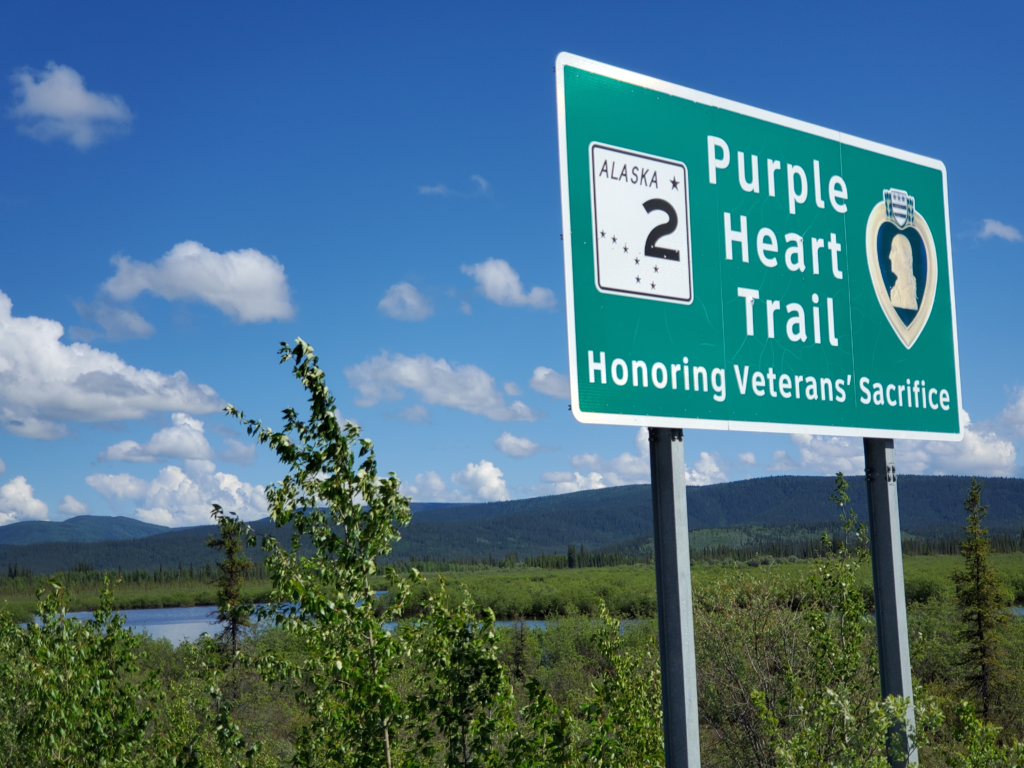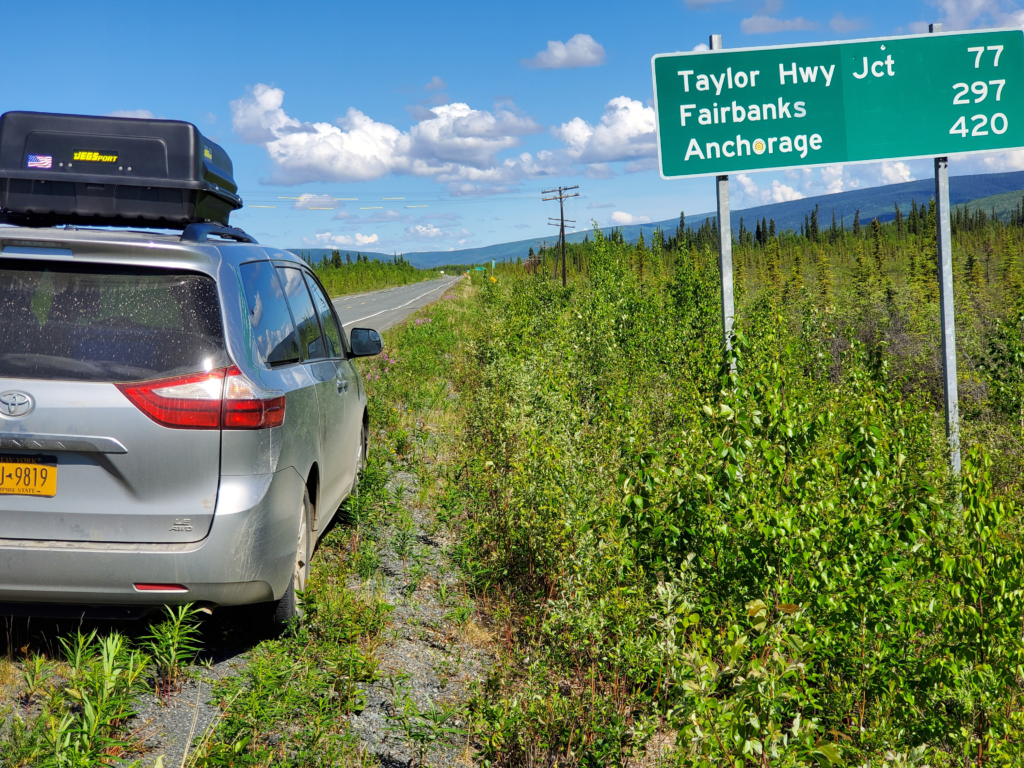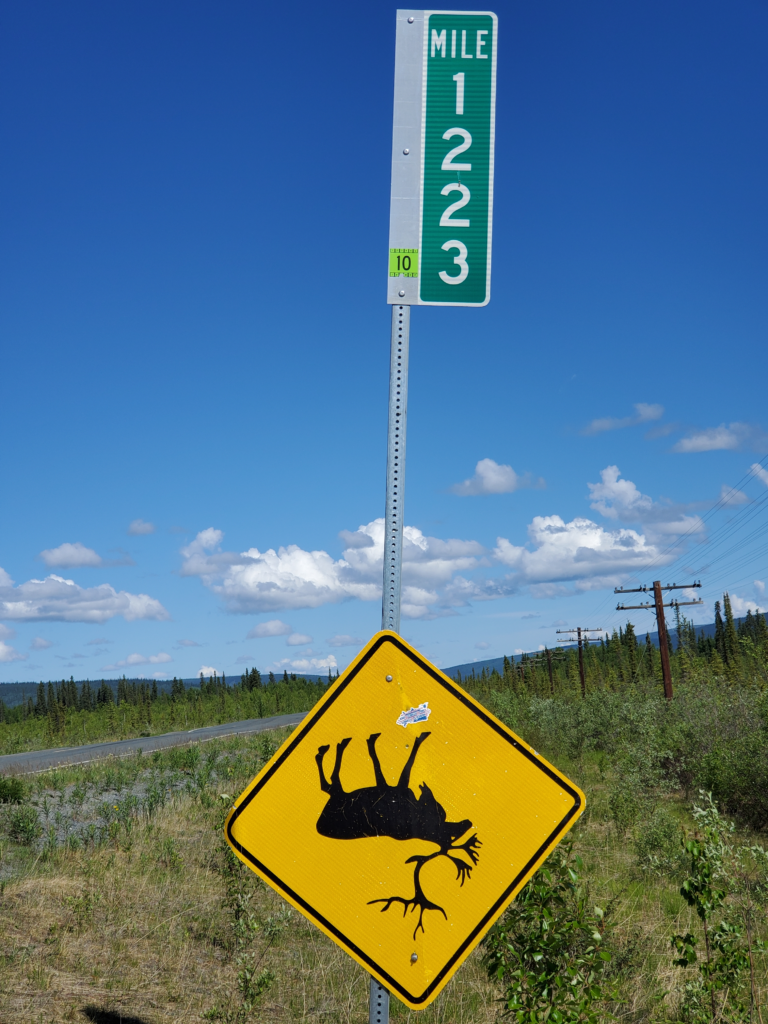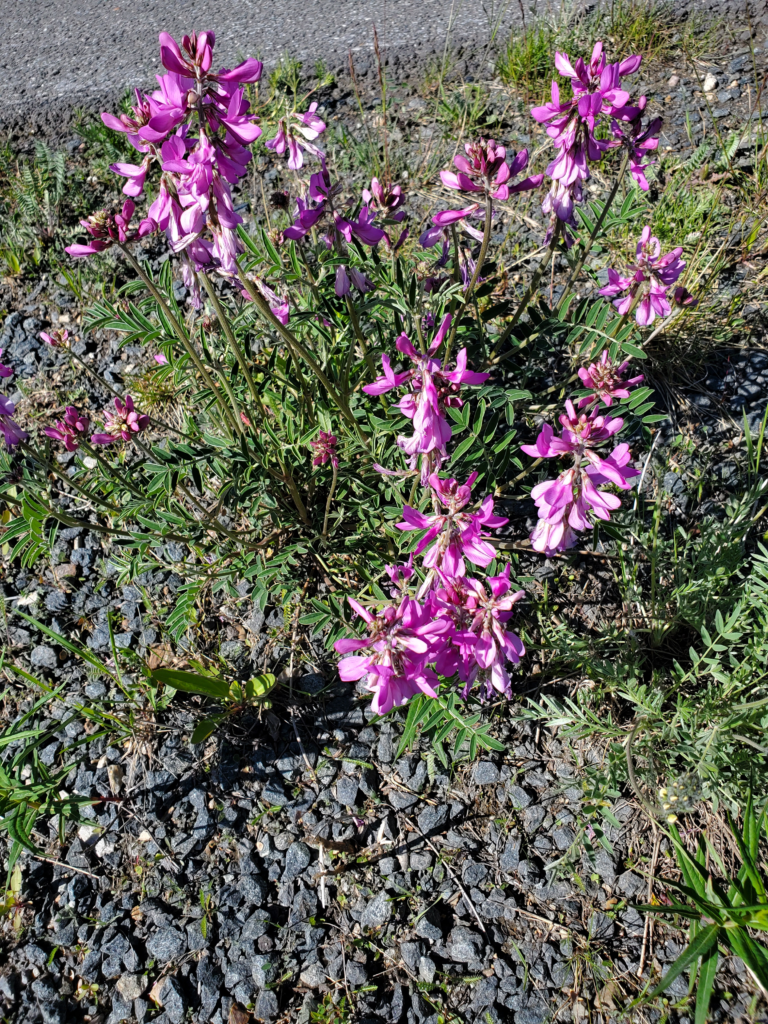 On this side, too, most of the lodges, restaurants, and gas stations are closed up or obviously abandoned and decaying. I stop at a visitor center in the Tetlin Wildlife Refuge that didn't exist in the old days. I take some photos from the deck and look at the exhibits inside.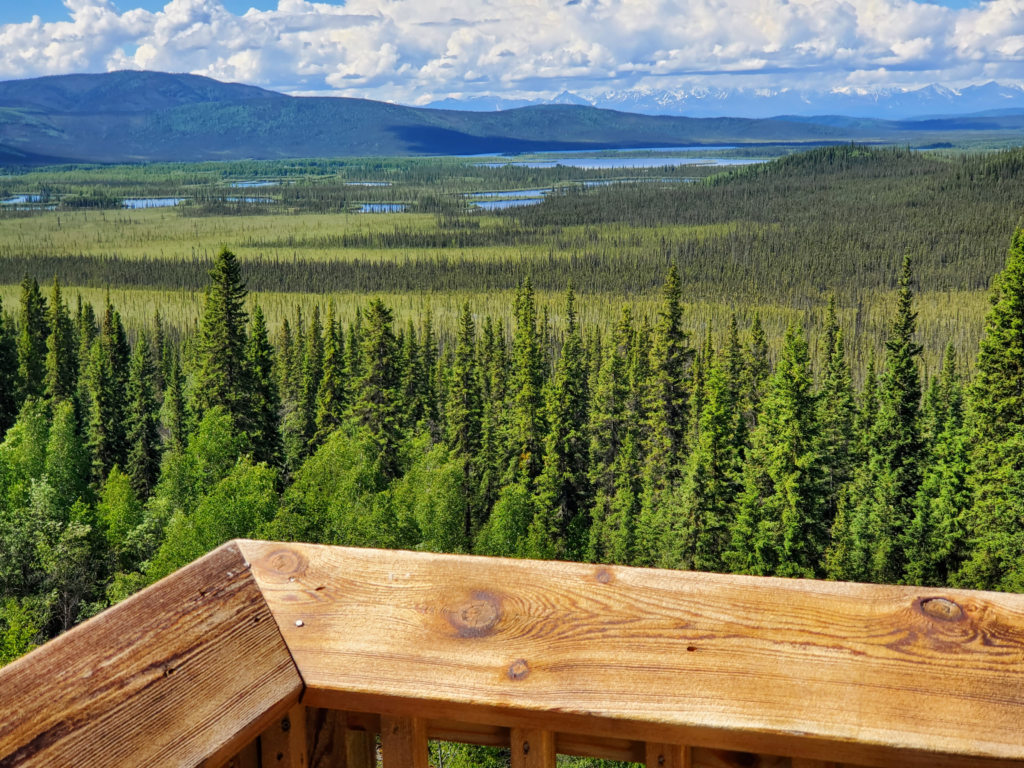 The center is staffed by local Alaska Natives from nearby Northway Village, an Athabaskan community off the highway but with a road to it. I speak to the greeter, who is 78 years old. We have a nice conversation about my experience in the old days and her experience as a younger person in the village in the same period. While I'm talking to her, I realize that in 1975, I designed a diesel generator for her village. I didn't go there because I wasn't involved in that installation, but it's interesting that I have a long forgotten connection to her home. She says they now have a power line connected to the grid but there's still a generator for backup power. Could it be the same one?
I'm no longer on any sort of schedule as I proceed onward. There's no place to eat until I reach the first town which is quite a ways up the road. I stop at a nice, lakeside campsite and take a nap. I really need food and a shower, so I decide not to camp there.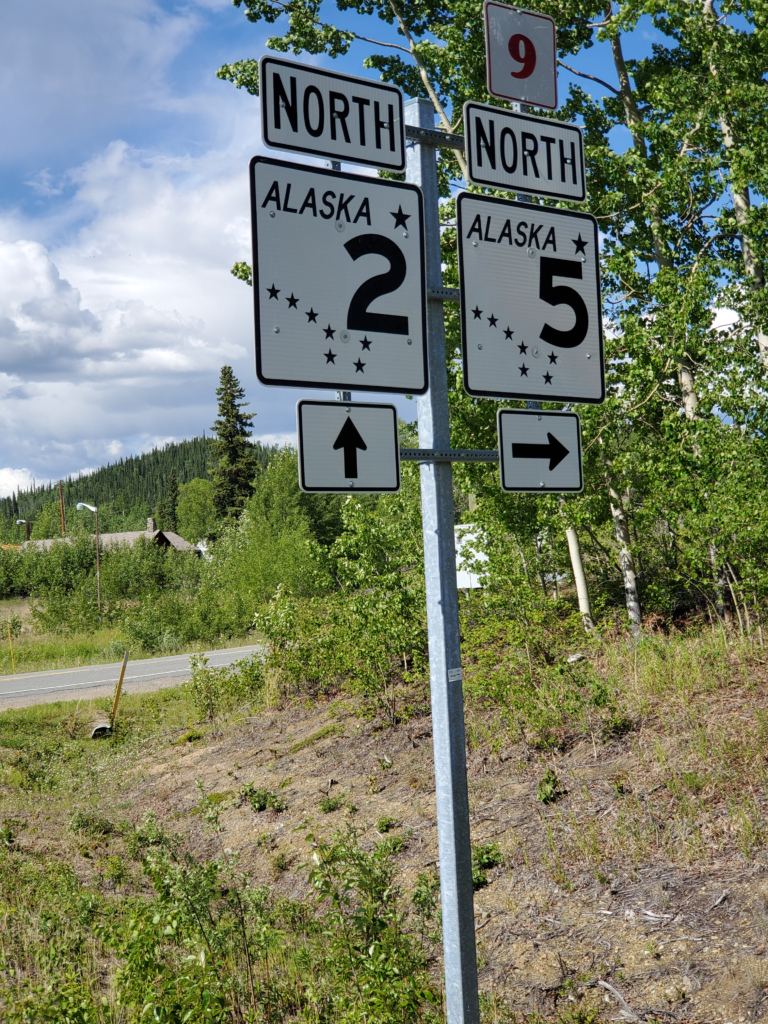 Toward evening, I reach Tok, which in the old days was a… How do I describe it? Oh yes. It was a rip off joint. Back in the 70s and 80s this was a remote area with the roads mostly uninhabited — except for the junction town of Tok. I was always sure they had people scanning the highway with binoculars and when they saw somebody break down, they would radio each other and say, "Hey, we got one in trouble here," and the vultures of Tok would circle, sucking every dollar you had out of your pocket before letting you leave.
Now it's much more civilized. Wide highway, cell phone service, separated bike path, and a variety of businesses with only a few persistent echoes of its isolated, pioneer days.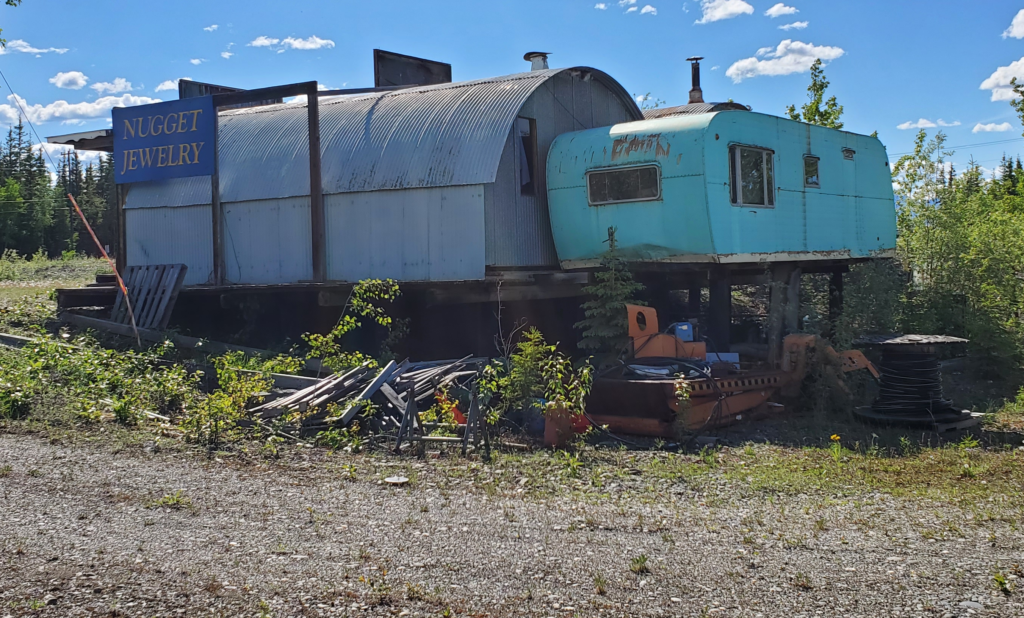 I look online and see there's a hostel here with the curious name Alaskan Stoves. I guess that must have been what the proprietor originally sold, but now they have a campground and a hostel — and the hostel looks surprisingly cheap. I drive over there and find it, but the building is deserted. The rates are, indeed, just $30 a night for a dorm bed. I call the number on the door, getting a woman who is currently far away in Fairbanks. She says yes, that's the price but as a means of controlling costs, they don't provide internet. I take it anyway because I really want a bed and a shower to rest up after seven hard days on the road. I have my phone for internet and there's also a restaurant a couple of buildings down that's very generous with their wi-fi policies. She gives me the door combo so I can let myself in and it's really a very pleasant place. It accommodates nine people but for my $30 I have the house completely to myself. Others could show up at any moment, but with the highway so restricted, it's not very likely. Home, sweet home!
Next post: https://blog.bucksvsbytes.com/2021/07/19/road-trip-21-06-16-fairbanks-welcomes-me-back-yeah-right-after-40-years-away/