Prior post: https://blog.bucksvsbytes.com/2022/12/31/road-trip-europe-22-12-19-20-a-careless-moment-and-a-narrow-escape-from-tragedy/
[NOTE: To enlarge any image, right click it and choose "View image" or similar. Use the Back button to return to the post.
With no chance of making progress on my real estate issue, it's time for vacation pursuits. Servas host Isolde has contacted me and suggested attending a community Christmas sing in Spandau, a neighborhood on the opposite side of Berlin. This sounds like a fun time so I agree to pick her up and head over there. On the way, I notice a store whose name doesn't come across well in English.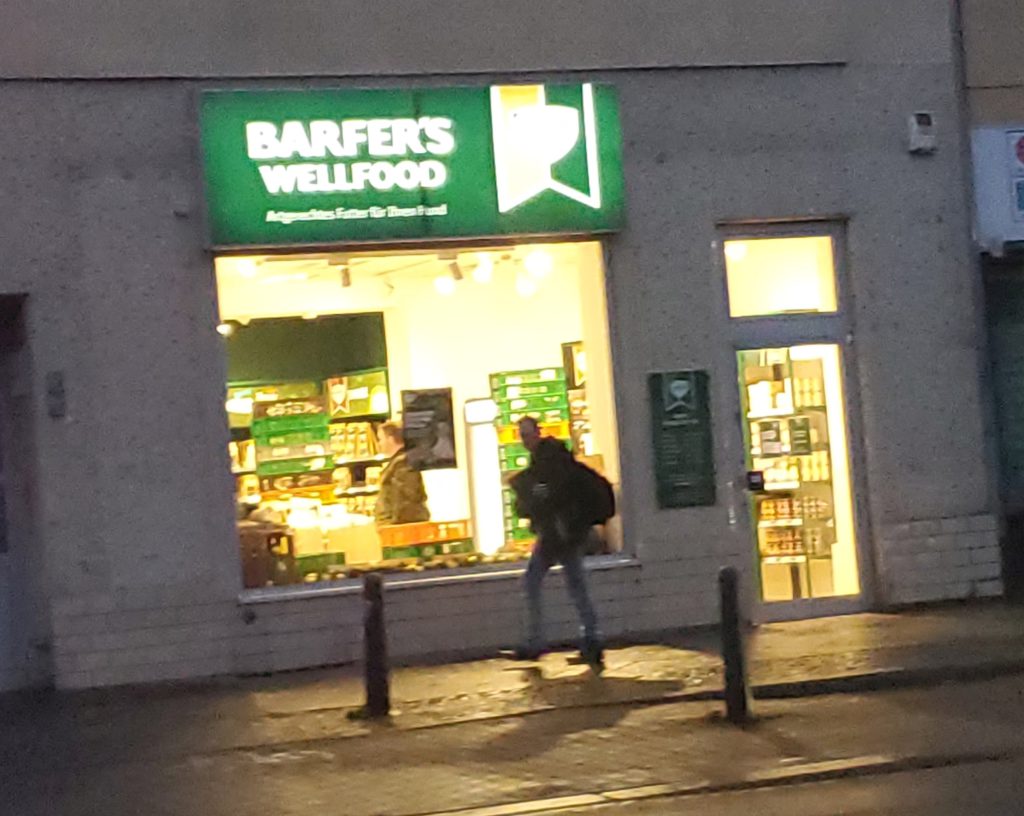 After some location confusion, we figure out where we're going, park about a kilometer away, and walk to the venue. In general, Europeans who go everywhere by bicycle are not good guides while riding in a car because the routes they take with their bikes are often very different from auto routes.
The event is at the Sport Club Siemensstadt. Sport clubs are very common in Germany and many people hold a membership in one. These private clubs provide access to a swimming pool, game fields, gymnasium, etc. They also offer regular lessons, tournaments, and other events, some of them open to the public, such as tonight's community sing.
Although we're late according to the schedule, we still arrive way ahead of the singing. Everyone is sitting on outdoor benches facing a small stage with a large display above where lyrics will be projected. There are many families with children.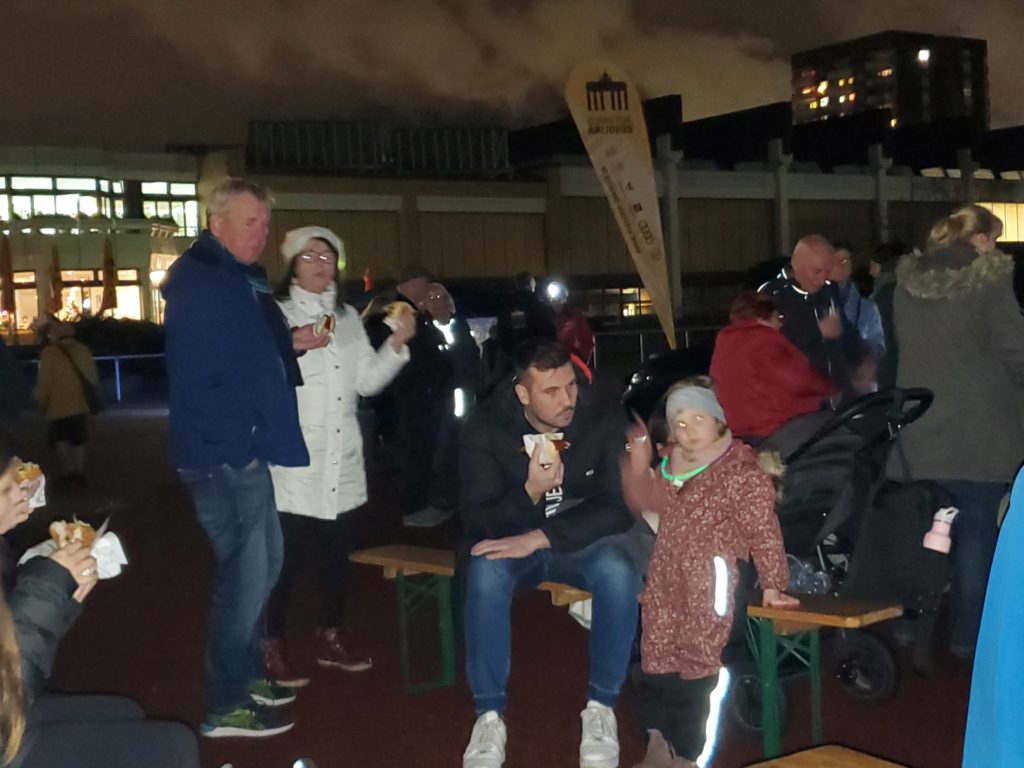 Surrounding the area are kiosks selling various holiday drinks and foods. As Isolde and I sit there making conversation, there's a seemingly endless set of speakers lauding the club, the town, the local government, and who knows what else. Finally, we get around to the actual singing. The activity is led by a female singer and an accompanying keyboardist.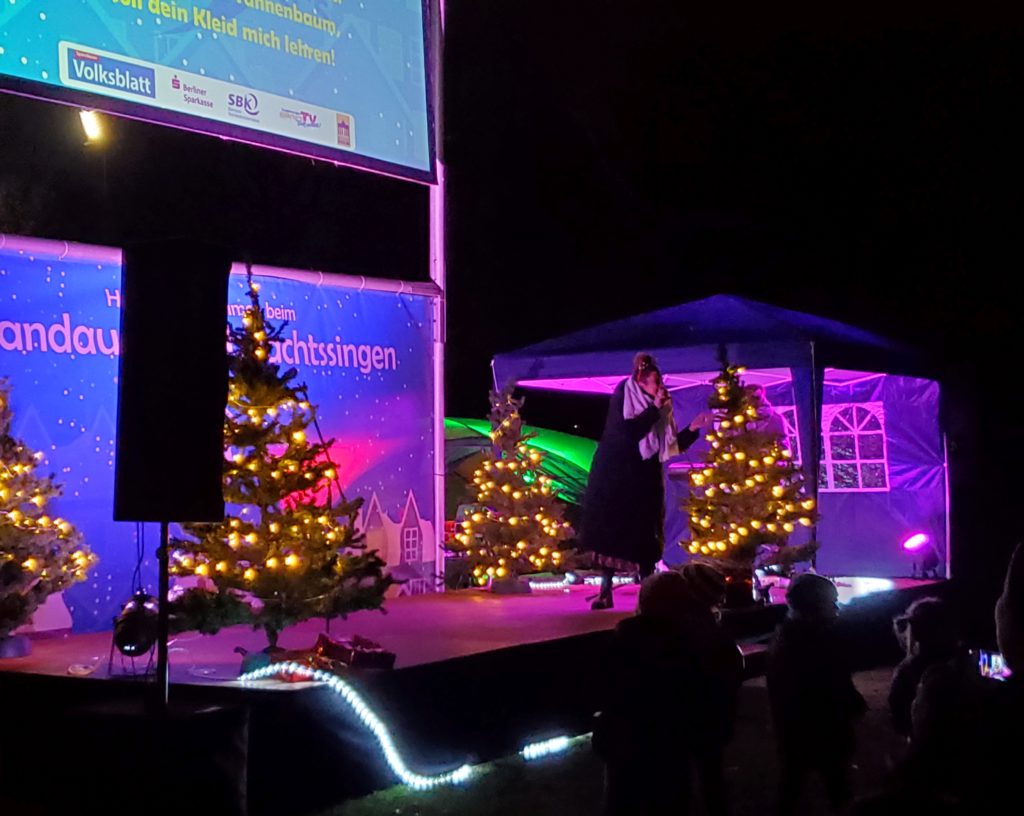 The singer is quite upbeat and it becomes apparent by her style that her typical audience is kids. There are a dozen or more Christmas songs, more secular than holy, with several in English. The selection is a little kitschy — the singer said that from the stage, not me — but fun. The singer often repeats a chorus or sings verses out of order, leaving the lyrics switching wildly as someone tries to re-sync them.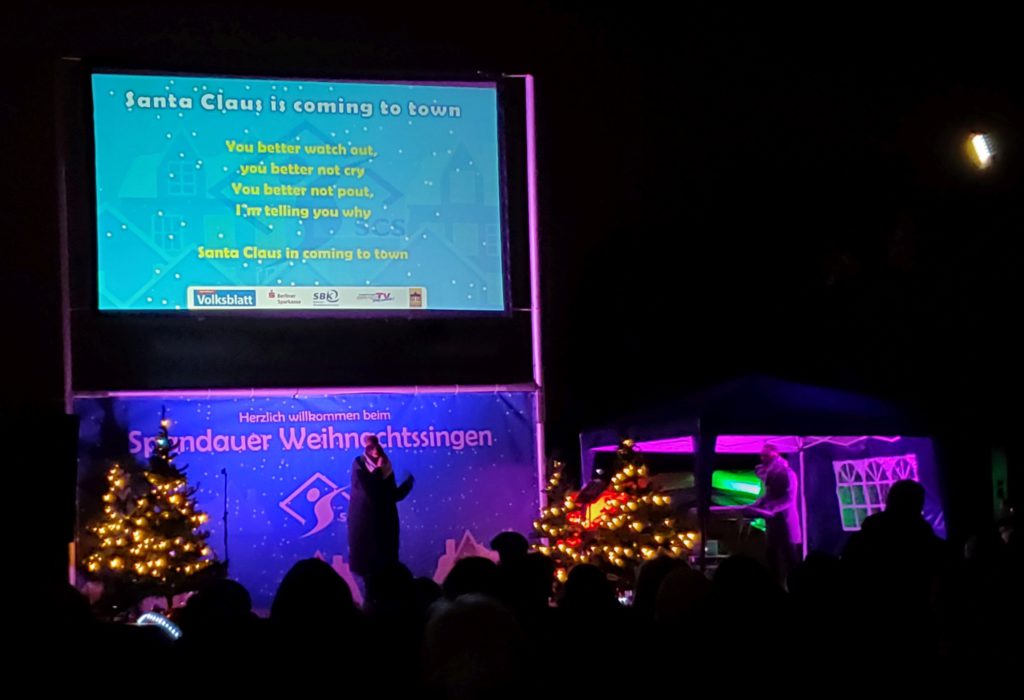 Many sing along and have a good time. In the midst of the crowd, I belt out lyrics, too, secure that in all that noise, my two-note range won't impinge on anyone else's enjoyment. Toward the end, a number of Ukrainian refugee children are invited to dance in front of the stage as the singer encourages them.
After an hour or so, the show ends and we disperse to our cars. I drop Isolde at her house and begin the long trip home. It was a very German Christmas celebration.
During the event, rain fortuitously held off, sparing the audience, but as I'm driving home it closes in. Late at night in Biesdorf, the scene is eerie as the street lights shine through the fog.