Prior post: https://blog.bucksvsbytes.com/2022/12/10/road-trip-europe-21-11-25-twenty-year-voyage-on-the-german-bureaucra-sea/
[NOTE: To enlarge any image, right click it and choose "Open image in New Tab" or similar.
Once I had my German passport in hand (see prior post), my plan has been to buy a car in Europe and do extensive road trips as we did so successfully in South America from 2017-2020.
Well, Covid got in the way a bit so here we are in 2022 resuming the plan. My son, Eric, also a German citizen by virtue of my status, in a happy coincidence, is now living in and has established residence, in Catalonia, Spain.
I say a happy coincidence because his experience and my research brought to light that just being a citizen of a European Union nation, by itself, doesn't get you too far. Yes, I, my children, and grandchild can all stay in the EU for as long as we wish (US citizens are limited to 90 days out of each 180).
However, for commonly useful activities such as owning and registering a vehicle, opening a European bank account, getting a driver's license, or buying property, citizenship isn't enough. To do any of the foregoing you also have to establish residence in Europe and get a tax ID.
In my case, I have no current desire to be a European resident, although years ago I considered that a strong possibility. Eric, however has become a resident of Spain– just in time for my desire to own a car there. I'm not allowed to, but he is!
So today I'm flying to Barcelona to start shopping for a European car. I'll buy it and drive it but Eric will be the legal owner and insurer. I'm off to JFK tonight.
Through his work as a bicycle tour guide, Eric has purchased an absurdly expensive, high tech bike at a still (to me) absurd but massively discounted price. Shipping this bike to Europe would be very costly but airlines will transport it, properly packaged, as checked baggage. In my case, that means without charge, so it's my job to bring the bike with me on my flight.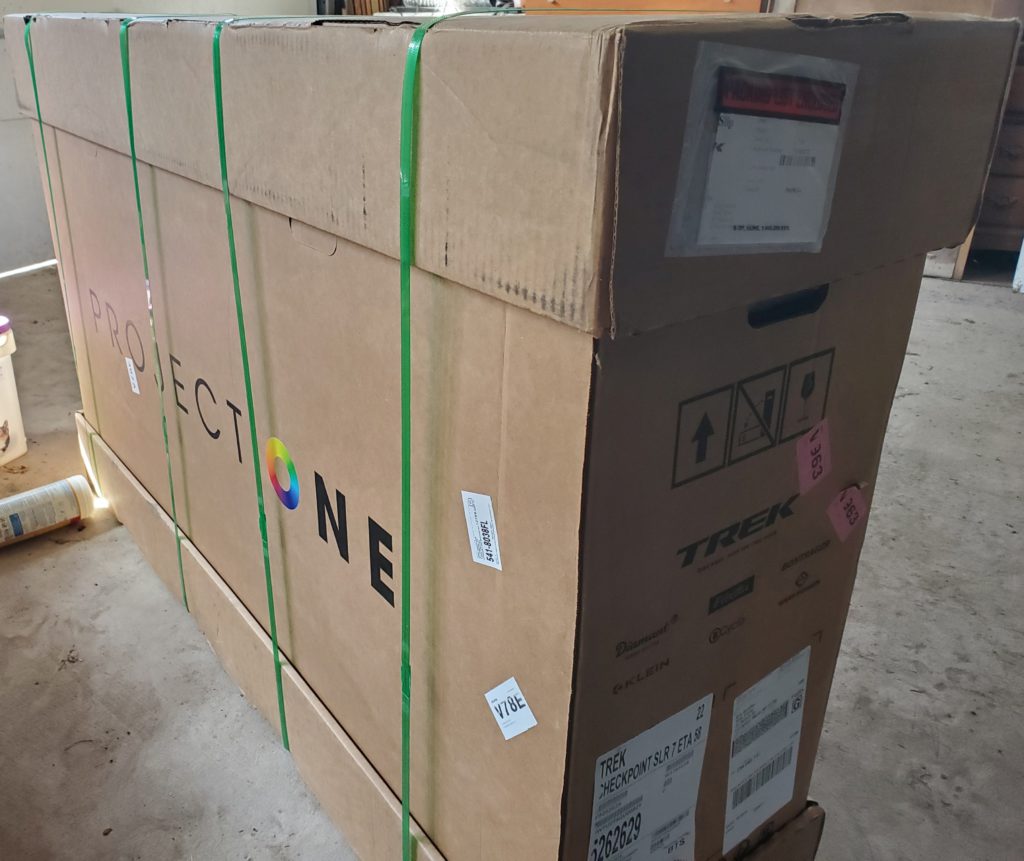 We load the bike and me and Susan and her sister, Erelene, in the van and drive to the city where they drop me off at the American Airlines terminal. I'm dragging my own luggage and shoving this enormous, but not heavy, boxed bicycle to the ticket counter. Although I know it should work, I'm still pleasantly surprised that the box is checked without problems. Thus, in retrospect, I didn't have to arrive four frigging hours before my flight left.
11/27/22
Since I [gross alert] tend to snore and drool when I sleep, on long flights I try to put myself into a semi-waking "trance", where I'm not quite asleep but only minimally conscious of my surroundings. This probably doesn't help my seatmates much but at least I feel like I'm trying to spare them. After 7 and a half hours in my torture chamber of an airline seat, we land in Barcelona. I'm entering Europe for the first time on my German passport, standing in the "EU citizens only" line.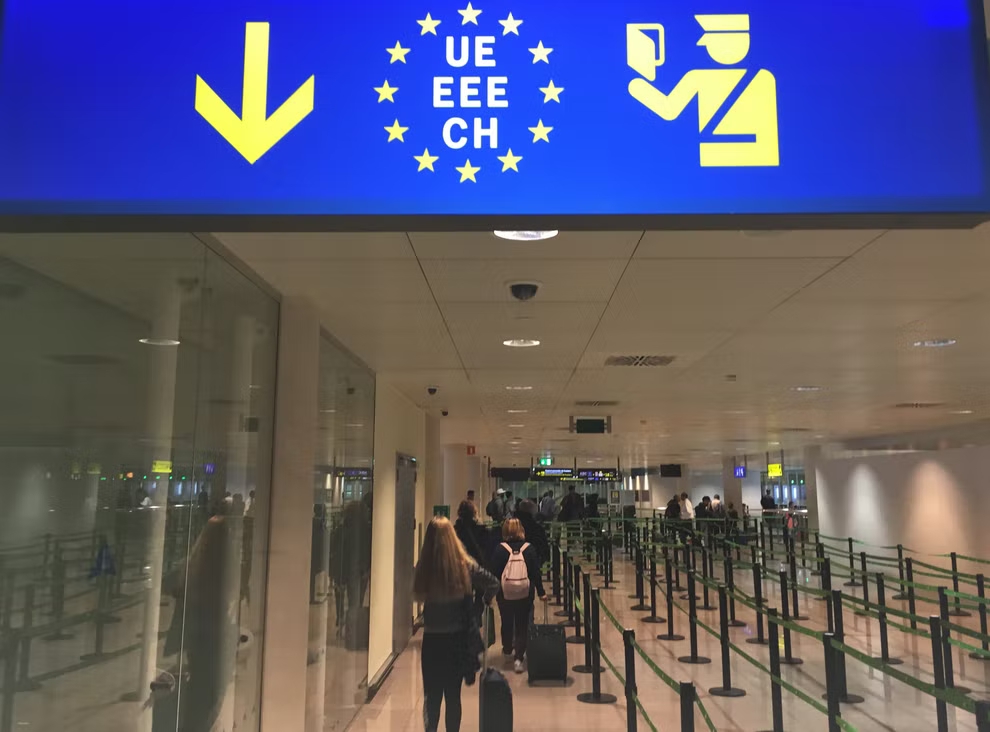 Irrationally, I'm imagining the Spanish immigration officer looking at my document and saying, "We're not letting you in with this, you stupid American." Of course, this isn't the case and I'm passed through as a German with little more than a glance.
The bicycle beats me to the baggage claim and the box, thankfully, looks intact. For what that thing costs, any transit damage would be an expensive problem, probably far exceeding the airline's liability limits. I claim the bicycle and load the 60″ wide awkward box on a totally inadequate 15″ wide luggage cart, balancing my remaining gear precariously on the 10″ wide box top. I could really use 4 arms to push the cart and simultaneously hold everything in place.

The Barcelona Airport is curiously awkward piece of architecture. I want to go directly across to the attached parking garage but the signage doesn't tell me how to do that.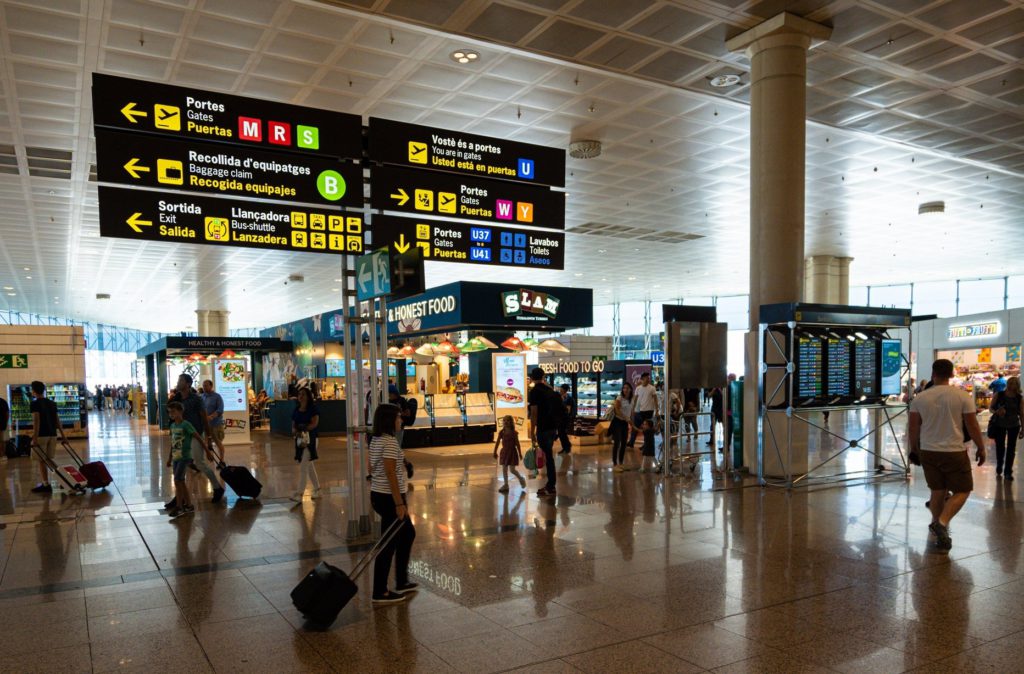 Several times, I have to maneuver the cart with the five foot wide bicycle box through 3 foot wide doors, only to struggle back through when I realize I'm not on track for the garage. Eventually, I do connect with Eric. He manages to cram the bike into his tiny car (after discarding parts of the box) but that leaves no room for passengers. Girlfriend, Gemma, drives off with the bike and Eric gets me on a bus and two trains for the 75 mile trip to their apartment in Girona. The apartment is a 5th floor walkup. In a masterpiece of Spanish residential misdirection, his floor is labeled "Second". Dragging my luggage up five flights is the last overtly physical act of my 22 hour day.
Next post: https://blog.bucksvsbytes.com/2022/12/11/road-trip-europe-22-11-28-31-the-spanish-car-buying-experience/