Prior post: https://blog.bucksvsbytes.com/2022/12/19/road-trip-europe-22-12-09-fahren-fahren-fahren-auf-der-autobahn-to-berlin/
[NOTE: To enlarge any image, right click it and choose "View image" or similar. Use the Back button to return to the post.
Saturday morning, I wake up in the home of Karl-Heinz and Edelgard on the eastern edge of Berlin, friends I've known for over 20 years. They built their large house in the 1970s, in what was then communist East Berlin, under the radar. Official permission was hard to get and they've told me stories of bartering for bricks and cement and slowly erecting the structure as they could manage.
Edelgard runs 4 vacation and worker apartments they built into the lower floors and I'm always welcome to one of them. In the old days, we were quite close, spending lots of time together. They're a bit older than me , though, and in recent times their concerns with health and family matters mean that I still stay here but see them much less. Our relationship has evolved from me being a house guest to non-paying tenant. That makes the time we do spend together even more precious.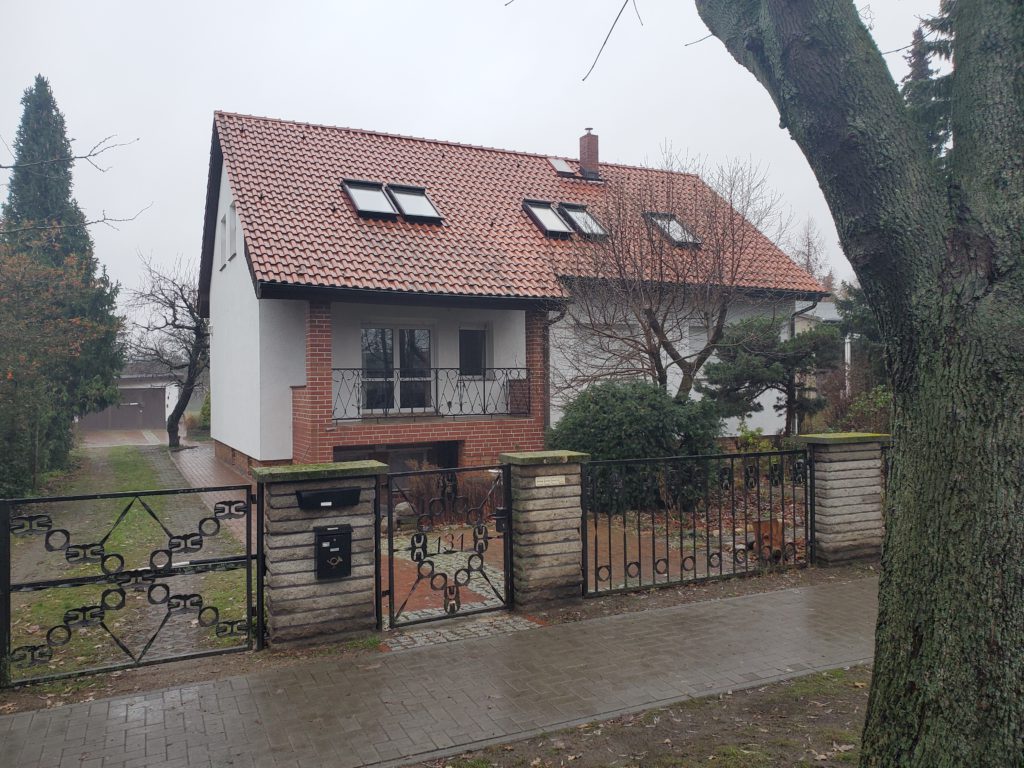 As I arrive, Edelgard, 80, has just had successive eye surgeries for clots and a cataract. She's confined to bed for a few days. self administering a complex regimen of eye drops.
I awake Saturday morning in the vacation apartment and organize my goals. In typically considerate fashion, Edelgard has left me with some staples — coffee, tea, butter, eggs. currant preserves… and milk (she knows me). Saturday morning, Karl-Heinz silently drops off a couple of rolls fresh from the bakery.
My sister and I for many years have owned a mostly vacant lot in Eggersdorf. a modest community about 20 miles east of Berlin. It's been in my family for about 100 years, having been the weekend retreat (a simple 2 room cottage) of my paternal grandparents. My father told many stories of his adolescent adventures there, including playing piano accompaniment to silent films is the village movie house. During the German Democratic Republic (DDR in German, East Germany to us), the property was lost to the family for about 45 years. Shortly after reunification in 1989, my father and aunt took advantage of a legal window to recover ownership. The long time DDR-era tenant retained rights to the property, however, for many years, while paying s very low rent.
My aunt, angered and frustrated by the lack of access, gave the property to me and my sister in 1995. The lot has since sat largely unused. I once had visions of building a house there for personal use and rental, but those plans never ended up fitting my actual life. For many years, my sister has gently urged me to sell.
Although I speak German, my knowledge of how the German real estate market works is nil – a potentially very costly bit of ignorance. I did list the property with a local agent in 2014 but he came back almost immediately with an offer. I had no confidence that he was actually working in my interest (especially since he told me the buyer pays his fee, not me), so I pulled the listing resolving to first educate myself about the realities.
Well, that's my primary job now in Berlin. I've been inquiring of all my German friends and acquaintances, "How do I get maximum value in selling the lot?" I've received a spectrum of helpful advice but one friend in northwest Germany introduced me to his brother and sister in law who are both engineers and homeowners near Berlin. They've helped me find online information about the property and we're going to get together Tuesday to discuss the matter.
My goal is to get everything set up by the time Susan arrives on 27 December so the property can be marketed while we're road tripping and sell and close without my physical presence. Given that German business and government slow to a crawl during the holidays, this is very ambitious.
Saturday evening, just before closing time, I remember it's Saturday evening — and I'm in Germany! Almost all German retail business is shut tight on Sundays. It's considered a worker's right to spend that day with their families — a very nice philosophy. Gasoline and restaurant meals are about the only things available tomorrow, so I dash over to the nearby Kaufland supermarket to get what I need for the weekend. Kaufland is an enormous store, covering acres. It can take five minutes to transit from one desired department to another. Really, you need map and a motor scooter to find products there. I'm literally running through the aisles, in my slippers, like a maniac, 20 minutes before closing trying to gather produce, meat, spaghetti fixings, bread, juice. and more milk (!) to get me through to Monday morning. Worse, I don't have a 1 Euro coin so I can't unlock a shopping cart. Worse yet, I forgot shopping bags and backpack so I'm limited to leaving the store with whatever I can carry loose in my arms. Definitely not a competent foray.
I spend Sunday, working on client matters, researching the property, and kicking back a little. Karl Heinz's and Edelgard's younger daughter, Marit, is visiting with her family from elsewhere in Berlin. They're staying in the other vacation apartment across the hall. Karl-Heinz is cooking a big family dinner and I'm invited to join them. I've never met Marit, so introductions are made and we sit down to eat. The centerpiece is a big roast duck — my favorite fowl — and we all dig in.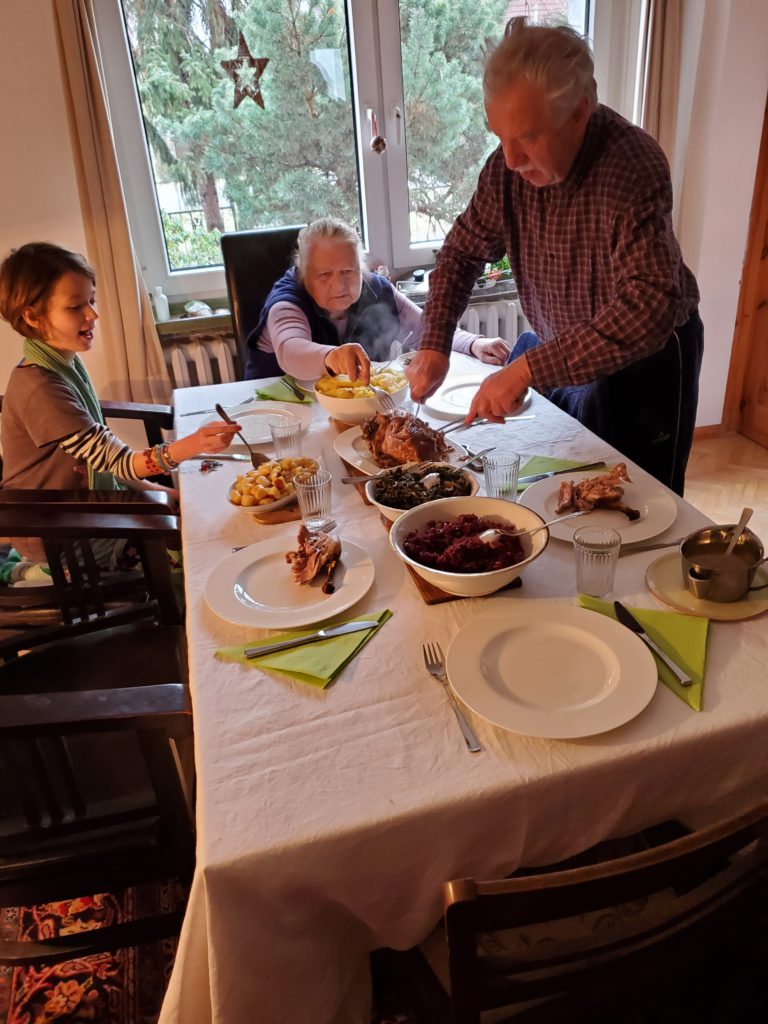 The conversation is all in German and I'm very pleased that on my 3rd day in Germany I can not only keep up but be a full fledged participant. I was already surprised two days ago when I noticed myself starting to think in German within hours of entering the country. Usually, it takes a week or two. The traditional Christmas meal in Germany is goose and Karl-Heinz is perturbed that it's unaffordably expensive this year. I'm loving the duck.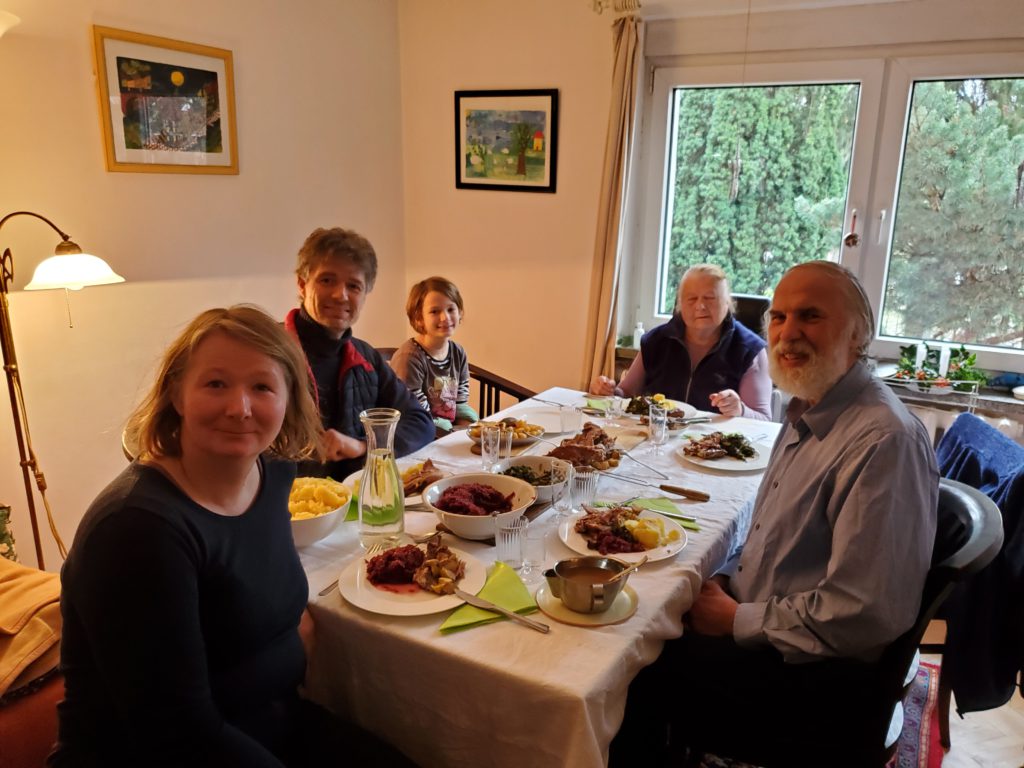 The weather is consistently below freezing but the roads are dry. In the next installment, you'll see why that's so important.
Next post: https://blog.bucksvsbytes.com/2022/12/30/road-trip-europe-22-12-12-18-tires/